Imagine a romantic restaurant on the shores of Lake Orta, in the green, in a relaxing area far from tourists.
Imagine a lunch or a dinner under a lovely portico and a garden that goes down to the lake.
Think about a simple and genuine cuisine close to traditions but elaborated with creativity.
All this has a name: Ustaria Cà dal Rat.
Ustaria Cà dal Rat is a unique wedding venue in the area of Lake Orta and Lake Maggiore. It is a building of 1900. Ground floor has been turned in a lovely restaurant by the lake shores and in a total natural context.
These are the main features of Ustaria Cà dal Rat: its position on the lake shores, with a perfect portico for a lovely reception and the possibility to be far from tourists in the village and on St. Julius Island especially in Summer.
This means having a relaxing day by the shores with dances and music until late.
As alternative, Ustaria Ca dal Rat offers two pretty and intimate rooms inside.
The first one with fireplace can host up to 30 guests and the second with stone floor and wooden beams on the ceiling can host up to 25 people.
Both rooms face the lake to enjoy this wonderful spot of Lake Orta.
Cuisine is an important feature to have a perfect reception.
All courses are created by Chef Carlo Marforio. They follow Lake Orta and Piemonte region tradition with a touch of new. A la Carte menu are renewed once a month while wedding menu can be created on bride and groom wishes.
There is also a generous wine cellar matching these wonderful menus. Many come from Piemonte region such as Vespolina, Nebbiolo, Ghemme and Gattinara.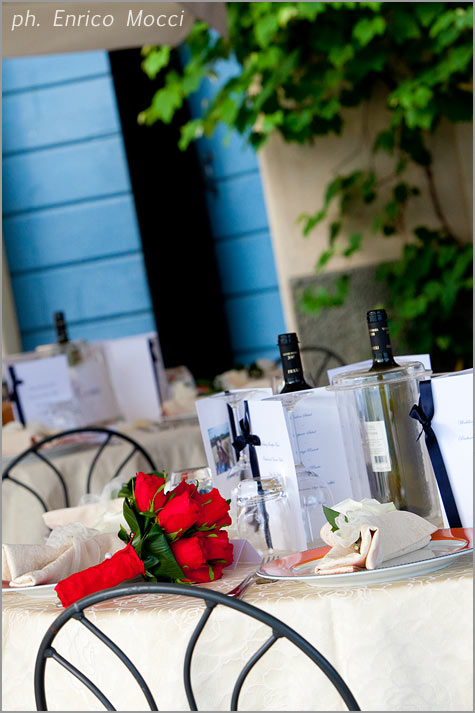 Another important feature is that the restaurant has a private pier.
After ceremony to Villa Bossi or in one of the lovely churches in Orta you can have a lovely tour of the lake and its island and then reach Ustaria Cà dal Rat where you and your guests will be welcome by a rich aperitif by the shores.
You just need to come and see Ustaria Cà dal Rat we are sure you will fall in love with it!
My name is Valentina and I work as wedding coordinator on Lake Orta and Lake Maggiore.
Before being a wedding planner and coordinator I worked for an American company planning events. I turned into wedding planning for SposiamoVi group, more than 5 years ago. Since Italian Lakes Wedding was founded I work with them to make bride and groom's dreams come true on this wonderful Lakes of North West Italy and Piemonte region.

l love creating with my couples the perfect event for them following their wishes and needs, helping to find the best solution for their ideas and budget.
I like meeting people talking with them and know more about their cultures and traditions. I do like sharing Italian customs with them and working in team with couples to let them experience a real and dreamy Italian wedding!

I will be pleased to guide couples along lovely traditional and pedestrian roads of Orta village discovering the beauty of this romantic Lake between villas, traditional restaurants wonderful churches and enchanting St. Julius Island.
I will be happy to let couples discover bigger and charming Lake Maggiore with its Borromeo Islands, wonderful hotels and villas overlooking the waters.

I'm sure you would be amazed by the beauty of these special corners of Italy so I'm simply wait for you for a lovely experience to create and live together.

For any information about wedding on Lake Orta or Lake Maggiore please CONTACT ME.