Lake Orta and Lake Maggiore are very close to each other.
They are divided just by a mountain: Mt. Mottarone. In spite of being so close they are very different from each other. Lake Orta is small and tiny with quaint villages, gardens and narrow roads for romantic walks and lovely sights on the lake. Lake Maggiore is wider and more touristy, with many 1800 villas and palaces with Italian gardens and great views.
What happens when you fall in love with the romantic atmosphere of Lake Orta and breathtaking panoramas of Lake Maggiore? You choose both! Just like Cassy and Gary did.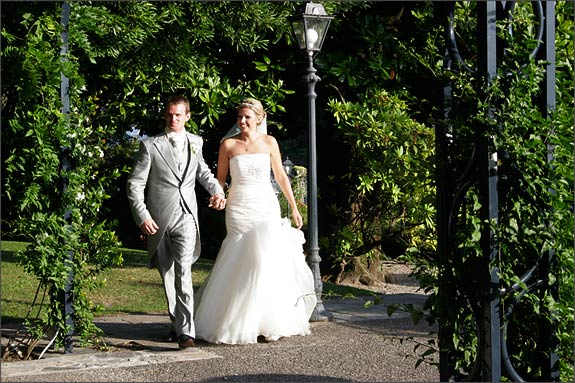 Cassy and Gary opted to have their civil ceremony to Villa Bossi on Lake Orta and their reception to Villa Rusconi on Lake Maggiore. The two most beautiful lakes of Piemonte region together for a wonderful event!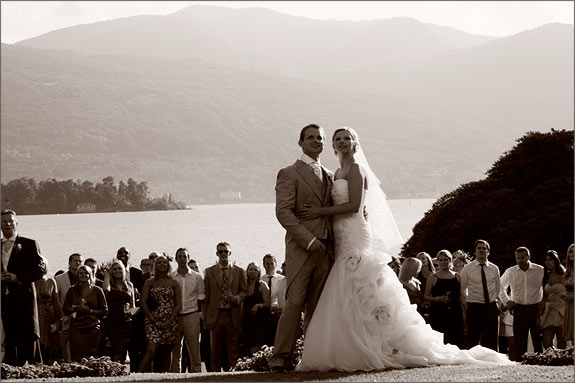 Cassy ang Gary came from United Kingdom with their relatives and friends and decided to have their accommodation in Orta San Giulio.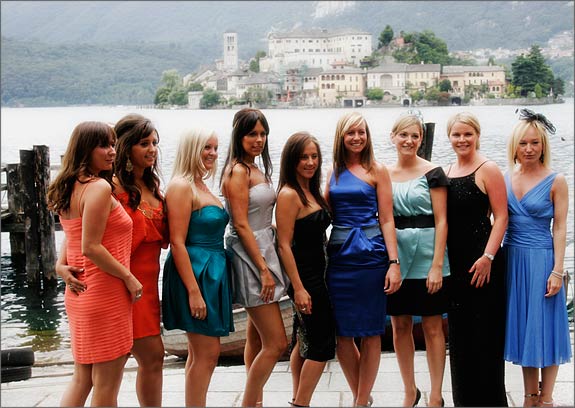 Before the ceremony all guests met Gary in Orta main square for wonderful pictures with
St. Julius island in the background and some drinks. Then all of them walked to closer town hall.
As soon as main square was empty Cassy arrived by foot with her dad and 4 pretty and blond green-dressed bridesmaids.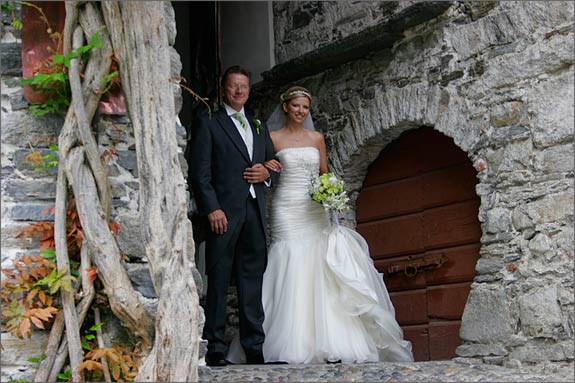 Acid green was Cassy and Gary's theme color together with white. A very trendy and elegant color scheme. Cassy wanted them for all little details of her wedding: bridesmaids' dresses, best man and ushers' ties, and of course flower arrangements made by Monika, La Piccola Selva floral designer.
Monika paid her lovely attention preparing Cassy's bouquet relized with Super Green roses, white Phalaenopsis orchids, green hydrangeas and Pittosporum greenery.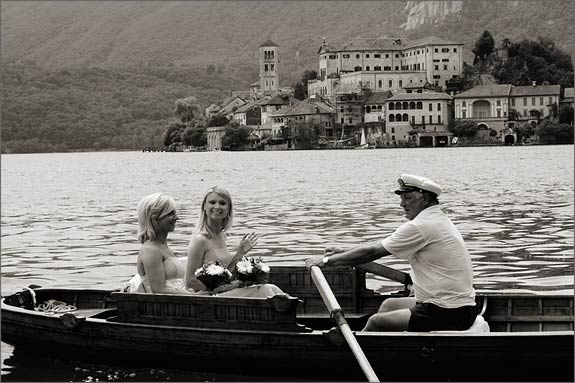 From Orta main square Cassy, her father and bridesmaids get on board of rowing boats to reach the town hall where relatives and friends and most of all Gary in his elegant light grey tight suit, were all waiting for them.
After civil ceremony, they had lovely wedding group pictures and a romantic trip to St. Julius Island for some other unforgettable photos. A coach was waiting for guests and a private care was waiting for Cassy and Gary to move all the party on Lake Maggiore, Villa Rusconi Clerici was their destination.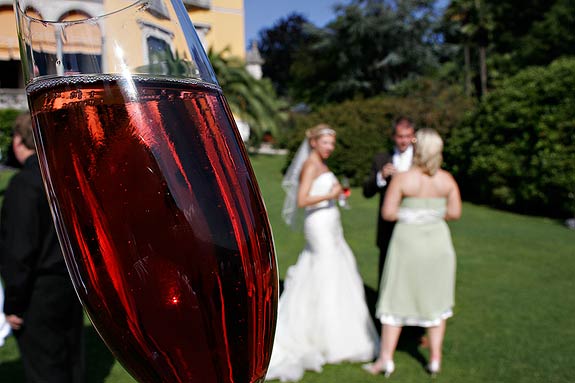 The weather was wonderful and gave the occasion to the group to have a rich aperitif in the garden of the villa just on the shores. A delicious dinner to follow in the wide pavilion arranged with white tables and chairs and most of all a unique floral arrangement.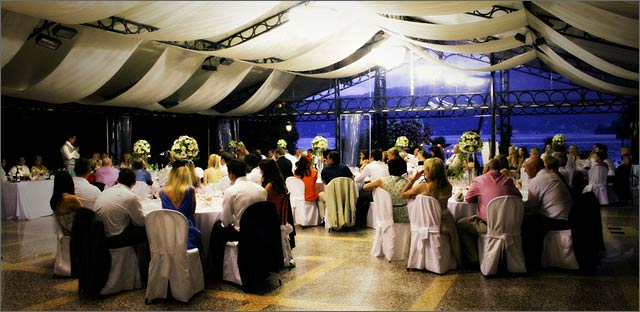 It perfectly respected Cassy's ideas: a floating rose inside a tall glass vase with a round-shaped composition on top in which Monika put the same kind of flowers she used for the bridal bouquet. She simply added some green Hypericum berries and white gerberas, and a little touch of falling ivy on one side. Cassy chose for her wedding stationery an acid green theme with little crystals catching sun rays.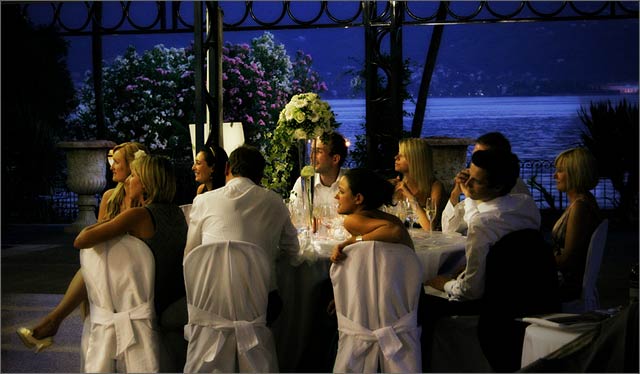 Atmosphere was magical thanks to an amazing sunset on the lake. After the dinner, dances,open bar and sweet buffet in the cellar of the villa with a "grand final": a huge wedding cake with cream, white chocolate and lovely Monika's flowers.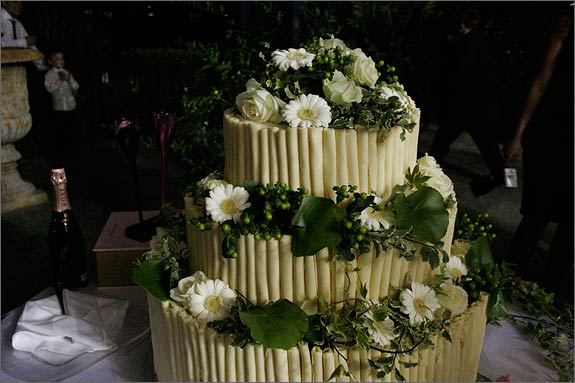 An unforgettable night followed by a great summer vacation that newly wed with their relatives and friends spent just on Lake Orta. What a Summer!
For more information about weddings on Lake Orta and Lake Maggiore please contact the Italian Lakes Wedding Team.
Note from the authors:
This post was meant to be published with lot of the delay because of loss of professionalism of official photographer of the event who come from UK: Edward Cheater from Hotshots Photography.
After 9 months from Cassy and Gary's wedding, in spite of many promises we did not receive official photos of the event. For this reason we decided to publish this post using SposiamoVi pictures (which are lovely too). If you are looking for a photographer for your wedding we would suggest to choose him or her not only by his/her skills but also by his professionalism and seriousness. Isn't it Mr. Cheater?