Cindy and Christian asked me for a catholic wedding at lake Maggiore, their location was already fixed, the charming Villa Margherita in Oggebbio.
My proposal was to celebrate the church wedding in the roman chapel Sant'Agata in Novaglio near Oggebbio. This chapel was rebuilt and restored by the parish of Oggebbio and so the local priest is very proud to present this romantic and welcoming church, inside all worked out in rough granit stone.
A wonderful ceremony was prepared, but the most emotional moment were the trumpet music interludes from Cindy's father and at the end an Italian song presented by one of their best friends being an opera singer.
There is enough outdoor-space to organize a toast afterwards and so we had special champagne from Lussemburg as Cindy parents are coming from there.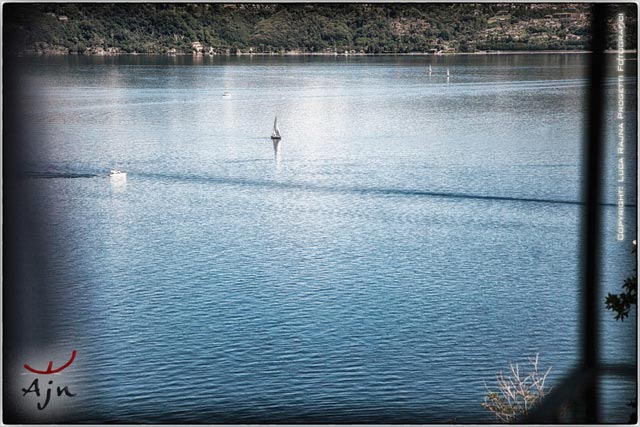 After enjoying a while the scenic views one has all over the lake we drove back to Villa Margherita and had the Italian aperitivo in their terraced gardens followed by a seated dinner.
Let me mention our deco-concept: it was all white and a smooth purple. Purple colored Hortensies matched with white Roses and white and lilac Lysianthus.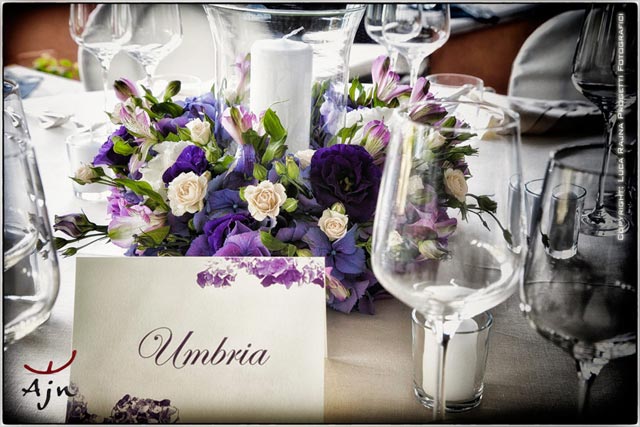 Very light colors of this were used for the church, whereas at the dinner tables we played with all tonalities, even the dark ones for the compositions matched by candlelight that created a very intimate atmosphere. Thanks to our florist La Piccola Selva.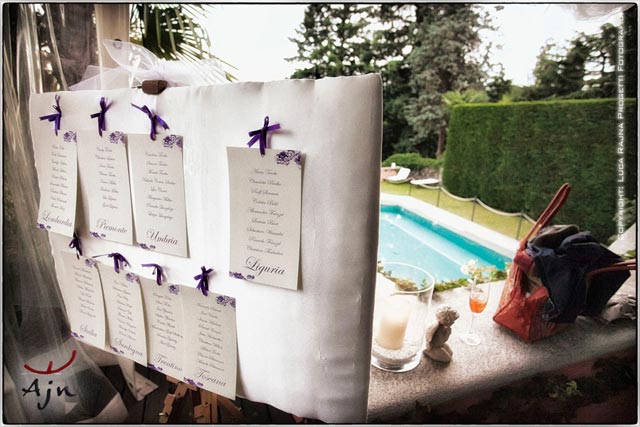 Next to the dinner tables Villa Margherita installed a wooden dancefloor, so our DJ Alex get everybody on it to dance until late hours.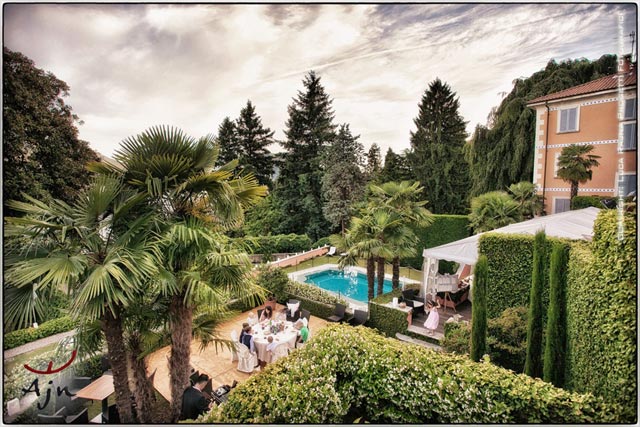 A very nice idea was, to get the whole group of guests on a boats-tour in the morning, enjoying the breeze of the water and visit the jewel of Lake Maggiore with a guided tour in german language through the famous Palazzo Borromeo on the island Isola Bella. The bride obviously not joined the excursion as she had to prepare with hairdresser and cosmetic preparations as well get dressed.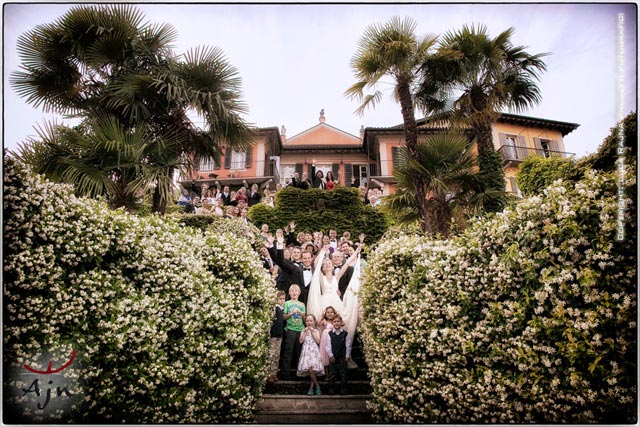 So this was not just a wedding, but – having joined the very rustic get together the evening before and a sunny brunch the morning after – a very nicely organized 3-day-event to enjoy the guests with local curiosities.
All images © Luca Rajna di Ajn – Luca Rajna Progetti Fotografici © All rights reserved.


CLICK HERE: Cindy & Christian's wedding photogallery – Luca Rajna AJN Progetti Fotografici
---
Britta Hartmann-De Marchi is german and therefore the specialist for German, Austrian and Swiss couples coming to the lake Region for getting married.

She herself got married 10 years ago and choose an Italian husband. Enjoying to live here in Bella Italia and coming from 14-years-experience in international advertising and marketing, she liked to change her job into becoming organizer of weddings for german-(and english-) speaking people coming to Italy for their marriage.

Coming from Germany and knowing what to expect in Italy, she is the perfect organizer between bride and groom and the Italian service partners. Correctness, flexibility and a easy hand to plan all details around a wedding make her work very appreciated.

The most emotional part is, when I become almost the best friend of the bride during all the planning time you share with each other. So we both do enjoy the wedding day in its best form and this is important for my work.