The dare to be different! Today we would like to tell you about Sonja and Allard a lovely couple who chose a very different color scheme Orange and fuchsia.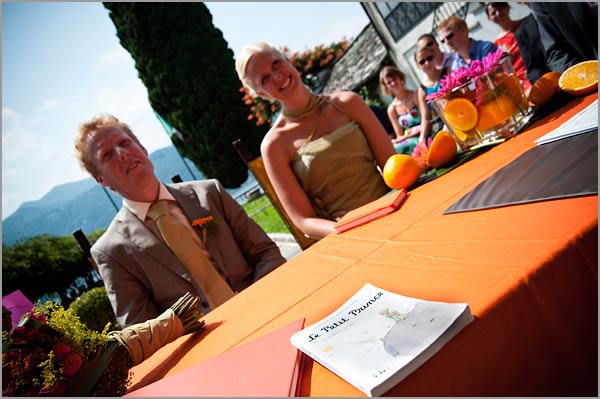 Even if fuchsia and orange are two very different colors if you match them in the right context they could made up an absolutely different and beautiful scheme that could be so fun for your wedding!
In order to recall Summer nothing is better than bright colors such as fuchsia and orange. These colors could be the perfect frame for a natural wedding in a garden, on a beach or just by the lake shores like Sonja and Allard did.
Sonja and Allard ara another lovely couple coming from Holland who chose Lake Orta for their wedding in italy. Do you remember about Desire and Sander and they sweet balloons themed wedding? Or do you recall about Danielle and Silvain the groom with the top hat?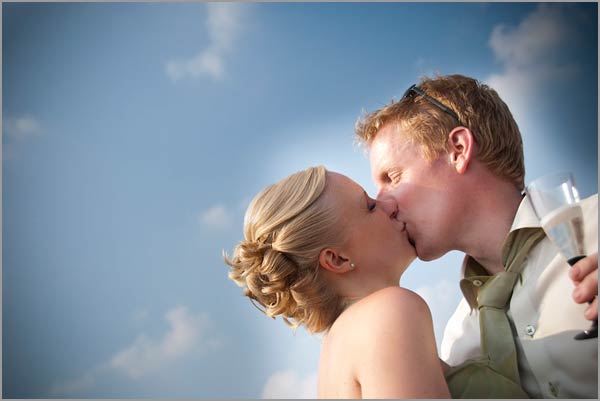 Choice for colors was not accidental. Orange is the color which represent Holland, Prince of Orange and National Football Team, soccer players are called Oranges (Oranje in Dutch).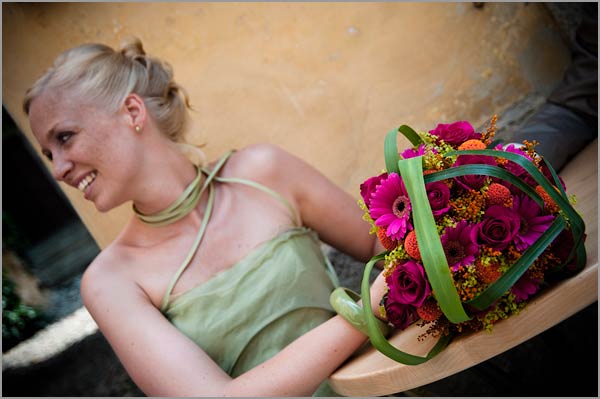 Sonja contacted me via email a couple of months before the wedding and she had very precise ideas on her colors scheme. As floral designer my task was advising Sonja about the most suitable flowers to use considering that the couple had not a huge budget.
The month before the wedding I personally met Sonja and Allard and I was touched by their kindness and simplicity. After defining some details the choice for flowers went on fuchsia rose and gerberas, little button flowers of Craspedia and orange Solidago.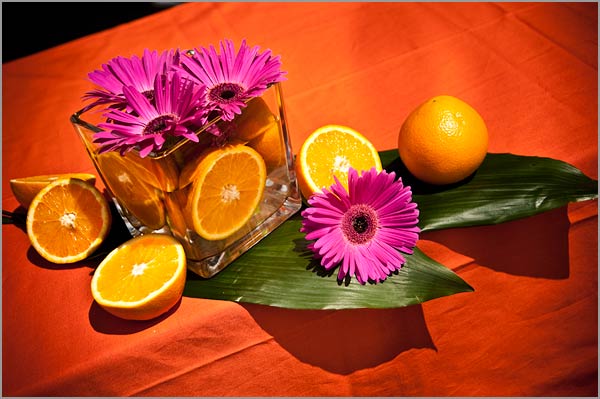 For the table of the ceremony we opted for a glass cube full of oranges (Sicily Oranges) and fuchsia gerberas with a bright orange table cloth underneath!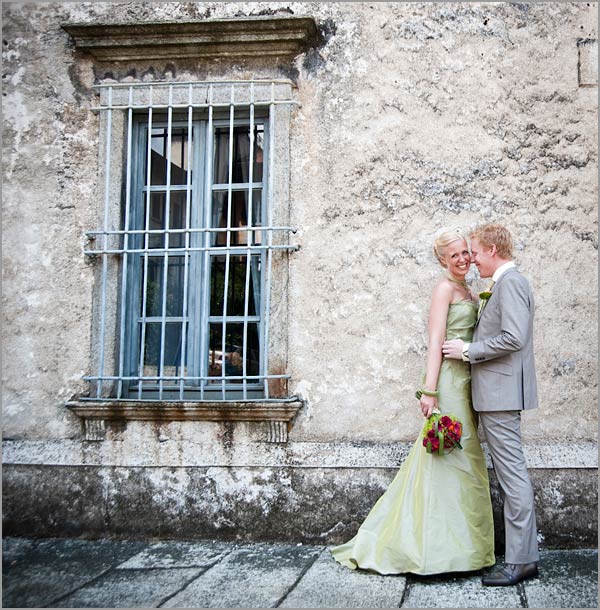 Sonja wanted to be different as far her wedding dress was concerned too! She chose an aquamarine color dress. It was an informal but still elegant wedding dress that perfectly matched the bright and happy theme of her wedding.
Civil ceremony was held in the garden of Villa Bossi in a wonderful sunny day of the beginning of the summer with many orange and fuchsia balloons.
Bride and groom decide to brake the tradition once again! Rather than making the groom waiting for the bride side of the ceremony table, bride and groom decided to arrive together with a rowing boat. Such a great idea!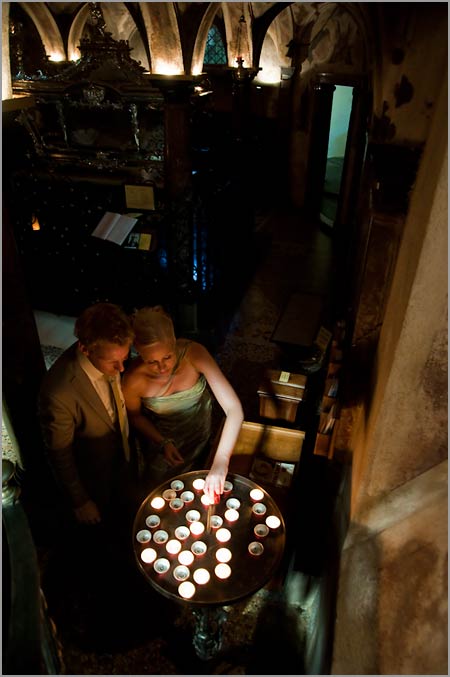 After manu pictures in medieval Orta villae bride and groom had a lovely boat tour on the lake up to St Julius Island. Once on the Island Sonja and Allard decide to visit San Julius Abbey and its wonderful piece of Art the "Ambone" the most precious item on Lake Orta. They they moved to their happy and fun reception on the Island.
A special thank to Valentina and Stefano from VAST Photography for the amazing photography service they made for Sonja and Allard.
As Maren Ollmann did for Rebecca and Marcus' wedding, Valentina and Stefano were able to made a relatively simple event without many scenography effects, in a wonderful photo set one of the best we have on our site for sure!
We would really like to compliment with Valentina and Stefano and most of all…. Congratulations to our wonderful couple Sonja and Allard.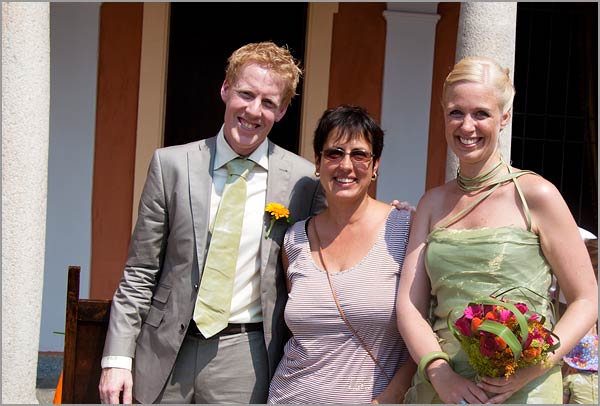 Together with Monika, Paola is La Piccola Selva floral designer. She is part of La Piccola Selva team who are specialized in floral arrangements and lovely bridal bouquets on Lake Orta and Lake Maggiore.

After her graduation in English language her passion for nature and flowers brought her to a long and successful career in floral design.
Thanks to her long experience and creativity Paola will be able and happy to suggest you best flowers, color, details, shapes and styles that could match your tastes and ideas.
She will be able to add a final touch that could turn your wedding in an even more special day!