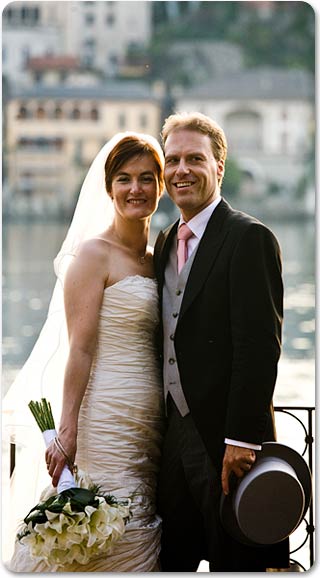 We love Italy: we love its people, its language, its food, its culture, its nature, etc. Therefore, getting married in Italy was the obvious choice.
But where? After thorough research and multiple research weekends in Italy (oh, the sacrifices one has to make…) we came to the conclusion that it would have to be in the picturesque Orta San Giulio. This lovely town even has its town hall on the lake (Lago d'Orta), allowing the bride and groom (or in our case: bride and bridesmaid) to arrive in a (rowing) boat!
We (bride, groom and guests) all stayed at hotel Leon d'Oro, that is situated right in the heart of the town (Piazza Motta) on the lake. Our rooms were immaculate and the friendly assistance we received from the staff really made us feel very welcome! We had welcome drinks for our guests on one of the terraces of the hotel overlooking the lake and the Isola San Giulio. Just perfect!
When the flowers arrived on our wedding day, we knew for sure that La Piccola Selva had been the right choice for the floral arrangements. We had had quite specific ideas about what the bouquet and corsages would have to look like and were very happy to see that La Piccola Selva had been able to bring it all together so beautifully. As per our request, it had also provided us with a special flower decoration for the stroller of our little niece. Great Paola, thank you!
SGsound (Stefano and Giovanna) lured Silvain and the guests to the town hall with their beautiful music and voices. Some of the guests even commented later on, that, at first, they had thought that a CD was playing, because the music was just too perfect to be live… When Daniëlle arrived by boat and walked up the path towards the town hall, SGSound played the beautiful "Con te partirò" of Andrea Bocelli. It brought everything together wonderfully… Thank you so much SGSound, and especially thank you Stefano for being professional enough to perform so well when you had hurt your arm just the day before!!
To ensure that we would be able to always remember our wonderful day vividly, we asked Enrico Mocci of ArteFotoArona to join us for the whole day to take photos. At first we did not know whether we wanted to have a film made as well. However, when Enrico showed us a film made by his assistant Martin of another wedding, we knew right away: this is what we want! So on the big day both Enrico and Martin came with us all day long. It is incredible how they just blended in… Of course you know they are there, but they made it very simple to just forget that (and our group was very small, 12 people including us…).
All in all, we had the time of our lives. We will definitely come back to Orta San Giulio for our anniversaries…
Thank you all!!!!
Daniëlle & Silvain