Today we would love to speak you about another dreamy wedding: Amy and Kevin's one.
Amy and Kevin are both Americans and they choose the wonderful scenarios of Lake Maggiore for their Italian Wedding.
For Italian Lakes Wedding Team our musicians of Koinè String Quartet were present. They created the perfect soundtrack for this lovely event on the lake shores with their enchanting music.
It was just amazing playing in such a wonderful and romantic frame.
The weather seemed to be grey but at the end the sun came out unexpectedly just few minutes before the ceremony. The sun was just as a guest invited by bride and groom and He could not say no!
Silvia – Koinè String Quartet
This wedding was arranged between Stresa and Pallanza with a Belle Epoque style of Grand Hotel des Iles Borromées in Stresa and spectacular Villa Rusconi in Pallanza.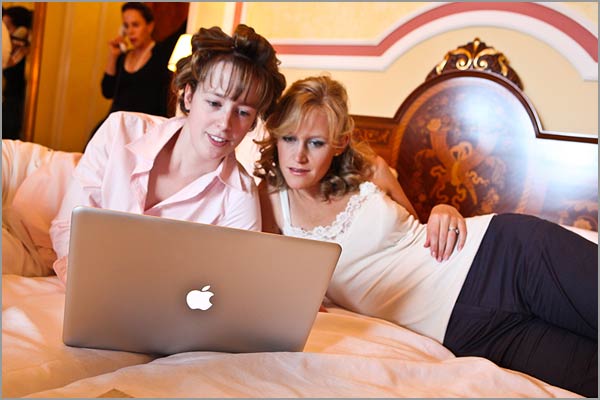 Grand Hotel des Iles Borromées is one of the best and most luxury hotels on Lake Maggiore. It is located on Stresa lakeside facing Borrome Islands. The hotel recalls golden times of Belle Epoque thanks to its frescos and plasters.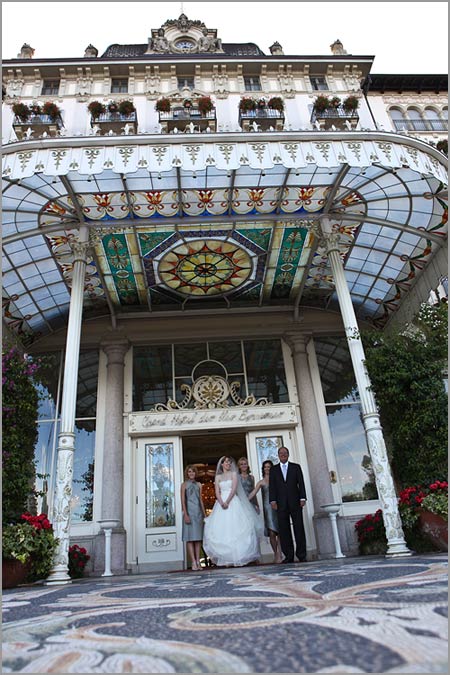 Blue lake was the background together with the magic sun of this perfect day!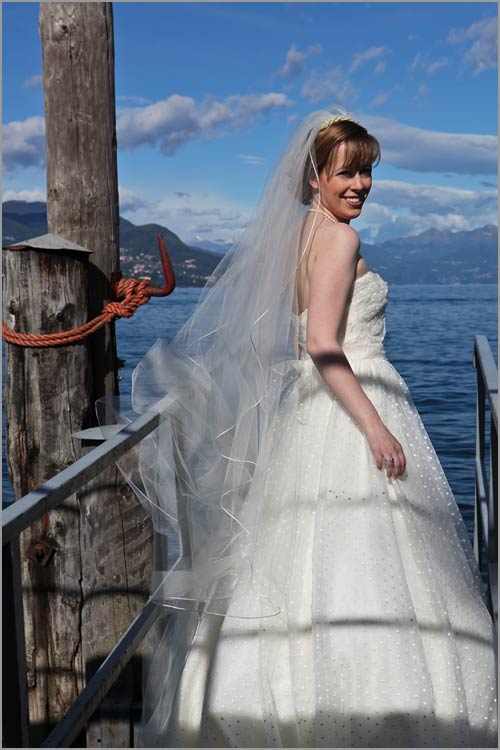 We would like to tell you about Amy and Kevin's wedding thanks to precious shots taken Marine Fonteyne, the lovely photographer who gave us the pictures of the event.
Amy's first impressions after seeing the pictures of the wedding were more than enthusiastic:
Marine,? these photos are amazing!!! ?
My favorite is the one of me and the bridesmaids on the boat.
I also really like the one of me boarding the boat. The black and white makes it look like it happened in a film of Federico Fellini. ?Thank you so much!?
– Amy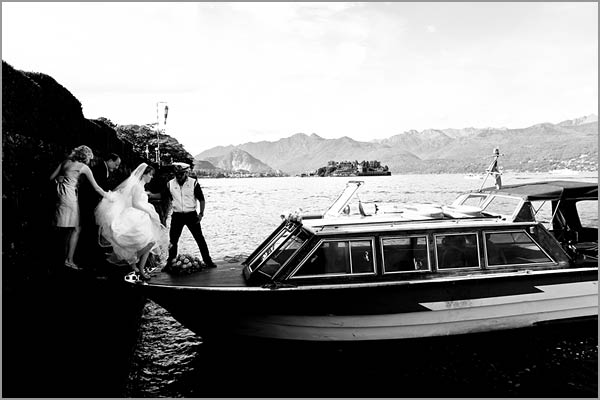 Marine Fonteyne has a Belgian heritage but was born in Brazil and now live in Milan.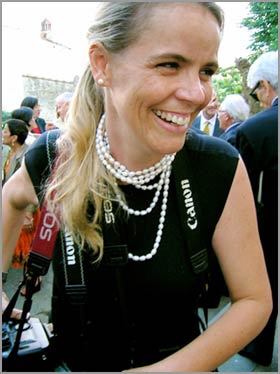 She has a master and degree in marketing and advertising.
Since 2003 works in Italy. With more than 12 years experience she can match her tecnique with great feminine sensitivity to tell your wonderful day in an original and unique way!
Marine has a very feminine style.
She works with a team made up of only women. According to Marine only a woman can really get the importance and the feeling of a wedding day!
Marine Fonteyne is a WPJA member. The Wedding Photojournalist Association (WPJA) is a professional organization composed of photojournalists and wedding photographers from around the world.
She won in 2008 2 international prizes of important American magazine Bride's Magazine.
But we let Marine Fonteyne tell us Amy and Kevin's big day!
This is a perfect example of an American wedding with an Italian flavor!

A refined couple from Chicago, in love with Italy , especially with Lago Maggiore, choose this place to celebrate their union at Villa Rusconi Clerici – Verbania Pallanza.

Every single detail was thought with extremely good taste & finesse.
The day was spectacular and, as the hours passed by, the sky got bluer and the sun shined, perfect conditions for an open air celebration!
The couple & guests were staying at Grand Hotel des Iles Borromées in Stresa and sailed in typical lake boats to the Villa waiting for the arrival of the bride & brides-maids.
The time when the bride boarded the little boat reminded… a Fellini's movie!
At Pallanza, the grooms were blessed in an open-air ceremony by a protestant pastor as the sun was shining over the lake and a little orchestra was playing classic music … an extremely spiritual scene!
The whole event has been perfectly set up with a extremely good taste, matching the American traditions with the Italian charm!
The dinner has been held in a separated covered part of the garden and the night was closed with the magical atmosphere created by hundreds of candles floating in the lake!
Enjoy!
Marine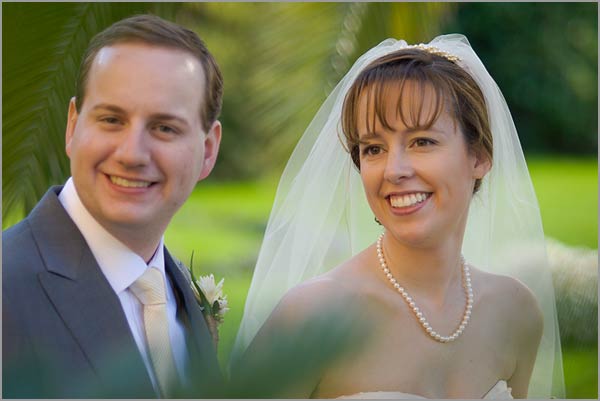 Thank you very much Marine for your amazing shots!
…Amy and Kevin, just another great wedding on Lake Maggiore!