Some days ago Alessandra told you about Julia and Angus' wedding on Lake Como.
For the ones who did not have a look to their lovely photogallery just give a glance of wonderful pictures taken by Mauro Pozzer.
Julia and Angus opted for red and blue color scheme with a touch of cream.
It is really funny as the same scheme – red blue and cream – was taken by another English couple Richard and Victoria who got married on Lake Orta.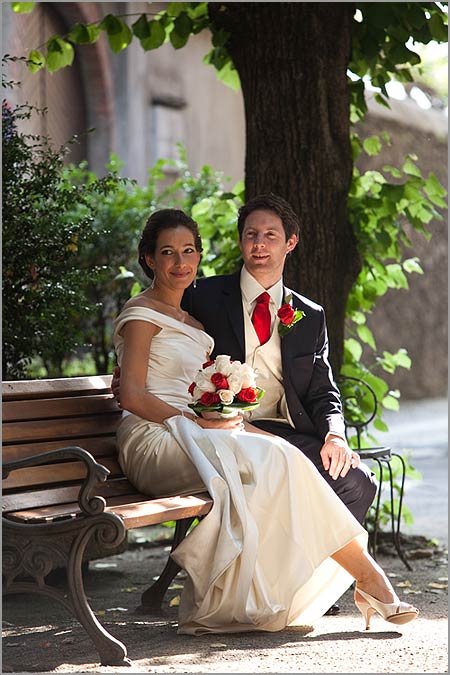 Our readers surely remember that we spoke about this wedding in our Just Married section. We promised a longer post and here we are.
We come back to you speaking about Victoria and Richar's wedding thanks to Enrico Mocci, the photographer bride and groom chose for their day.
Enrico Mocci gave us in short time the full service of the event. So I selected some lovely images but do not forget to see the entire PHOTO GALLERY. You will find 32 great shots describing this special day.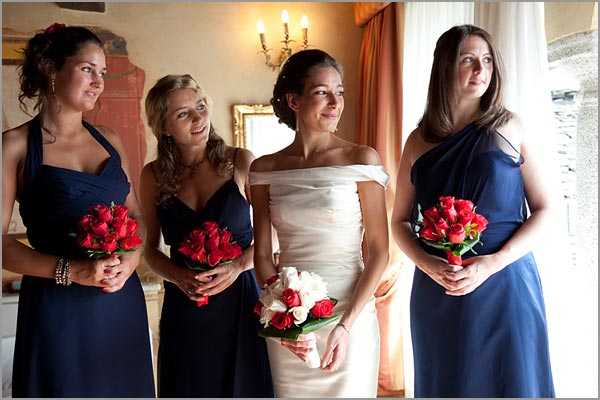 Victoria and Richard are a lovely couple came from UK and as often all decorations were decided via email. I had the pleasure to meet Victoria only few days before the wedding. She is a lovely and pretty girl.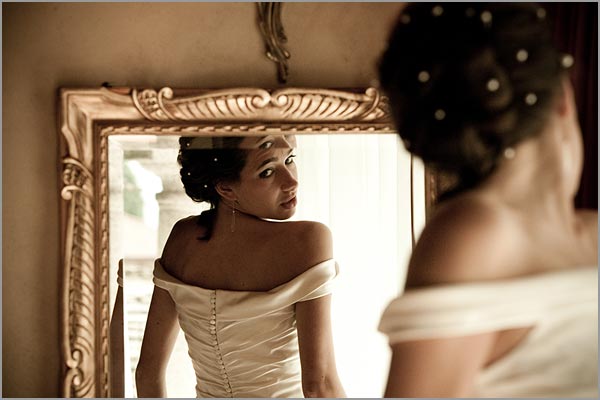 Since the very first emails Victoria knew what she wanted: roses in two color with a predominance of red.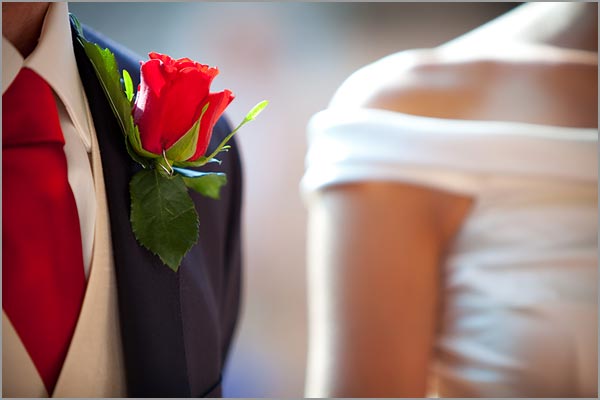 Red, color of passion and love was the main theme of all floral arrangements I created for Victoria and Richard. Red was in bridal and bridesmaids' bouquet, groom's tie and buttonholes and of course in the decorations of the ceremony.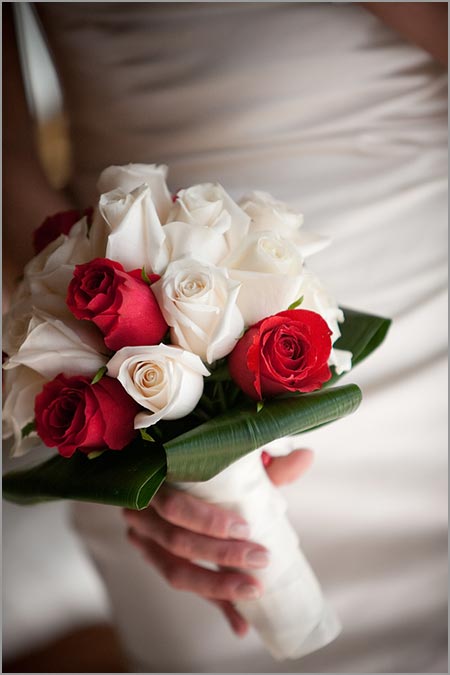 Another color was present too: blue.
it was not in the flowers but on groom and groomsmen's suits, bridesmaids' dresses, and Victoria's father suit too. They were all in blue with a touch of red!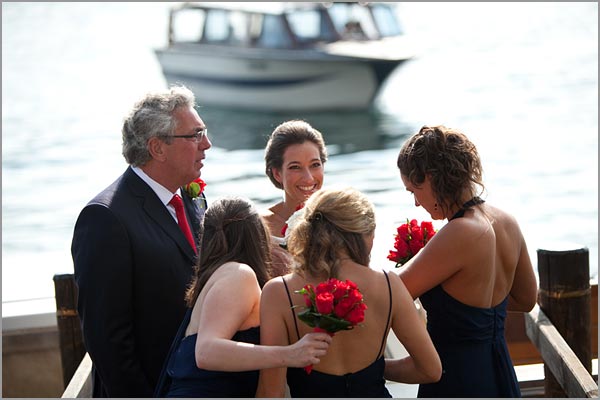 Civil ceremony was held in the gardens of Villa Bossi. It was an intimate and cosy ceremony with three moving wishes made by Victoria's bridesmaids!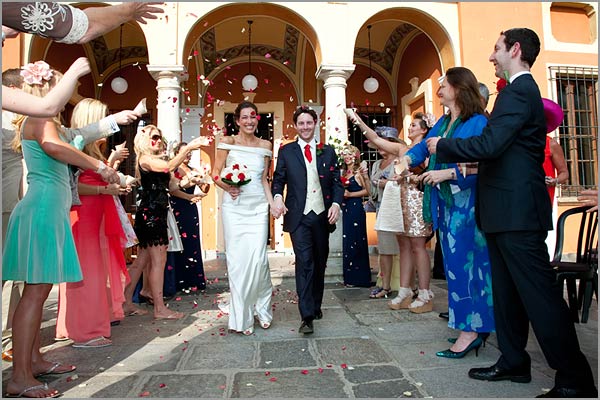 Have a look to Victoria's hair do.
It is more than refined and surely very elegant. It perfectly matches her face and her wedding dress: a masterpiece of style!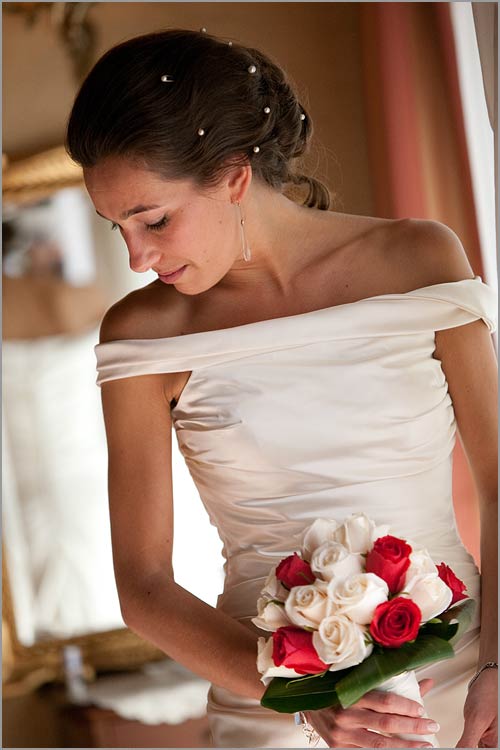 After the ceremony Victoria and Richard took the occasion to have lovely pictures in the narrow roads in Orta village and St. Julius Island.
The party was held in a little restaurant just on the shores overlooking St. Julius Island.
Victoria threw her bouquet to start the party!
Once at their tables guests found a sweet surprise: a little rose blossom in their napkins. Little details made an event charming and pretty!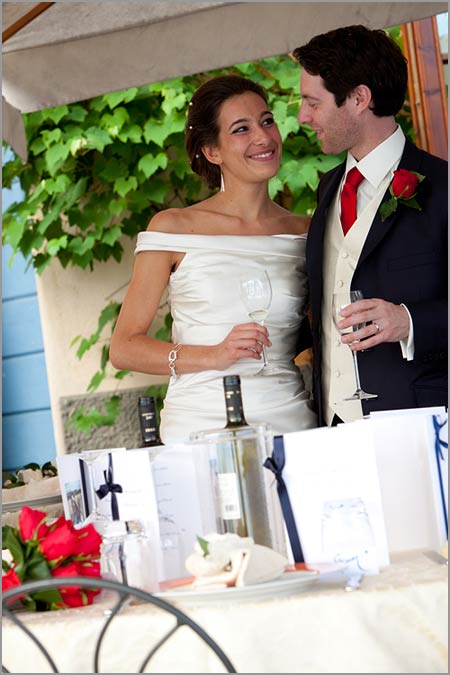 Victoria and Richard's wedding was certainly one of the most elegant wedding I worked for in the first part of 2010 Summer season wedding!
Blue like the lake, Red like love!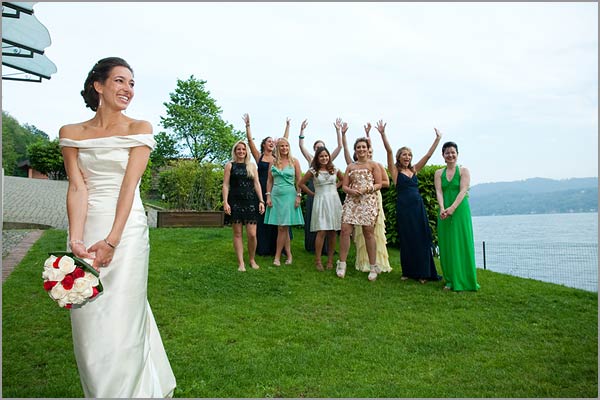 ---
Together with Monika, Paola is La Piccola Selva floral designer.
She is part of La Piccola Selva team who are specialized in floral arrangements and lovely bridal bouquets on Lake Orta and Lake Maggiore.

After her graduation in English language her passion for nature and flowers brought her to a long and successful career in floral design.
Thanks to her long experience and creativity Paola will be able and happy to suggest you best flowers, color, details, shapes and styles that could match your tastes and ideas.
She will be able to add a final touch that could turin your wedding in an even more special day!