Lucia is a typical row boat once used at Lake Como for transporting goods to the markets. It got famous in the well known romance written by Alessandro Manzoni I Promessi sposi, a story about spouses that had to outrun lots of hindrances in the 18th century before getting married at Lecco.
Today some gentlemen do collect those old boats, restore them and rent them out for special occasions like marriages or row-competitions.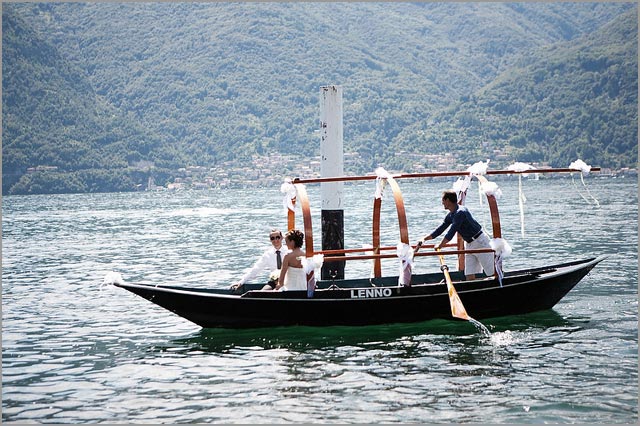 For Axel and Melanie we organized one of these old boats, got it decorated and had 2 strong men to row them 600 metres to Ossuccio with its really cute townhall. All guests were waiting and applauded at the arrival. As well the major awaited them under the historic arcades to start with the civil wedding ceremony.
Sure that all majors in Italy have to read out the legal articles, but they do it with much pleasure. And often there are situations to laugh as it is not always very easy for the celebrant to pronounce all those foreign names and cities. So with this, all wedding ceremonies get a very soft and smiling touch, although they are legally accepted.
After the ceremony we arranged a toast in the garden below the arcades, just to have some sips of Prosecco and some light fingerfood, nicely prepared right next to the lake.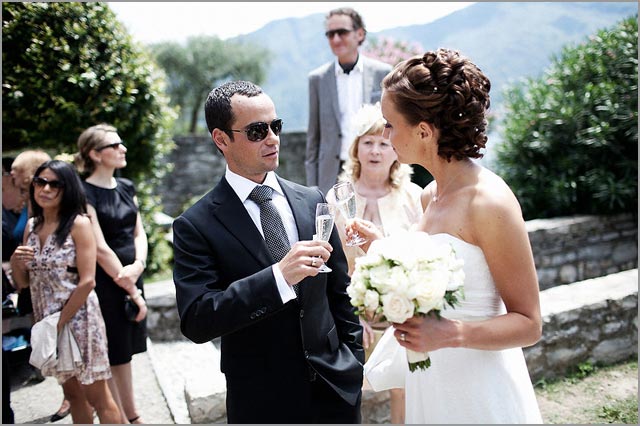 Then we proceeded by boat to the famous Villa Balbianello for some beautiful photos of bride and groom in the elegant garden of this villa. Nice to walk here where already successful films have been registered, like Ocean Eleven, Star Wars, James Bond etc.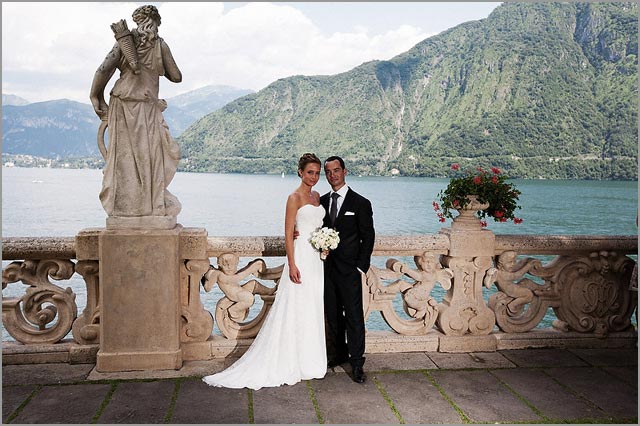 Our photographer Julian Kanz had much fun to shoot Melanie and Axel in all parts of the pittoresque property. And the best is, that even all guests do enjoy this one-hour-stop as they can stroll through the gardens and relax at each corner with wonderful views over Lake Como.

Finally we drove back to the Hotel San Giorgio, where we arranged a wedding dinner with local food. But before starting with the dinner, all guests had 2 hours to relax and to refresh themselves. In the meantime it was our task to arrange the table decoration, all in white and green colors. Together with lampions, candles, torches to create a very typical summer party in the beginning of a hot July.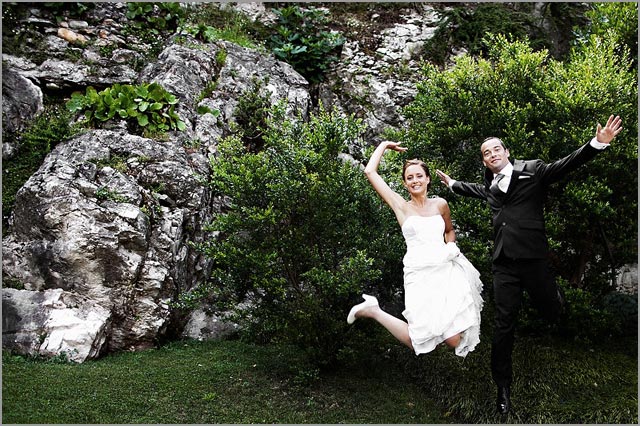 Britta Hartmann-De Marchi is german and therefore the specialist for German, Austrian and Swiss couples coming to the lake Region for getting married.

She herself got married 10 years ago and choose an Italian husband. Enjoying to live here in Bella Italia and coming from 14-years-experience in international advertising and marketing, she liked to change her job into becoming organizer of weddings for german-(and english-) speaking people coming to Italy for their marriage.

Coming from Germany and knowing what to expect in Italy, she is the perfect organizer between bride and groom and the Italian service partners. Correctness, flexibility and a easy hand to plan all details around a wedding make her work very appreciated.

The most emotional part is, when I become almost the best friend of the bride during all the planning time you share with each other. So we both do enjoy the wedding day in its best form and this is important for my work.