Lucia ist ein Ruderboot vom
Comersee
, das vor allem für Transporte im 18. Jahrhundert von Arbeitern und Bauern genutzt wurde. Berühmt wurde die
Lucia
im Roman von
Alessandro Manzoni
I Promessi Sposi
, worin es um ein junges Brautpaar geht, das nur über viele Hindernisse schliesslich heiraten konnte. Und so findet man heute wieder einige der alten Lucias, die von Liebhabern aufgefrischt und seetauglich gemacht wurden und bei ganz besonderen Anlässen zur Verfügung stehen.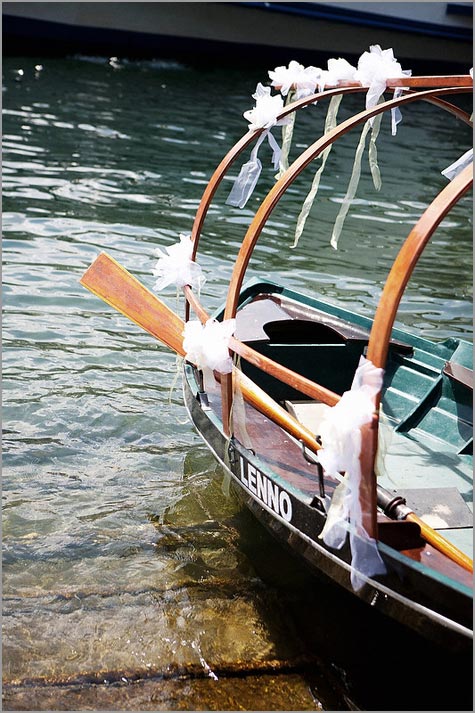 Für Axel und Melanie hatten wir uns dieses besondere Transportmittel ausgedacht, um sie von Ihrem Hotel ca. 600m weiter bis vor das entzückende Standesamt von Ossuccio am Comer See zu rudern. Am Standesamt standen auch schon alle Gäste, die der Lucia und ihrer besonderen Fracht einen herzlichen Empfang bereiteten.
Der Bürgermeister wartete unter den historischen Arkaden, um die Trauung zu zelebrieren. Zum Glück ist das Amtshaus in Ossuccio so klein, dass die Gemeinde beschlossen hat, die standesamtlichen Trauungen im Freien unter den Torbögen abzuhalten und das ergibt natürlich eine ganz besondere Atmosphäre.
Natürlich lesen die italienischen Bürgermeister vor allem die gesetzlichen Eheartikel, aber einige persönliche Willkommensworte und Glückwünsche an einem so besonderen Platz werden ebenfalls ausgesprochen. Und dann ist natürlich auch das Übersetzen der italienischen Texte oft mit einem Lacher begleitet, geschweige denn, wenn der Bürgermeister über schwer auszusprechende deutsche Nachnamen und Städte stolpert. Alle Trauungen in Italien erhalten damit einen ganz besonderen lockeren Touch.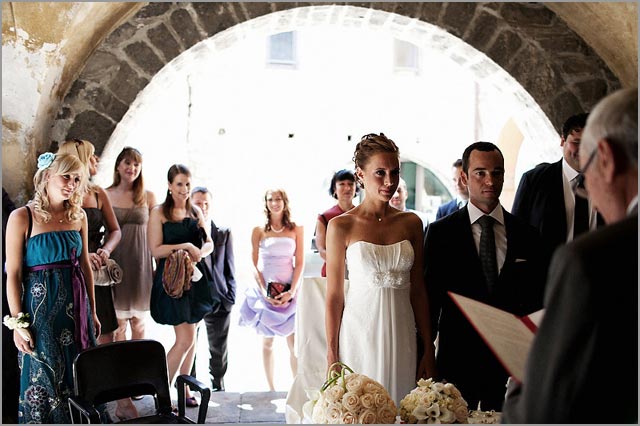 Nach der Trauung gab es im Gärtchen vor der Mauer am See einen netten Umtrunk, einfach Prosecco, Früchte und einige leckere stuzzicchini, so nennt man das typisch italienische Fingerfood.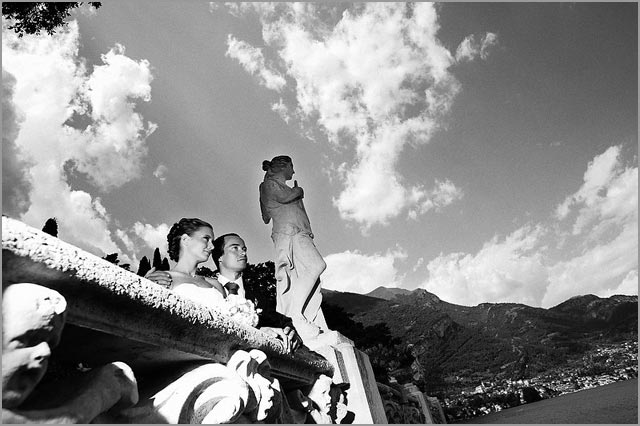 Anschliessend ging es per Boot weiter in die berühmte Villa Balbianello, wo schon viele Kassenschlager aus der Filmszene gedreht wurden. Zum Beispiel Starwars, James Bond, Ocean Eleven und sogar eine Soap-Opera aus dem deutschen Fernsehen drehte hier etliche Filmtage. Ganz wunderbar also, wenn dann ein Brautpaar hier auch Traumfotos schiessen kann. Unser Fotograf Julian Kanz war hier ganz begeistert und konnte sich vor schönen Motiven kaum retten. Nicht nur wegen der Traumkulisse, sondern auch weil Melanie und Axel ganz locker dabei waren und mit viel Spass alle Fotowünsche vom unermüdlichen Julian mitmachten.
Das Gute an diesem Programmpunkt ist, dass man gleichzeitig auch die Gäste versorgt hat. Denn ein Spaziergang in dem englisch angelegten Garten mit quasi rundum Aussicht auf sensationelle See-Eindrücke ist für jedermann ein willkommener Genuss.
Per Boot, diesmal ein privates Motorboot für alle Gäste, ging es zurück zum Hotel San Giorgio in Lenno. Wichtig waren die dann folgenden 2 Stunden Ruhepause, damit sich Gäste, aber auch das Brautpaar selbst ein wenig ausruhen konnte – sehr stilecht vor allem der Bräutigam in seinen Ruhemomenten !!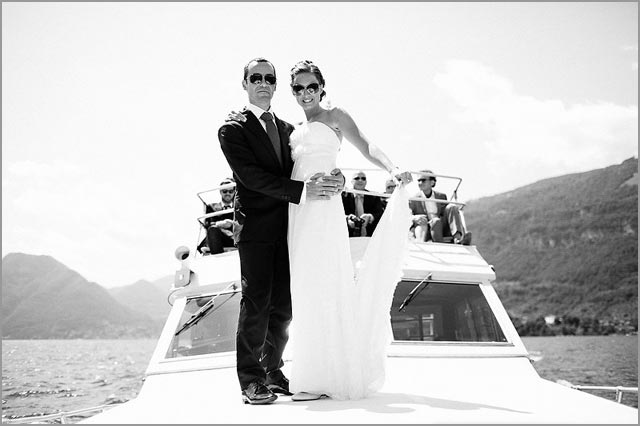 Britta Hartmann-De Marchi is german and therefore the specialist for German, Austrian and Swiss couples coming to the lake Region for getting married.

She herself got married 10 years ago and choose an Italian husband. Enjoying to live here in Bella Italia and coming from 14-years-experience in international advertising and marketing, she liked to change her job into becoming organizer of weddings for german-(and english-) speaking people coming to Italy for their marriage.

Coming from Germany and knowing what to expect in Italy, she is the perfect organizer between bride and groom and the Italian service partners. Correctness, flexibility and a easy hand to plan all details around a wedding make her work very appreciated.

The most emotional part is, when I become almost the best friend of the bride during all the planning time you share with each other. So we both do enjoy the wedding day in its best form and this is important for my work.
Für alle Fragen, die eine Hochzeit an den norditalienischen Seen betreffen, füllen Sie bitte das untenstehende Formular aus, um das Team von Italian lakes Wedding zu kontaktieren: