hat happens when two young lovers fall in love with Italy and Lake Como shores? A very romantic wedding is going to be celebrated!
We are going to tell here Abigail and Oliver's romantic story. They two young guys coming from UK. We really loved planning their wedding. Wedding day started in started in a luxury hotel where they got ready. The day kept on going with a traditional catholic ceremony in Varenna and it finished with stunning reception and party at Villa del Balbianello.
A gorgeous day that we were pleased to organise and turn into reality!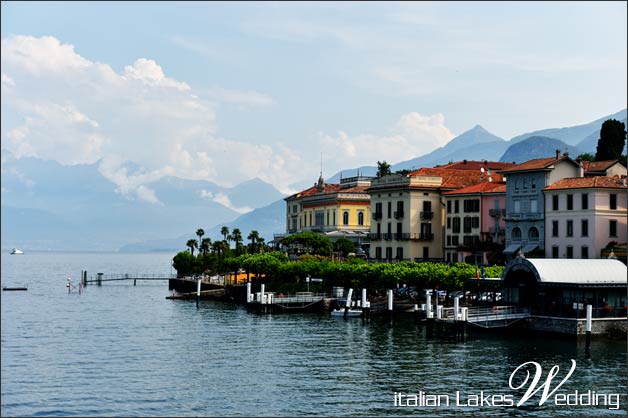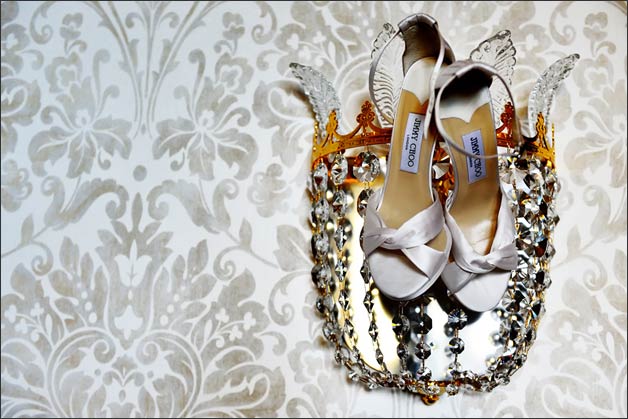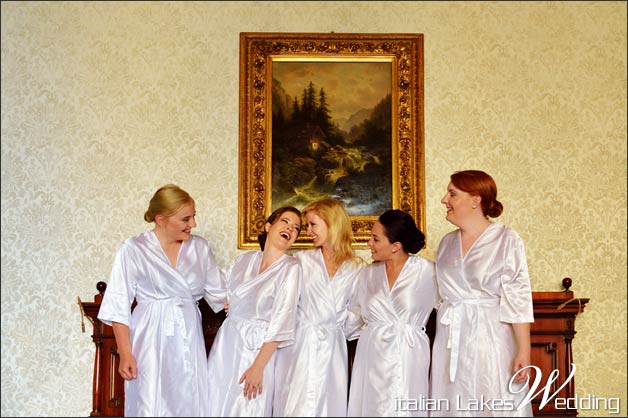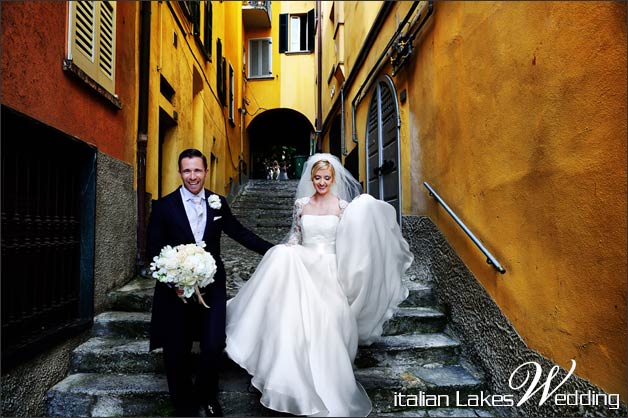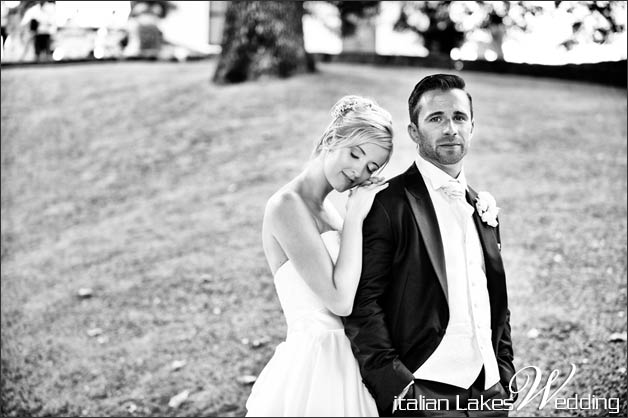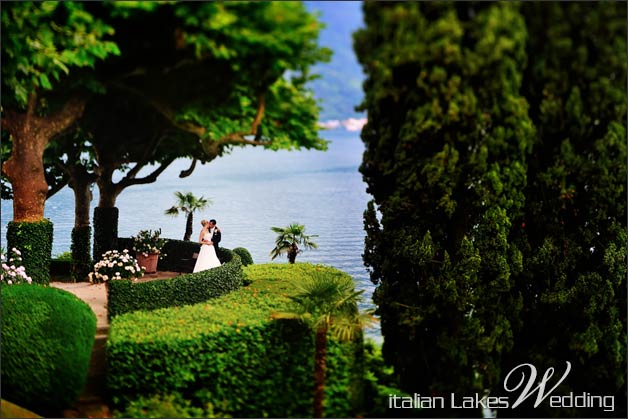 Getting ready in a wonderful luxury venue
Abigail and Oliver came to Italy with their families and a lot of friends. They chose to stay in a very elegant hotel in Bellagio, to give everyone the most beautiful experience of a staying on Lake Como shores. Both Abigail and Oliver's rooms were plenty of joyful people since the early morning! They all couldn't wait to be ready for the wedding!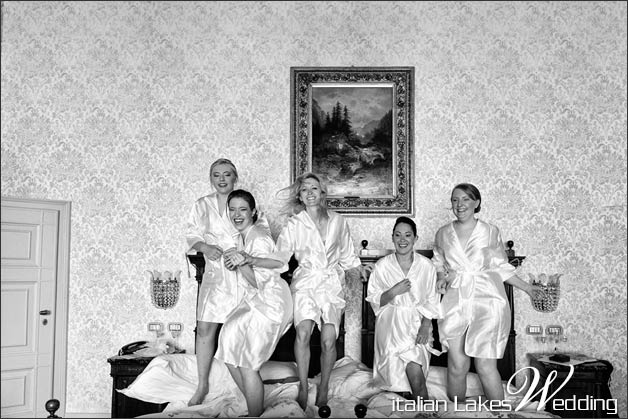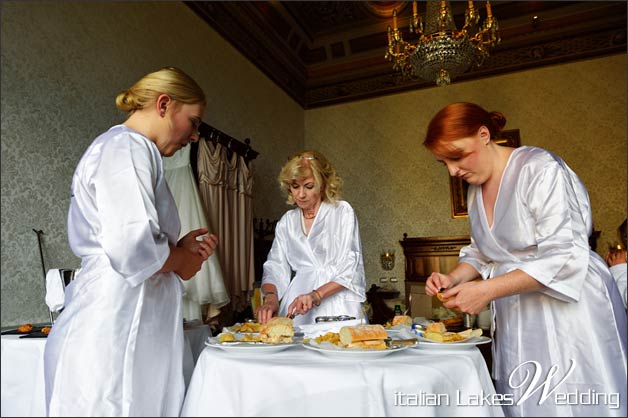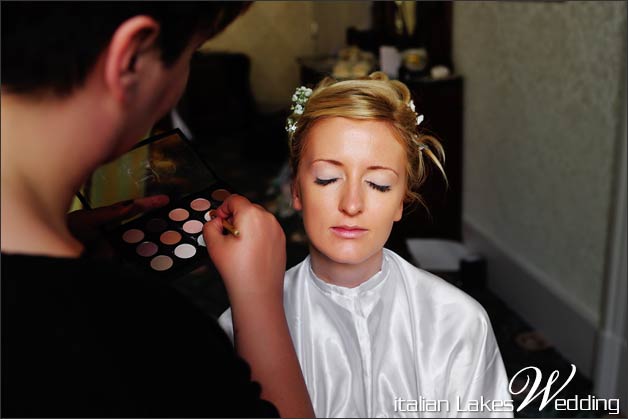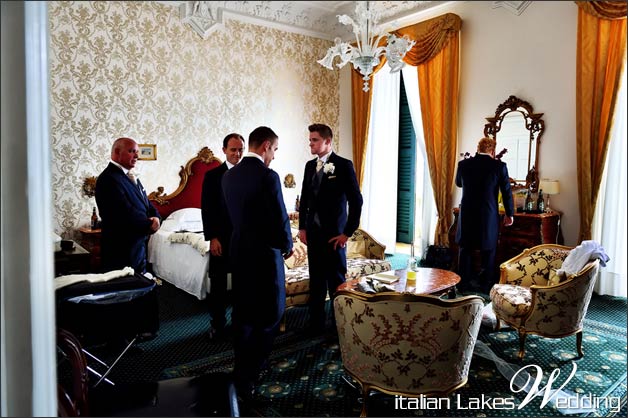 Abigail and her bridesmaids, relatives and little girls enjoyed our very skilled make-up and hair stylists! Some Prosecco wine and a tasty Italian breakfast added a special touches to the party atmosphere!
What a lovely music the sound of laughs!!
All kept in the video by Daniela Tanzi, videographer that we thank.
Everyone knows that flowers are really important during a wedding day. Our lovely couple chose white peonies, creamy roses and baby's breath for the little girls' crowns. A very romantic choice for their romantic day!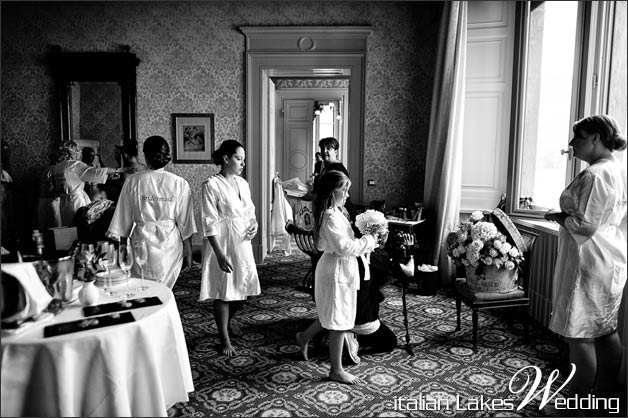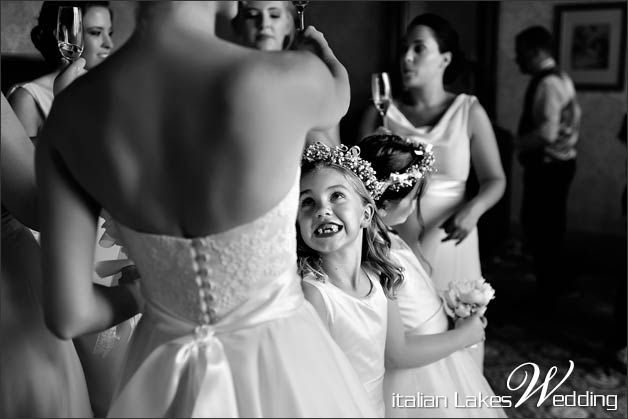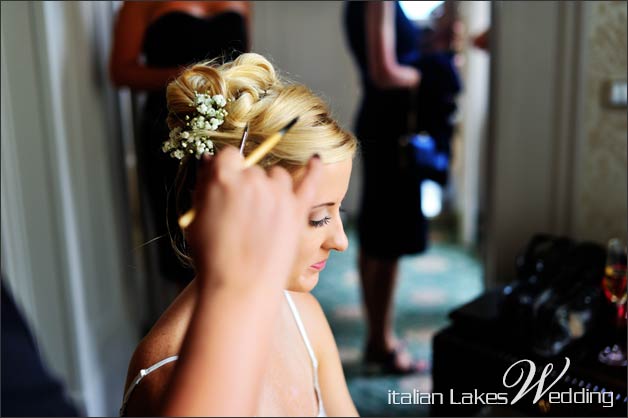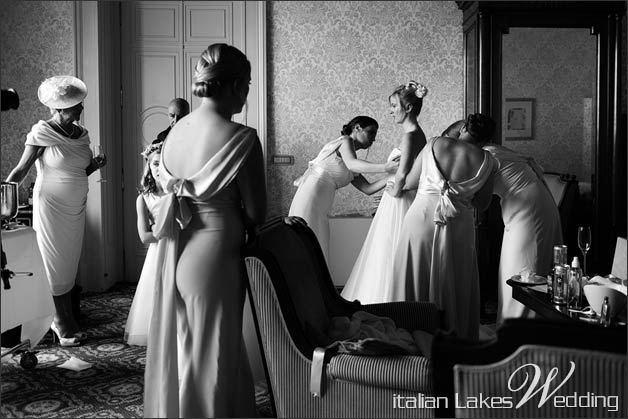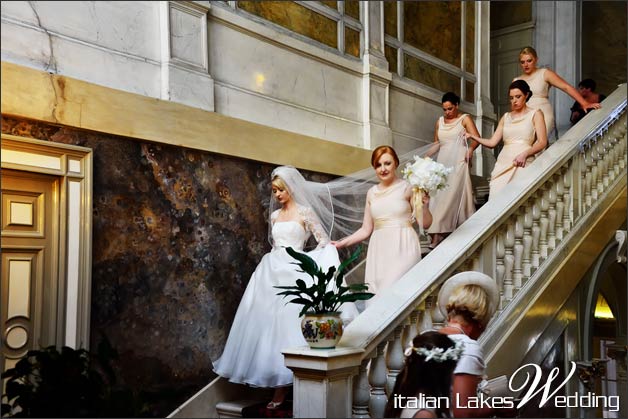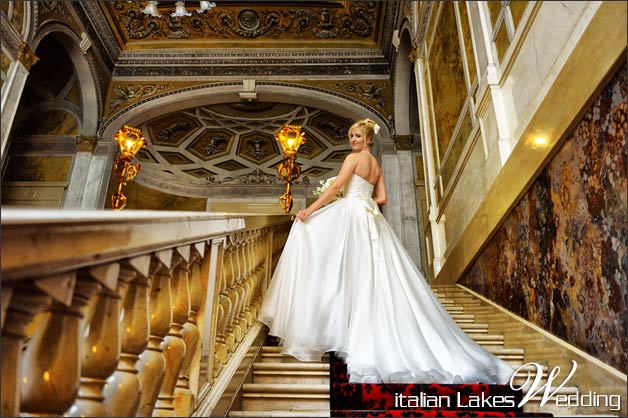 In the meantime Oliver was with his best men, relatives and friends who helped him to enjoy the wait up to the moment to leave by boat and go meet Abigail for the ceremony.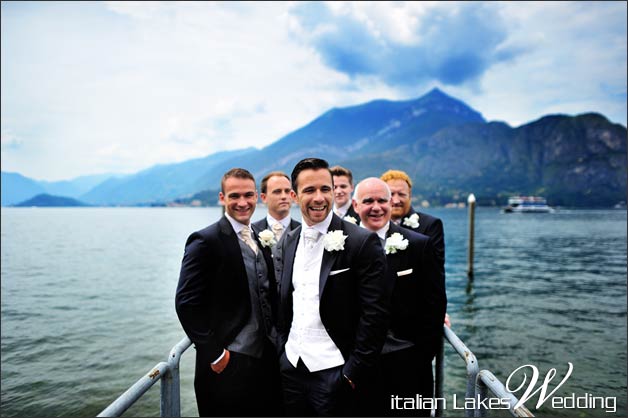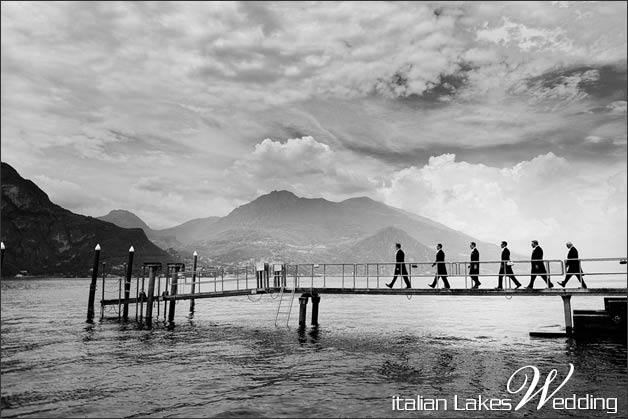 A CATHOLIC CEREMONY TO TIE THE KNOT
On Lake Como shores there is a beautiful town called Varenna. It is cosy and picturesque. It is the perfect destination for a catholic ceremony. Abigail and Oliver ceremony was fully officiated in English.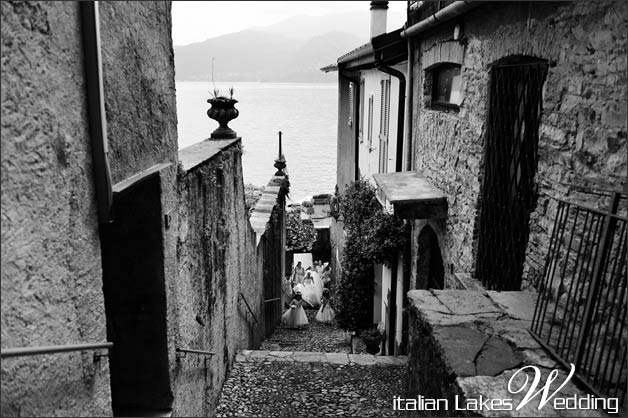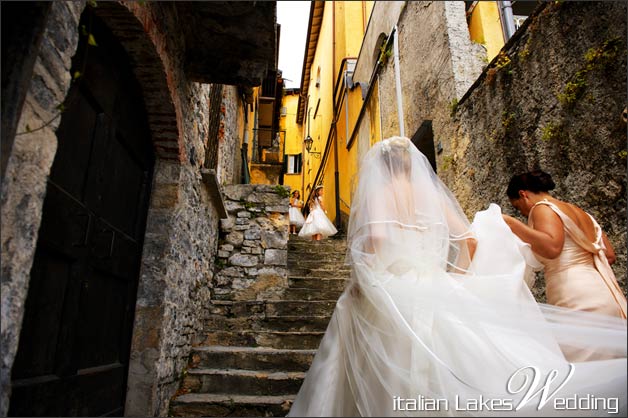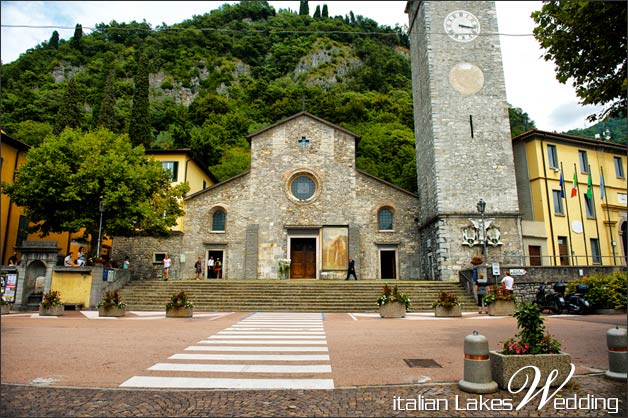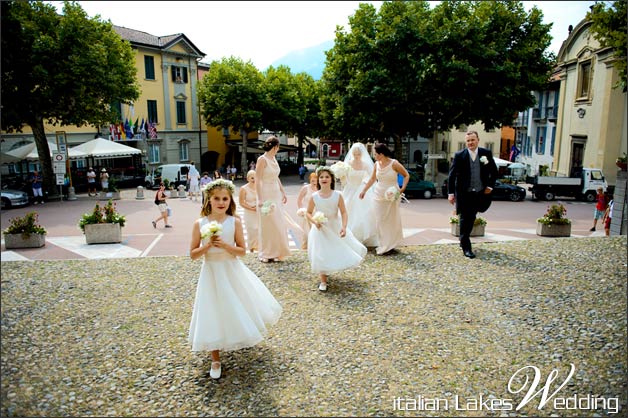 In the ancient church all guests took their seats. Floral decorations created a perfect atmosphere: on the altar and on the pews we had baby's breath and creamy roses with candles, some columns with white vases full of flowers and roses' petals along the aisle… when Abigail walked it, all were so moved! She looked like a real princess walking to her prince charming!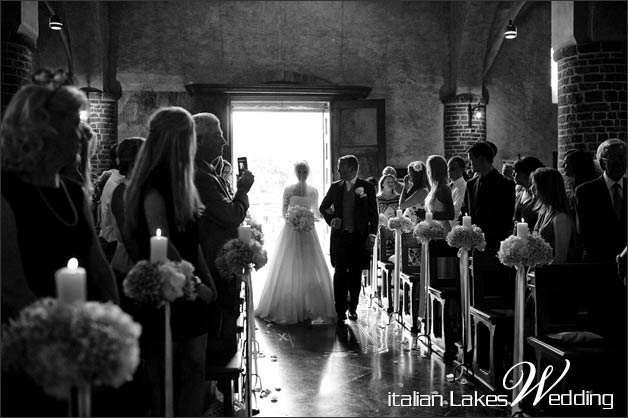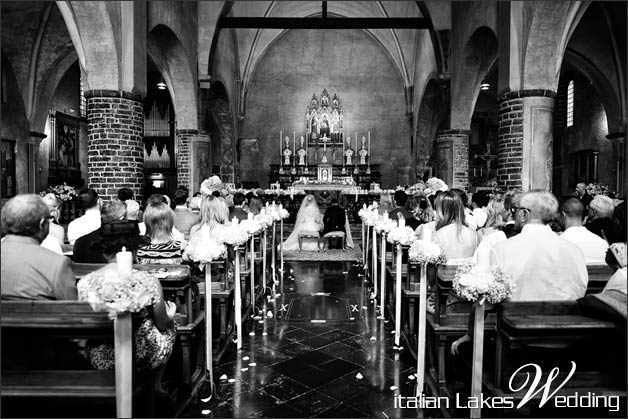 Then came the moment to say Yes, I do: in front of the priest Abigail and Oliver became finally husband and wife!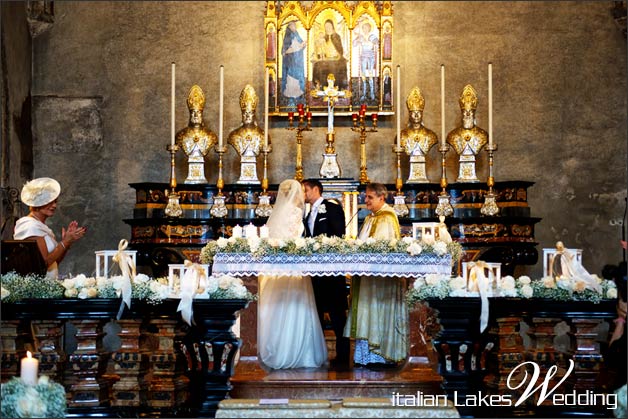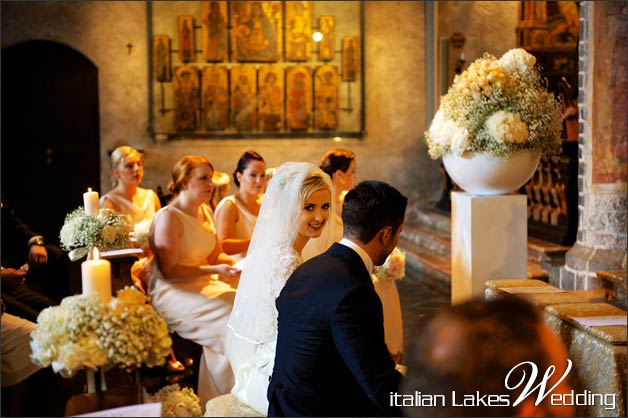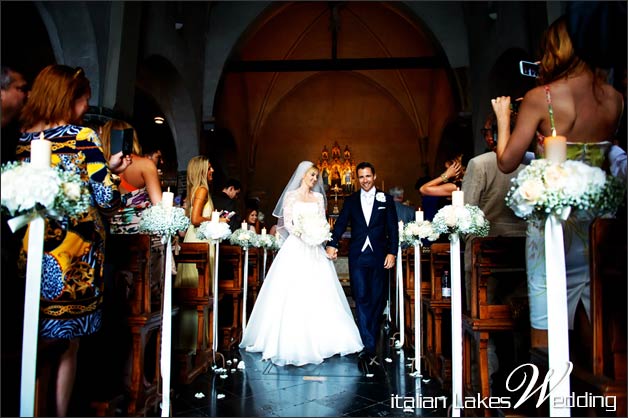 After the ceremony Abigail and Oliver took some time for wedding pictures on the church yard, just before leaving by boat to the reception venue.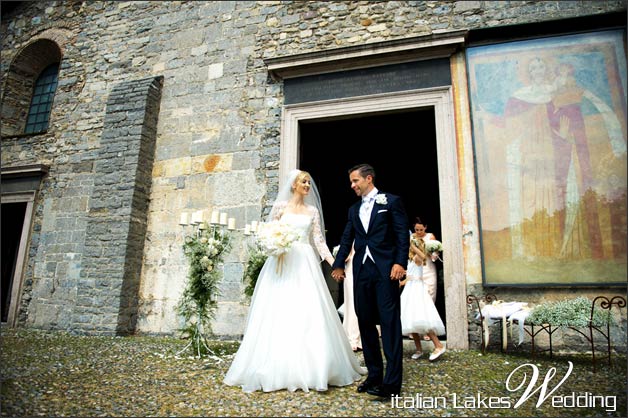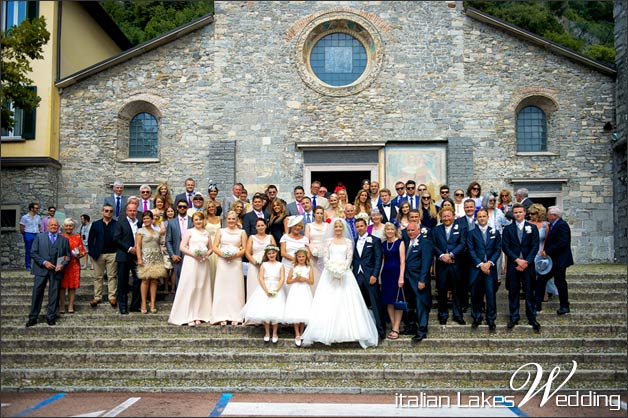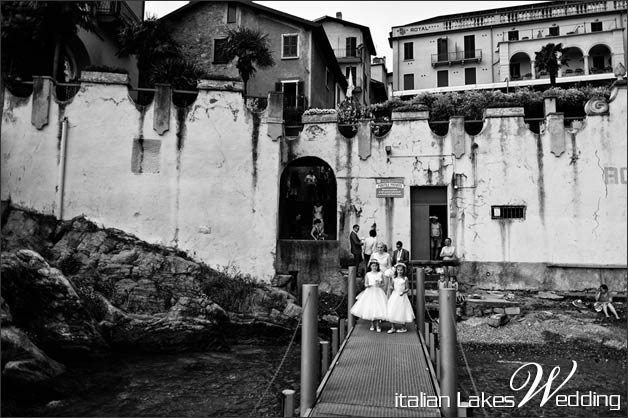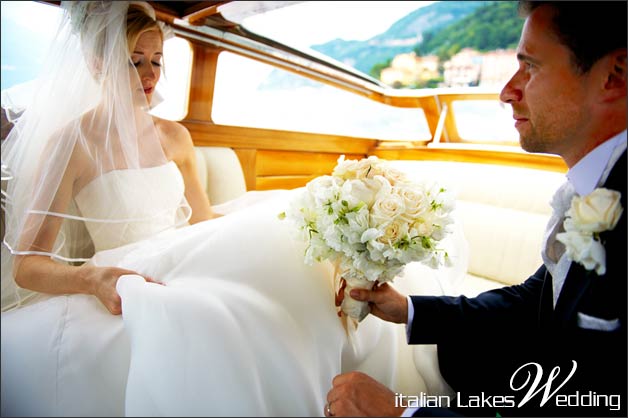 VILLA DEL BALBIANELLO: COULD YOU IMAGINE ALL THIS?
When all guests were still on boat, approaching Villa del Balbianello, everyone could see that something special was going on! A white and elegant marquee was set on the terrace overlooking the lake.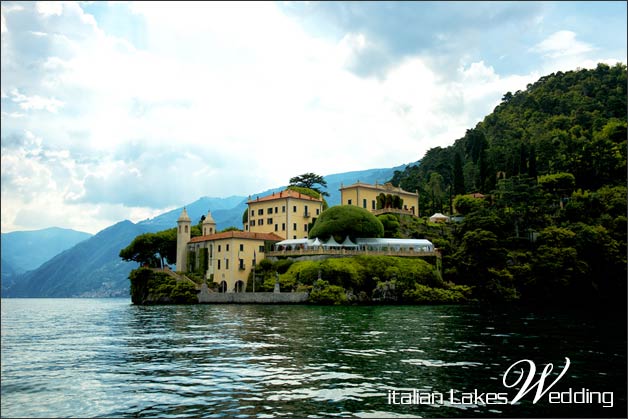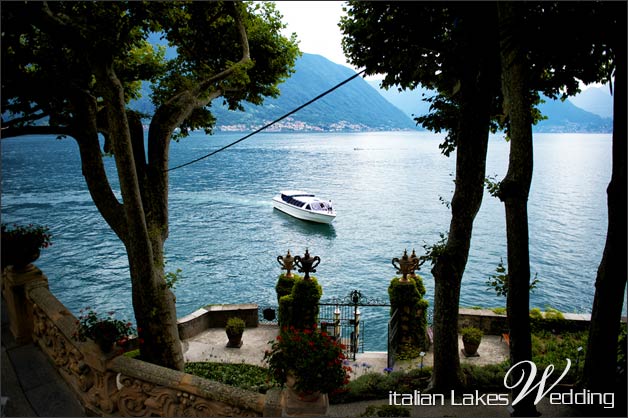 The bridal party couldn't imagine such a beauty! Everyone enjoyed a great welcome cocktail under the Loggia… this is the area where we usually arrange ceremonies. We suggested to create a sort of outdoor lounge bar, set up with high bar tables, bean bag chairs and a string quartet playing. An unconventional idea that everybody really appreciated!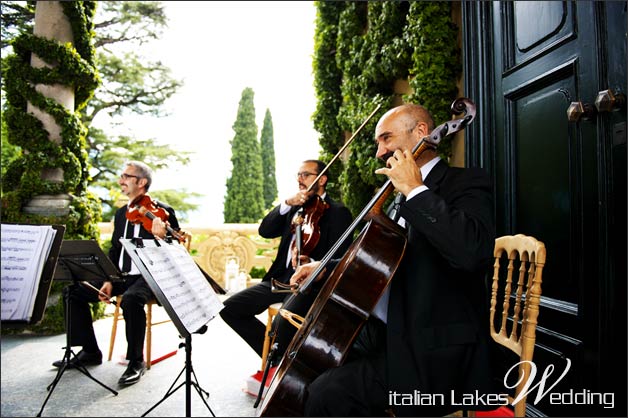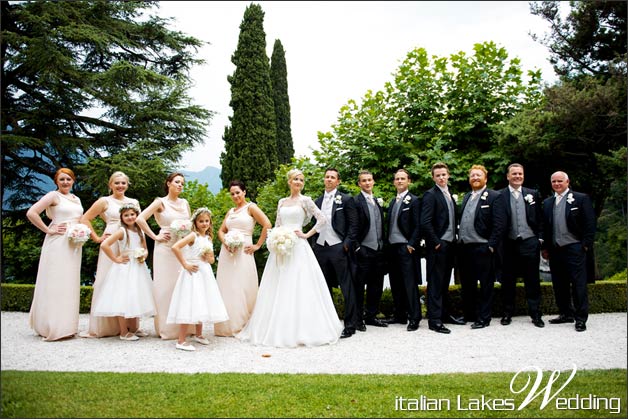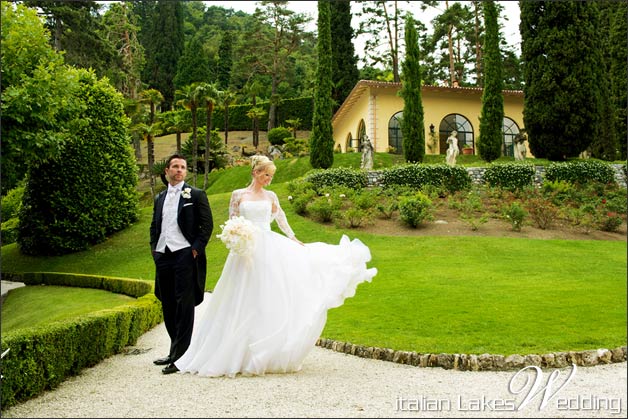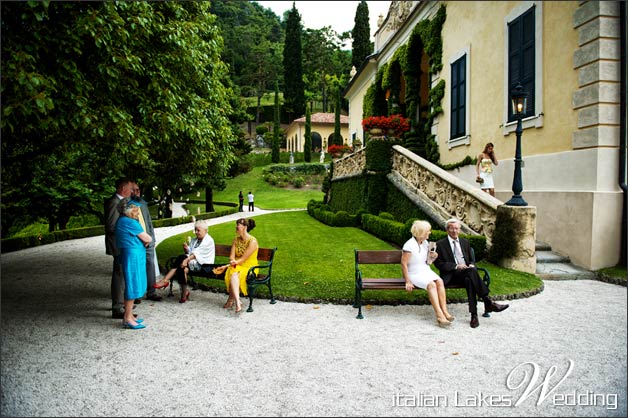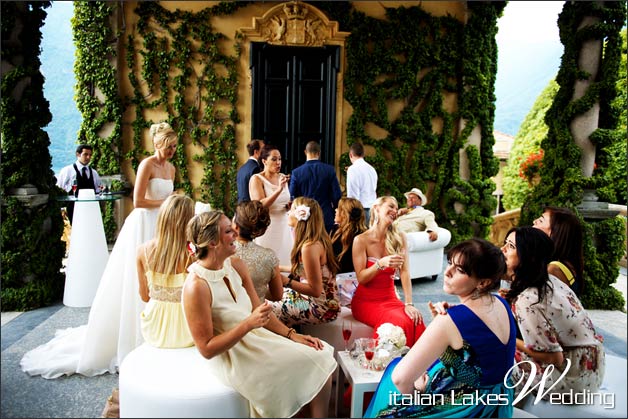 Wedding reception was planned under a white elegant marquee. Under it we planned round tables with white long tablecloths, charming high candleholders with floral balls on top as centrepieces, white orchids and roses decorations on the top table table and, last but not least, lights to give the marquee a coloured atmosphere.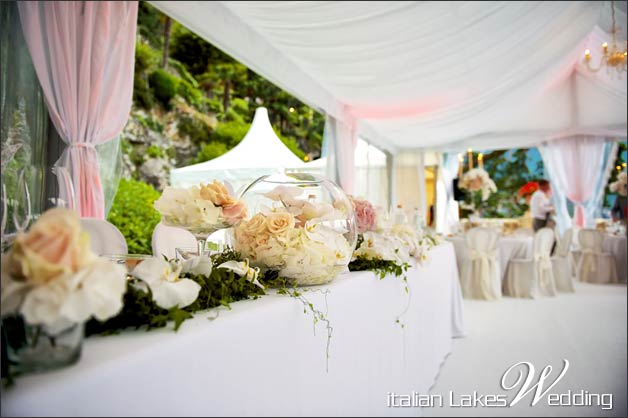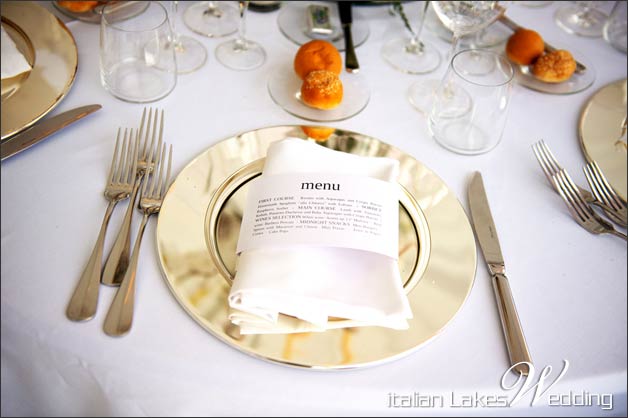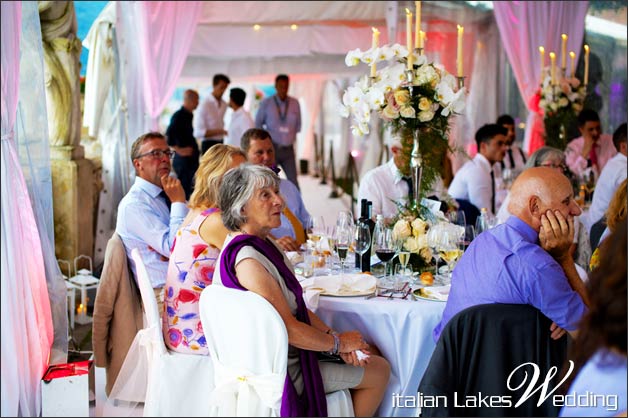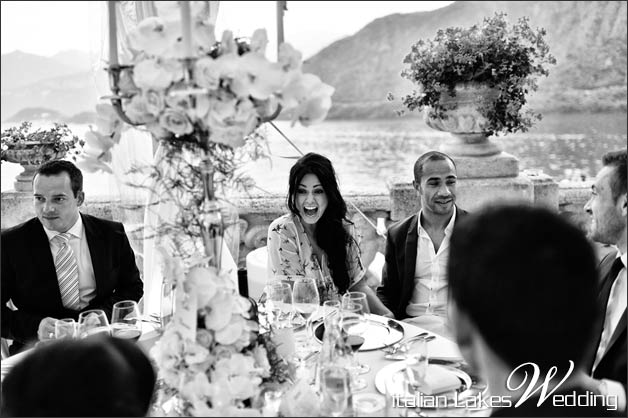 Abigail and Oliver shared their joy with their families and friends. Having great Italian food for dinner, laughing with their guests' speeches and then cutting their wedding cake and dancing all together with the sound of live music.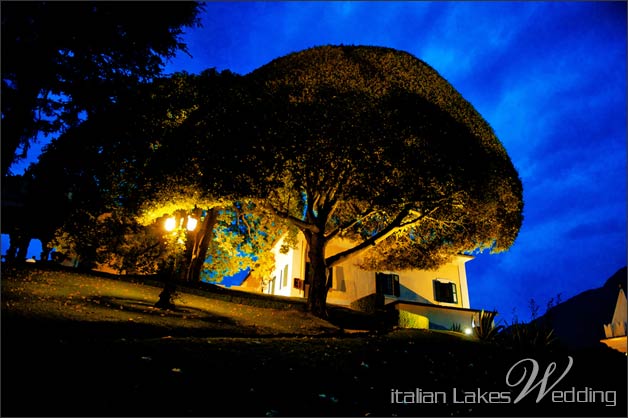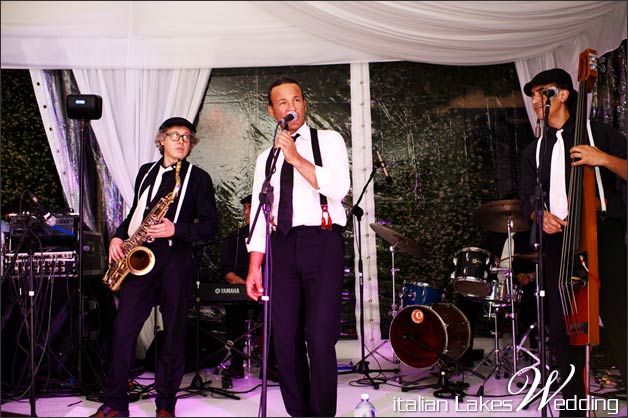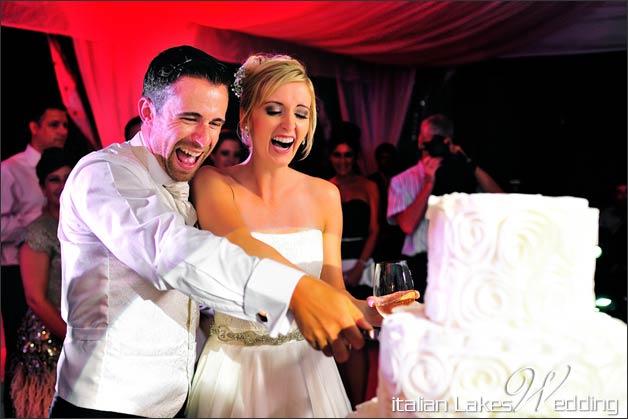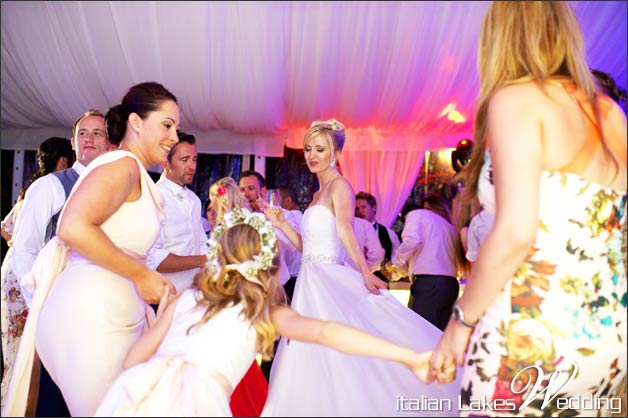 THANK YOU ABIGAIL AND OLIVER!
It was a great emotion for us planning Abigail and Oliver's romantic wedding! We wish you a joyful life and all the best. It was such an unforgettable wedding for us, as well!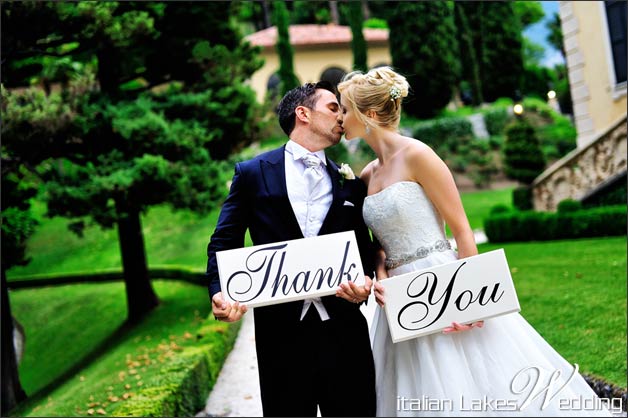 ALESSANDRA AND VERONICA – Lake Como wedding planners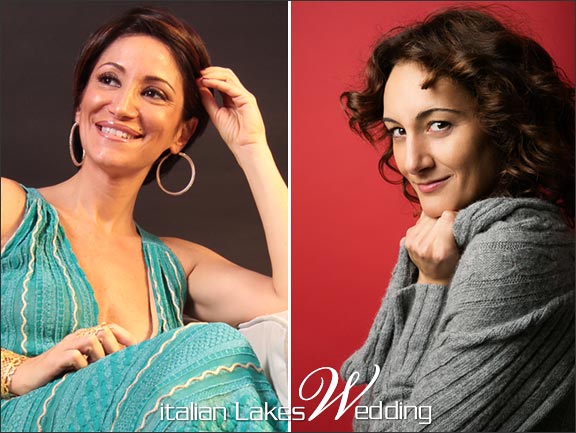 Alessandra and Veronica are the Italian Lakes Wedding's coordinators for lake Como area.
It will be a great pleasure for Alessandra and Veronica to help you plan your wonderful wedding on Lake Como: If your idea of wedding is refined, sophisticated and with a special attention to details, they are your perfect wedding planners! They make each client feel unique and treat each wedding as if it were their own.
With their help, glamour and bon ton will be the main features of your special day while Lake Como will be the enchanting setting. And if you need help in choosing your bridal gown, your honeymoon destination or the most chic wedding favors, just ask them and you'll be surprised by their fervid imagination!
For any information about your wedding at Villa del Balbianello on Lake Como:
CONTACT ALESSANDRA AND VERONICA
Planning in partnership with SposiamoVi.