ach event on
Lake Como
is special and unique. That's why I adore planning destination weddings here. Thanks to its romantic atmosphere, Lake Como offers every couple an unforgettable experience completely customized on their dreams.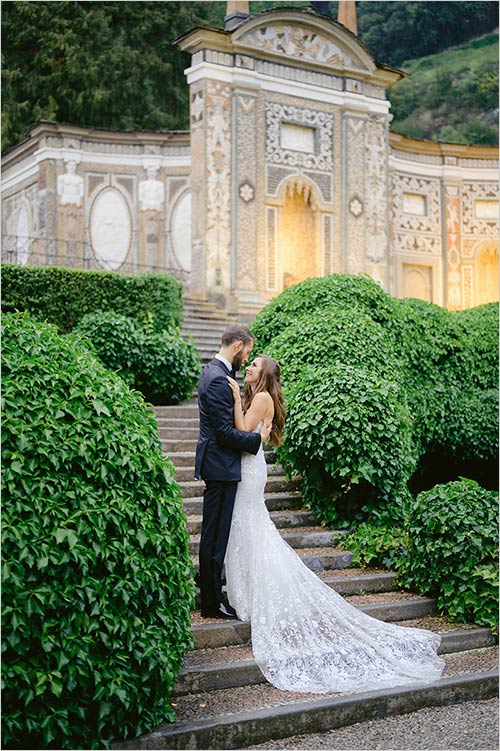 A wonderful destination wedding in Lake Como
I would love to tell you about Dan & Sasha very chic destination wedding on Lake Como. Maybe you will get the right inspiration for your own wedding in Italy!
Bride and groom chose the Anglican Church of the Ascension, right in front of the shores of Cadenabbia village, for their religious ceremony. All their guests arrived at the destination by boat enjoying wonderful Lake Como waters.
Wedding floral decorations Sasha and Dan chose for their wedding ceremony were very classical. Bride wanted a green and white aesthetic, in accordance with 2019 trends for floral decorations. She really wanted to be simple and authentic.
Keeping in mind bride's wishes, I proposed to embellish the Anglican Church with Roman vessels fulfilled with perfumed roses. Everybody loved the style.
Last but not least, Sasha made her entrance with a peonies bouquet in her hands. Very chic for sure!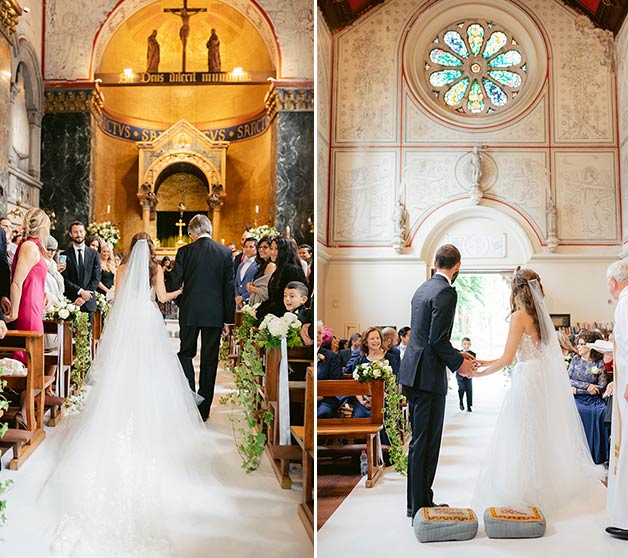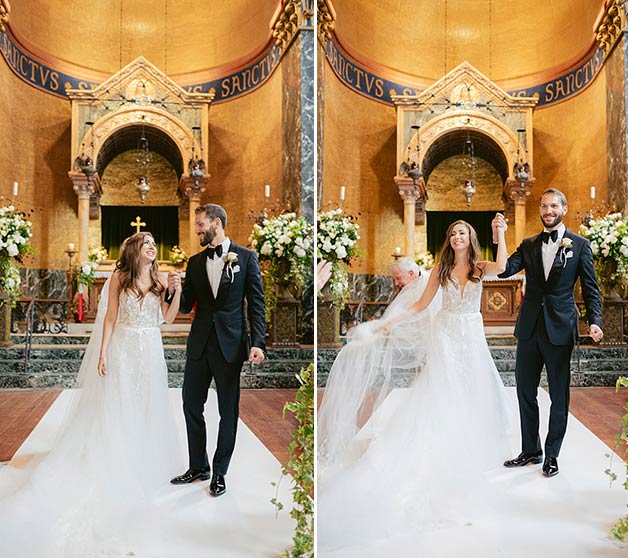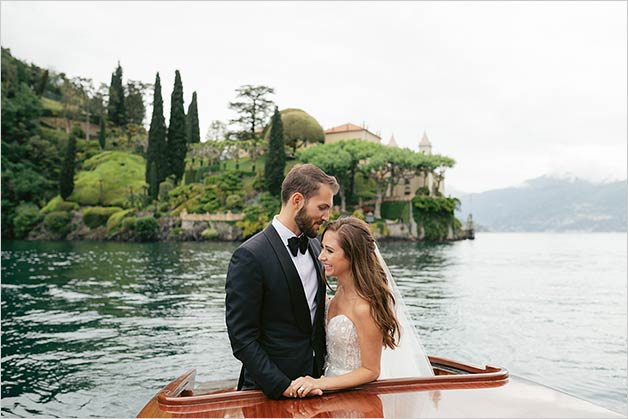 First Look
For their elegant wedding, Dan & Sasha decided to do something different and plan what has been topping the list of wedding must-haves for many couples over the past few years. They wanted a first look.
After getting ready in Villa d'Este, Sasha met her soon-wife-to-be before the ceremony. Needless to say how romantic was the instant the couple first locked eyes on their Big Day.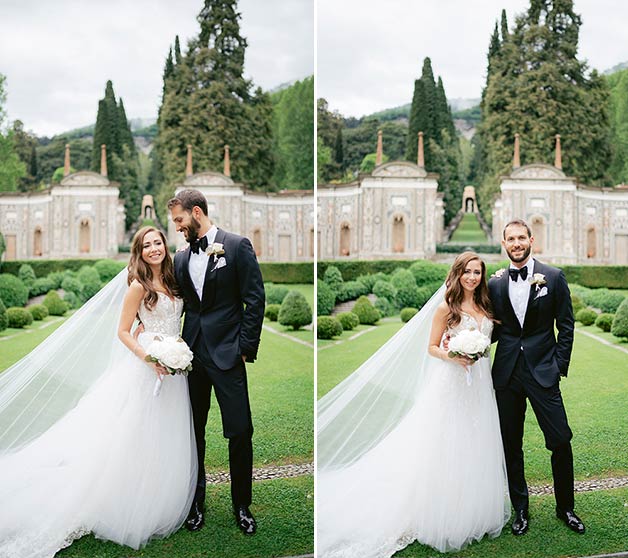 A very chic destination wedding at Villa d'Este
Dan & Sasha chose the luxury frame of Villa d'Este for both the reception party and accommodations.
Villa d'Este is located in Cernobbio. It is one of the most famous and luxury hotels on Lake Como. For centuries it used to be a residence of aristocracy. Today the Villa is an elegant and charming five-star hotel and resort: one of the most celebrated in the world.
It is no wonder that, in June 2009, Forbes reckoned it among the best hotels in the world.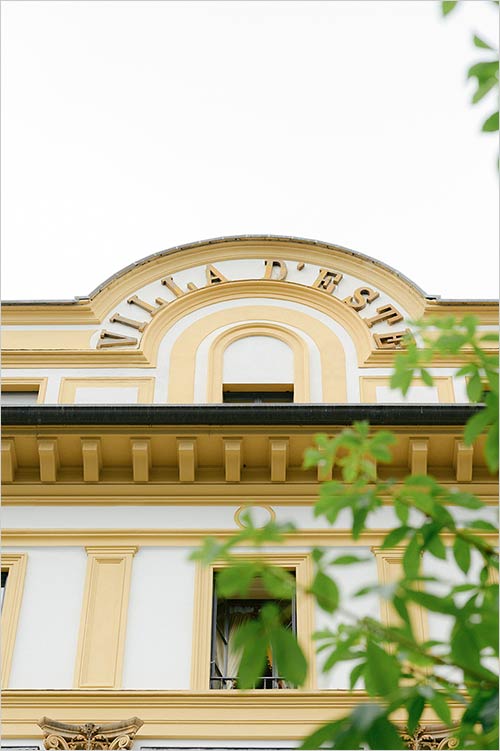 When bride and groom and their guests arrived at Villa d'Este, a sophisticated atmosphere surprised them all. The sound of an electric violin filled the air with wonderful music. A soloist can surely create the magic during a wedding ceremony. No need of many musicians if the music is perfect!
Wedding aperitif to follow was served in amazing Sala Colonne. It is a beautiful roome where Corinthian columns dominate the architecture and a French window opens onto the Villa d'Este terrace.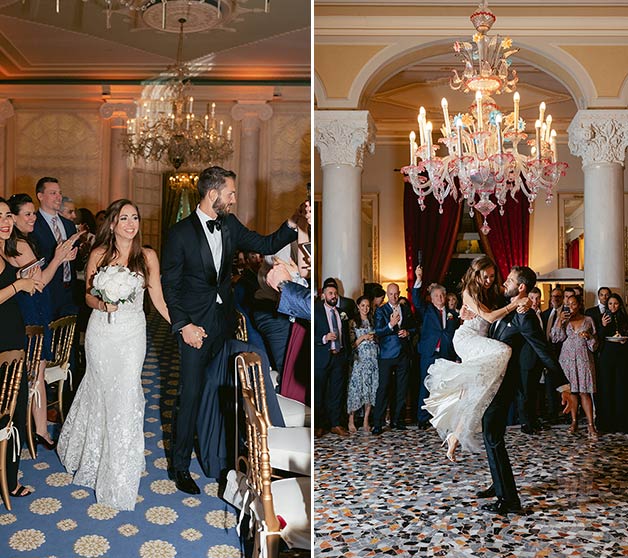 An elegant wedding reception at Villa d'Este on Lake Como
For their wedding reception dinner Dan & Sasha chose super-charming Sala Napoleone. This room was created in occasion of a visit by Napoleone himself, Can you believe it? Soft lights, mirrors, golden brocades, and two long tables embellished with an explosion of flowers were the backdrop of this magic moment.
"I loved planning Dan & Sasha wedding; from the details to the main aspects, everything used to remind me of an old aristocrat wedding"
Bride and groom made their entrance in Sala Napoleone accompanied by live music, while their guests were already seated. After the greetings, superb Villa d'Este staff served a delicious four-courses Italian menu.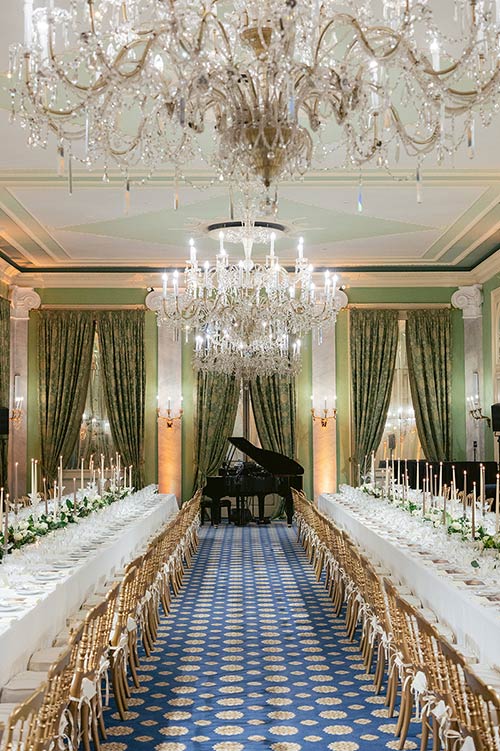 In conclusion of this perfect day, the wedding party moved to Villa d'Este disco club where everybody could dance and enjoy a rich open bar. And like any fabulous wedding… a midnight fireworks display to celebrate the cutting of the cool naked wedding cake.