hiela and Cyril flew from
Guernsey
to
tie the knot on Lake Garda
at
Malcesine castle
! Italian scenario was waiting for them and it was fantastic.

Malcesine castle is surely one of the most wanted wedding venue for a destination wedding in Italy. Castle terrace overlooks the water.
It is the perfect frame for a civil ceremony on Lake Garda
.
Sheila and Cyril travelled with their families and friends to Italy. They really enjoyed a lovely time all together.
A selection of white and peach flowers with some greenery decor made the ceremony even more romantic.
For their wedding reception they chose a Michelin starred restaurant in the heart of Malcesine village, a great opportunity to enjoy amazing Italian food.
A big thanks to David Christian Lichtag photographer, for these great shots.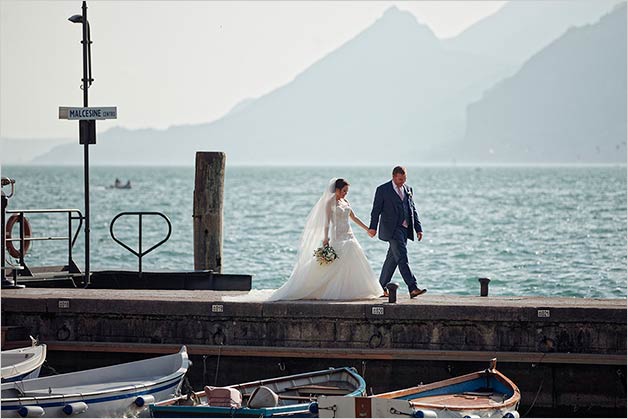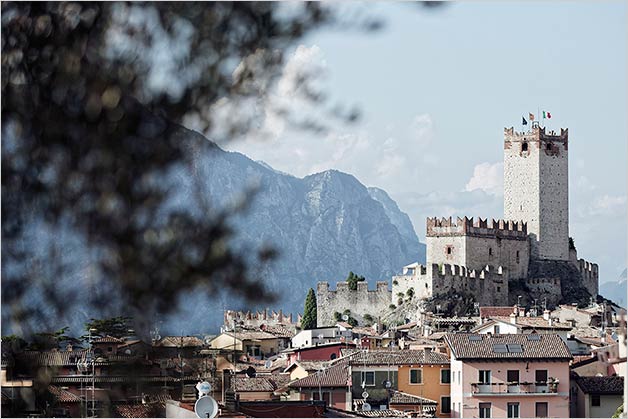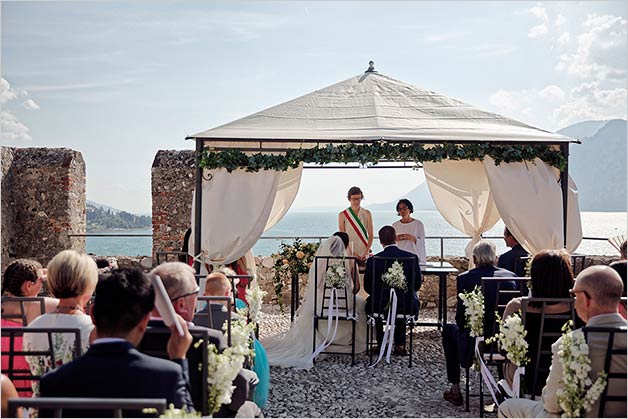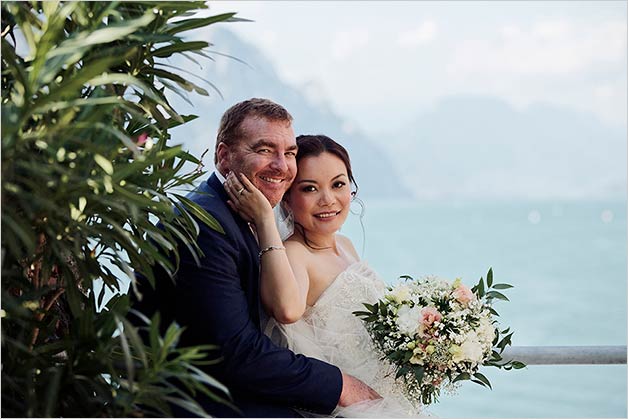 Getting ready in the heart of Malcesine Castle
Shiela and her bridesmaids got ready in a lake front hotel in the heart of Malcesine village. A sunny day let them to enjoy their time together and great views over Lake Garda with close by mountains.
Sky was clear and it could possible to see the other side of the lake with its lush vegetation.
Malcesine castle is easily reachable as it's located in the heart of the village. Shiela arrived there on a Tuk Tuk driving across the cobbled streets. A lovely way to reach the ceremony venue for sure!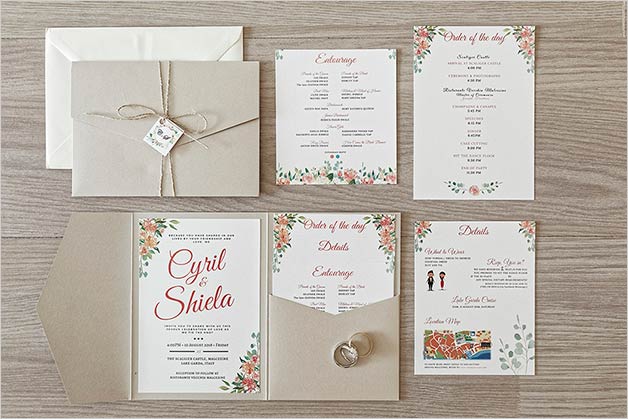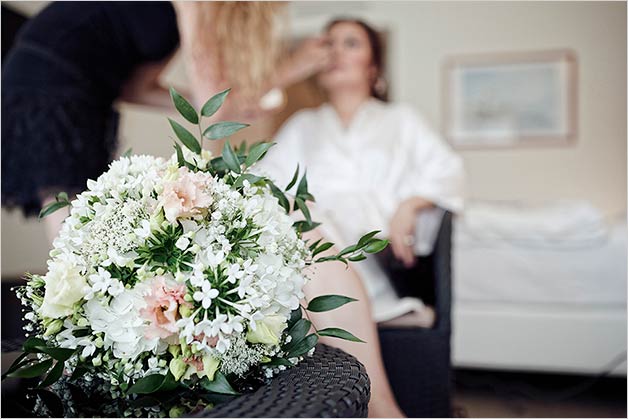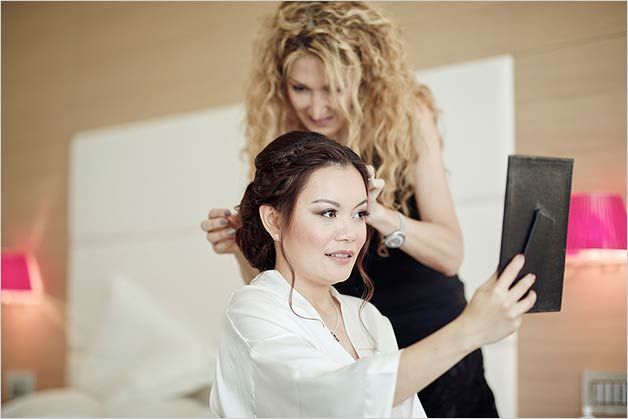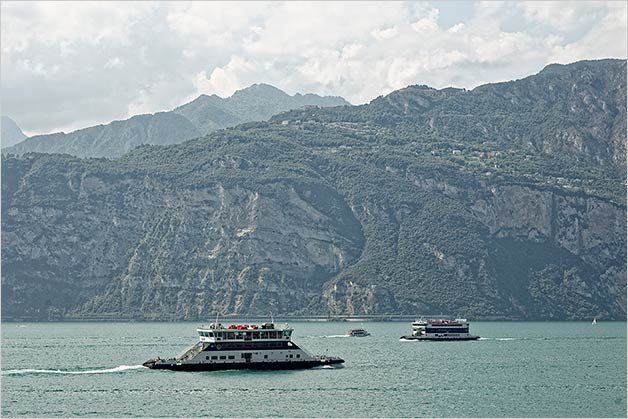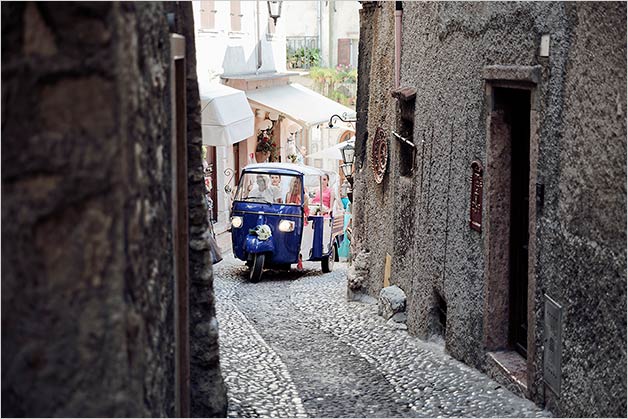 White flowers at Malcesine Castle
Wedding ceremony took place on the beautiful Malcesine castle terrace. White flowers along the aisle and the sound of a violin accompanying the wedding ceremony made the scenario very evocative. Shiela and Cyril enjoyed an intimate atmosphere with their family and friends.
After the wedding ceremony a nice photo shooting around the castle is the must! From the ancient walls the view is simply amazing, local life style can make your Italian experience so fun!
In the meanwhile guests reached wedding reception venue by foot.
They took a glass of local Prosecco waiting for bride and groom to get back from photo shooting around Malcesine.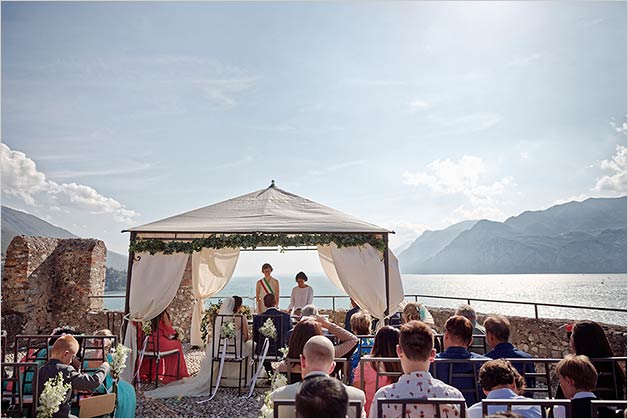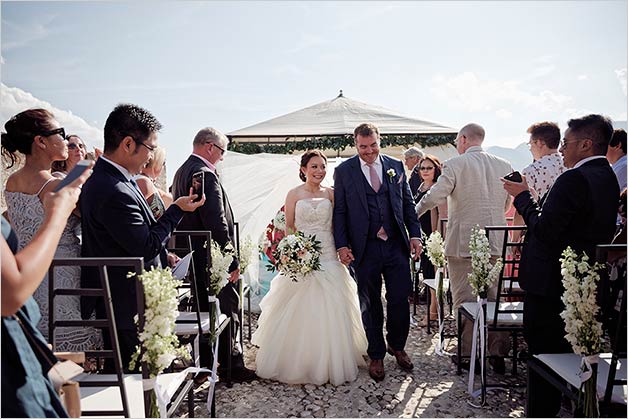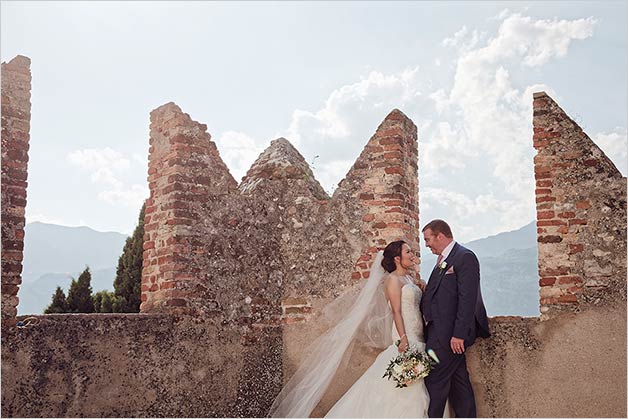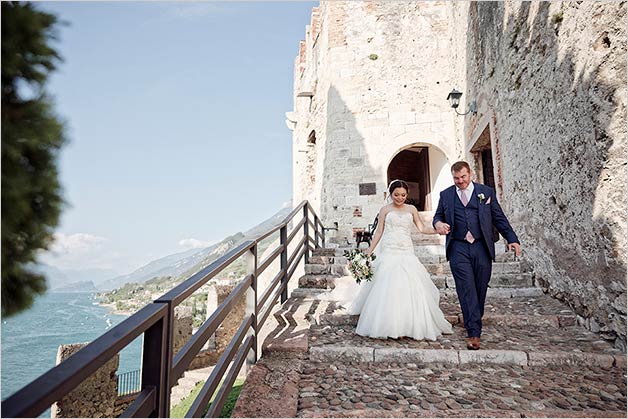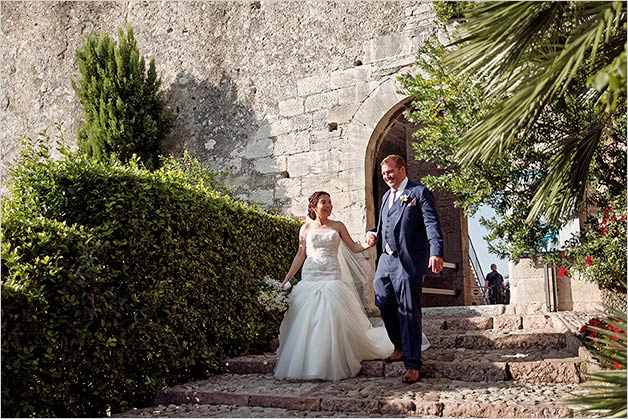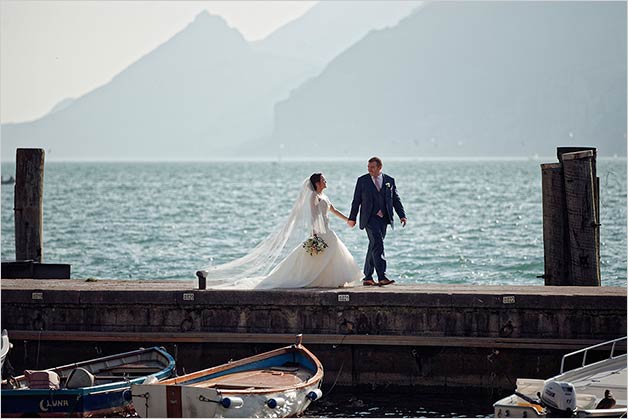 A Michelin starred restaurant in Malcesine
We always recommend a great restaurant to enjoy delicious Italian food! Shiela and Cyril planned their reception dinner in a restaurant located in the ancient part of Malcesine. It was a great opportunity to taste Italian dishes combined by local wines.
Restaurant has an intimate garden embellished by olive trees for the welcome aperitif and a lovely terrace overlooking Lake Garda for the delicious wedding dinner.
At the sunset the atmosphere was so special and the lights around Lake Garda created a beautiful scenario.
The wedding cake cutting was planned back in the garden among olive trees. After this Shiela and Cyril opened the party with their first dance.
A great wedding party under the stars.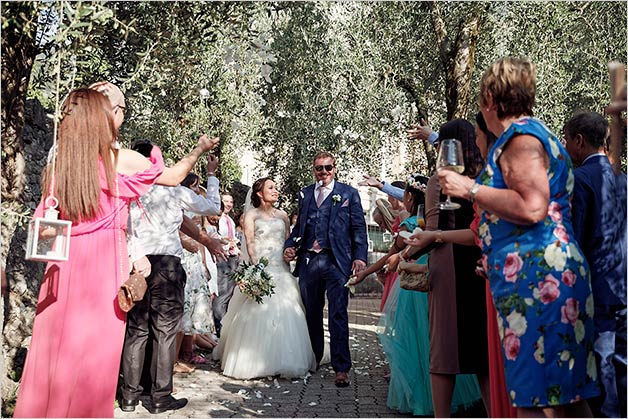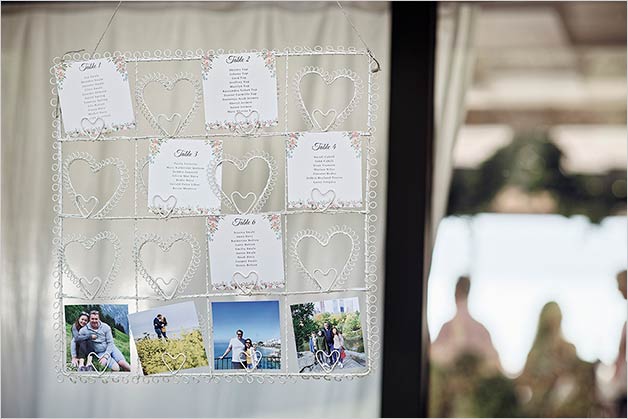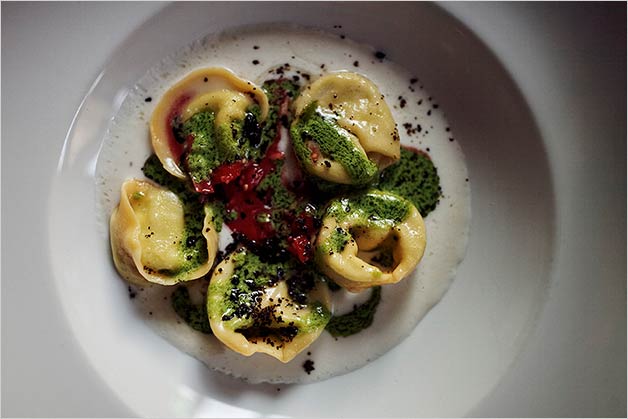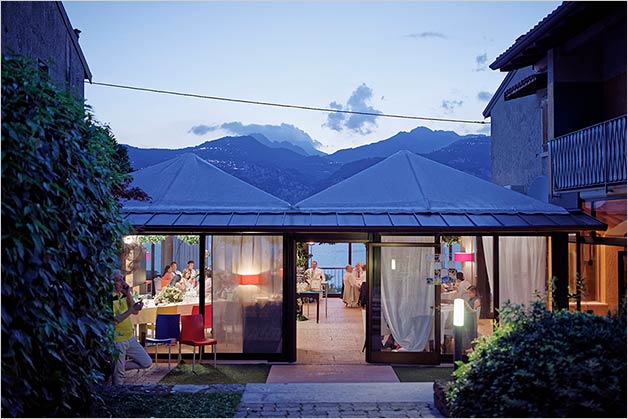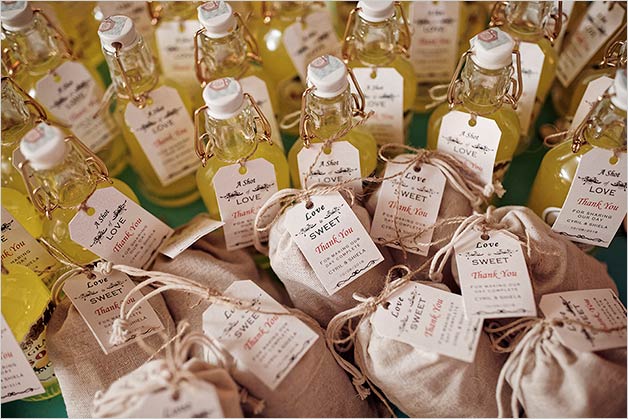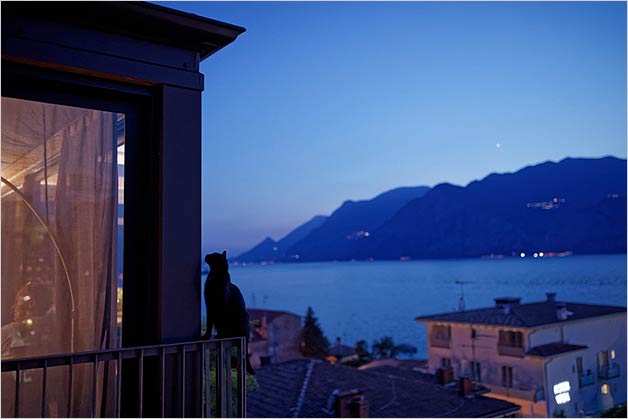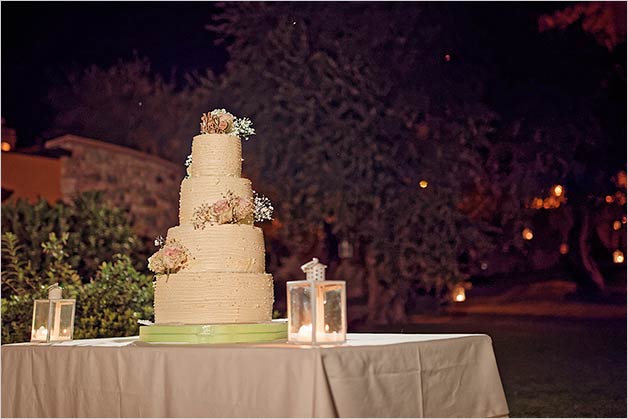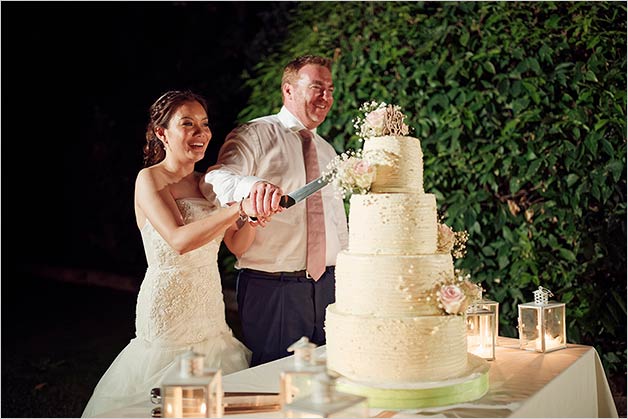 Shiela and Cyril have been very special! we enjoyed the planning with them and we are sure they had an unforgettable wedding on Lake Garda!
We also thank David Christian Lichtag for his amazing artistic work, he captured these incredible images of Malcesine.