ower Villa is a perfect cocktail of history, architecture, nature and contemporary style. There is no better way to experience and enjoy a wedding in Gardone Riviera on Lake Garda!
A happy
wedding at Tower Villa
on Lake Garda is a great option for your Italian weddong. Italian gardens of the villa and the view over the lake are absolutely stunning. Images and no other words to praise the beauty of this venue on Lake Garda.
Nicole and Sascha immediately fell in love with it. They chose this Italian scenario for their happy wedding in Gardone Riviera on Lake Garda. Fun was the key word of their wedding day. Music, Flowers and happy atmosphere made their Italian wedding incredibly joyful. Their guests simply loved it.
We can't thank enough photographer Dario Kouvaris who captured all the fun moments of the wedding day and lovely setting.
Enjoy the amazing images!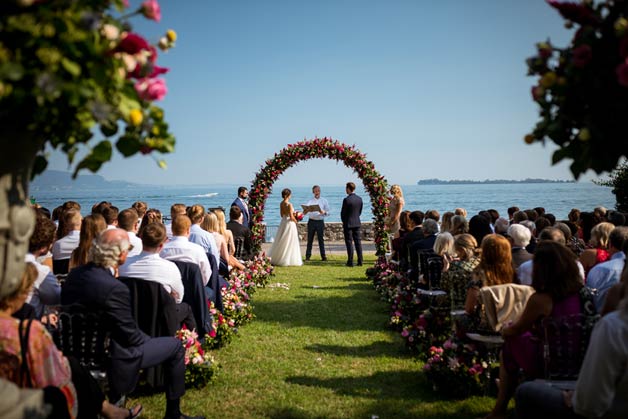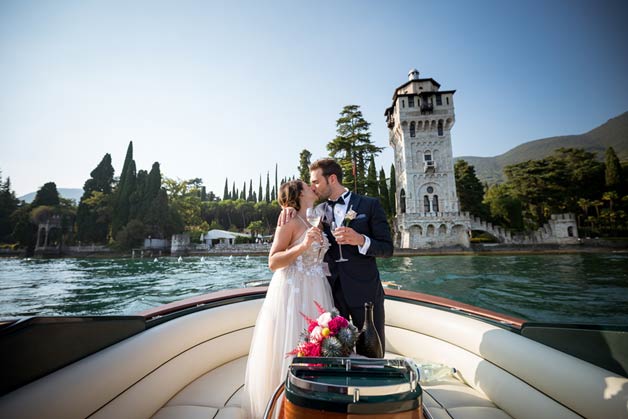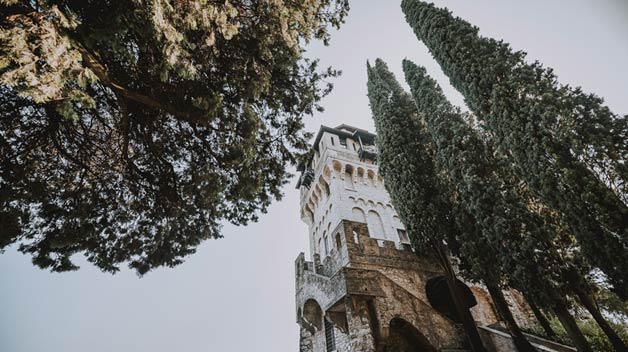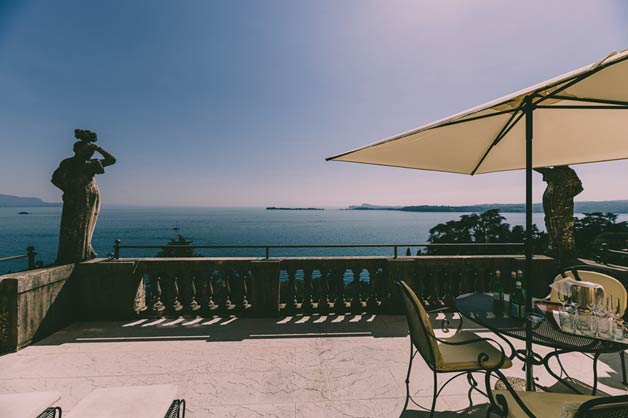 Wedding in Gardone Riviera – A fun getting ready on Lake Garda
Nicole got ready in a majestic villa. She was with her close family and her bridesmaids. Suite she chose had a beautiful terrace overlooking Lake Garda. Amazing view made the preparation very different!
Nicole and her bridesmaids had a delicious breakfast in the suite while groom and his groomsmen enjoyed a drink in the main terrace of the villa.
The happy wedding in Gardone Riviera could begin!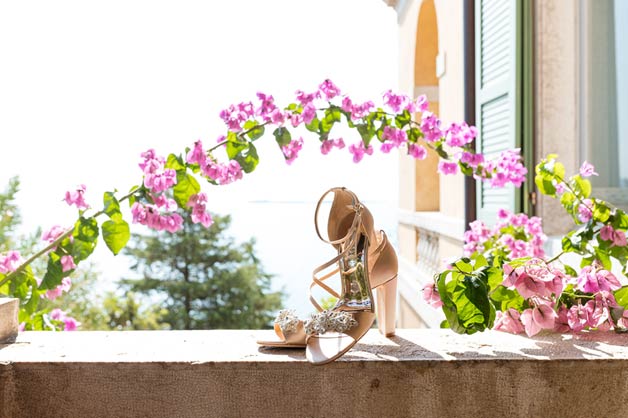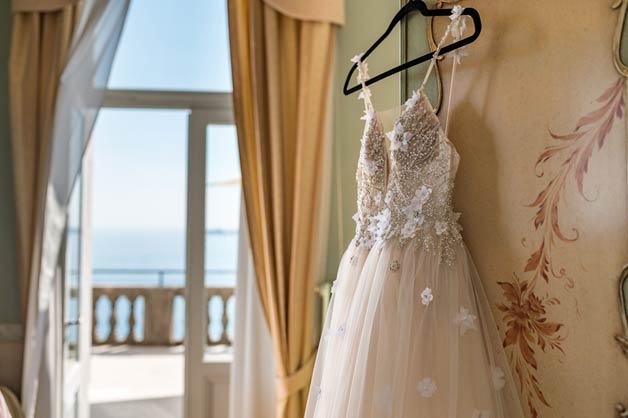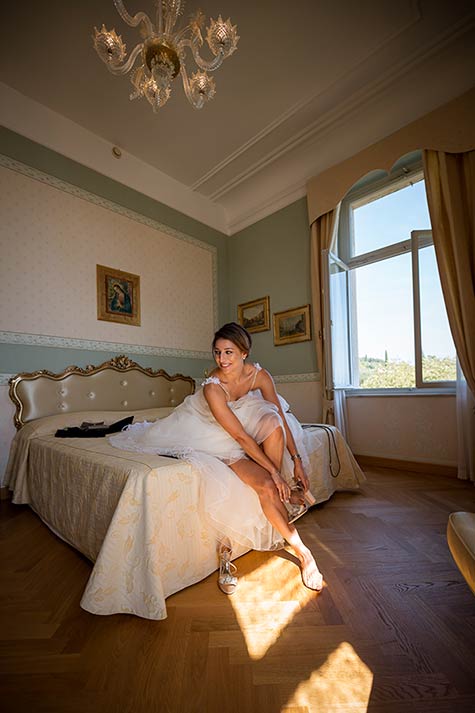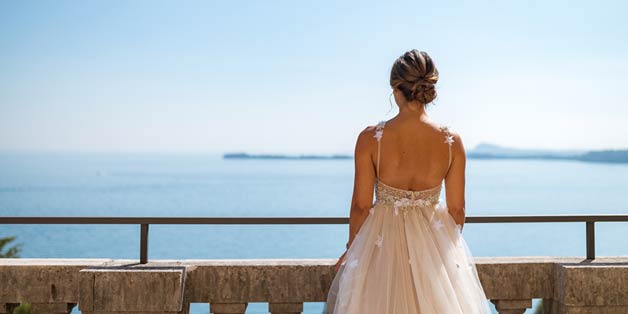 A beautiful frame for a wedding ceremony on Lake Garda
Wedding ceremony took place in a garden next the ancient tower. A flower arch created an amazing frame for Nicole and Sascha wedding ceremony. Pink and dusty colors combined by greenery made the scenario very colorful! Flowers stand out from crystal style chairs.
Bridal bouquet was really cute. It was made of celosia, astilbe, crespedia and thistle. It was a bold and bright combination.
After the wedding ceremony, bride and groom got on a fantastic Riva boat for a cruise around Lake Garda.
They had the chance to take amazing wedding photos around the Lake.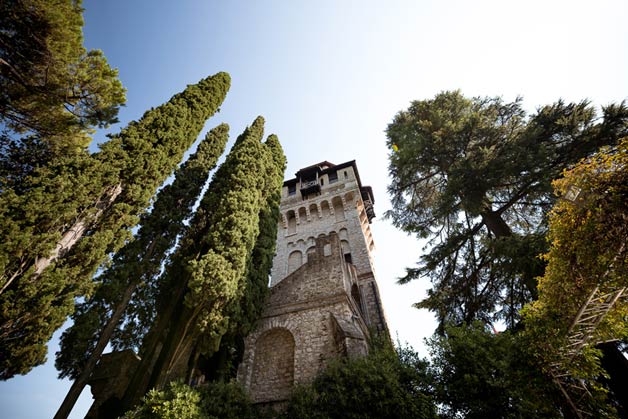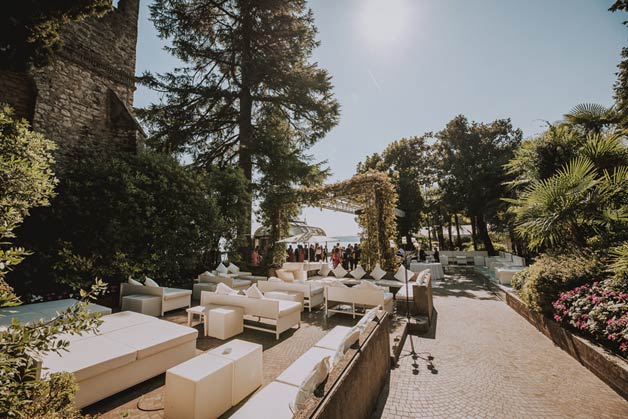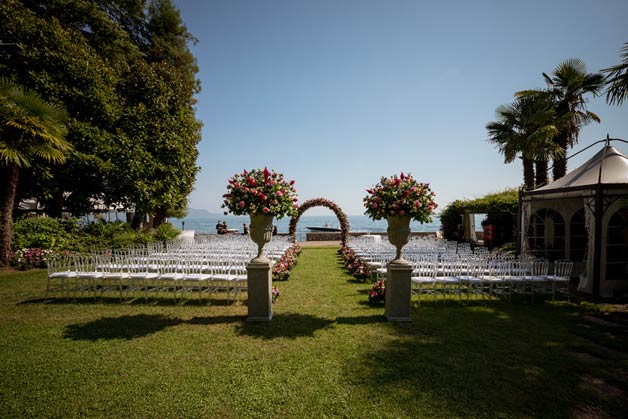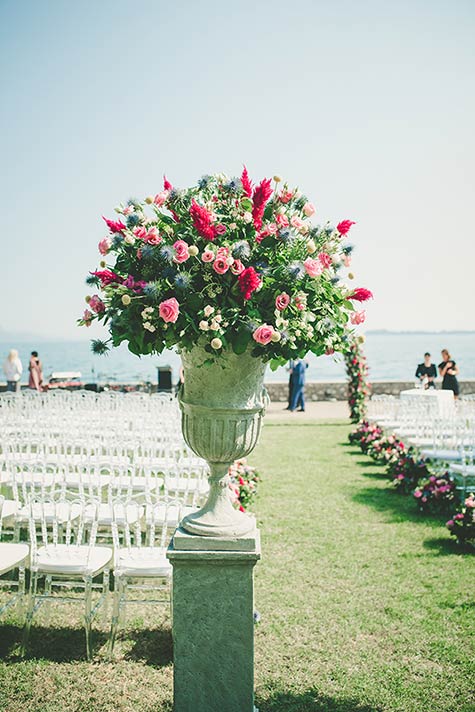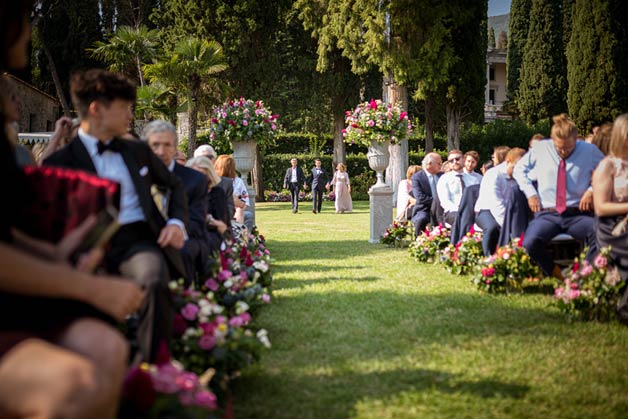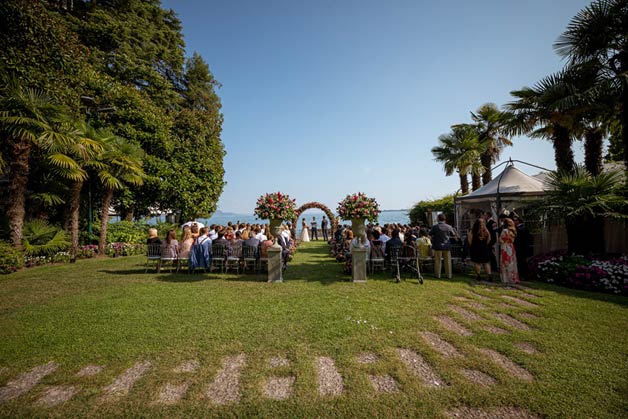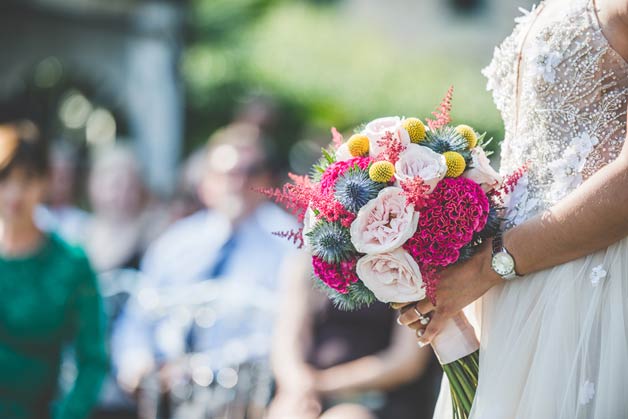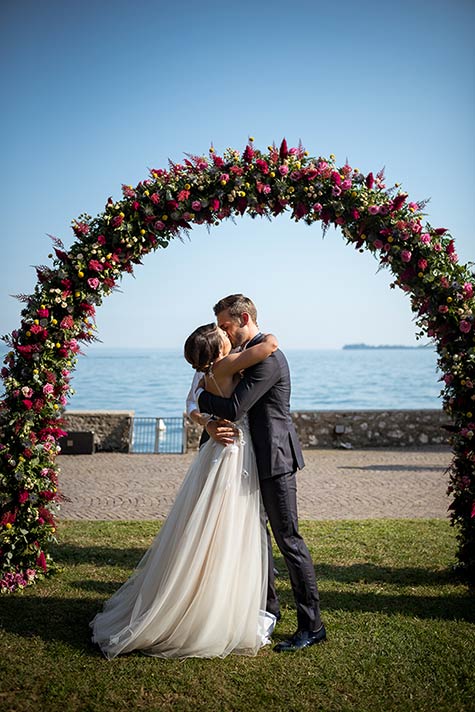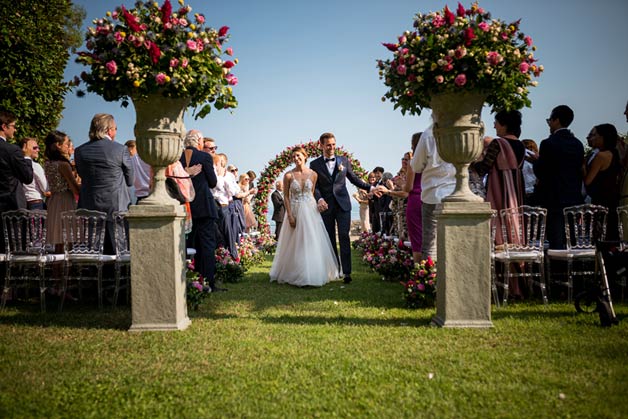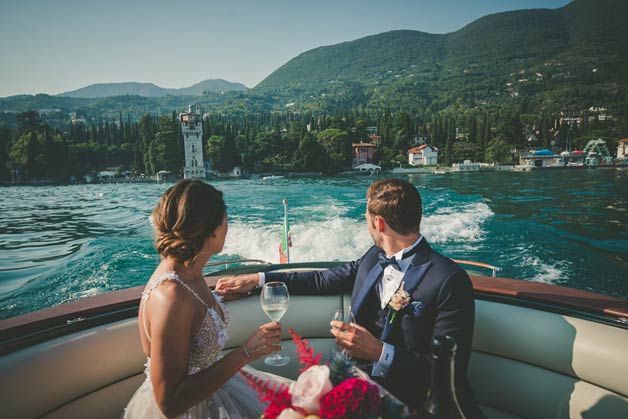 Wedding reception dinner overlooking Lake Garda
Nicole and Sascha happy wedding in Gardone Riviera on Lake Garda started with a lovely welcome aperitif. After this lovely mingling moment guests seated down at their reception tables. A pretty table chart guided them to find their place. Wedding table chart was made up of large bottles and colourful flowers on a wooden table. 
A lot of candles among flowers decorated reception round tables. It was just beautiful! The scenario overlooking Lake Garda was the perfect background for a delicious dinner!
Sunset was amazing too.
Blue color of the sky and the garden full of colourful lighting accompanied the after dinner party. A great band entertained the guests. They all danced under the starts until night.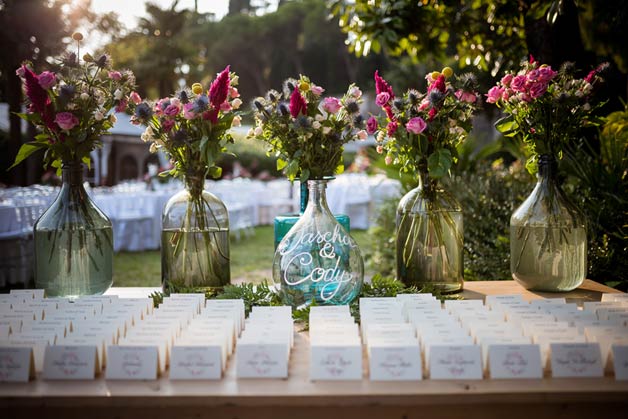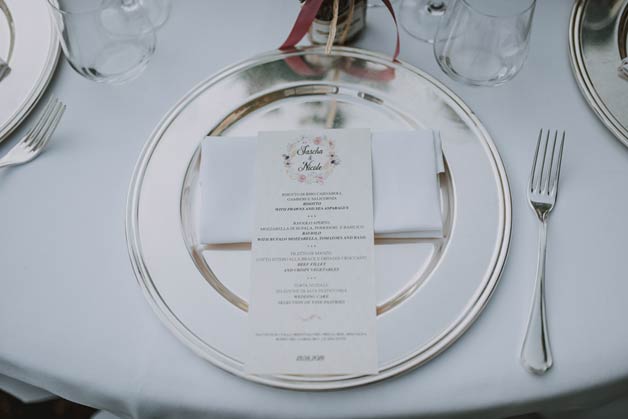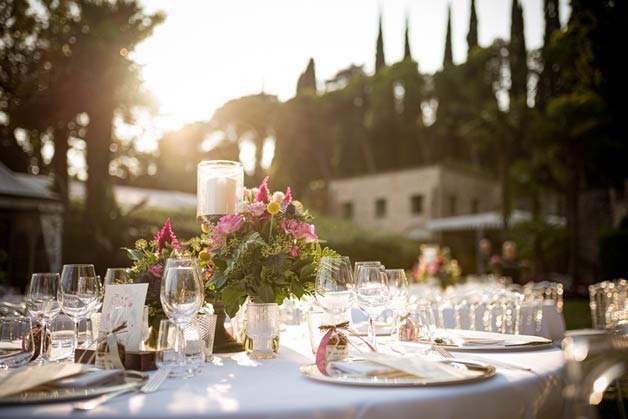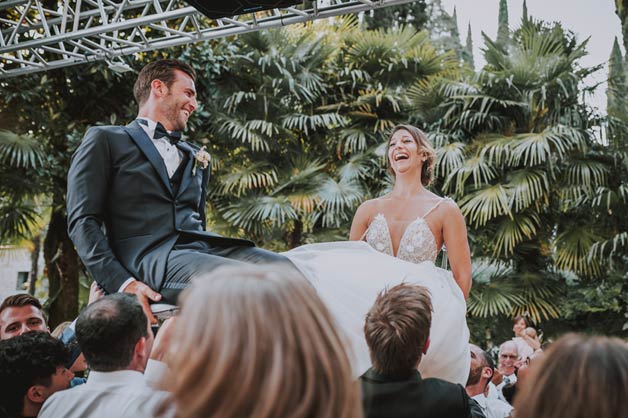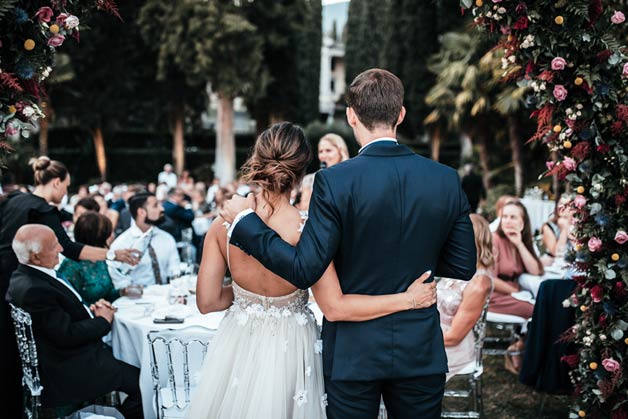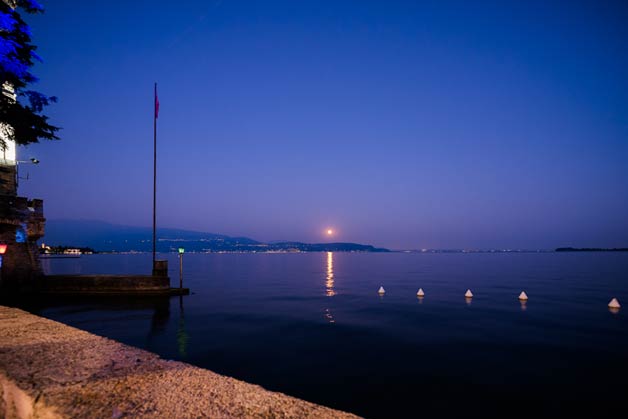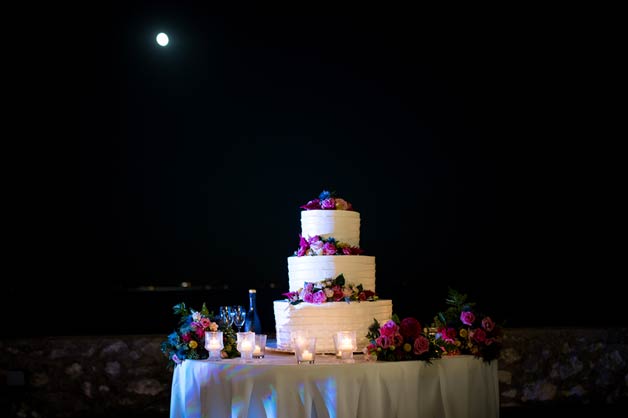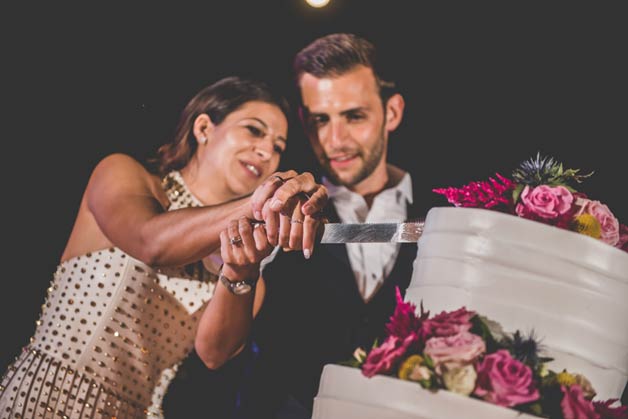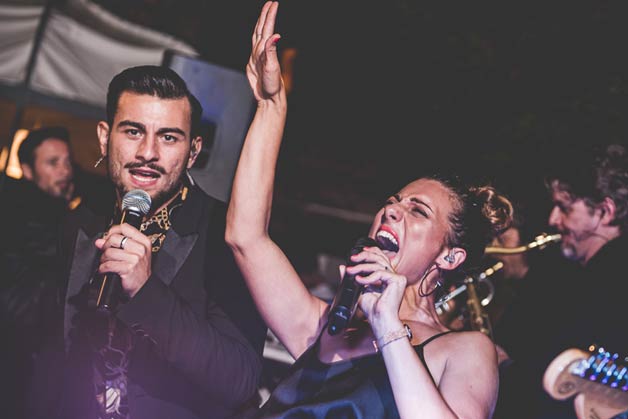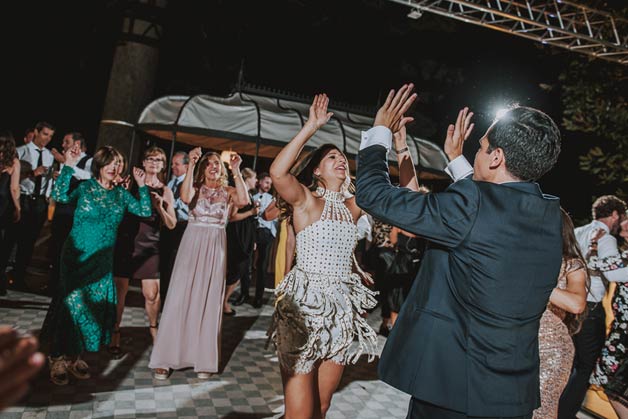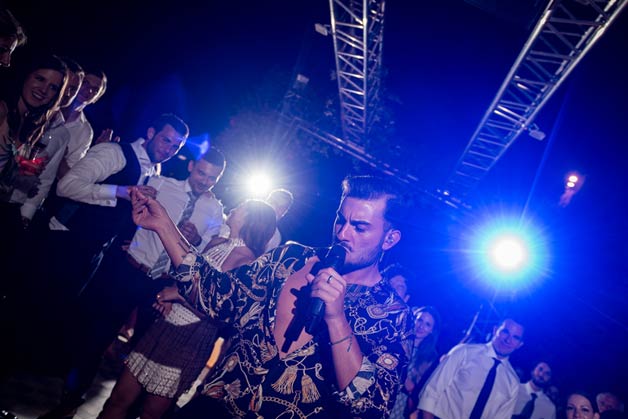 Guests reached Italy from different countries all over the world. I'm sure they enjoyed Nicole and Sascha's happy wedding in Gardone Riviera on Lake Garda. It gave them the opportunity to discover Italian culture, traditions and cuisine!
A huge thanks to Nicole and Sascha. They gave us a chance to plan a wonderful special wedding day on Lake Garda. Incredible wedding photos can help us to show you the beauty of this amazing event.

Photographer Dario Kouvaris has been a great professional! He captured all the best moments of this amazing wedding in Gardone Riviera.