Today we are posting a lovely work our planners Valentina & Alessandra did for us.
As you probably know Valentina is our planner for Lake Orta and Lake Maggiore and Alessandra works on wonderful Lake Como. Today they take the opportunity of showing stunning landscapes of Lakes Como and Orta from a different perspective: wedding theme and decoration.
Isn't it a great idea?
We are sure we will do it again with other post and themes so stay tuned for our Four-handed posts!
Two lovely couples got married on our Italian Lakes over 2011 weddings season, among different proposals they both choose a light and chic wedding theme: butterflies!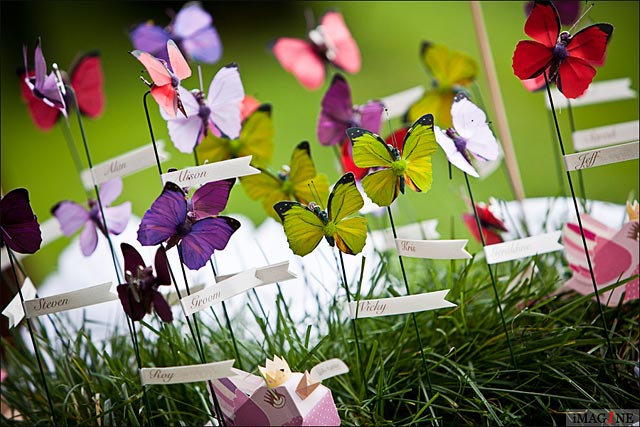 The result we obtained was really impressive: charming, soft and matches perfectly Lakes atmosphere.

Our Lake Como butterflies theme wedding was really natural and soft. Every single detail was studied in the style.
My bride chose wonderful orchids for corsages and bridesmaid bouquets… this was the first touch the best has to come!
During the meeting with the florist I thought about something different for the ceremony table and after having excluded several options, our final decision is exactly what you can see in these pictures: a giant and colorful butterfly created with many different type of precious flowers. My lovely bride, Christine, just loved the final effect of the decoration for her unforgettable wedding on Lake Como!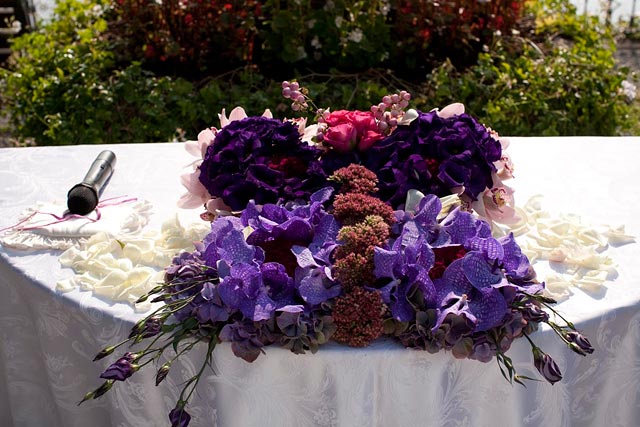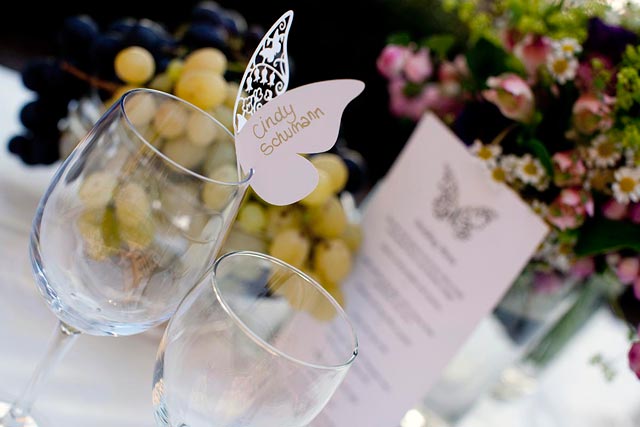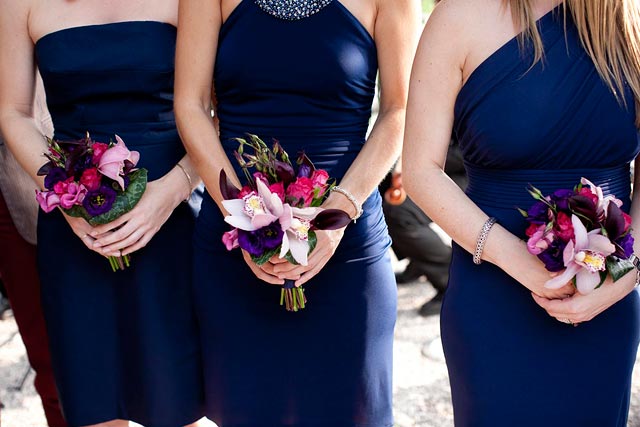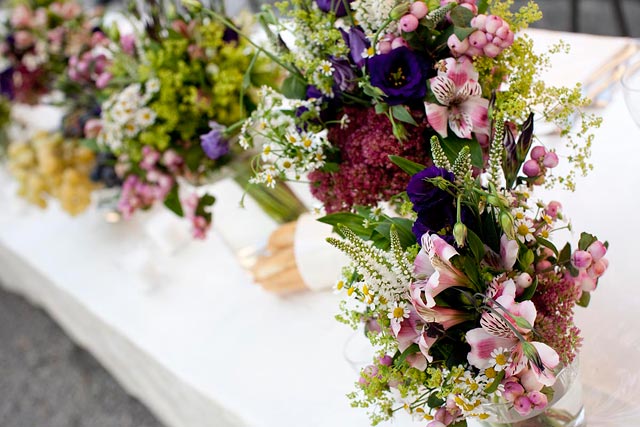 The ceremony chairs were decorated with lovely petal cones tight with silk ribbons matching bridesmaid dresses. They had with a dual use: first a decoration for the ceremony setting and later they could have been thrown by the guests to the newlyweds as good wish.
Butterfly theme, has been kept for the dinner with stunning lake view. Butterflies have been used as menu decoration and combined with outstanding 'flying butterflies' place cards on every guest glass.
To match Christine's butterflies wedding theme, flower decorations had a country – chic style with many seasonal flowers combined to bunch of grapes to give a touch of personality to this elegant Lake Como wedding in September!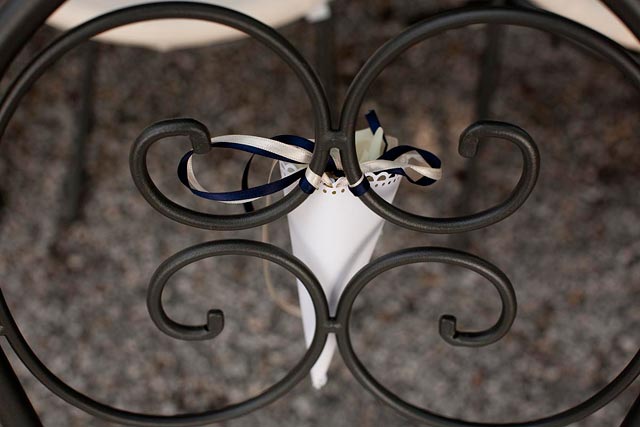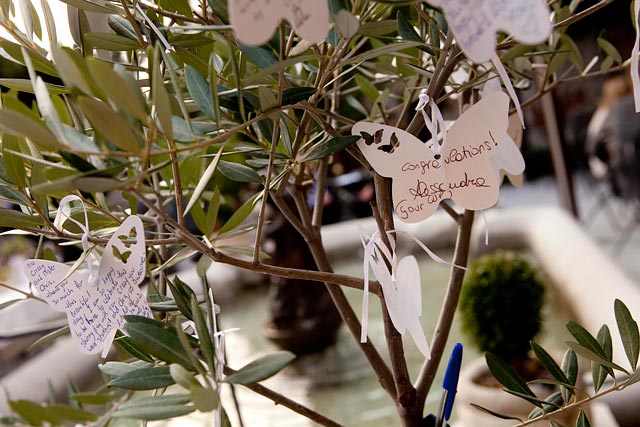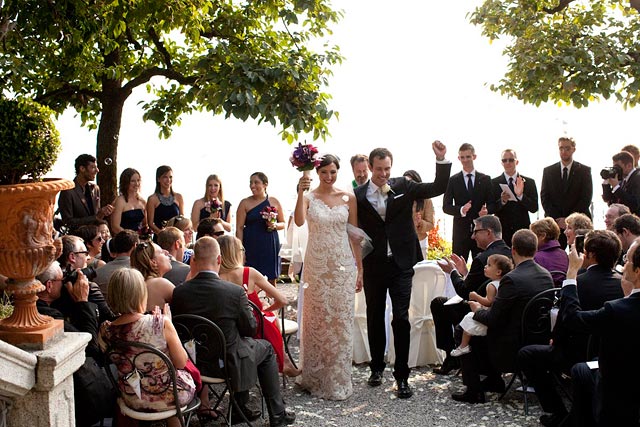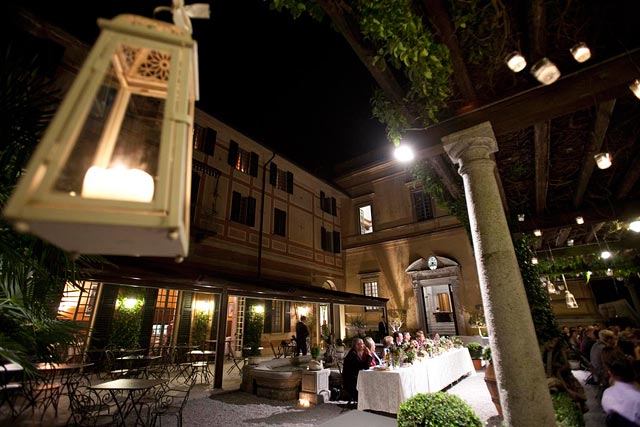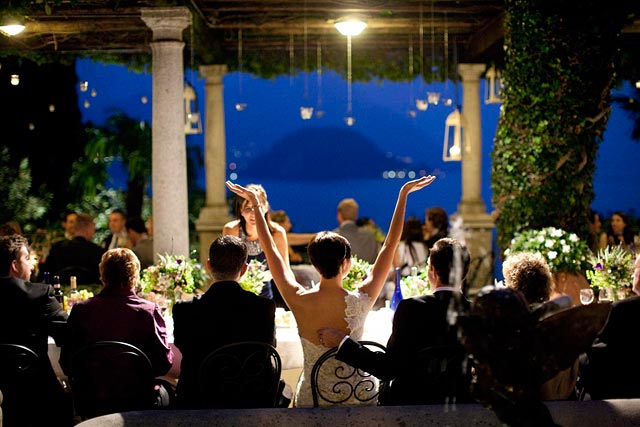 Looking to Alessandra's job for Christine wedding I can realize how different could be the same theme! This is a good thing. It means that the same theme can be personalized and unique!
Stephanie, my bride wanted something colorful and really cute for her butterflies themed wedding on Lake Orta.
She is a art designer and had very clear idea about the flowers and decoration she wanted. Main color was pink and its shades.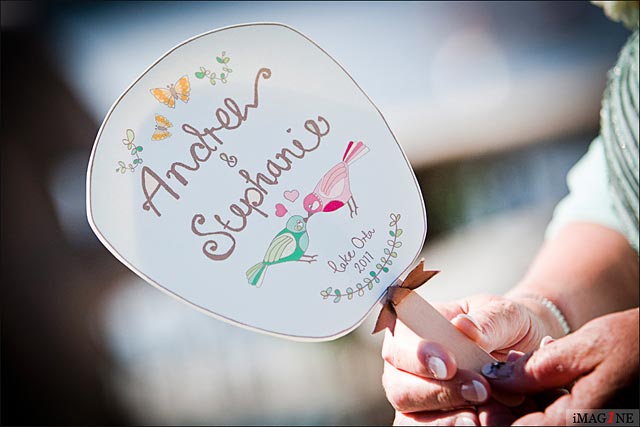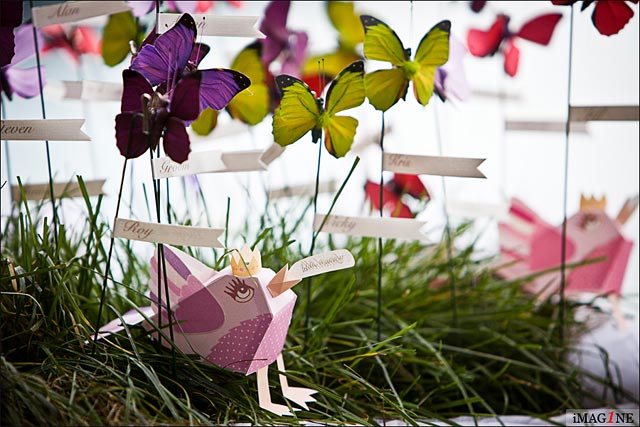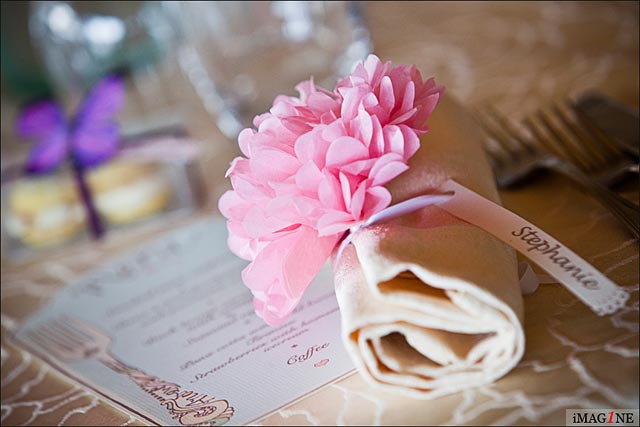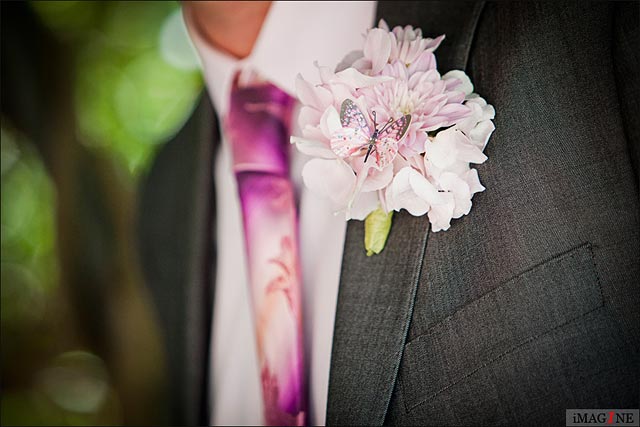 For her bouquet she chose a loose one with many shades of pink and lilac while corsages, buttonholes and centerpieces were all pink hydrangeas. Lovely butterflies laid on them just like they were there for real.
Hydrangeas matched the lovely paper pom-poms she wanted for extra decorations.
Have a look to the lovely names cards, macaroon favors… and also menus and program of the day made up with a fan for ladies.
The ideal fresh and happy theme for a sunny wedding on Lake Orta.
The cutes part was the table plan. On a base of grass we placed butterflies escort cards, Guests loved to find our their seat in such a pretty context.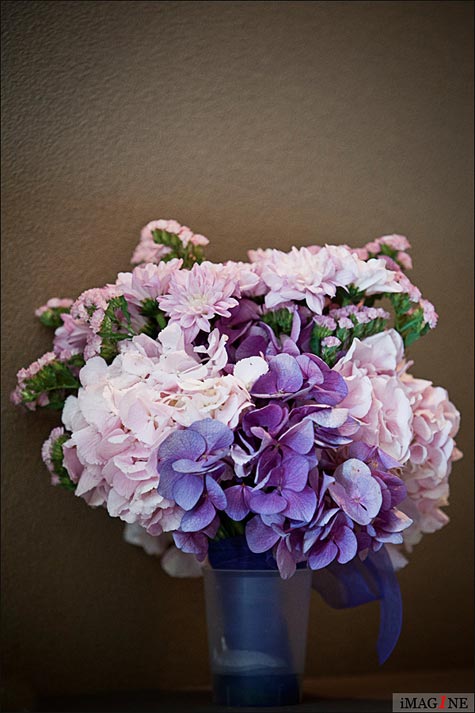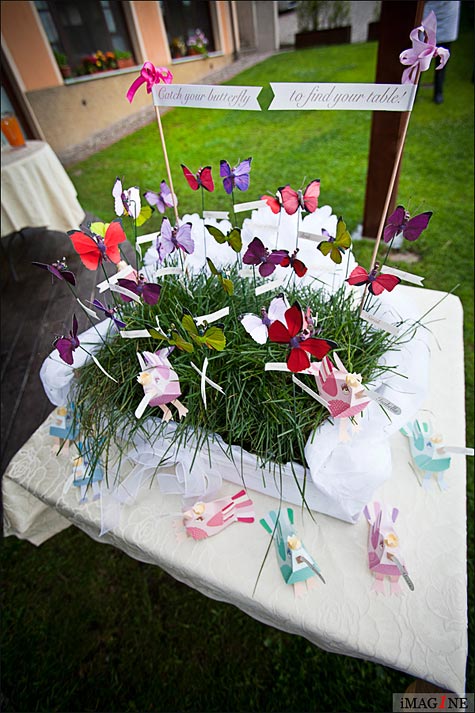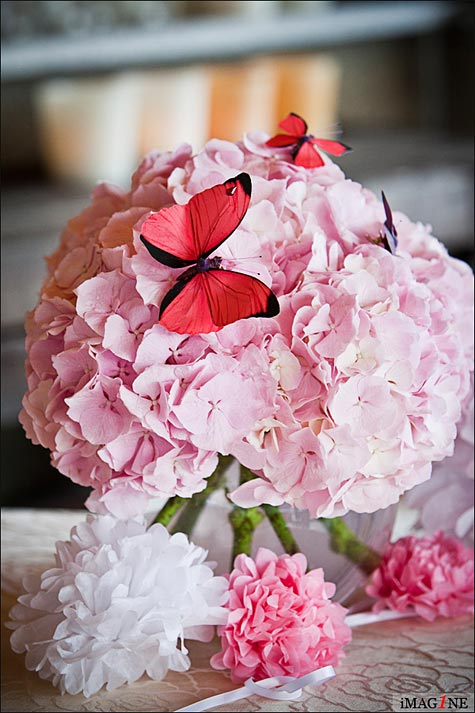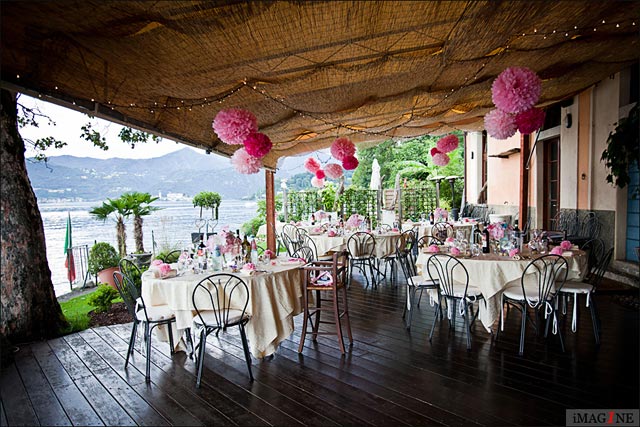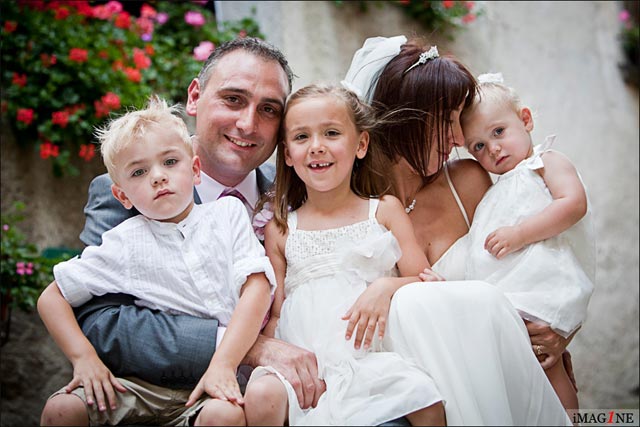 We really do think that both brides chose a lovely style. The interpreted it differently but the final result is great what do you think?
We would really thank photographers who provide these lovely shots.
Christine's wedding: Vincenzo Santarella & Massimiliano Morlotti – Morlotti Studio
Stephanie's wedding: Amy Turner – Imag1ne
As mentioned above stay tuned for our next four-handed posts we will tell you about some other lovely themes and ideas to inspire!
Italian Lakes Wedding Team is made up of several professional wedding planners and floral designers with a long experience on Italian Lakes locations.
The Team knows the territory in every single detail and will be able to follow you on every important choice you will take.
Our coordinators are based locally in the areas we serve so whether you decide for a wedding in Rome or Bracciano, a wedding in Como or Stresa, or a Wedding on lake Garda or Lake Orta, we will grant the same level of service.
Our Team will be able to provide you every kind of supplier, florist, photographers, musicians, designers celebrants, witnesses and help as far as your documents are concerned, and anything you may think of.
Italian Lakes Wedding Team will literally pamper you!