In the last few years Winter Weddings are getting more popular and today we would love to speak about a very intimate and romantic one.
Barry and Novi are two lovely guys coming from Indonesia and living in Netherlands.
They wanted a very intimate and romantic setting for their winter wedding…. or better for their Christmas Wedding as they got married on December 18th!
They chose Lakes districts!
Some may think that lakes in winter could be less beautiful than in warm moths but for those who love intimate romantic and solitary spots they could be the prefect choice.
Berry and Novi wanted an intimate event so they invited only their parents and Novi's sister.
They decided to stay in Orta for the getting ready and celebratory meal.
But for their religious ceremony they opted for a very special spot Sacro Monte of Ghiffa on Lake Maggiore.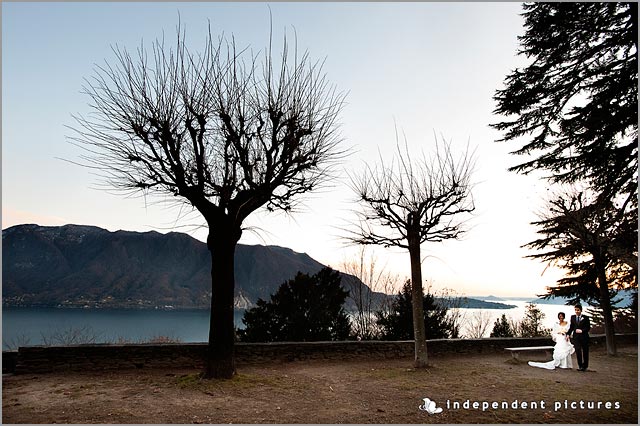 After Novi got ready in her stunning dress with white fur on her shoulder we all reached Sacred Monte of Ghiffa.
On a sunny winter day the sky on the lake can be clear like crystal and landscape just unique the perfect frame for wedding pictures.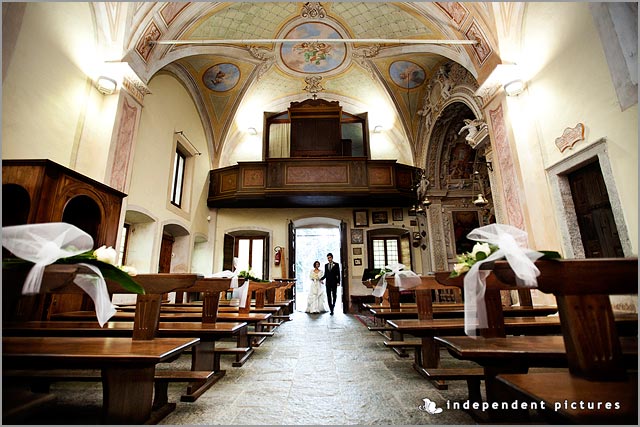 An intimate catholic ceremony was held inside the beautiful church with stunning frescos on the ceilings and a lovely sunset outside waiting for bride and groom.
A little touch of modernity in this wonderful historical and natural context!
Have a look to our friendly Don Alberto celebrating the marriage mass with an… iPad! Isnt' it a great idea?
After some pictures overlooking Lake Maggiore we drove back to Lake Orta for some other pictures by night in the little village of Orta.
Despite the cold weather Novi and Barry really wanted to have some shots in the village decorated for Christmas with romantic Christmas lights!
Have you ever seen Orta at Christmas? It is so romantic!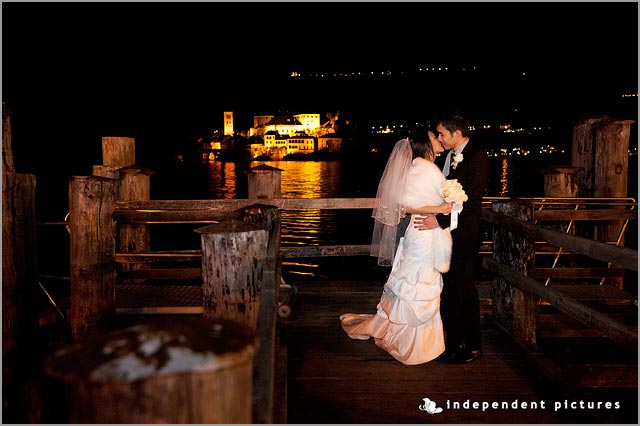 For their celebratory meal Barry and Novi choose L'Ustaria Ca dal Rat.
The warm rooms of the restaurant welcome them. With the en lit fireplace, wooden beams on the ceiling and warm atmosphere we can say that that was a perfect choice!
A wonderful way to celebrate Christmas on Lake Orta!
Novi and Barry chose Independent Pictures for their photograph service and they did a great job.. they took the perfect Christmas feeling in their shots!
Another very special thank to La Piccola Selva Team who created wonderful cream and light peach decorations for the church, meal table and cute Novi's bouquet. It matched perfectly her style.
With this post I personally want to thank our readers, all our bride and groom, whole Italian Lakes Wedding Team and Professionals we work with and wish a Merry Christmas and a wonderful successful and romantic 2012!
My name is Valentina and I work as wedding coordinator on Lake Orta and Lake Maggiore.
Before being a wedding planner and coordinator I worked for an American company planning events. I turned into wedding planning for SposiamoVi group, more than 5 years ago. Since Italian Lakes Wedding was founded I work with them to make bride and groom's dreams come true on this wonderful Lakes of North West Italy and Piemonte region.

l love creating with my couples the perfect event for them following their wishes and needs, helping to find the best solution for their ideas and budget.
I like meeting people talking with them and know more about their cultures and traditions. I do like sharing Italian customs with them and working in team with couples to let them experience a real and dreamy Italian wedding!

I will be pleased to guide couples along lovely traditional and pedestrian roads of Orta village discovering the beauty of this romantic Lake between villas, traditional restaurants wonderful churches and enchanting St. Julius Island.
I will be happy to let couples discover bigger and charming Lake Maggiore with its Borromeo Islands, wonderful hotels and villas overlooking the waters.

I'm sure you would be amazed by the beauty of these special corners of Italy so I'm simply wait for you for a lovely experience to create and live together.

For any information about wedding on Lake Orta or Lake Maggiore please CONTACT ME.