Today we would love to tell you about a special wedding we planned on Lake Orta but most of all about bride's special dress!
On a wonderful day of late August Anne and Alan tied the knot after two years planning. They fell in love with the place after a visit about years ago when we met.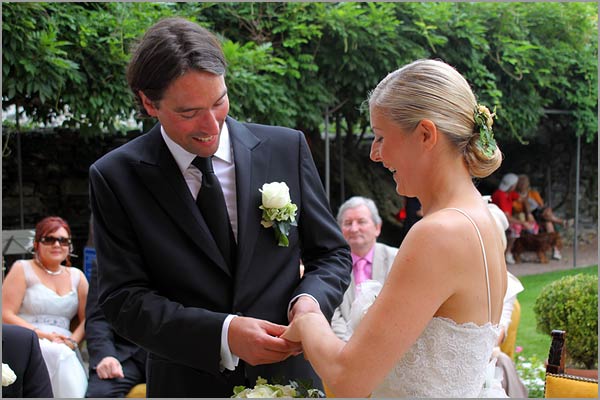 Wonderful Anne is French from Paris and handsome Alan is from Ireland. They live in Ireland and they choose Orta for their special day because of its romanticism quaintness! In these two years Anne had a lovely baby boy and elder sister Mina grew up to be a wonderful flower girl together with other Anne's girls.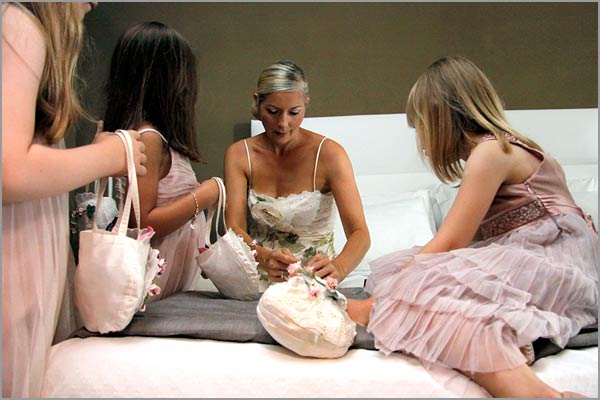 During these months Anne studied all little details of the wedding focusing her attention side of the venue and other important issues, to her girls dresses, wedding dress, flowers and stationery.
Wonderful wedding stationery was studied and made by herself keeping in mind dreamy vintage Alice in Wonderland style.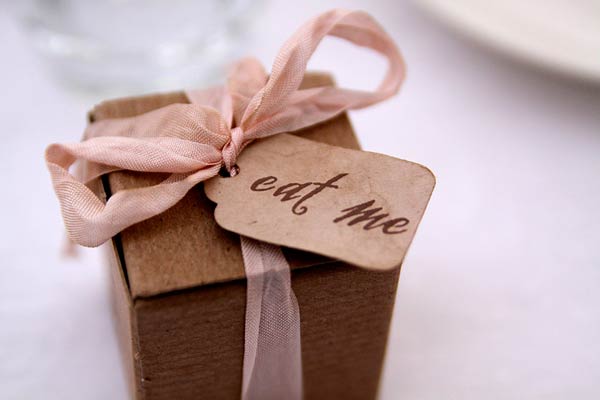 Have a look to little sugared almonds favors box with Eat Me written on, to the menus and to the cake topper and to the names cards. Aren't they just oneiric, vintage and natural? They perfectly match the location which is natural, romantic quaint and blooming.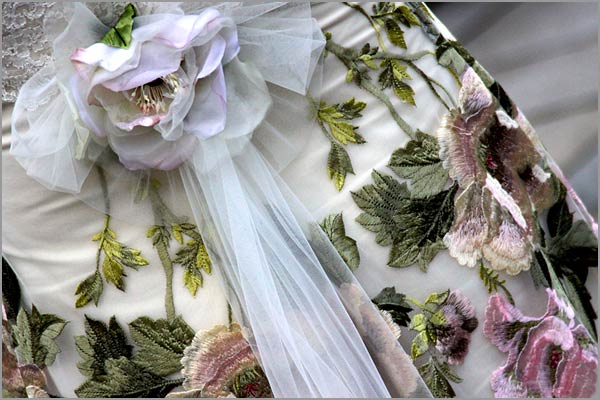 But let's have a look to Anne's amazing wedding dress. We know that a wedding dress could be one of the most important detail for a bride. A bride could spend months finding the right one or it could be love at first sight just like for Anne was. The wedding dress perfectly matched her style. Anne chose famous Claire Pettibone as her stylist for the dress of her dreams.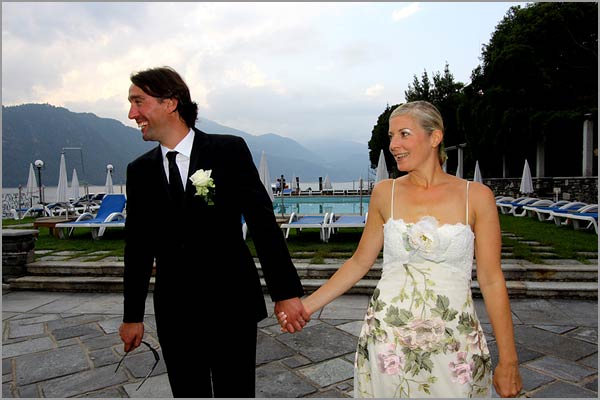 The Washington Post hails Claire Pettibone's collection as "proof positive that bridal fashion is keeping up with the runway"…
The Los Angeles Times calls her a "Style maven"… brides across the globe are enamored with the designer's creations, just like Anne did and Say Yes to the Dress's Randy Fenoli confirms, "Claire has a cult following."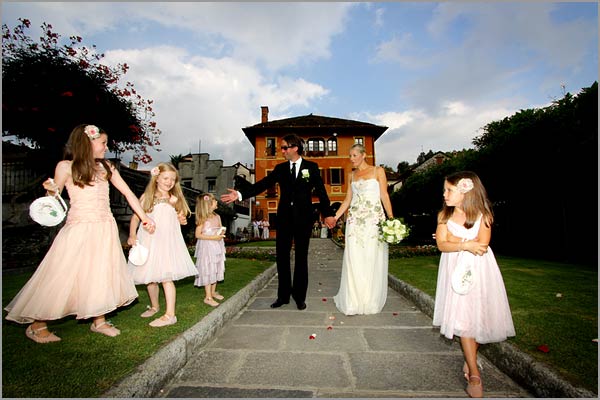 Ever since launching her eponymous brand with her husband Guy Toley in 1994 following graduation from Otis Parsons with a degree in fashion design, Claire Pettibone, the self-described "true romantic" has emerged as the designer for which romance takes on a vintage yet modern je ne sais quoi. Her talent for conjuring up such uncommonly beautiful and ethereal sensations is her trademark, and underlies the "world of Claire" – a fashion house that has grown from luxury lingerie to include couture bridal, fashion lingerie, and inspired casual wear. Claire's signature style has also made her one of the top couture bridal gown designers in the world today.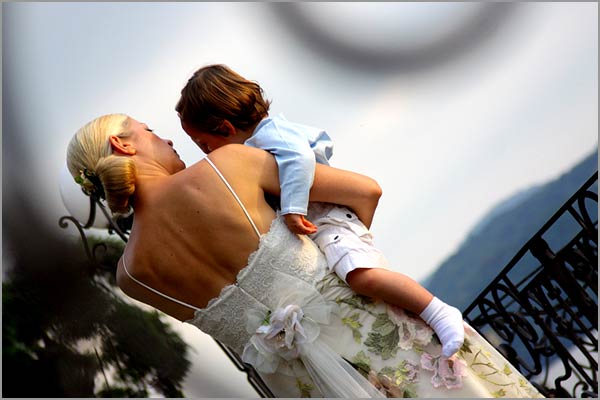 "I have a very romantic vision," says Claire Pettibone, "and I want a woman who wears my designs to feel indulged and feminine. I like to take her on a journey to another time and place, so when I create a collection, it always has an emotional, ethereal quality, and I think that's what resonates with my clients." And about Anne's Lalique gown she adds: "The sinuous lines of the Art Nouveau movement are epitomized by the master jewelry designers Lalique, Vever and Fouquet. These artists incorporated natural motifs of flowers, vines and nature in their jewelry, which served as rich inspiration for the Lalique gown. Pure cotton voile and French embroidered tulle with silk flowers trailing down from the bodice are combined in an organic nod to nature's beauty."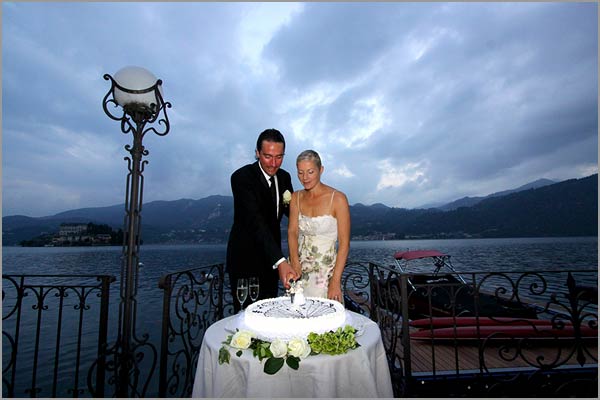 Claire Pettibone has been the recipient of worldwide recognition and press, including being named the exclusive designer for "Married on MySpace's" premiere season (her episode alone garnering more than one million views), and featured in TNT's premiere season of "Wedding Day" produced by Mark Burnett.
You can find her wonderful dresses in many bridal boutique in USA, Canada, Europe and Asia. Find more about her following her on her web site.
If you love Anne's wedding stationery and would like to have something similar for your wedding please contact us we will be happy to provide Anne's contacts.
We tryly think that Anne was the perfect model for such a perfect dress! And we can also say that Anne made the perfect choice to match this amazing dress with little details such as her Stationery, white and loose flowers from La Piccola Selva and most of all Lake Orta setting.
All images © PHOTO27.COM – Milan.
except the last two photos (white & green centerpieces) copyright La Piccola Selva © All rights reserved.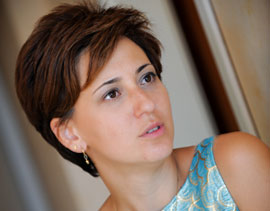 My name is
Valentina
and I work as wedding coordinator on
Lake Orta
and
Lake Maggiore
.
Before being a wedding planner and coordinator I worked for an American company planning events. I turned into wedding planning for SposiamoVi group, more than 5 years ago. Since Italian Lakes Wedding was founded I work with them to make bride and groom's dreams come true on this wonderful Lakes of North West Italy and Piemonte region.
l love creating with my couples the perfect event for them following their wishes and needs, helping to find the best solution for their ideas and budget.
I like meeting people talking with them and know more about their cultures and traditions. I do like sharing Italian customs with them and working in team with couples to let them experience a real and dreamy Italian wedding!
I will be pleased to guide couples along lovely traditional and pedestrian roads of Orta village discovering the beauty of this romantic Lake between villas, traditional restaurants wonderful churches and enchanting St. Julius Island.
I will be happy to let couples discover bigger and charming Lake Maggiore with its Borromeo Islands, wonderful hotels and villas overlooking the waters.
I'm sure you would be amazed by the beauty of these special corners of Italy so I'm simply wait for you for a lovely experience to create and live together.
For any information about wedding on Lake Orta CONTACT ME