wedding or a part of your wedding planned at
Borromean Islands
could be just unique. Islands incredible panorama, fragrant flowers, brilliant blue water and romantic walks make it a perfect venue for your
wedding in Italy
.
Borromeans Islands (or Borromeo Islands) are a small archipelagos of three small islands and two islets in Italian part of Lake Maggiore. They are located located on the Western side of the lake, between Verbania and Baveno villages to the North and Stresa to the South. Stresa is the pearl of the Lake with its Belle Epoque atmosphere, many luxury hotels, villas and easy access to the Borromeo Islands.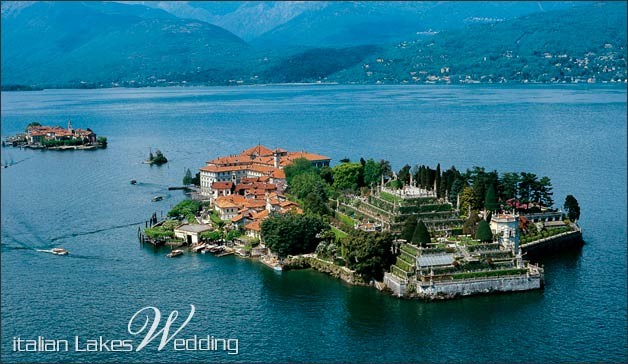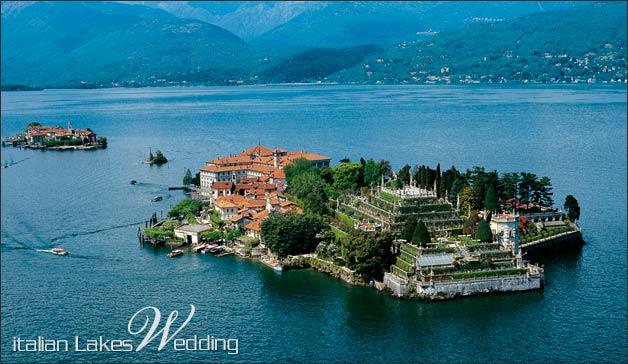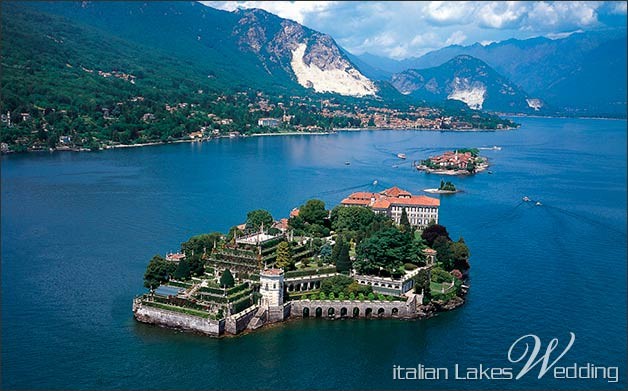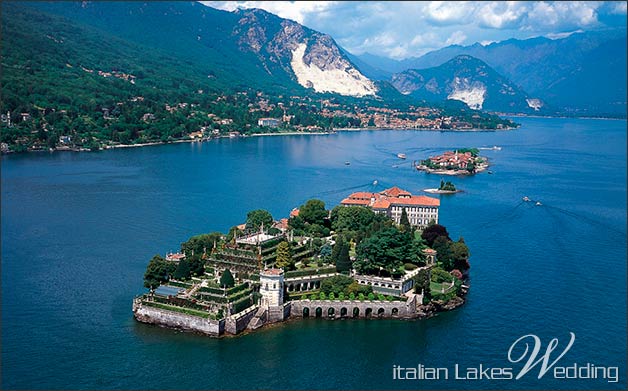 Warm Mediterranean climate and the ever-blooming tropical flora of palm trees, magnolias, roses and camellias, the islands are filled with lemon groves, palm trees and other subtropical plants that climb around the collection of luxurious villas. Because of the incomparable landscape and the rich history, Borromeo Islands can be a wonderful choice for a chic, original and truly Italian wedding.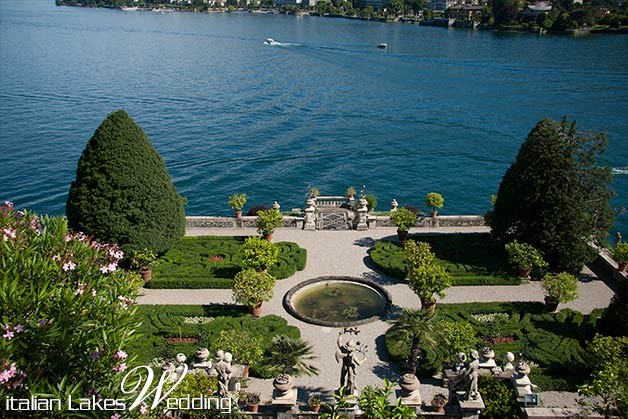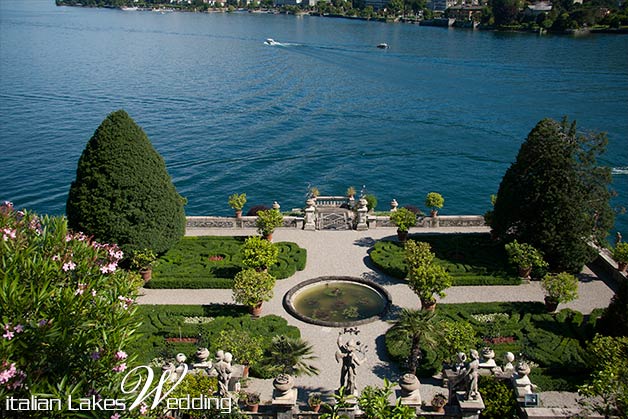 The name Borromeo Islands comes from the Borromeo family, which acquired them in the 1300 and still owns some of them today. Borromeo family is one of the richest families in Italy and has controlled land and Lake Maggiore for hundreds years.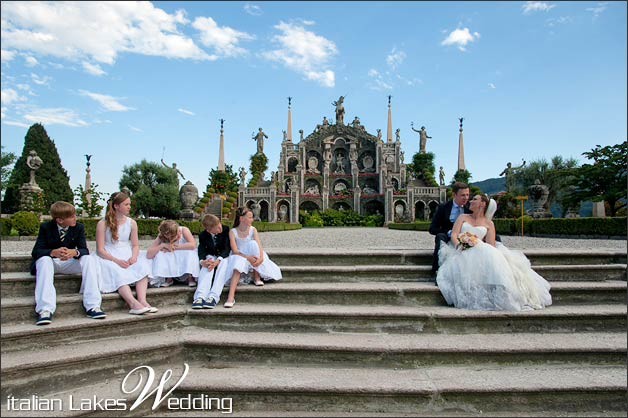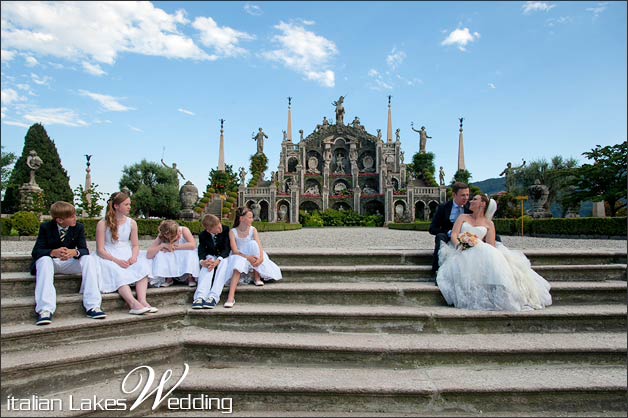 Isola dei Pescatori – Fisherman Island
A Wedding on Pescatori Island (Isola dei Pescatori) means choosing one of the quaintest spot of Lake Maggiore. Ancient roads, lovely views, stone staircases are the main characters. These are all a romantic escapes for artists, poets and dreamers.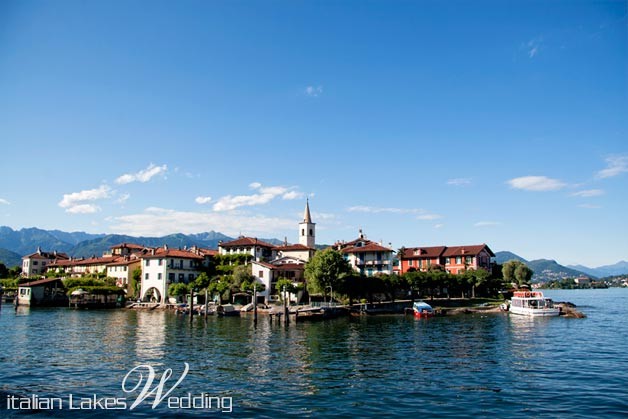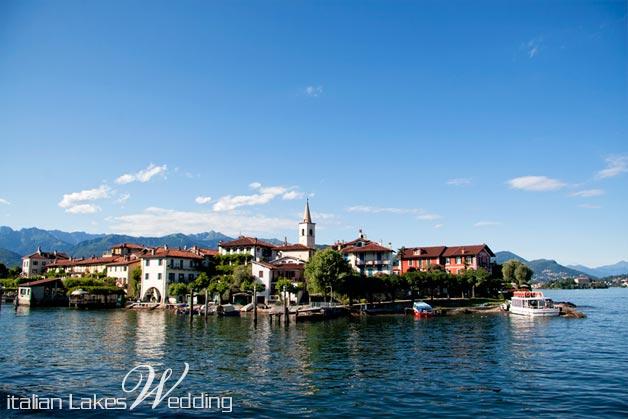 Pescatori Island offers a naive atmosphere. It is perfect for wedding pictures. On the island there are couple of lovely hotel and restaurants with terraces on the lake. They are just the ideal reception venues for a romantic, intimate and traditional Italian wedding reception. They are located in the quietest part of the island far from tourists visiting the place.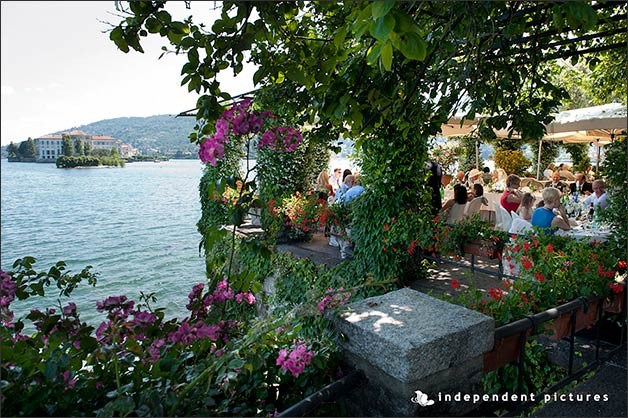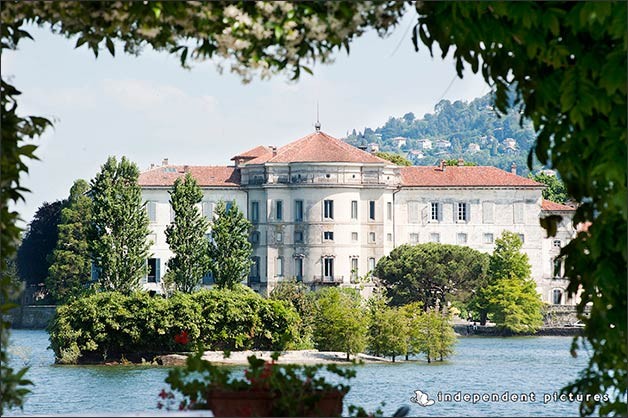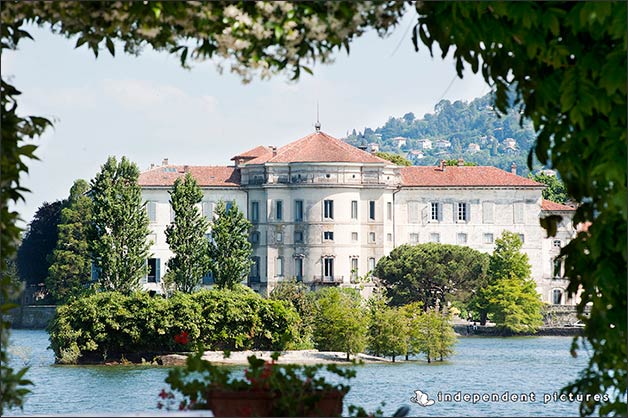 Silence and peace arrive at evening. Lights reflect on lake waters and the scenery here is just amazing. If you are looking for a romantic reception this is the place!
A suggestion? Hotel Ristorante Belvedere is located on Islands' North-East and if offer regional cuisine with fish courses and local dishes. It can host up to 200 people on the terrace or in the wide veranda.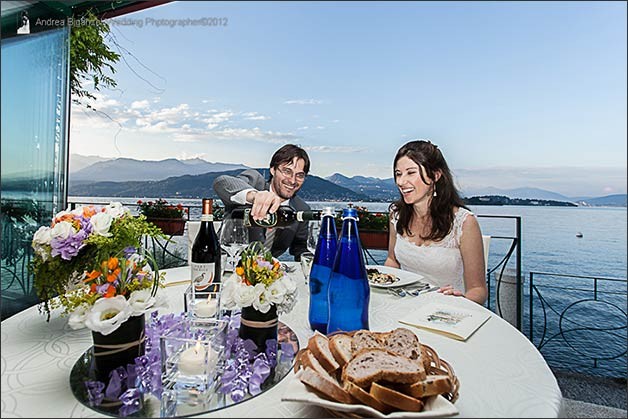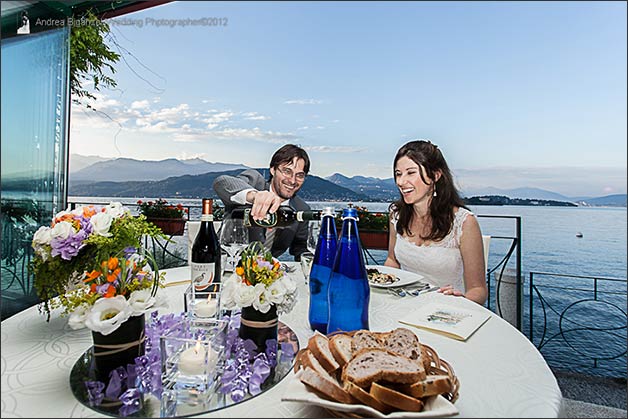 The village on the islands preserved the ancient architecture. In spite of its bigger sisters this Island makes us think about a simple and rustic life.
Instead of big and luxury gardens here you will find cobbled roads and steps, you will admire a romantic and evocative sights!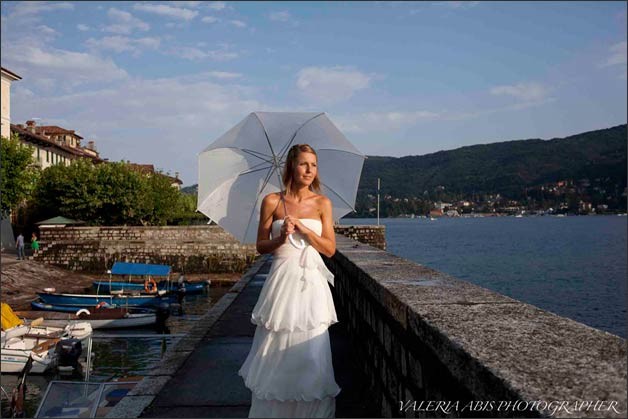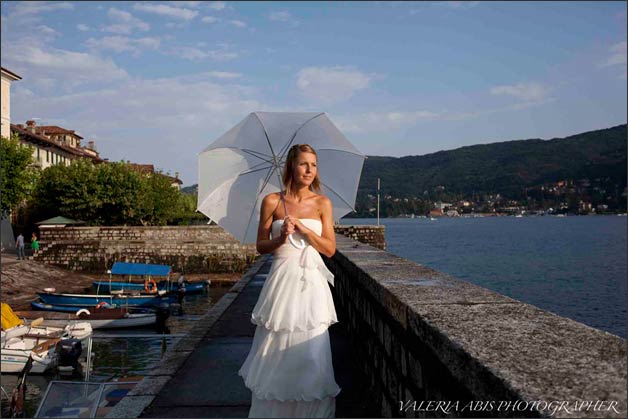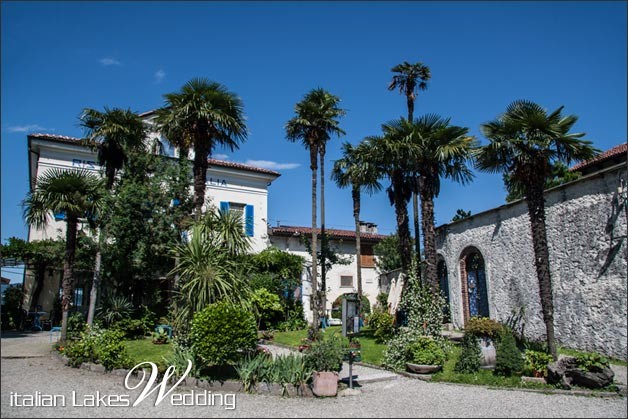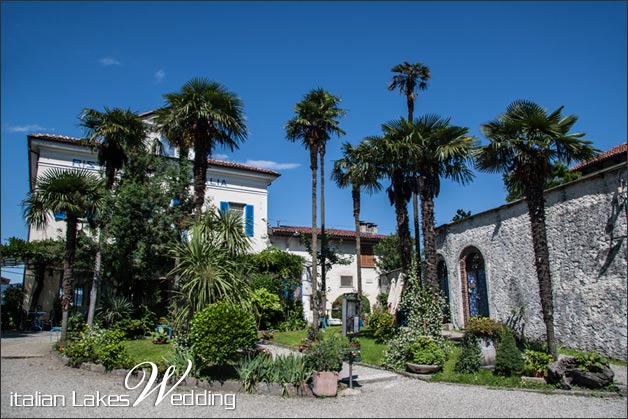 On Pescatori Island you can find San Vittore church (St. Victor church).
This is not the same of the church of Isola Bella!
This is a small and romantic church. Bride and groom love it because it so romantic an intimate, ideal for small groups!
The church is Romanian and it was enlarged in 1300 and again during 1600.
A wonderful ceremony venue for your Roman Catholic wedding on Borromeo Island.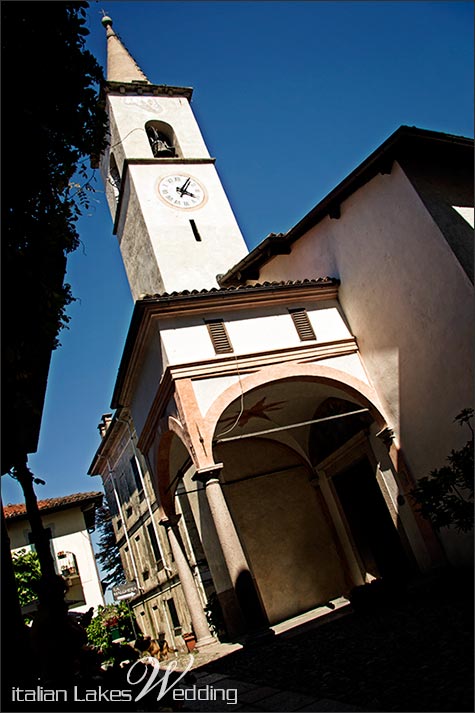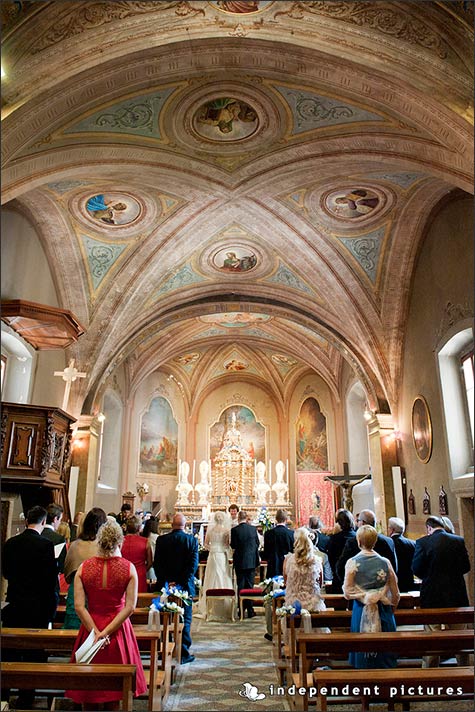 Let's not forget that on Pescatori Island you could also have the opportunity to celebrate your legal civil ceremony. This is allowed thanks to a special permission given by Stresa town hall.
There is a small town hall in the village where you can celebrate your civil ceremony.
It used to be an ancient fishermen house.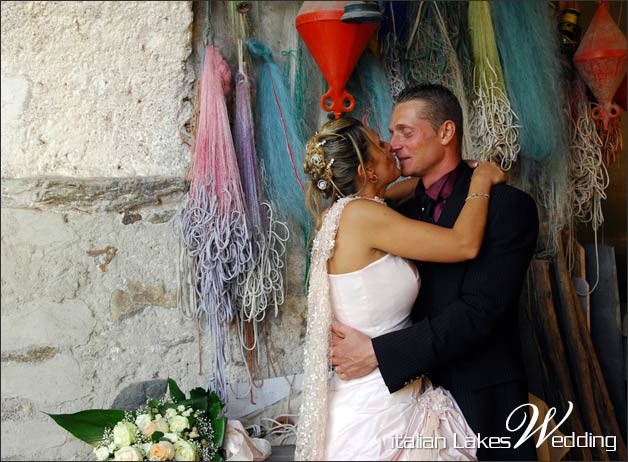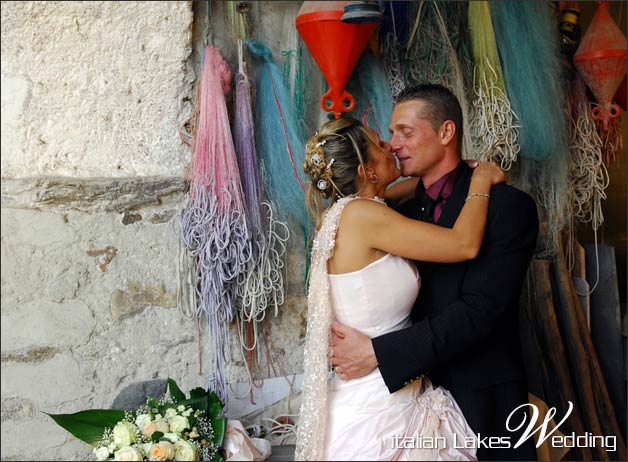 Isola Bella
Isola Bella is the pearl of the archipelagos. It is one of the most famous destination of all Lake Maggiore.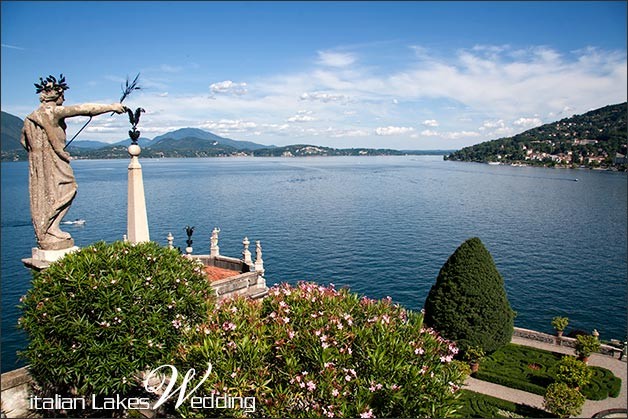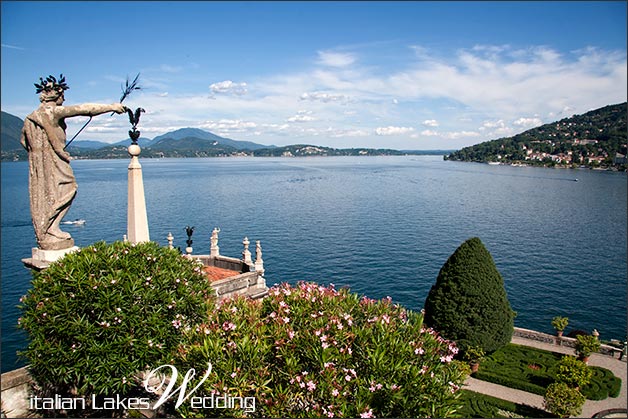 Passing over lakeside walk you will find the wide staircase of San Vittore (St. Victor) church.
From the entrance of the church you could admire the lakeside promenade, Borromeo Palace and Stresa. A unique scenery. If you are thinking about a Catholic ceremony on Borromeo Island on Lake Maggiore, San Vittore church could be a perfect solution. It is simply wonderful!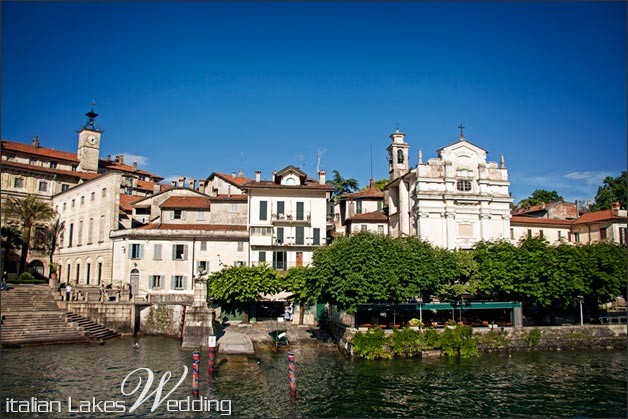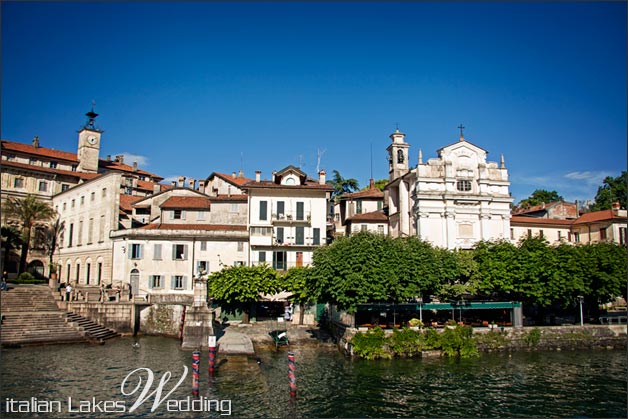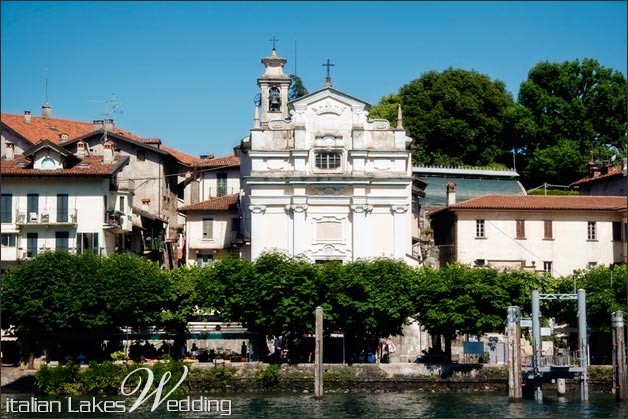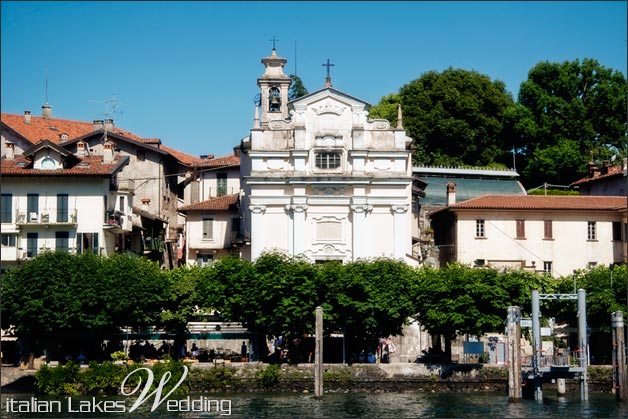 Centuries ago, when on the island there was nothing else than fishermen houses ancient church of San Vittore used to give its name to the island. The Island was called Isola di San Vittore.
But times changed in 1632 when Carlo III Borromeo wanted a huge Palace on this Island surrounded by an amazing garden. He wanted it as gift to his wife: Isabella d'Adda. And from here the name Isola Bella.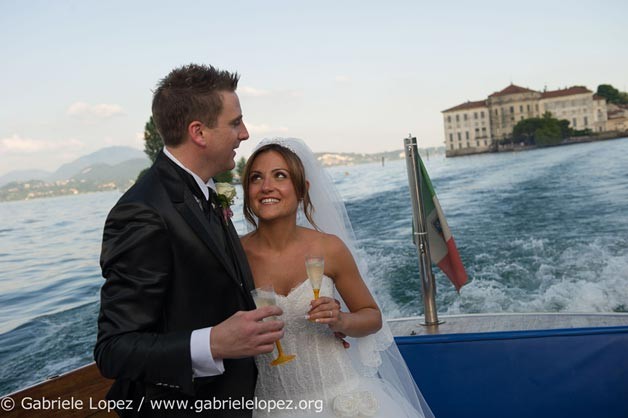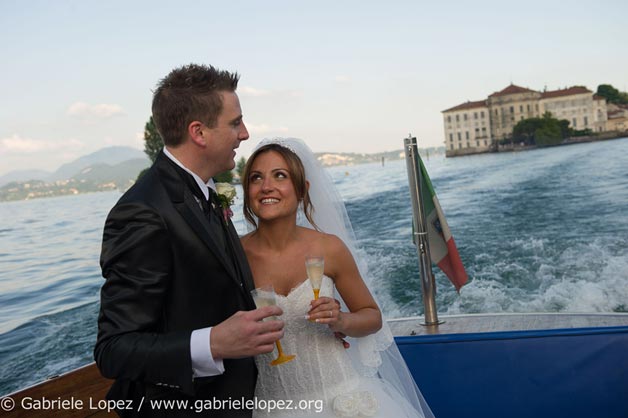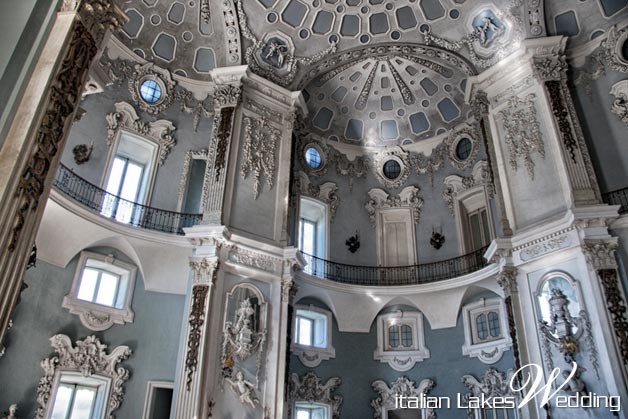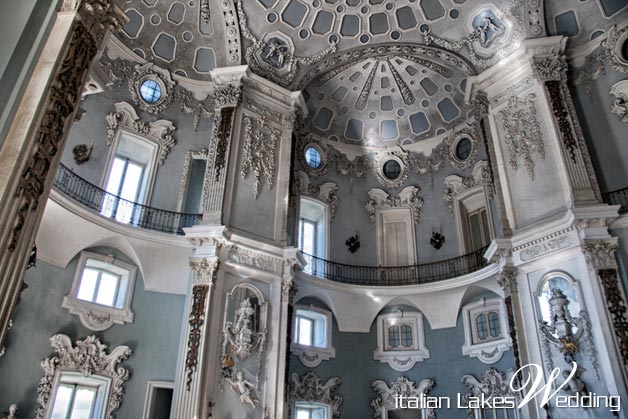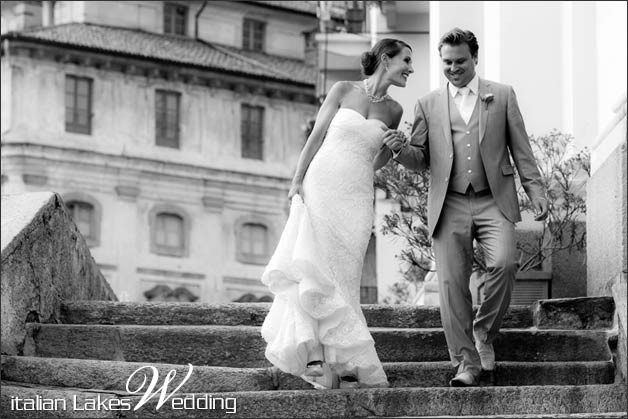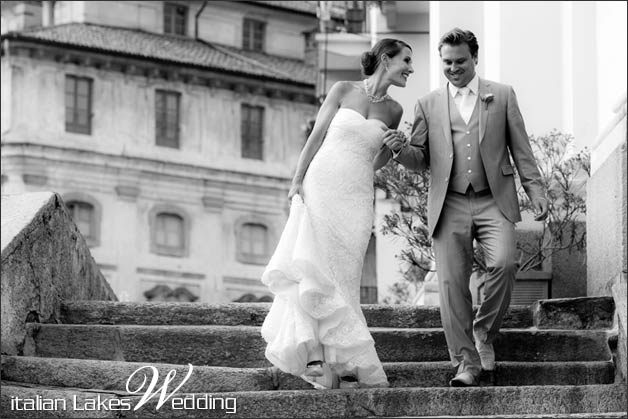 Huge Borromeo Palace and Italian style gardens are masterpieces of some of the most famous architects of 1600.
The project aim was mixing palace shapes with the gardens one to create a sort of imaginary ship. The pier should recall the back of the ship and main palace should recall the front deck. Upper terrace should be the Captain deck.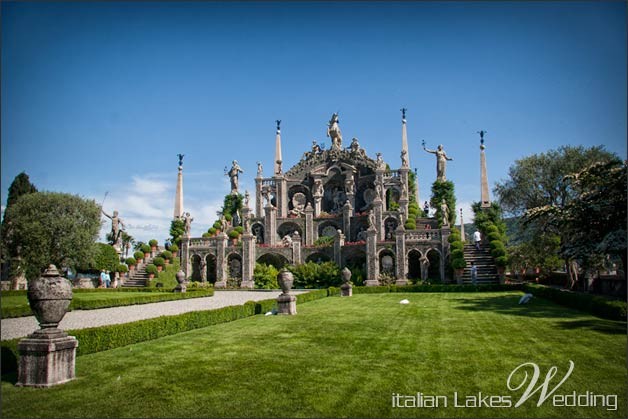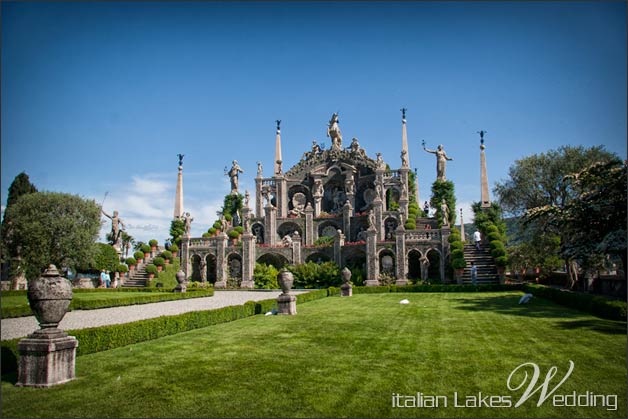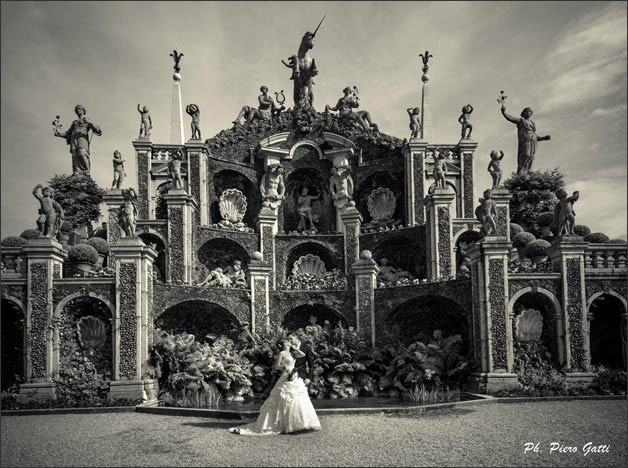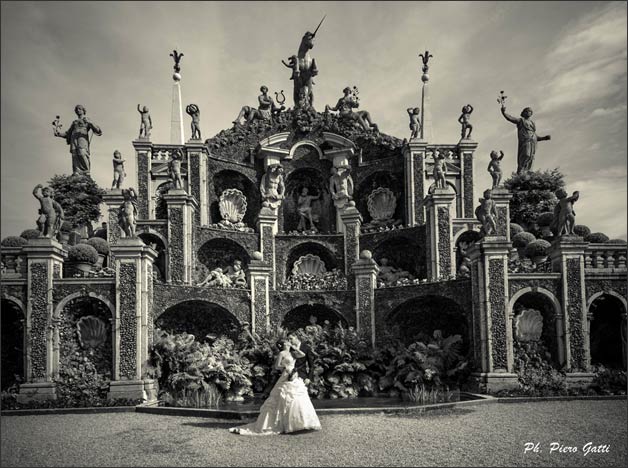 Magnificent Italian gardens are an explosion of roses, lemons, grapefruits, magnolias, azaleas, wisterias and fruits trees. The upper part of the garden is called "amphitheater". Here Borromeo family and its court assisted to the theater shows.
Gardens of Isola Bella could be the perfect set for amazing and unforgettable wedding photos.
After your ceremony on the Island or on mainland you can come here with your photographer and have amazing shots.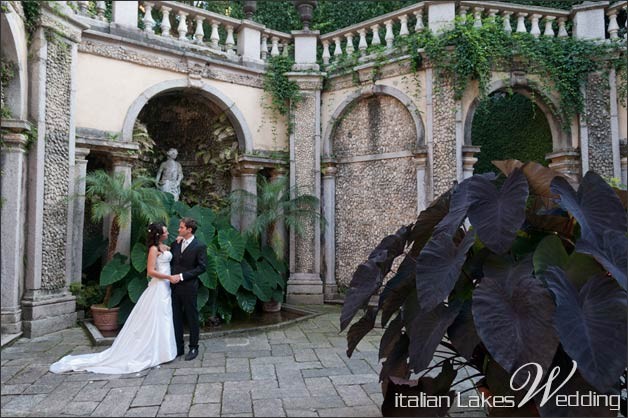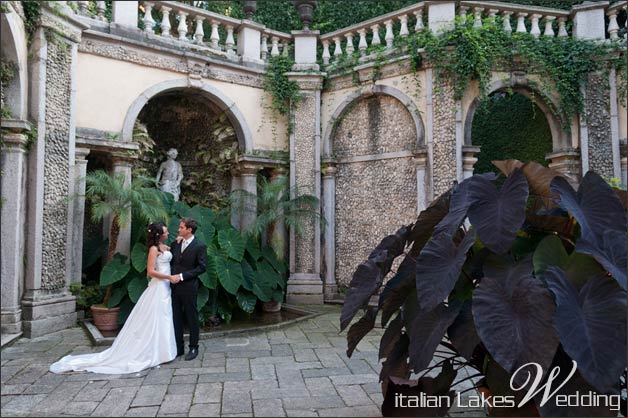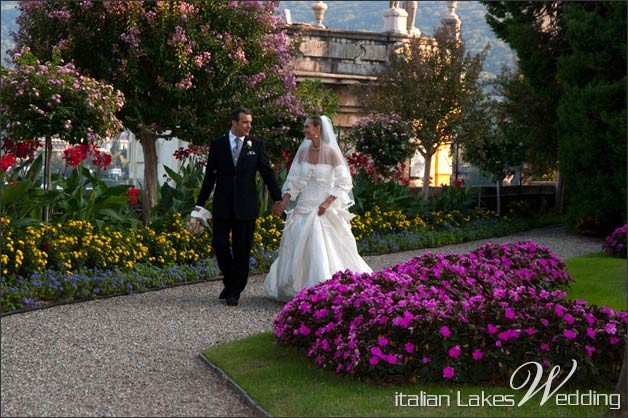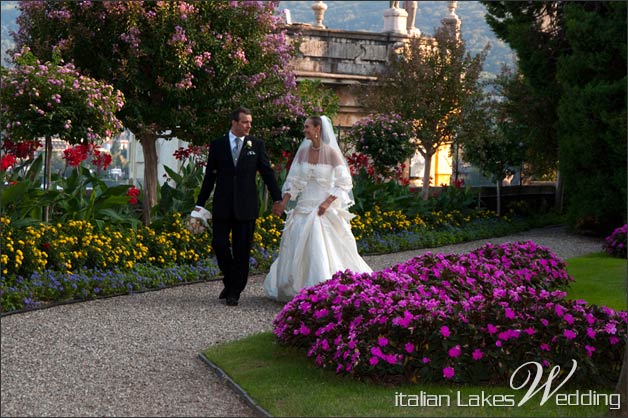 On Isola Bella there are not reception venues where you can can plan medium big receptions.
There are some lovely restaurants and bars where you can plan very small celebratory meals or fun aperitif to be served after the ceremony as a special toast for you and your guests.
Guests will be also entertained while you are having your amazing photos on enchanting gardens.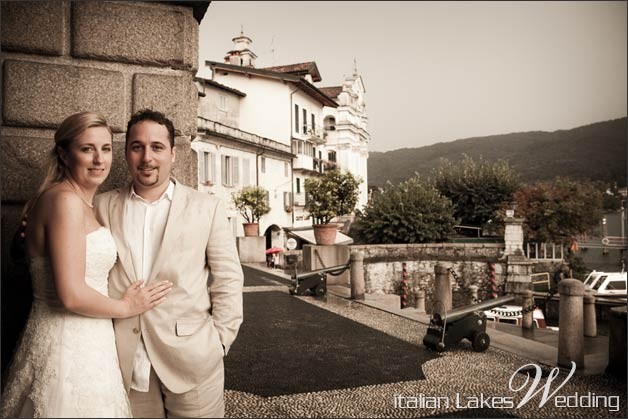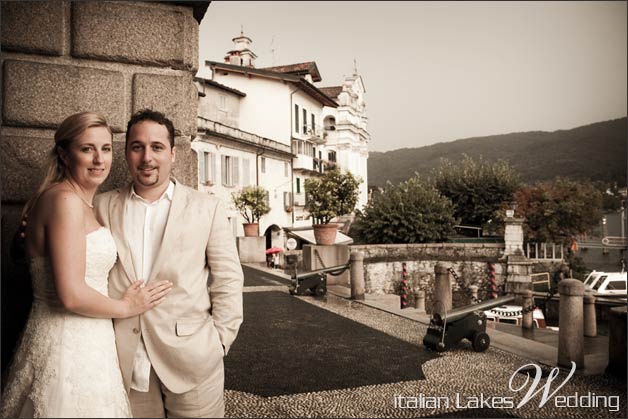 Isola Madre
Isola Madre is the third pearl of Lake Maggiore.
The biggest of the three islands but also the quietest and most intimate.
On top of it you can admire the big palace wanted by Conte Renato Borromeo in 1590.
The palace inside host luxury furniture, ancient uniforms, dolls and ceramics and most of all a wonderful puppets theater of 1800.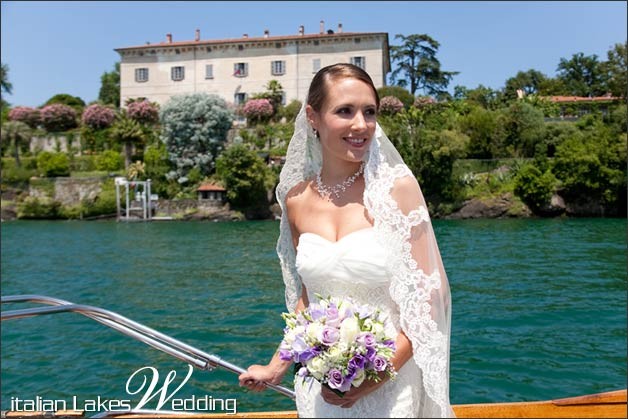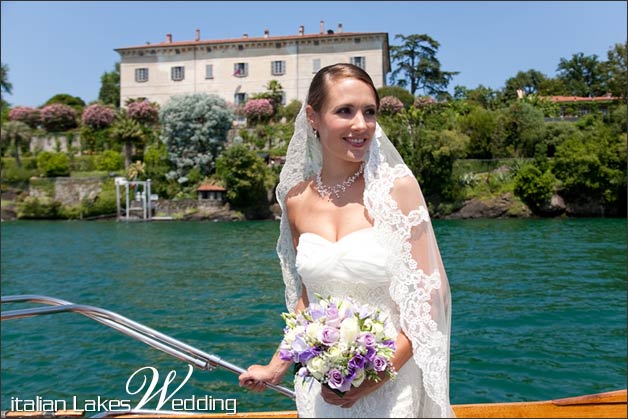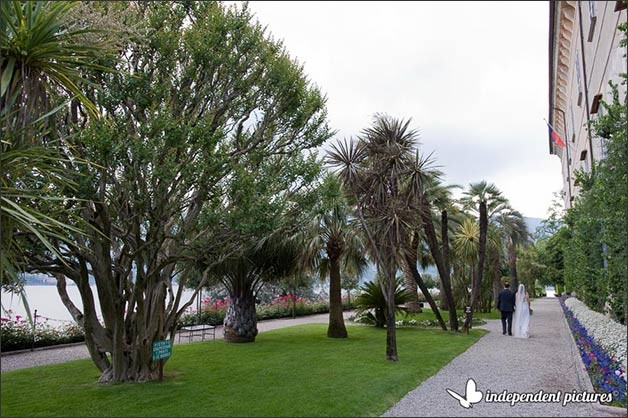 Outside the palace you will find the Cappella Bianca (White Chapel).
Here, back in 2004 here Fiat President John Elkann and Princess Lavinia Borromeo (from Borromeo Family) got married.
There were more than 500 guests coming from all over the world.
For this magic occasion Cappella Bianca was decorated with wonderful gardenias and white scented jasmines.
Bridal dress was a tailored model by Valentino. Bride had on also a wonderful veil which has been owned by Borromeo family since centuries.
John Elkan's tight was tailored by Anderson and Sheppard who make suits also for Price Philip, Sean Connery and Tom Cruise.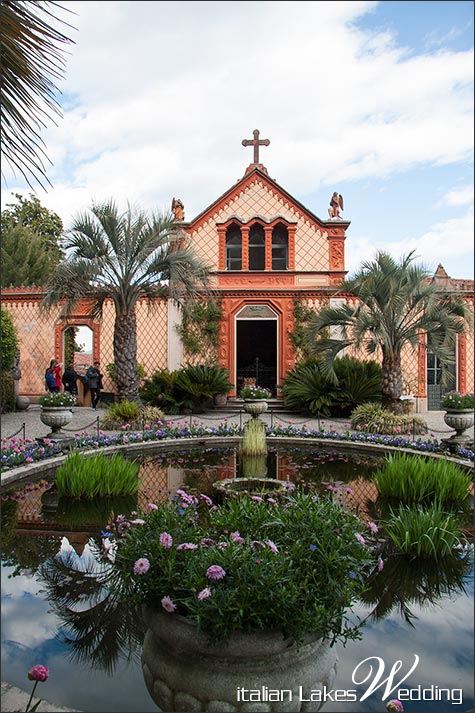 This little church is surely an dreamy place, but can be used only by Borromeo family just as the whole island. You could go there only paying a ticket.
A suggestion? If you decide to get married on Lake Maggiore and you would like to have unique pictures after the ceremony just go to Isola Madre! You will be just amazed by this place!
There is also a nice little restaurant on the Island where you can plan a lovely aperitif or wedding toast or a very intimate celebratory meal. It can be very exclusive for sure!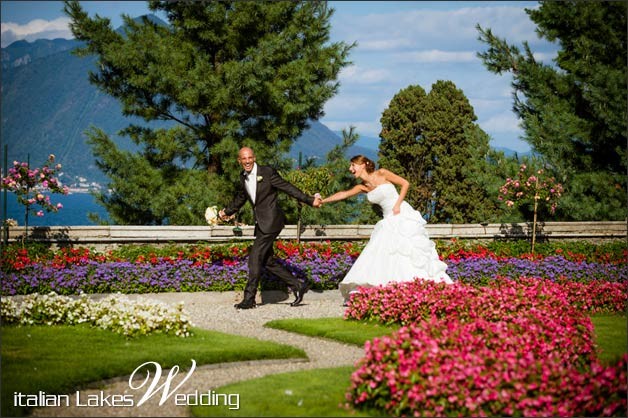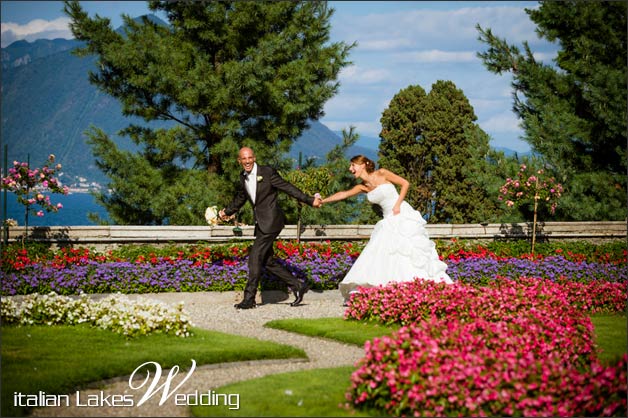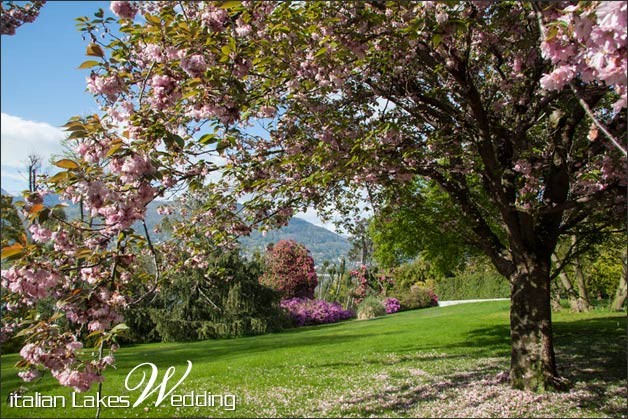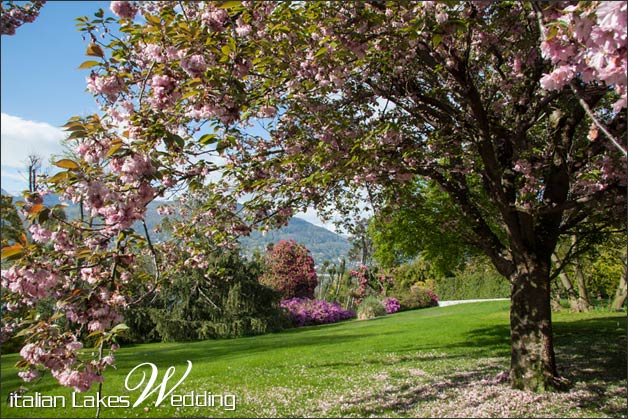 Wild nature is surely amazing on Isola Madre.
The island is worldwide known for its wide and extraordinary English garden.
The special micro climate makes possible the presence vegetation and plants you cannot find everywhere in Europe. On the island we will find bananas trees, camellias, eucalyptuses, palms and even a rare tree such as the biggest and most ancient Kashmir Cypress in Europe. There are also Hibiscus and some precious Ginkgo Bilobas.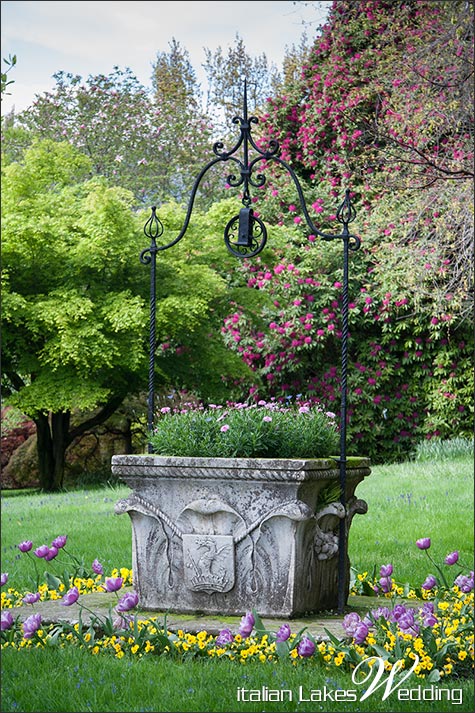 You will also find here wonderful birds coming from far East such as white peacocks and colored parrots. They all walk and fly in peace in the garden path creating a unique frame for your wedding pictures.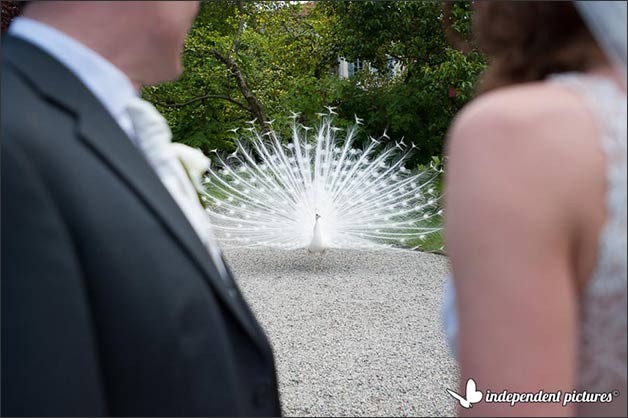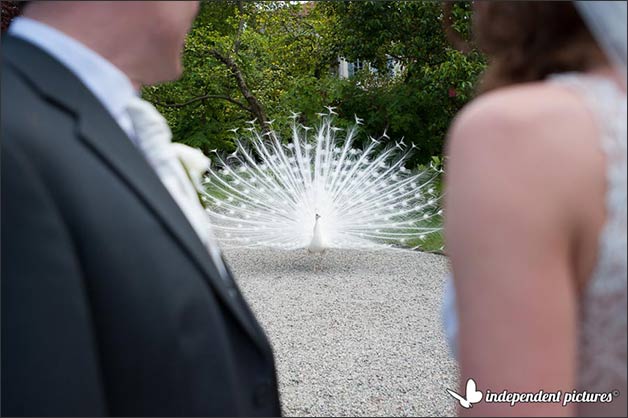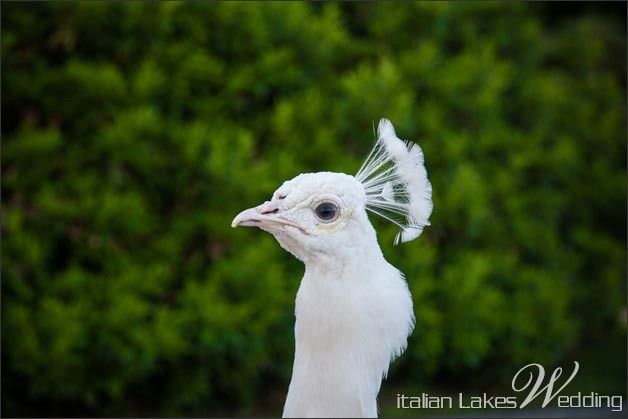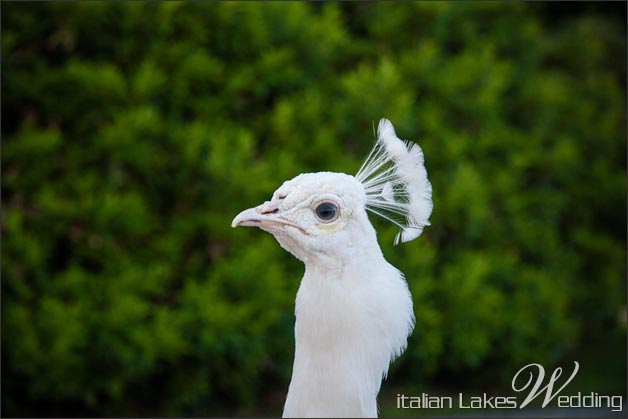 Getting married on Borromeo Island
We gave here an overview of the three pearls of Lake Maggiore.
If you are thinking about getting married on Borromeo Island take April and May in consideration. You will find showers sometimes but rhododendrons, magnolias, azaleas and camellias blooming is amazing. It could be the perfect frame for amazing wedding pictures.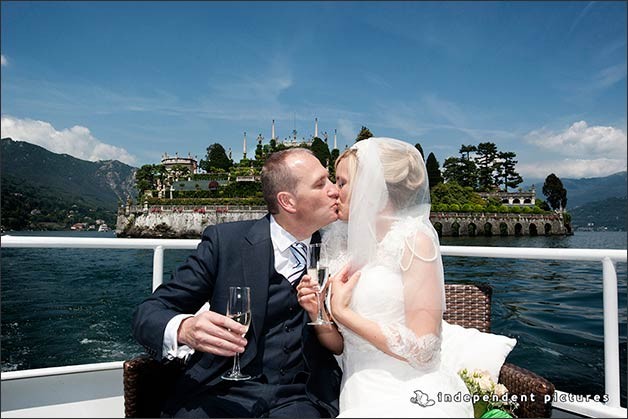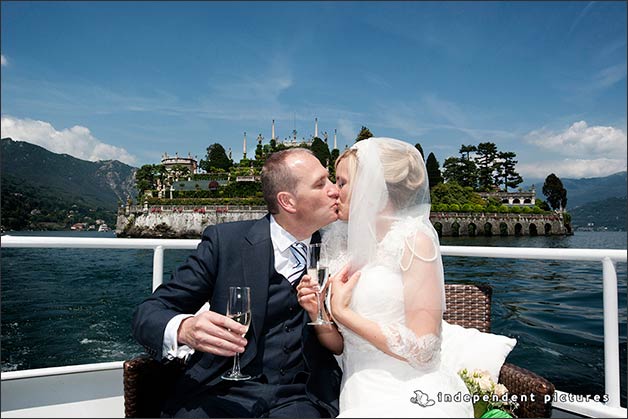 As far as transports are concerned all islands are reachable thanks to ferries or lovely motorboats services. We can plan transportation and trips by boat for big and small groups.
Booking the boats you could have an exclusive way to enjoy a lovely tour on the lake during the day or even at night to appreciate an amazing panorama.
If you would like to plan your wedding on Borromeo Islands you can have a look to this amazing video for Stephanie and Alberto's wedding.
Our bride and groom chose Pescatori Island for their ceremony inside the pretty and intimate church of San Vittore.
After the ceremony and some photos a wonderful tour with guests on Lake Maggiore tasting lovely Prosecco and amazing aperitif with canapes.
The reception was held back on Pescatori Island with enchanting view on Isola Bella.
A wonderful romantic view for a sweet couple!
Gustav Flaubert described Borromeo Islands as as a heaven on earth "One of the more luxury places I have ever seen".
If you decide to get married on Lake Maggiore…do not miss it!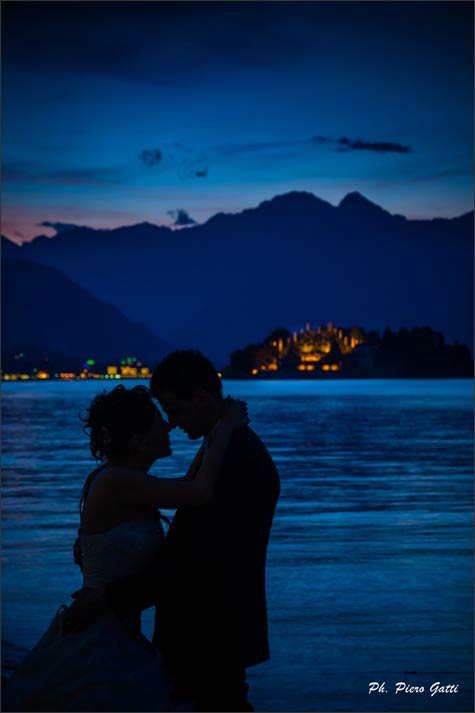 Italian Lakes Wedding strongly recommend a wedding in the Borromeo Islands if you wish make your wedding in Italy truly unforgettable. Wonderful settings are available for catholic, civil, protestant and symbolic weddings.
For more information, please contact us.