ave you ever think about a
wedding reception on a vintage ferry boat on Lake Maggiore?
An itinerary dinner all seeing all different corners of Lake Maggiore in different times of the day.
For this brand new post on our blog we are happy to host
Independent Pictures team
who follow the event for us. The couple had also a partial support by
our planner Valentina
working on
Lake Maggiore
, but we let
Andrea and Francesco from Independent Pictures
tell us all about this special day.
A vintage wedding on Steamboat Piemonte
A vintage wedding on steamboat Piemonte, a real belle epoque style ferry boat. Do you love the idea? Imagine a Lake Maggiore tour for your wedding reception on Lake Maggiore with your family and friends. Isn't it a great idea?
Steam boat Piemonte was built back in 1904 by Escher Wiss Zurich.
It started its service on Lake Maggiore with the name Regina Madre.
It is one of the most ancient steam boat in Italy. A real steamboat with wheels propulsion and an alternative motor engine. It has two big liberty style rooms and two outdoor areas at stern and prow. Piemonte is ideal for wonderful wedding reception. In 2015 hs been chosen for a very VIP wedding the one of Beatrice Borromeo and Pierre Casiraghi. Beatrice, the bride is a famous show woman and heir of Borromeo Family, Pierre is famous son of princess Caroline of Monaco and Stefano Casiraghi.
We were incredibly pleased that Monica and Richard chose us for their wedding photos on Lake Maggiore. The groom is a skilled photographer and being chosen by an expert is always a special reward. Moreover it wedding on Lake Maggiore was surely not a conventional one so we let our creativity guide us to take some special wedding photos on a vintage ferry boat!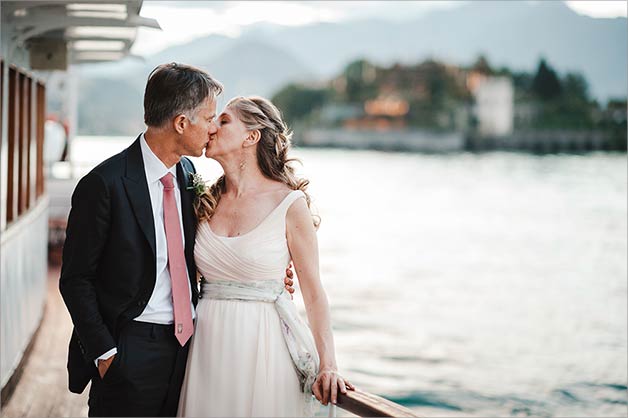 Getting reading in a private villa over looking Lake Maggiore
"We reached our couple in a very special private villa overlooking Lake Maggiore on Pallanza shores.
The villa was the perfect setting for some getting ready photos and the special view made the rest.
Monica, our Italian bride, was very elegant and chic. She wore a wonderful dress made with precious silk and light veils. For her bridal bouquet she chose a small one made of roses".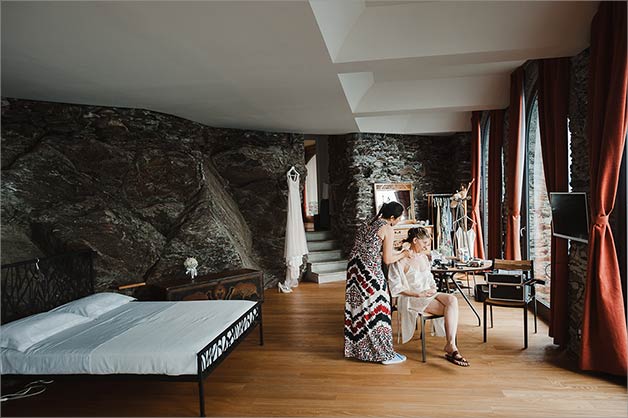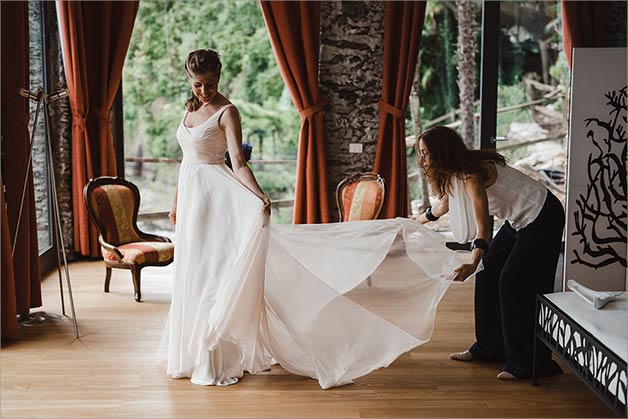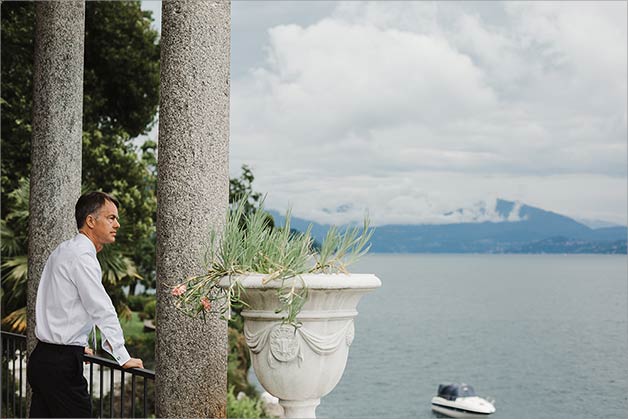 A Roman Catholic Ceremony in an ancient Church above Lake Maggiore
"Once they were ready we all moved to San Remigio church located in Pallanza. The location was great for our photos. The church is located on top of a hill and overlooks the lake.
The little church was perfect for Monica and Richard's small group. Being a a church built in back in 1132 it is all made of stones and you can imagine how beautiful it could be!
Inside the church there are some wonderful frescoes and the atmosphere is just dreamy… just like in a fairy tale.
Bride arrived on a vintage car and once inside the church a moving and romantic ceremony could start".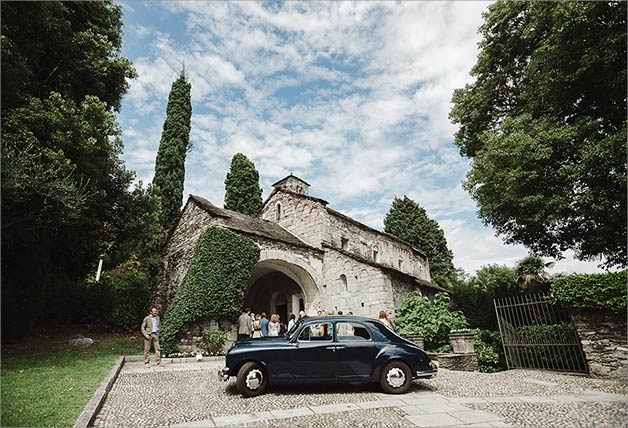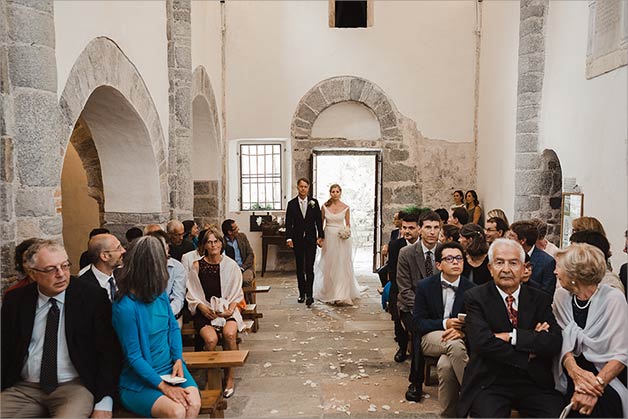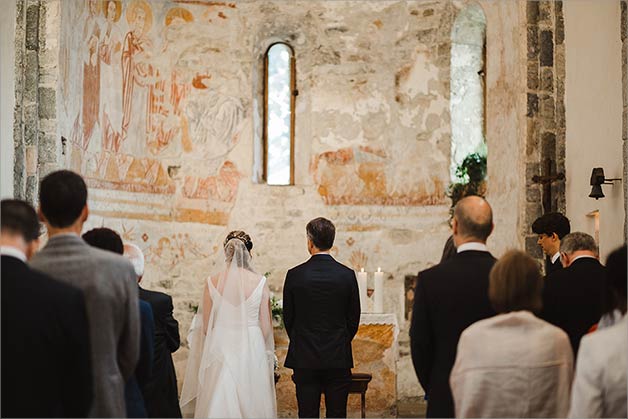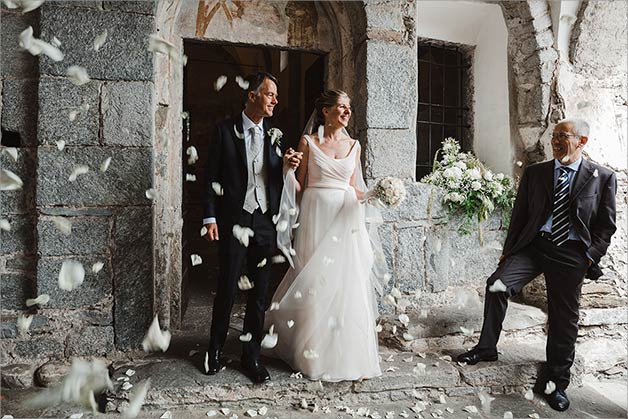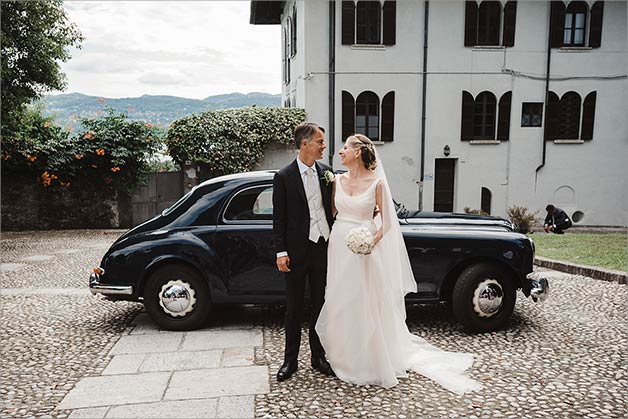 An wonderful reception on a vintage ferry boat on Lake Maggiore
When the ceremony was over we all moved back to the shores because a wonderful vintage ferry boat was waiting for us to take the full group on a touring reception on Lake Maggiore.
What a great idea! Pallanza, Stresa, Baveno and Borromeo Islands… we toured all the lake to admire these beauties from the waters.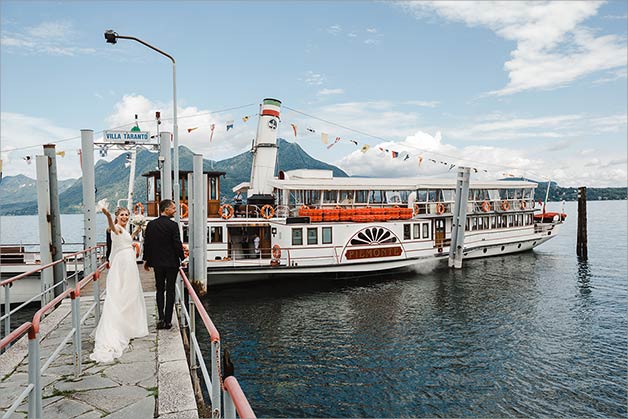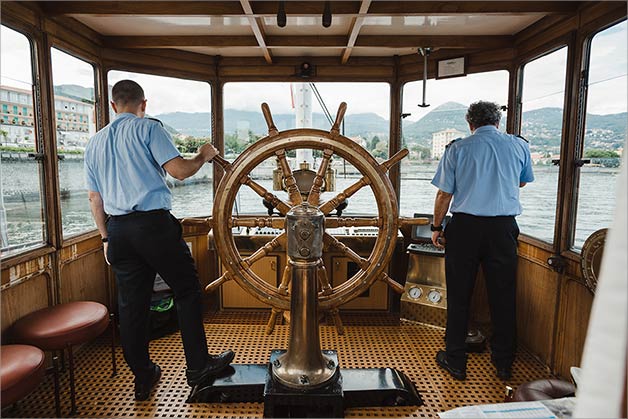 The aperitif started at the prow of the steam ship and on top of it. Bride and groom and their guests enjoyed Prosecco and delicious finger food admiring the view on the lake.
Before sitting down for their reception on a ferry boat, bride and groom offered a mini piano concert to all their guests. Monica is a opera singer and many of the guests present to the reception were musicians so the idea of the mini concert was really appreciated by all.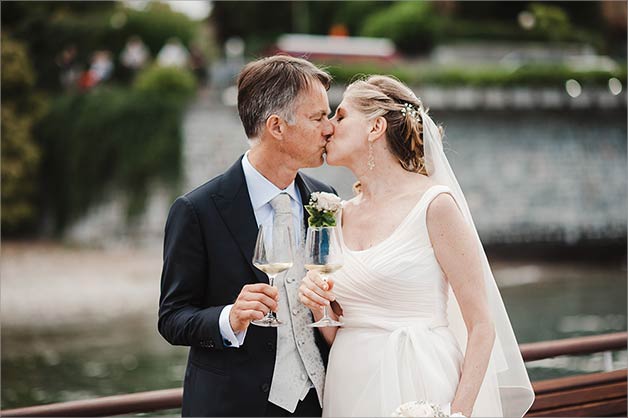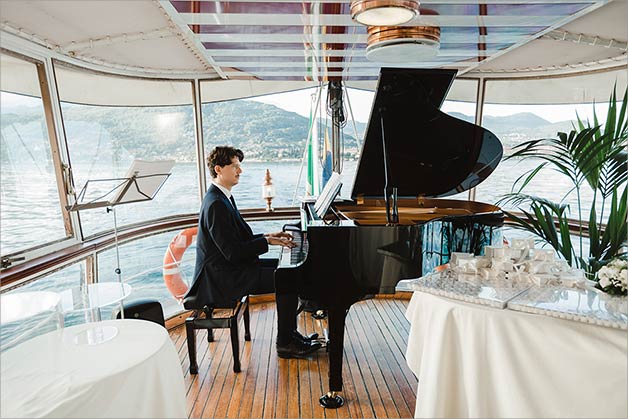 The reception room of the boat was decorated with flowers and garlands but the atmosphere of vintage marine lights, wood on the floor and vintage style seats made the decor really unique!
The setting was really beautiful and very interesting from a photography point of view!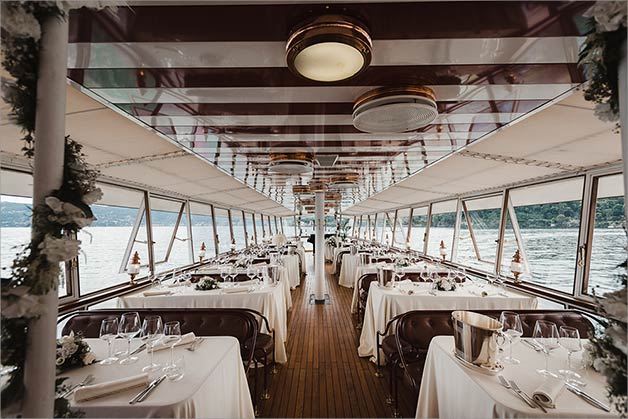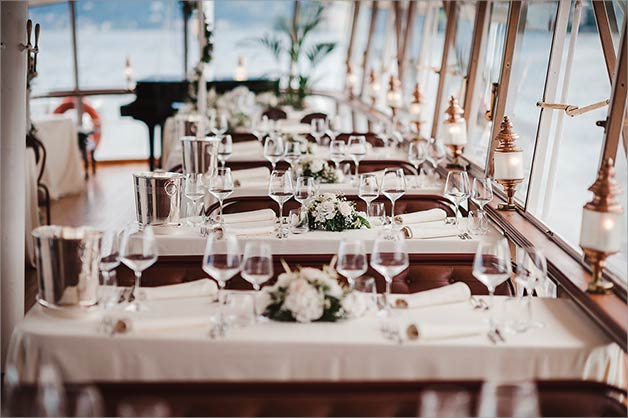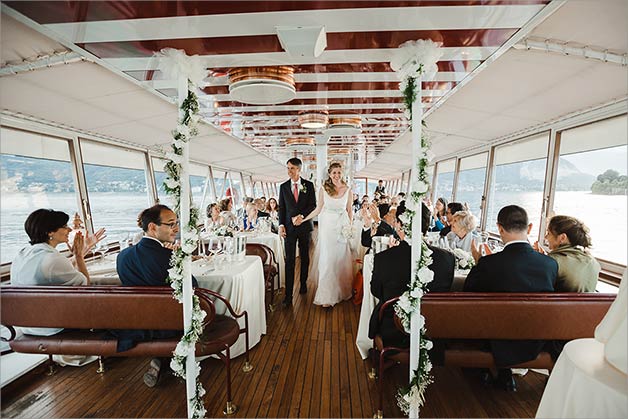 We cannot forget the wedding photos to our couple! Boat gave us amazing occasion to take same great wedding shots to Monica and Richard. Perspectives, Lake view, amazing sunset… we were incredibly satisfied of our work. Monica and Richard appreciated it too.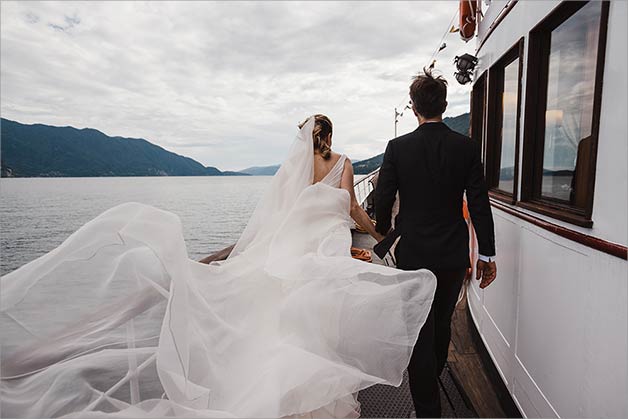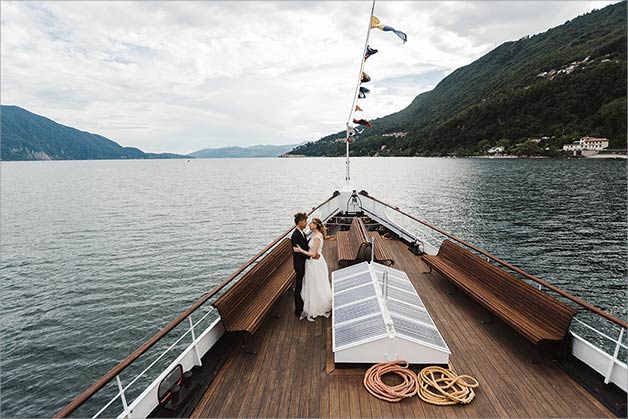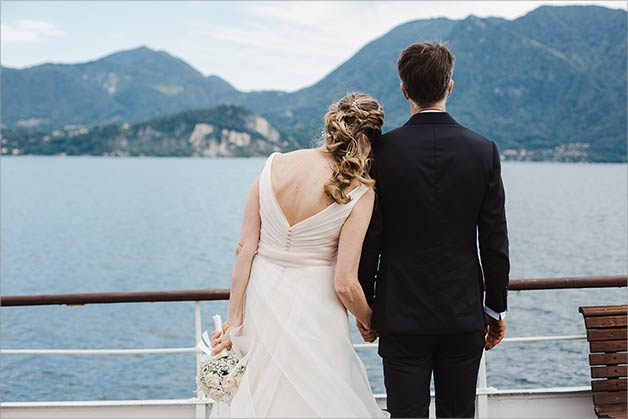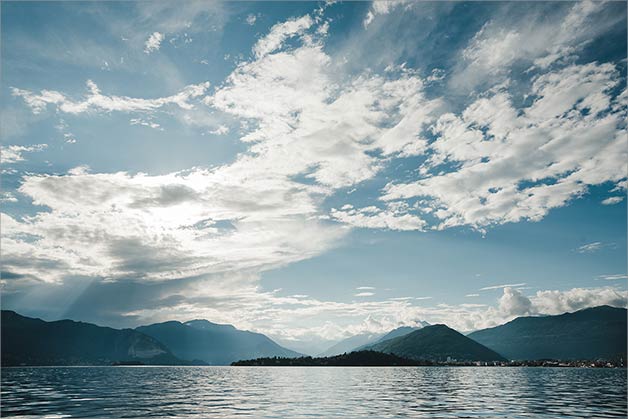 The party went on up to later at night with a wonderful tour on the lake. The vintage ferry boat was surely a wonderful venue for an original wedding reception."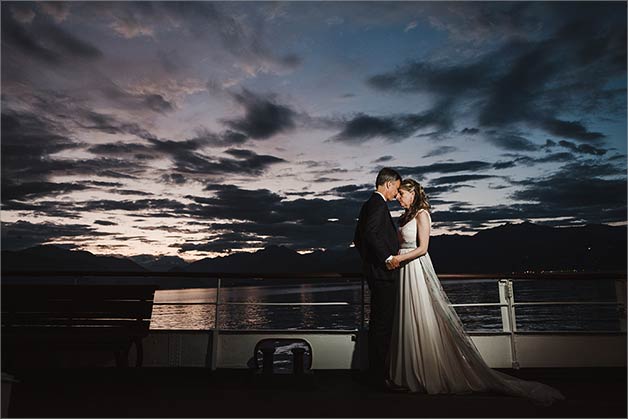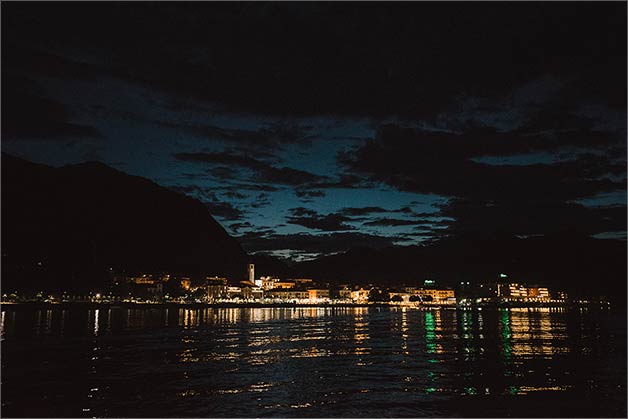 A big thanks to Valentina who gave us this opportunity and to bride and groom for having us as their official wedding photographers.
Here some more details by our planner Valentina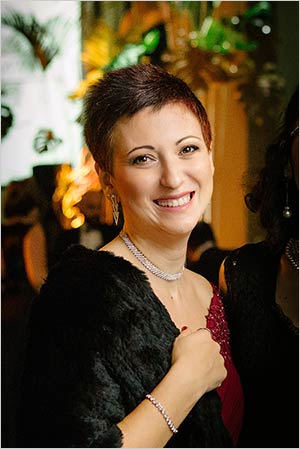 If you are keen to plan a wedding like this you can feel free to email me and ask all details.
Company that owns all ferry boats on Lake Maggiore gives availability to couples who want to rent a big ferry boat for their touring reception on the lake.
There are many possibilities, the fleet has many different options. You can choose a more modern boat or even a vintage one. Vintage boats have been completely restored and they have all services on board including kitchens, bars and toilets.
The company will rent you the boat basing on hours of use and we can take care of hiring the right caterer for you and all vendors to make the party unique such as florist, musicians, cake designers etc. Boats can host up to 200 guests according to the boat chosen.
Do not hesitate to ask for proposals and ideas!