Spring is almost here and a new long wedding season is going to begin soon on Italian Lakes.
Before all will start again we would like to have a look to the best moment of past season.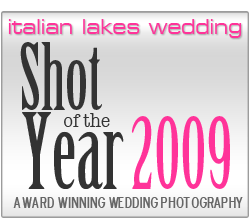 To do it we selected 36 pictures that tells you about our 2009 weddings.
Each image we selected tells a story and emotion a great lived moment. Most of all each shot has been take thanks to great experience and skill of all photographer who worked with Italian Lakes Wedding during 2009.
Which is the best one among all 36?
We deiced to ask bride and groom directly! Starting from tomorrow we will put on line the Wedding Poll Shot of the Year 2009. You can vote your favorite photos.
You could do it with a password that will be sent to all bride and groom who choose Italian Lakes Wedding Team services during 2009 or just booked for 2010 or following… someone is already working for their 2012 wedding!
Which picture will be the Shot of the Year 2009?
We will all find it out very soon!