Laverne, wife of Hong Kong resident in Sydney, she had never seen snow and has always had the desire to get married in the snow.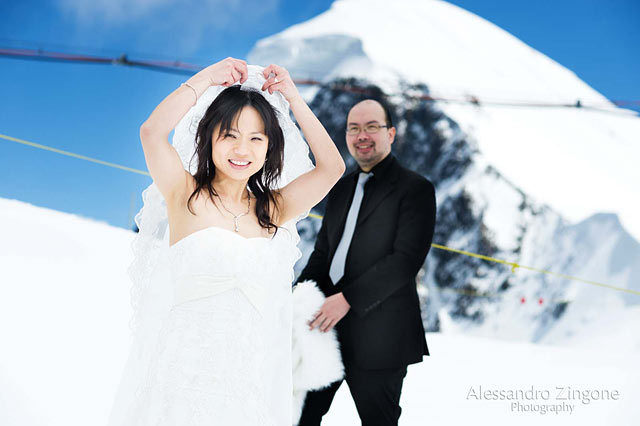 To celebrate their wedding anniversary, her husband John wanted to give her this dream.
We contacted the photographer Alessandro Zingone, that the bride loved because of his cinematic view and we started from Stresa station, Lake Maggiore, to reach Zermatt, Switzerland.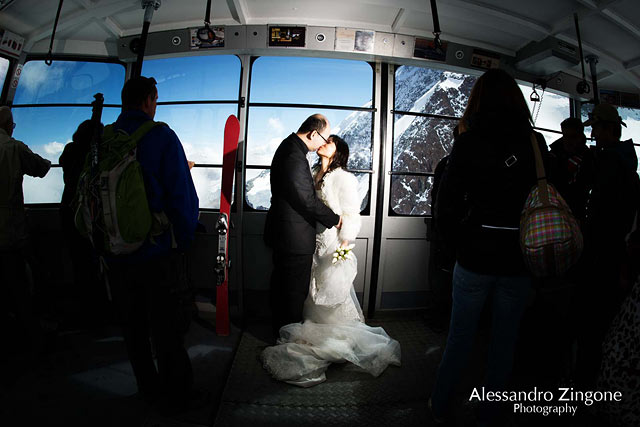 In the early morning we met at the beginning of the…. Laverne was in her beautiful white wedding dress and John in an' elegant dark suit and we reached the top of the Matterhorn.
Once arrived, the landscape we have found was absolutely spectacular. The first pictures were taken inside the glacier palace inside that you can reach walking through an ice tunnel, that Is almost fifteen meters below the surface of the glacier in an almost unnatural environment, immersed by wonderful play of colors, lights and ethereal sounds.
Leaving the palace, we got on the ski slopes, and Laverne finally reached the snow.
We took great photos, surrounded by snow and skiers who looked puzzled and amused.
But there's more, down to the valley, we took the car and flew to Stresa on Lake Maggiore, sudden change of temperature and environment, hedged by water for few shots.
In the evening we were really tired, but happy to have contributed to realize a dream.
---
If you want to learn more about the style of photography of Alessandro Zingone, please visit www.italianweddingphotojournalist.com
Here you will find a wide selection of his best pictures, divided into areas (Lake Bracciano, Rome, Tuscany, Lazio Maremma and Elba).
For more information or request for free quotes, you can contact the photographer Alessandro Zingone filling the form below:

My name is Stefania and I work as wedding coordinator on Lake Bracciano and Rome area. I was born close to Northern Italian Lakes District in Piemonte region so I've always been enchanted by lakes atmosphere and I know the real appeal of it. I've been traveling a lot before becoming a wedding planner, all over the world I was a flight attendant. I developed a deep interest in people, customs and different country habits. This knowledge is helping me a lot in my actual job. When I moved to Rome years ago I decided to become a Wedding Planner and now I'm happy to be part of this wonderful Team.
I will be happy to guide you across Southern Lakes such as romantic Bracciano and rustic Bolsena which are both very close to eternal city of Rome. I will be pleased to help you find the best venues, charming solutions, lovely decorations, for your unique wedding on Lake Bracciano.
I will let you know the charm of this great spot of Italy being your guide and help throughout all your wedding planning.