Flower designers like myself consider that flower arranging in a location can be one of the most creative moments of a wedding reception. The table centre is an essential element which often distinguishes the style of the event, as do the floral decorations for the aperitif or buffet.
Clearly, quite apart from the flowers and finger food, the ambiance is of major importance too. Your wedding reception on Lake Orta deserves the Ristorante Hotel L'Approdo at Pettenasco which offers a stunning gazebo on the lake shore, with a view over the Bagnera Gulf and the Orta promontory, with Villa Crespi's evocative minaret standing out on the horizon.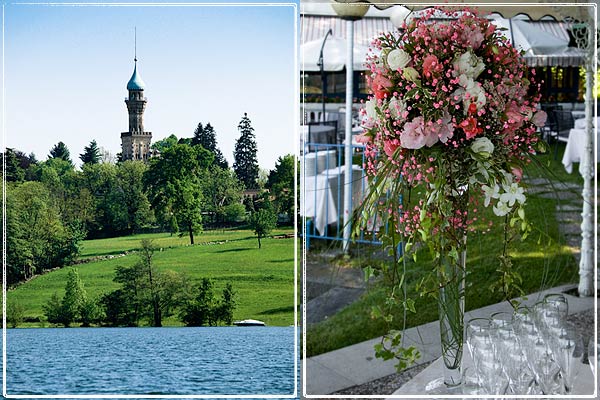 Maria and Simone are a Hispano-Italian couple who chose the Hotel L'Approdo for their wedding reception. They decided on two large floral arrangements placed on a tall tapering glass base for the aperitif table. I wanted the most natural, free style possible on this occasion, with dominating shades of pink and white.
The finishing touch was given by the pink Gypsophila and the Godetia, a gorgeous summer flower which is not all that well known but is extremely versatile.
Not only is Godetia a flower of genuine simplicity but it is also most effective and, believe it or not, very good value for money. That is why I always advise my brides to use flowers that are in season for their weddings, they will remain fresh longer and they will be remarkably cost effective too!
Monika Andenmatten is La Piccola Selva's floral designer.
Based in lake Orta, has worked with brides for over 20 years to create floral arrangements for weddings in the Italian Lakes district.

For more information about wedding flower arrangements on Lake Orta and Lake Maggiore please contact us.