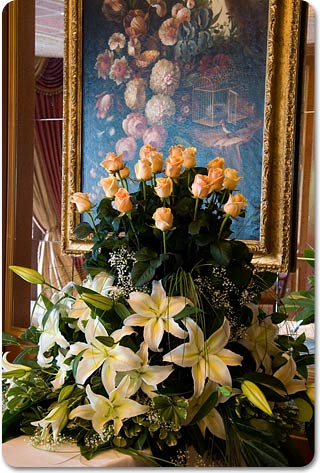 Casablanca Lilies, the largest blooms of all Lilies!
A very fragrant flower, Casablanca Lilies are perfect for large wedding flower arrangements. From a decorators point of view Casablanca Lilies are important because they fit modern and traditional situations so well. They are individually unique and mass pleasingly and they are so fragrant. They are long lasting, holding up well when manipulated into wired floral pieces. Brides find them magically expressive of the beauty they are looking for and popularity makes Casablanca Lilies stylish and trendy.
The image on the left shows a flower arrangement with Casablanca Lilium and Roses created by me at Hotel Dino in Baveno, lake Maggiore.
The beauty of fresh Casablanca lilies offers a sweet fragrance and statuesque grace. No flower is more frequently used at weddings than this hybrid. These lilies were originally found in China and Japan. The first known use of lilies at weddings was by the Ming dynasty in China. A breathtaking lily, the Casablanca is known for its dramatic white blossoms and irresistible scent. Among the most famous of Lilies from the Oriental family, it's as elegant as the name implies. The Casablanca takes its name from the Spanish "casa" (house) and "blanca" (white). These pure white Lilies exhibit three-to-five stunning flowers per stem, for a total of 30 or more flowers per bunch. A plentiful amount well suited for a truly spectacular display, gala event or thoughtful gift.
Warning: put a protective shield under the lily when using them as corsages. The anthers which project from the center of the flower will easily stain fabric. It is safest to remove the anther prior to using them in this manner.
The wedding roles of the flowers are to provide the classic beauty and romance of wedding. Meanwhile, the natural fragrance lifts the height and drama of the wedding.
Flowers are not only a beautiful and traditional addition to your Italian Lakes destination wedding and reception, but they also help set your wedding theme, reflect your personality and capture the spirit of celebration on the most special and meaningful occasion of your life!