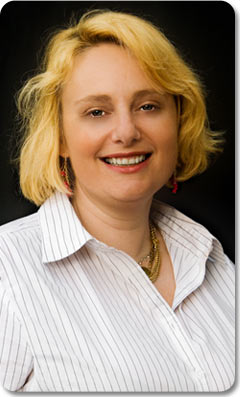 It is my pleasure to introduce the newest member of the Italian Lakes Wedding team: Giovanna Benati of Poker d'Eventi, a wedding planner agency based in Verona, Italy.
I recently spoke with Giovanna about Poker d'Eventi and how the company can help you plan a destination wedding on lake Garda.
Giovanna, could you tell me something about yourself and how you became involved in wedding planning?
After working for many years in the organisation of events for large companies and often in extremely formal situations, a close friend of mine called me to give her a hand with the organisation of her own wedding.
Time was short (as is always the case with large companies and big events and conferences) and I helped in making the wedding a fantastic experience for everybody.
I have to say that what made this experience unforgettable for me was to see my friend so relaxed and free to enjoy the day, leaving everything in my hands. She even allowed me to be as creative as I wanted and that is how the passion for this work was born.
What is your favourite part about event planning?
I think the most exciting moment is when I present my ideas and plans to the couple. Their faces light up at being able to imagine their wedding and they can finally begin to get excited about the day.
Where are your top three picks to have a destination wedding in lake Garda?
Lake Garda offers so many options for the creation of a wedding that I really wouldn't know how to choose. I like to give couples the chance (if possible) to see some of the lake and a few of the locations that I have selected before coming up with final choices. If I were to get married again however I'd love a wedding on water, an event on a boat.
Is it difficult for non-residents to get married in lake Garda? What are the requirements?
No it really isn't a problem in my experience, the people at the town hall actually seem happy to help in the completion of documents etc. Obviously each case needs to be looked at separately and documents also need to be prepared in the country of origin, but we calculate the time for all paper work in the organisation.
After the wedding, what nearby romantic places might couples want to visit?
After travelling so far, many couples see Venice (and a trip on a gondola) as a stone throw away, Florence is a popular stop over and of course Verona with Juliet's balcony and the Arena Opera House is a must but I think the most romantic and enchanting place is 'Castel San Pietro' where the most breath taking view of Verona from above can be experienced.
Do you have any advice for folks who'd like to get married in lake Garda?
Plan ahead. Garda and the various locations suitable for such an event are becoming more and more popular so we need to book in advance. With enough time we really have no limits as to what can be achieved.
How would you describe your working style?
I think I would have to say that I see it almost as the creation of a painting, its sometimes quite difficult. I take the ideas and wishes of the couple and begin to elaborate concepts and details until I have in my mind a complete idea of the special day. What I think is fundamental is originality. I need to know that when I sign my painting it is unique.
Is being a wedding planner very stressful?
Obvious deadlines and dealing with a large number of collaborators and suppliers can be taxing, occasionally being able to satisfy every last detail of a couples requests can be demanding but they are all part of making a perfect day. Perfection isn't easy but its what I want and its what the wedding couple wants.
Favourite thing to do outside event planning?
I love spending time with my two lovely girls. Luckily as long as I am not too far away from my mobile I can plan my time around handing the organisation of different events (with the help of the rest of the team) as well as the organisation of a family.
Do you have a wedding horror story?
Luckily, no I don't. In event planning in general there are always last minute changes that need to be sorted and very often the whole event needs to be planned and organised in a very short time but with weddings most couples marrying abroad tend to plan way ahead which eliminates the sort of problems that could turn into a horror story.
Is there a primary difference in planning for a Italian couple as opposed to say a US or UK/Ireland couple?
Definitely, foreign couples want to feel abroad, and very often their idea of Italy doesn't exactly match reality. Very often we have to find locations that fit the image that the couple has. Foreign couples don't seem to mind being surrounded by Italians in busy locations it seems to add to the whole cultural experience whereas Italians generally want a very private event. Foreign weddings are obviously much smaller and therefore easier to organise with fewer guests and more choice of locations. Photos and videos are always important at a wedding but even more so with couples from abroad. All visual records also need to include the surroundings and the environment and not just the happy couple. Whoever could make it to the wedding needs to be able to see every detail from these visual records.
How do accessories help make a wedding unique to each couple?
Remember that it is the tiny details, seemingly so insignificant, that can turn a composition or a moment into something unique. Thinking about a wedding where the bride and groom have expectations based on dreams, feelings and fairytales, these tiny details become even more important.
What is a wedding planner and how do you separate the good ones from the incompetent?
Firstly a wedding planner has to understand the importance of a wedding. A wedding is the most important day in the lives of most people and for that reason NOTHING can go wrong. A Wedding Planner has to be able to convey this too everybody involved in the organistaion and creation of the wedding. Triple checking is fundamental and nothing can be taken for granted or left to chance. As well as being and incredibly good organiser a Wedding Planner also has to have very good comunication skills. Getting exactly what she wants when she wants it. Listening skills are also a must, as a Wedding Planner has to be able to understand exactly what the couple have in mind for their wedding. Finally a Wedding Planner has to be creative. Many couples have an outline of what they would like, or perhaps an odd detail of something that must be included, but many spaces have to be filled in by the creativity of the Wedding Planner The good ones are the ones that ask questions. The ones that can show you exactly what will happen in every detail from start to finish. The ones that have listened to your every request and made sure that they take priority. The ones that call to reasure you that everything.
Thanks Giovanna and good luck with all of your future projects!