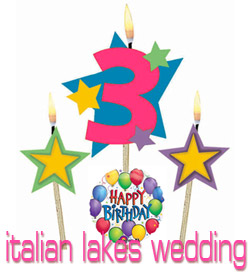 Today is an important day for our Team: it is Italian Lakes Wedding blog's third birthday!
On 18 March 2008 a great project was born. It developed year by year, growing up and getting better.
Since the first posts, very simple and with few images up to the most recent which are very elaborated and rich in pictures!
We know that you readers appreciated Blog's growing and improving.
Each year we have more and more readers and we can say that Italian Lakes Wedding could be Number 1 Wedding Blog in Italy.
To celebrate these 3 years together we thought about putting together some images of the wedding we loved more, they ones which mark the history of the blog itself such as Niamh and Jon, Bianca and Mills, but also Kerry and Alistair up to fairy tales weddings of Louise and Antonin and Lisa and Darren.
This is just a very little selection of hundreds of weddings we told you about in these last 3 years. They represent our commitment and our deepest thank you to all the bride and groom who chose us trusting our professionalism and honesty.
[promoslider id="ilw-promo" category="wedding-planners-italy" width="640px" height="426px" time_delay="8″ auto_advance="true" numberposts="10″]
Happy birthday Italian Lakes Wedding!!!