A late 1700 villa, on the shores of Lake Maggiore, in the splendid setting of the gulf of Colmegna. An idyllic place, still uncontaminated by mass tourism, immersed in a century-old park with luxuriant nature, lakeside promenades, romantic paths, an original vintage greenhouse, a turret on the lake and a picturesque marina.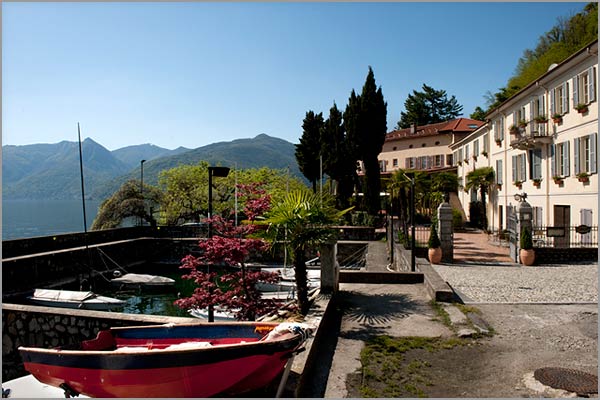 This is Hotel Camin Colmegna, located about 2 km north of Luino, on the Lombard shore of Lake Maggiore (province of Varese). A unique place for your wedding reception: not only because of its natural and architectural beauties, but especially because of the fantastic terrace on the lake, which seats up to 150 people, and the charming Veranda, also overlooking the lake, which seats up to 140 people.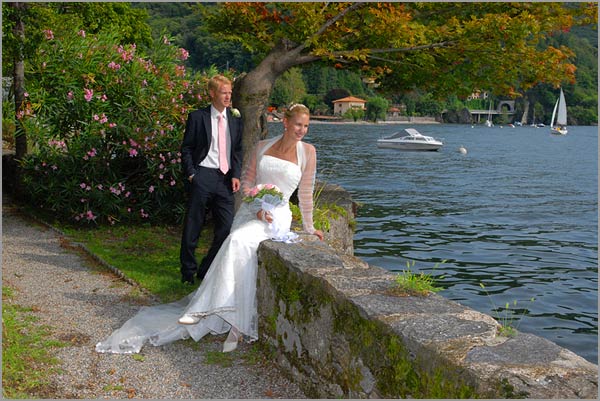 Completing the offer of this small charming hotel on Lake Maggiore is the availability of 25 three-star rooms, two large car parks, a playground for children and the jetty for docking boats: as a matter of fact, the hotel can be reached via lake from the main tourist localities on Lake Maggiore, like Verbania, Laveno and Stresa, as well as from Switzerland, just a few kilometres away.
The villa was built in the late eighteenth century as a hunting estate: the first owner, Leopoldo Casnedi, also created a splendid park, enriching it with precious and rare plants that he brought back from his numerous trips around the world.
Queen Victoria's Captain of the Guard, Sir Henry Winne, fell in love with the place and purchased it later on. Since then the villa had numerous and illustrious owners: the property has belonged to the Luz family since 1971, and since 1994 the daughter, Lara, has run the hotel and restaurant with dedication and great passion.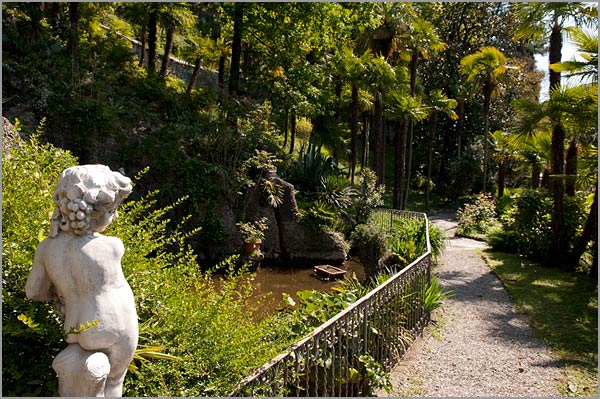 But let us let Mrs. Lara Luz tell us about her corner of paradise on Lake Maggiore herself:
I have run the Camin di Colmegna Restaurant for over two decades: though remaining faithful to a "typical regional" cuisine and to the singular simplicity of the various courses, I am always on the lookout for special dishes for important receptions.

More than sixteen years after the first meal was cooked and the first glass of wine poured, the care put into the preparation of healthy and wholesome food and into the selection and the conservation of the best Italian wines remains unchanged.?
Naturally, we use only the finest quality of fresh products, but of course as they say "taste is subjective" and it is on this point we will work together with you. The expertise we have acquired allow us to put forward a series of seasonal menus from which you can choose your favourite courses or those which are more suitable for your party, availing yourselves of expert advice for the combination of the dishes or the matching of the wines.?
If you would like to start your Banquet with something special, you could astound your guests by starting off with an aperitif in the impressive  "Prato dolce Colmegna", a lawn next to the Tower built on the rocks right on the lake; you could also consider going their via the lake with our motorboat.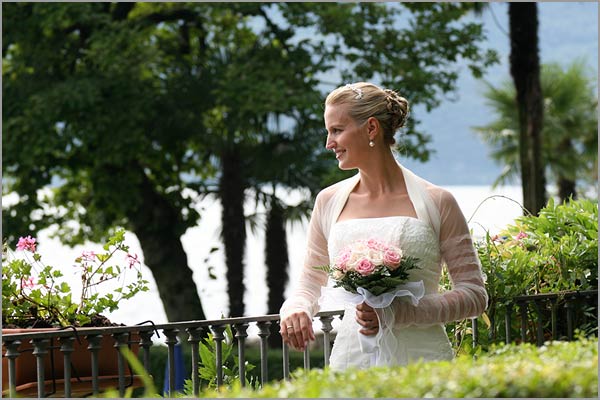 The service, of which we take great pride, is undertaken by qualified staff in sufficient numbers according to the number of guests, and provides for a constant presence in the dining areas as well as individual attention for your guests who are on a special diet or need certain variations of ingredients due to food intolerances.?Some of our menus are attached for your consideration; they can be personalized according to your preferences and to the season.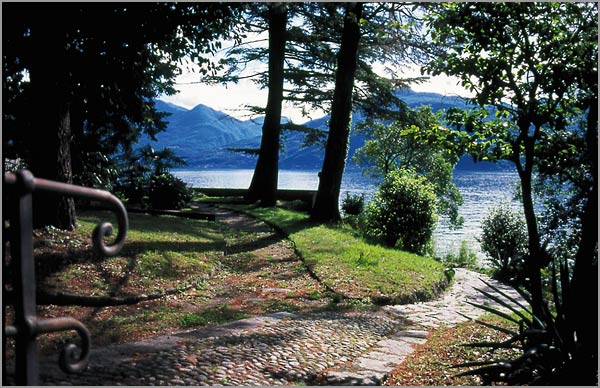 Our menu prices start at 85.00 Euro, VAT included. The price is per person and includes: the wedding cake, D.O.C. wines (1/2 bottle), and our selection of sparkling wines (1 glass).?We would be delighted to provide, free of charge, centrepiece flower arrangements and print out your Menu. ?If you would like to liven up your wedding feast with live music we can sugesst you some bands and musicians that you can contact directly.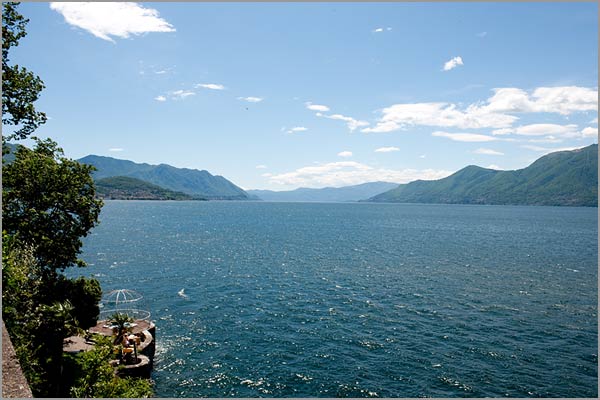 We ask that you inform us of the final number of guests 15 days before the event with a 30% deposit on the total price and reconfirm in writing, three days before the event.?
This number will be used for the final bill.?Also for children this place becomes a Paradise: we offer them our playing area, high chairs, the baby changing unit and special children's menus to make lunch or dinner a fun and unforgettable experience.?
For guests who have travelled a long distance we have wonderful rooms with a lake view.?
We offer more…
We also offer special conditions and ceremony extras such as the VIP bedroom with Buffet breakfast included, lighting on the Terrace with torches and candles, sorbet, white chair covers, the Conservatory to continue the party. These are provided free of charge for those who hold their ceremony from Monday to Thursday, excluding Italian and International holiday periods, or in March, October, and November…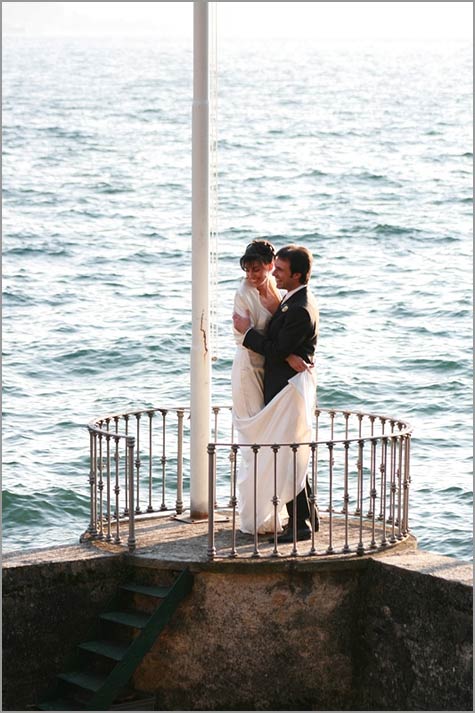 I'm looking forward to meeting you…
Let me treat you to an aperitif!
The Hotel Camin Colmegna is all of this.
A small paradise on the shores of Lake Maggiore, the ideal location for special events and memorable photographs.
For a wedding party that is much more than just a memory.
Come discover Luino, calling to make an appointment at telephone number 0332-510855, or filling out the form below.