During the preview of the 2008/2009 Domo Adami collection we met the italian designer and stylist Mauro Adami in his studio in Milan to talk about the new trends in the world of wedding gown fashion.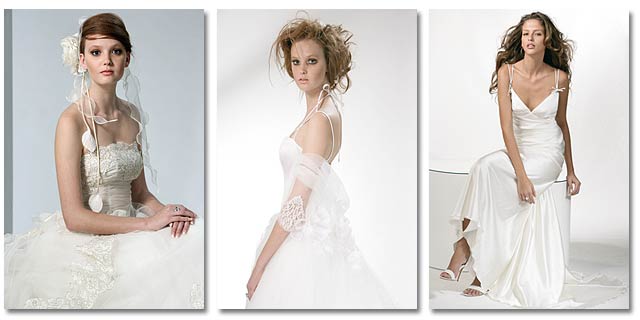 What do you think about the new trendy Winter Wedding?
I think that is a pleasant solution for bridegrooms that want an emotional wedding.
Winter light is smooth deeply emotional full of intimate suggestions.
Every decoration can be studied in every single detail and there are much more availability of venues and creative assistance.
Can you explain us your Fall/Winter collection? It is sophisticated and very feminine…
I wished realizing a gown collection that would be smooth and light with embroideries that gently lay on wiggly fabrics. The true innovative issue is on accessories, the real central characters of the collection. There are many new proposals: organza matching boleros with ruches and voile or georgettes to dress up gowns adding a touch or charm and romanticism. There are also plumes and furs on the stoles and veils enriched by laces with modern and inedited tailor cuts. Moreover you will see details for practical but elegant hair solutions to complete bride's style of next collection preview 2008-2009.
We noticed that your winter collection is very versatile; even if the gowns have a clear winter connotation they could be worn in every other season…
I'd say that this is a special dedication to the eternal seasons of love…Cold is a personal circumstance; emotion of style is my mission.
What will be next Spring Summer collection style?
For Spring 2008 I propose my new satin wiggly lines with transparencies and charming details such as necklines and bijoux. The romantic part is filled of fabric particulars such as laces, tulles, taffetas for elegant gowns, the "new traditional" for the bride who likes cathedral style.

What is the most requested colour for Domo Adami bride?
Natural silk colour is certainly the most wanted. There are some brides that ask for a gown with a steady colour to be discrete and elegant…but what a satisfaction!
How do you choose fabrics?
I smell the perfume of the fabric. I touch it and I feel creative vibration that woof suggests…. Matching harmony is a joy that I identify and love. This is how a Domo Adami dress born.
In your collections we can appreciate a clear preference for full dresses…
In my traditional couture experience there is the need to dress up bride personality with a full dress, a more sophisticated and elegant solution that prove bride's confidence that you won't perceive with a petticoat and a skirt.
In this case there is the theatrical artistic component that explains fast and vivid accents of French tradition like two different personalities.
We noticed that veil came back on stage, how bride should wear it?
It has to be coordinated with the gown. There is no need to exaggerate with inapt lengths and laces. Veil gives bride a secure appeal at the ceremony but she has to leave it out before sitting at the table.
Long or short veil?
Always coordinated with the gown according to bride's body built, church and context proportions.
Make up and hair play an important role. What will you suggest to Domo Adami bride?
To be oneself! But have an elegant make up on. Professional make up artist know how to give charming lights and shadows to the eyes according to ordinary habits of the girl but with some accents for a unique and one-time party.
What about accessories? Which are the best solutions for your brides?
Many and always fine. I saw a lot of brides that simply want everything choosing solutions that are not elegant at the end. A bride can do everything she wants but only a wise advice can suggest a stylish result.
How will you define DOMO ADAMI bride?
Joyful being natural and beautiful, elegant for her feelings and rich in her personality.
The interview was edited by Alice, Cinzia and Valentina of the wedding planning group SposiamoVi, an important international network of wedding planners who offer bridegrooms a professional and creative support troughout the whole planning of their Big Day blended with a wide choice of top class services.