Lake weddings, like the rest of outdoor wedding ceremonies, are very beautiful and memorable events. You may have known it from movies or books. What could be better than a light wedding dress against green sceneries, natural sounds and a gentle wind in your hair?
Planning such a wedding, many brides feel cornered as they don't exactly know what to wear to look gorgeous and elegant. Don't be nervous, we are here to help you! Let's make a quick look at the most suitable wedding gowns for lake weddings. We are sure, our guideline will figure out a few good options for you.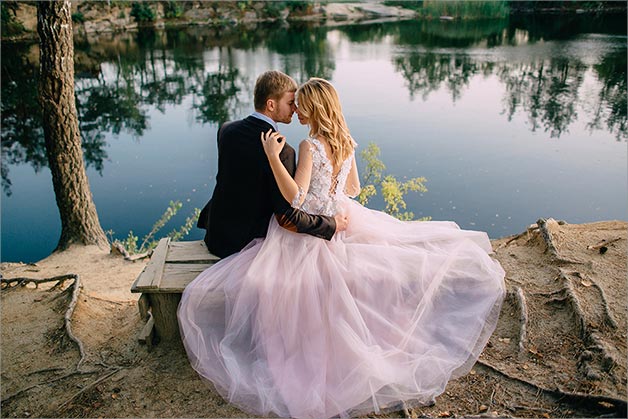 Dresses made of light airy fabric
Tulle, chiffon, charmeuse, organza will save you from heaviness, bringing an airy and dreamy feel. Tulle wedding dresses nicely swish, so you could create a great visual effect while dancing or moving. Chiffon is extra light. It allows your skin to breathe and that is very important on hot summer days. Charmeuse dresses with smooth textures and elegant detailing make a bride a real goddess. If you choose a dress like this, be sure, all attention will be yours!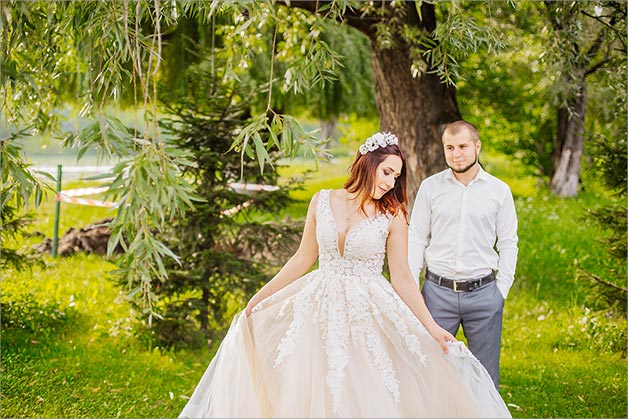 Gowns with a feminine vibe
If you're not against close-fitting styles, sheath wedding dresses are created for you! They gently outline your shape, making a stress on sweet curves. But beware, this type of dresses works well if the bride is self-confident and likes everything in her own stature.
A-line shape dresses with a delicate detailing and sweetheart shape of the neckline could turn heads. Moreover, if the bodice is decorated with embroidery, roses or leaves, you'll be the most awesome bride.

Dresses with practical details
If you're going to have a wedding ceremony on late spring or summer days, think about searing sun that could burn your skin. In this case, elegant wedding dresses with lace bolero will be the best option. They could keep you from the burning sun and add a strong decorating raisin to the overall look.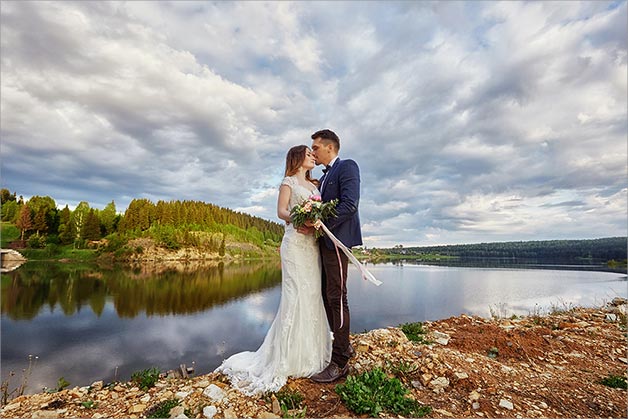 Floral accent
If you want to be in the total harmony with the blooming natural surroundings, choose dresses with floral decoration. It could be laid-back gowns with floral embroidery or some crystal details on the bodice that will glitter in the sun. Attach the veil with a shiny floral comb to have a strong natural touch. Floral combs with stones and sequins finish the overall image best of all.

Gorgeous and pompous
If you prefer a formal style, ball or empire gowns are your chance to impress the groom and guests with your royal beauty. Make sure, whether it's made of light fabric. For instance, ball gowns made of tulle don't bring the additional heavy volume but create the sweet abundance, which is pleasant for the eyes.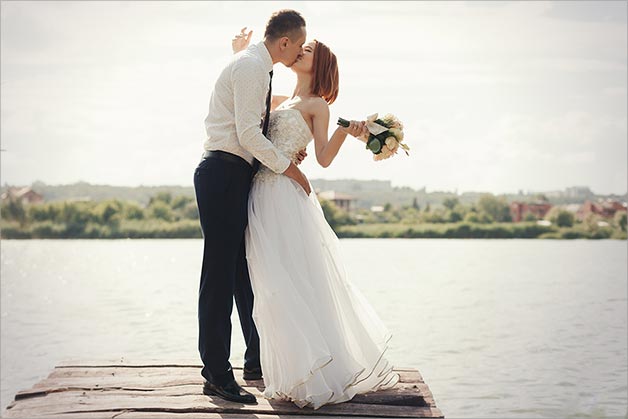 Flowing and lace dresses
If you have a wedding on the lake, then showing a right amount of your skin is rather welcomed. Halter strap dresses will delicately make an accent on your sexuality and beautiful shoulders. Strapless or halter lace dresses are considered to be the best for modern brides, who have an outdoor wedding.
Lace adds a good portion of a romantic vibe and makes a stress on feminine attractiveness. Off-the-shoulder style with a sweetheart neckline will be a good compromise between baring skin and looking modest for those brides, who want to breathe easily without getting naked too much.
Some secrets
You could feel very confused with all that variety of cuts and styles at the nearest bridal boutique. But ask yourself: what would you like to emphasize? What are your merits? Dresses with dropped waist will make you taller, v-neckline will be good for girls with a fabulous bust, a bodice with rich detailing will make your breast look bigger, horizontal lines help to widen your body.