ero und Flo hatten schon 2013 mit ihren Hochzeitsplänen begonnen und unglücklich gestartet, weil die Location über Monate keine Zusage schickte. Im Januar 2014 begannen wir dann gemeinsam die Planung eines fantastischen und super fröhlichen Hochzeitstages.
Vero and Flo began to plan their wedding already in summer 2013, but they had an unfortunate start as the location they choose never gave them a confirmation.
So in January I took over and we organized each detail together aiming to create an unforgettable and super-happy wedding day.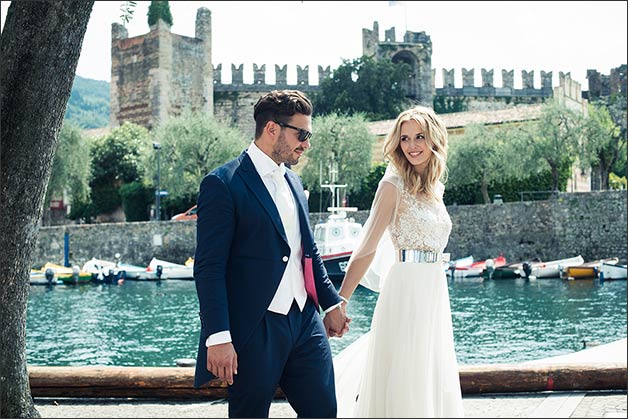 Schon morgens gab es ein Gebrumme wie im Bienenhaus, als sich die Gäste in der Tenuta vorbereiteten. Friseure, Stylisten, Fahrer, Floristen, alle schwirrten herum und brachten das Brautpaar, Gäste als auch die Location in Hochglanz.

In the morning there was movement and humming like in a behave. Hairdressers, stylists, private driver, designers, all were busy to get bride and groom as well the location ready for the wedding.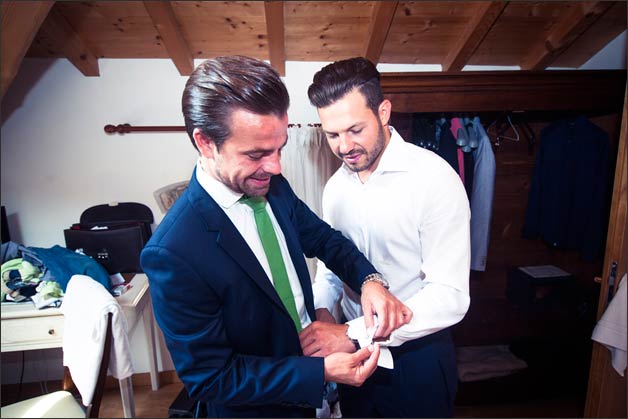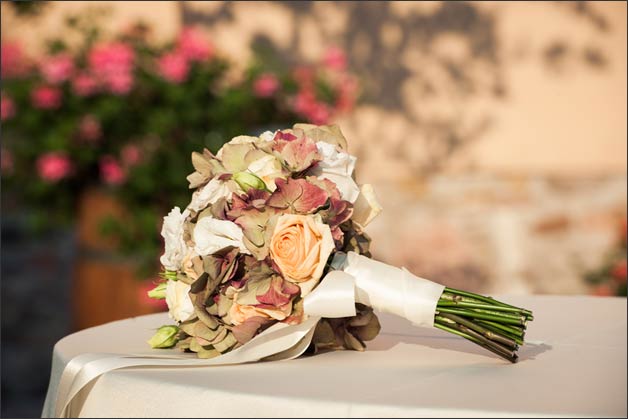 Ein schickes Auto für die Braut, denn im Konvoi ging es zum Standesamt nach Torri del Benaco, wo Vero und Flo unter 100 Jahre alten Zitronenbäumen getraut wurden. Das Glück stand den beiden ins Gesicht geschrieben und so gab es mehrere Luftsprünge beim Austritt aus dem Castello unter einem Blütenregen der Gäste.

An
old Vintage car
for the bride and everybody was following in a convoi to arrive at
Torri del Benaco
, where Vero and Flo got married under lemon trees that have more than 100 years of history. Happiness was written into their faces as you can see them jumping into the air when they got out of the romantic castle.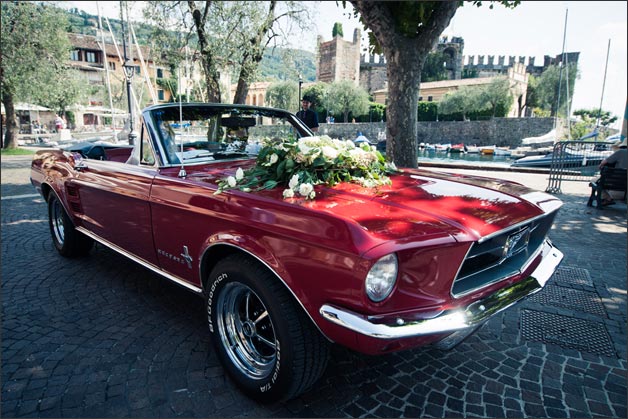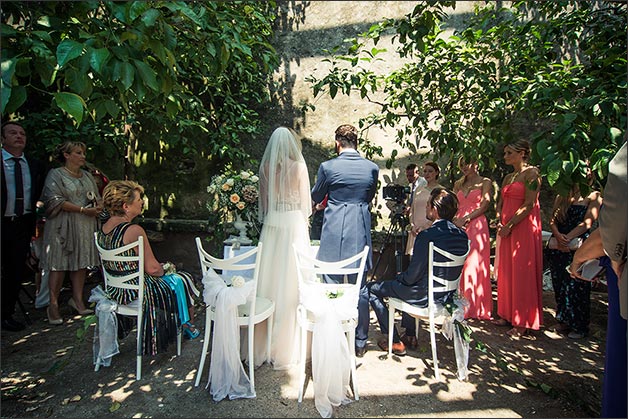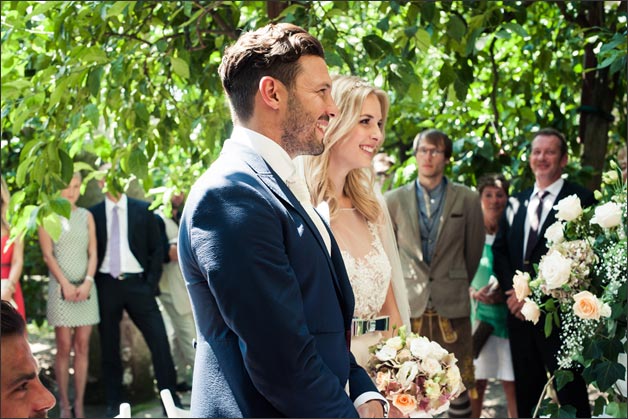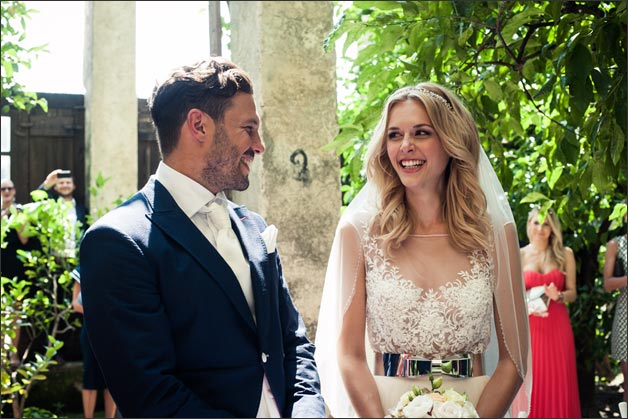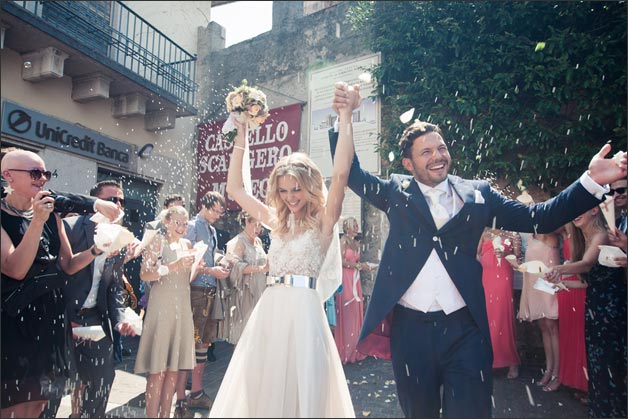 Ausklang des ersten Teil des Tages mit viel Prosecco und Fingerfood im Hotel Gardesana, welches direkt am hübschen Minihafen von Torri liegt.

So the first part of the day ended with lots of
Prosecco and fingerfood
at the pittoresque harbour where the service was provided by the
Hotel Gardesana
.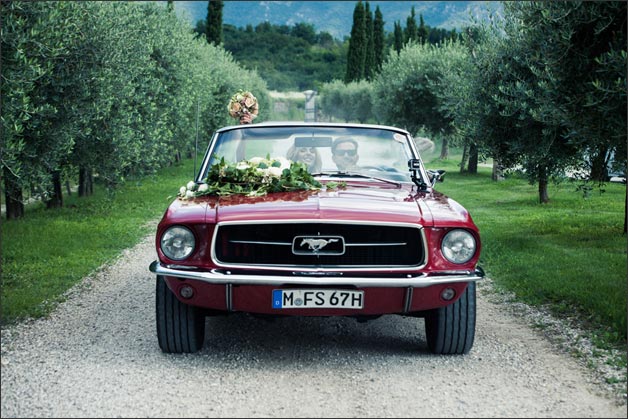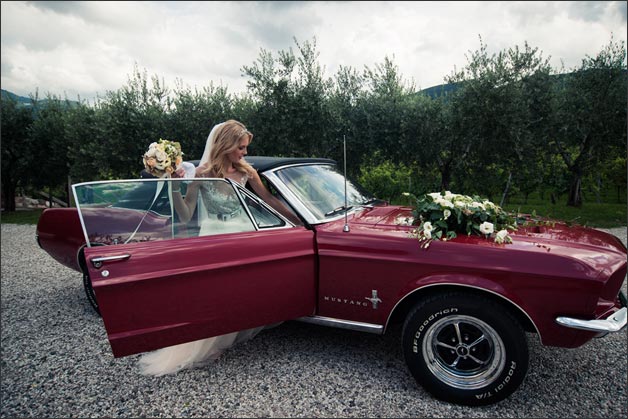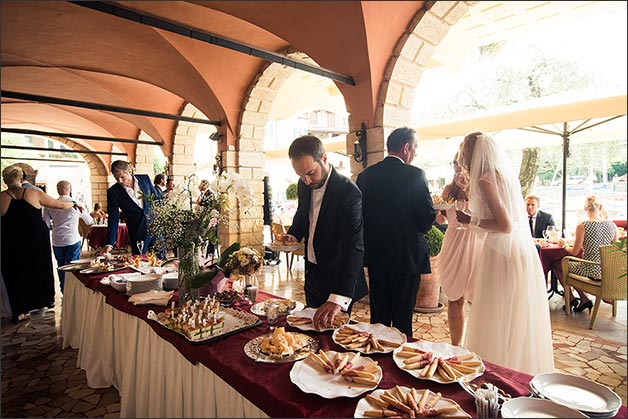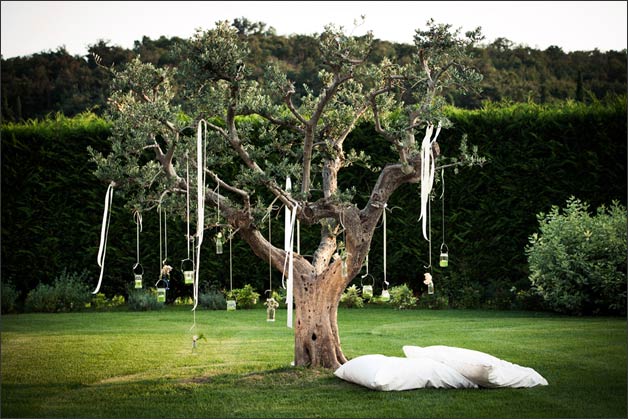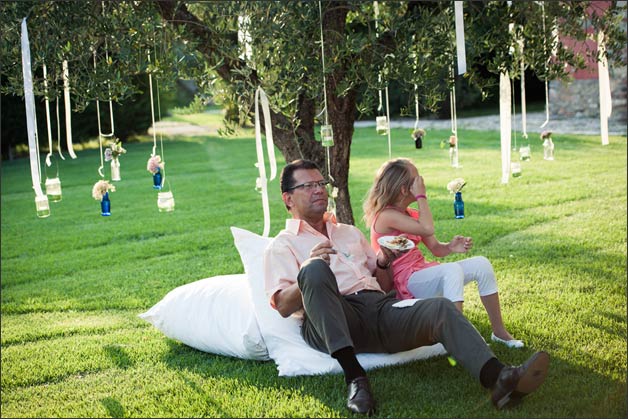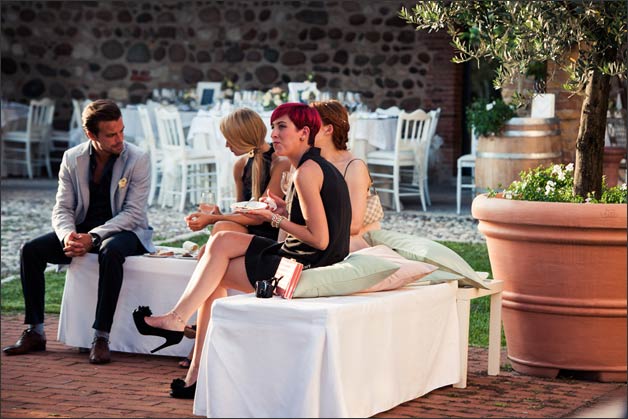 Abends stand dann das köstliche Aperitivo-Buffet unter den geschmückten Olivenbäumen bereit. Stundenlang wurde probiert und verköstigt, während wir mit dem Caterer und dem Floristen gemeinsam die Tische vorbereiteten, alles im Vintage-Stil.
Gefolgt von einem köstlichen Dinner, das gar nicht schnell genug vorbei sein konnte, um Platz zu lassen für ein paar Brautspiele, gefolgt von der Zubereitung der Hochzeitstorte durch das Brautpaar selbst ! Danach ab in den Tanzsaal, wo uns der DJ mit Discomusik und einer Open Bar bis in die frühen Morgenstunden erwartete.

In the evening we prepared the aperitivo-buffet under the illuminated
olive trees
. For hours everybody was enjoying food, sun and music. Meanwhile we did decorate the tables for the dinner, with flowers and other details in Vintage-style.
Followed by a tasteful dinner with plates coming from the region of Verona and Valpolicella. All guests could not wait to start with some funny games and then the bride and groom had to prepare their own wedding cake – what a fun!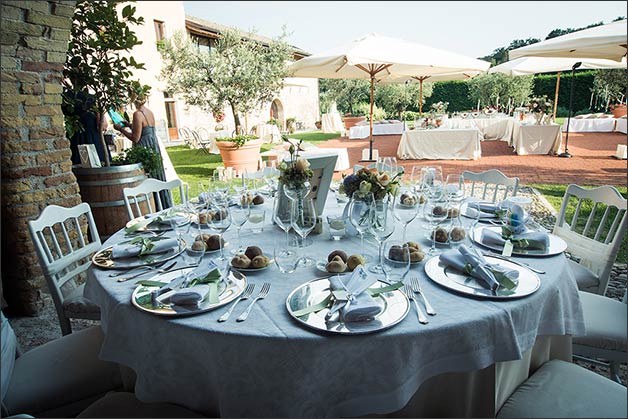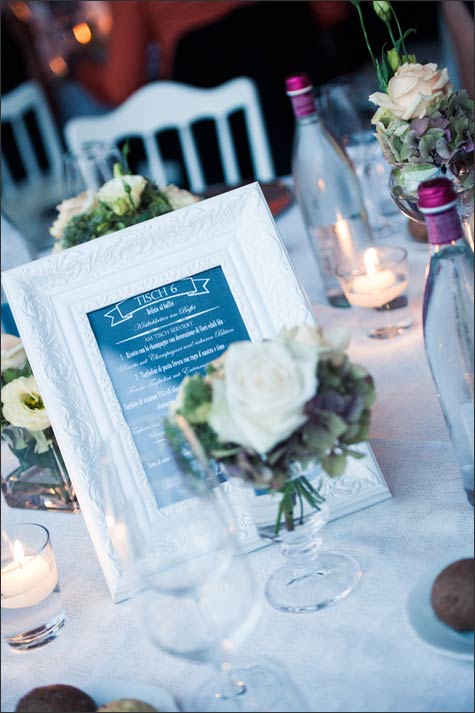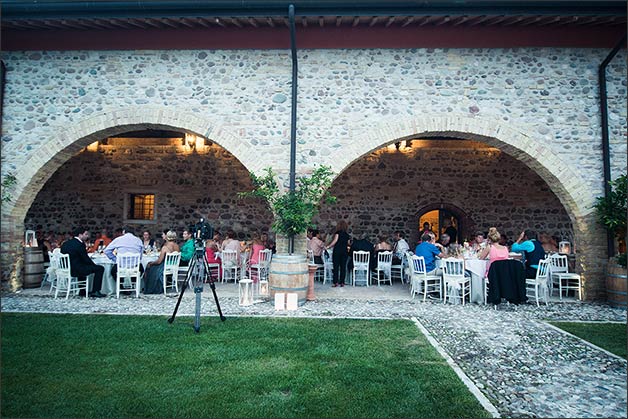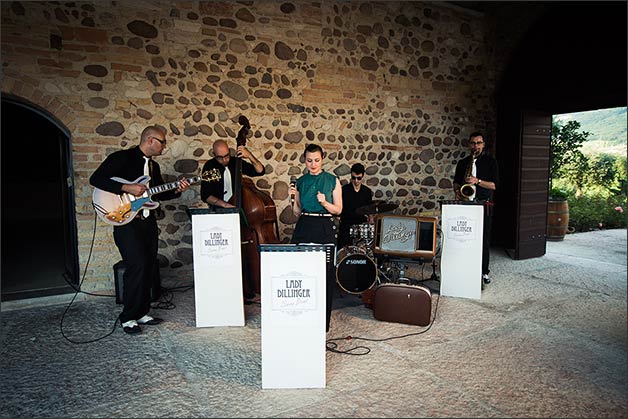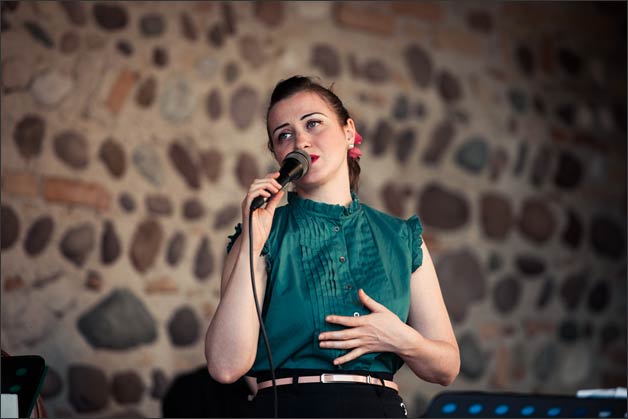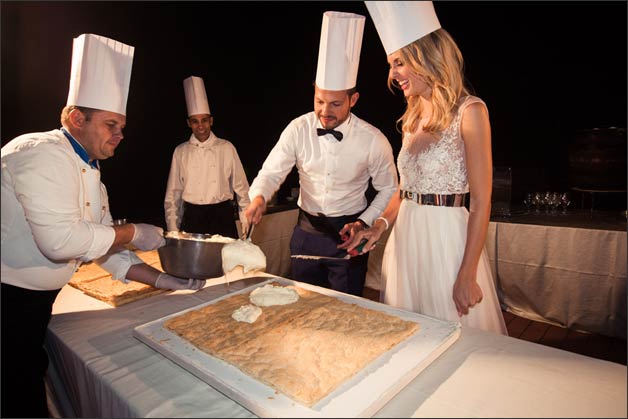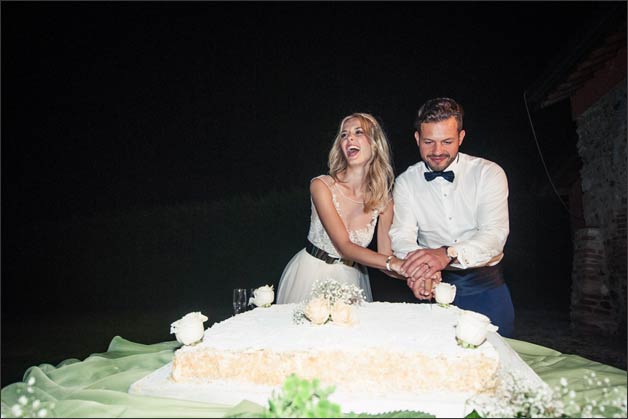 Jeder vergnügte sich dermassen gut, dass ich mehrmals den Nachtshuttle der Ausser-Haus-Gäste verlängern musste.
Klar war, dass sich der morgige Brunch am Sonntag dann doch um einiges nach hinten verschob – aber das Glück und das vergnügte Fest war noch jedem Teilnehmer deutlich im Gesicht abzulesen.
So macht das Hochzeiten-Planen Spass!

Indoor we had the
Open Bar and the DJ
who awaited us with dance music until the early morning. Several times I had to reorganize the night shuttle, as nobody wanted to go home.
Next day I had lots of happy faces to come to the brunch, obvious it started a bit later than scheduled ! But you still could see the joy of that buzzling and happy day, so that's why I love to organize weddings!
Be happy, Britta, Creative Wedding