t may happen that love gives voice to the music. This title above is the same as a Tina Turner's album, one of the most powerful voices in the world. She is still an explosion of soul, heart, energy, love and passion. Katy and Jamie's wedding was exactly this.
As wedding planners on Lake Como, even if we coordinated the wedding planning, it has been a pleasure for us to join this big event that involved families and tons of bride and groom's young friends.
Positive atmosphere of pure happiness was the most important ingredient of the day.
Wedding ceremony was planned at Villa del Balbianello and wedding reception to follow in a romantic restaurant located few steps from Lake Como shores.
Skilled photographer for the day was Cristiano Ostinelli who provided a perfect over the top reportage with that special Cristiano's touch.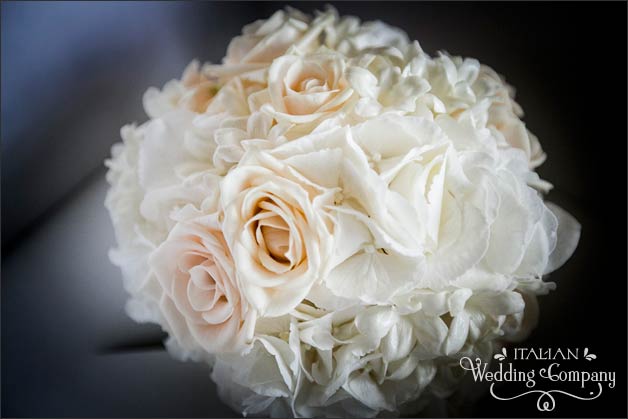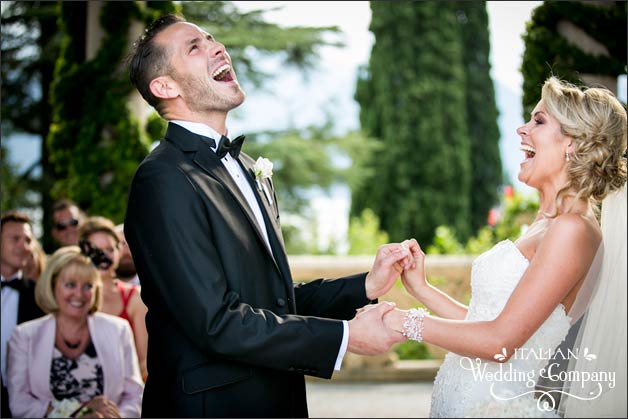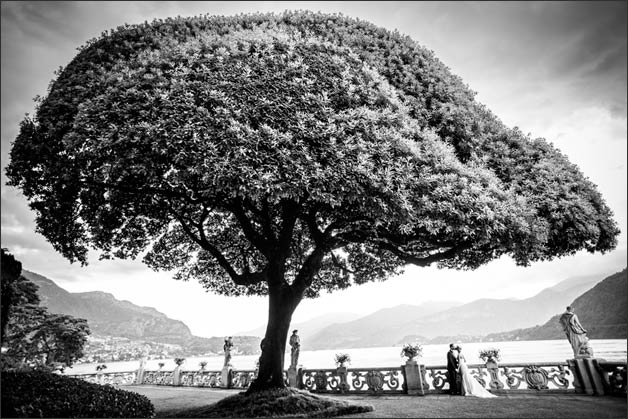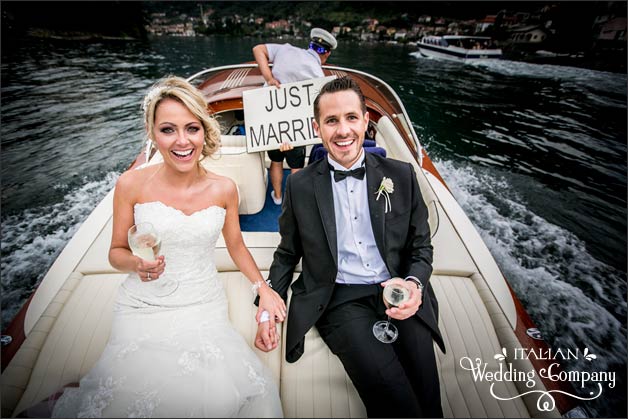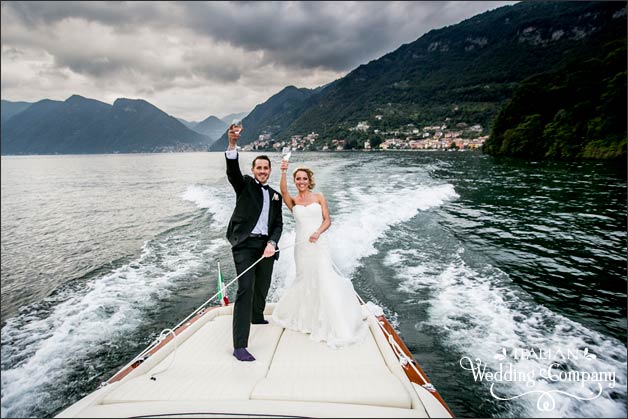 Ready to go – Getting ready with style on Lake Como
Katy and Jamie got ready in two separate venus. They did not want to meet before the ceremony as tradition wants. Bride stayed in a luxury 5 stars hotel overlooking the lake, with a comfortable private dock for her elegant wooden bridal boat.
On her wedding day, Katy was gorgeous! She wore a long white dress and the half up hairstyle with her long blond hair stands out her big blue eyes. Bridal bouquet was a breathtaking composition of white rose, perfectly in line with her brightness.
Jamie spent the night before the wedding in a 4 stars boutique hotel with his closest relatives. He was very handsome with his black outfit.
They reach Villa del Balbianello on two separate boats. Jamie's one arrived with the other guests's before in order to get ready for bride's entrance.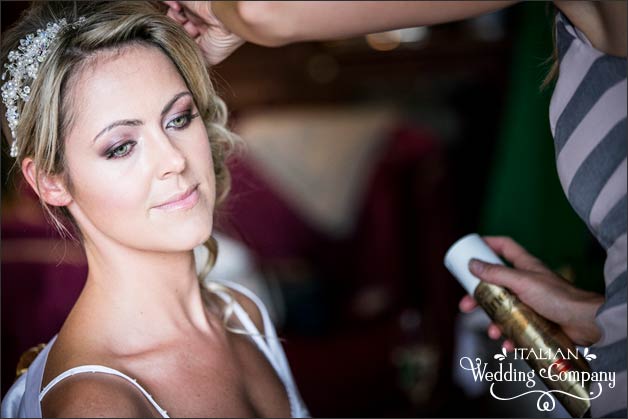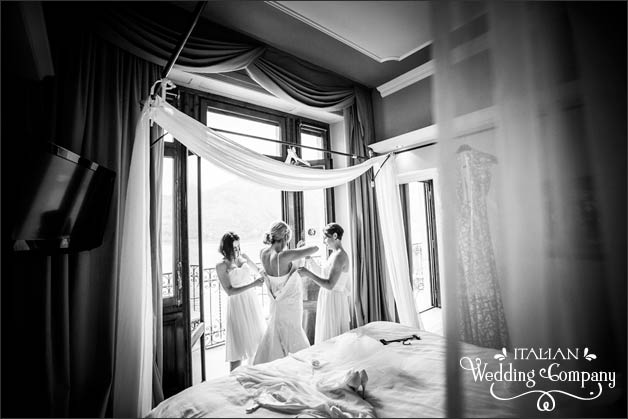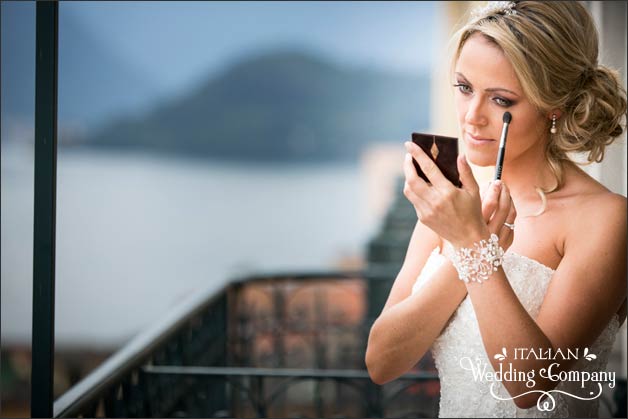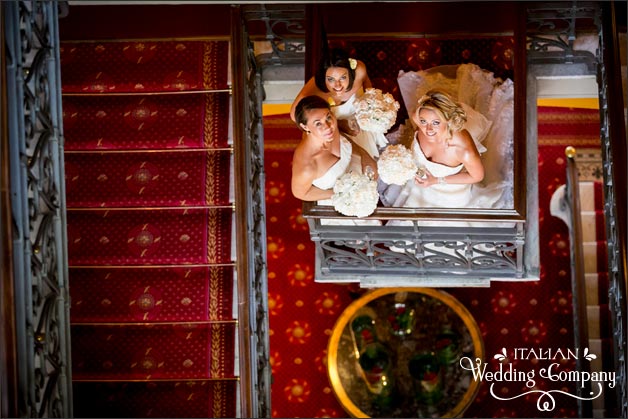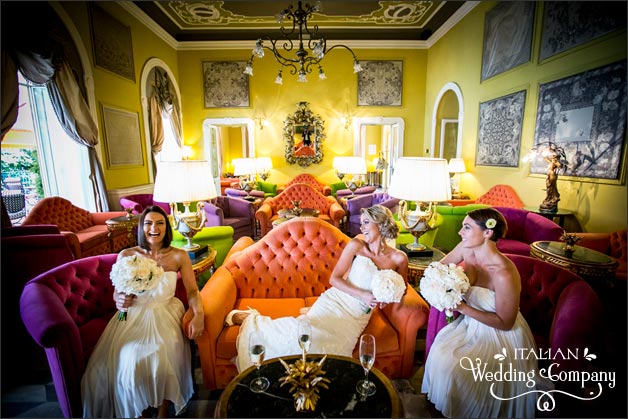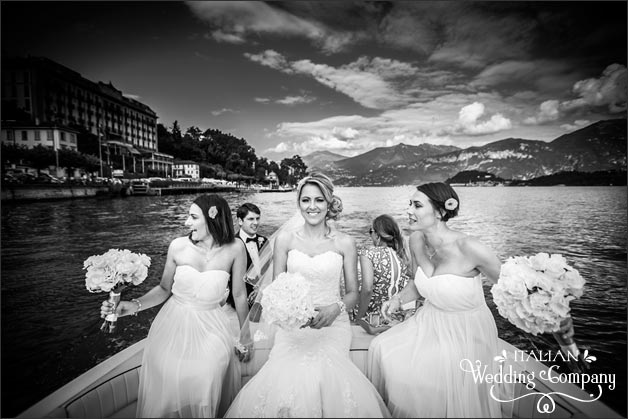 Yes, in the name of love – a happy ceremony at Villa del Balbianello
Katy and Jamie said their "Yes" smiling (or laughing?), in front of around 50 guests, in a beautiful sunny day of August. They were over the moon.
After a photo session in wonderful Villa del Balbianello gardens, they moved by boat to a lovely restaurant located in a separated area of a beach club.
Therefore, reception was planned just on Como lake shores,
where everybody could feel romantic atmosphere.  Candles reflected their light on the water. The effect was amazing!
During the boat trip from Villa del Balbianello to the reception venue, newlyweds had a lot of fun with crazy poses of the photographer, Cristiano Ostinelli. Deep down in their heart, this couple just wanted to have fun, in the name of love.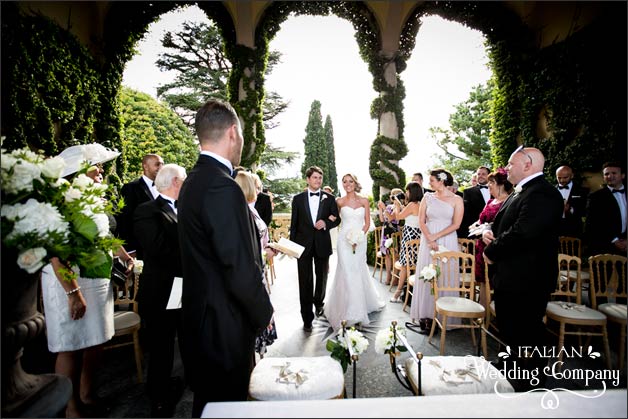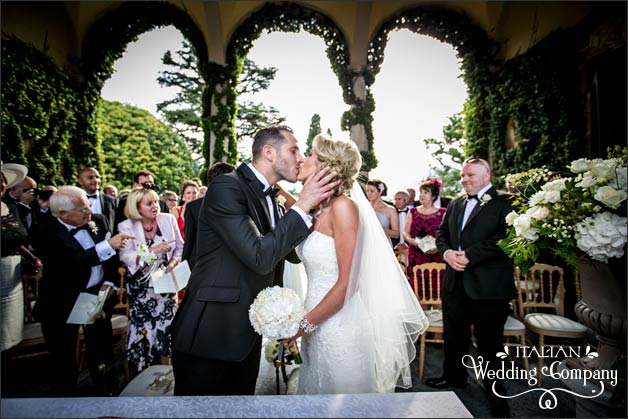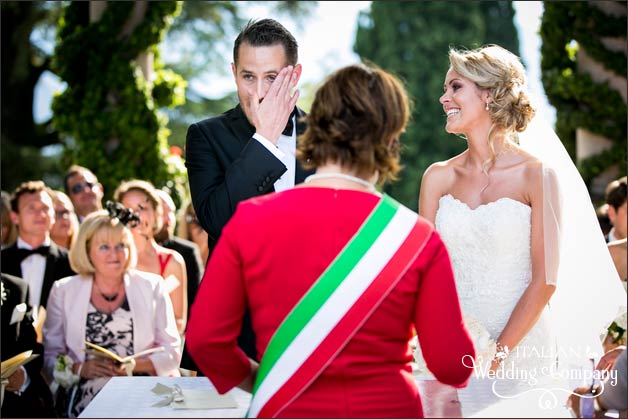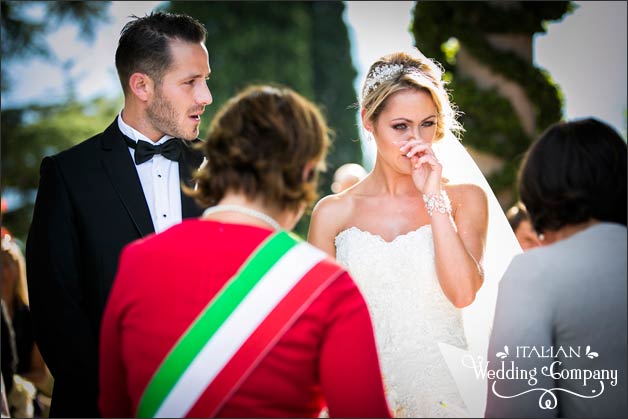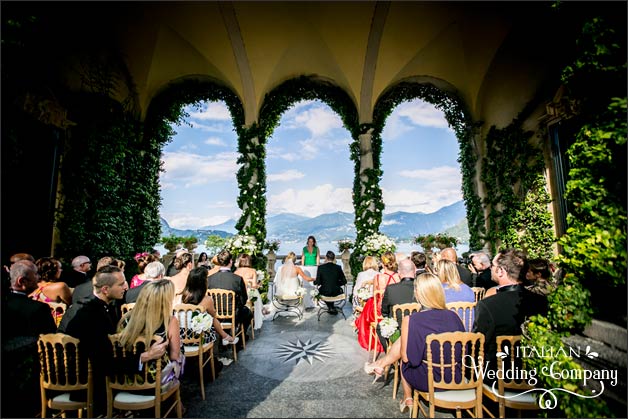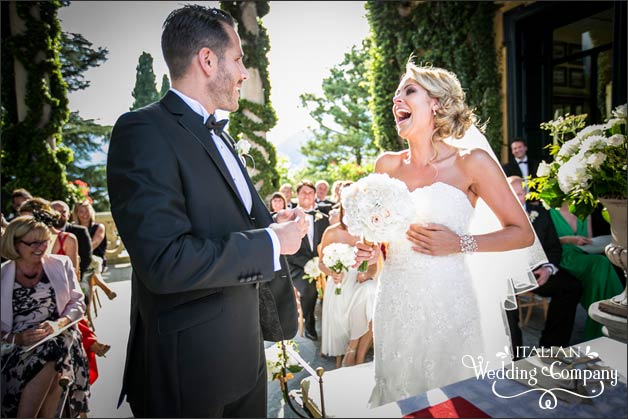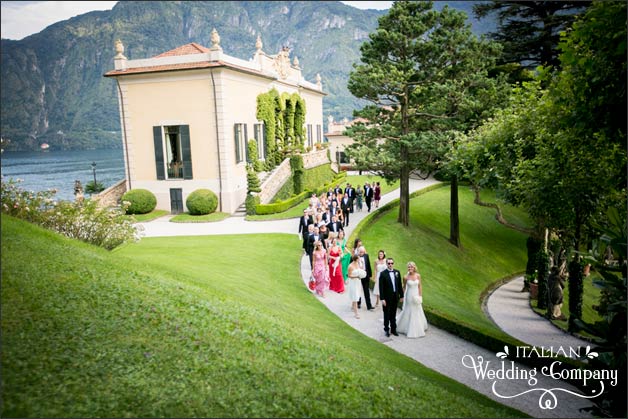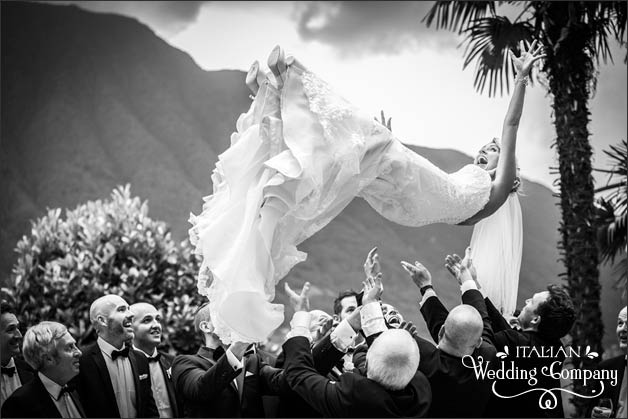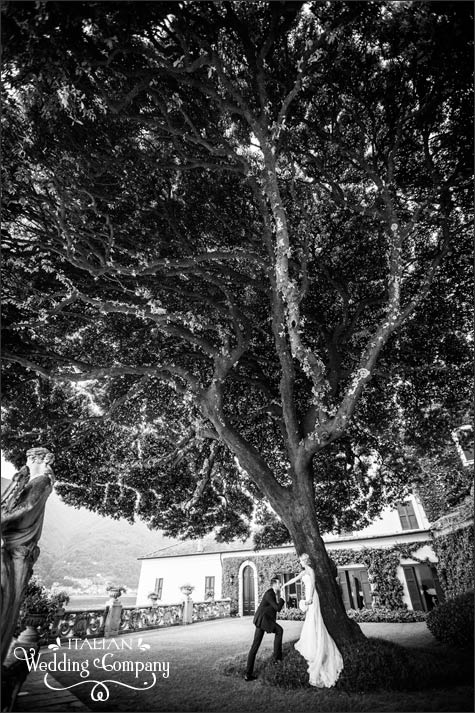 Welcome to the magic Lake Como shores!
Guests arrived before newlyweds who were just waiting for them close to the main dock.
Once Katy and Jamie got out of the boat, guest lined up creating tunnel effect that the bride and groom passed. Everybody applauded bride and groom!
We loved it.
As wedding planners, we planned all reception arrangements: gold ribbons at the back of each chair, flowers on the tables, gifts for all guests etc. In addition we provided a Polaroid corner where all guests could take a picture or a selfie and hang it on the threads we arranged for them. We also provided white flip flops in case they wanted to walk in the sand, enjoying Lake Como from a shorter distance. Everything's was ready for the wedding reception dinner and to have fun!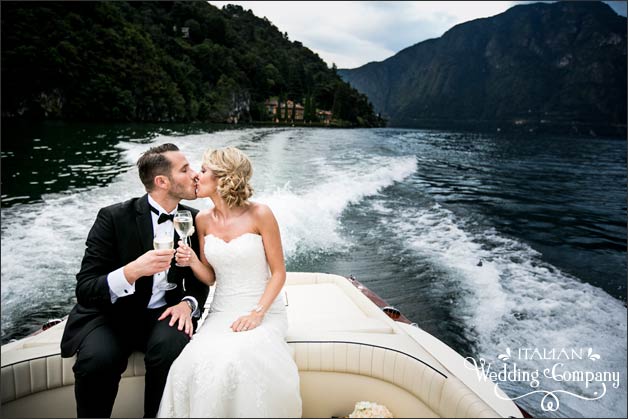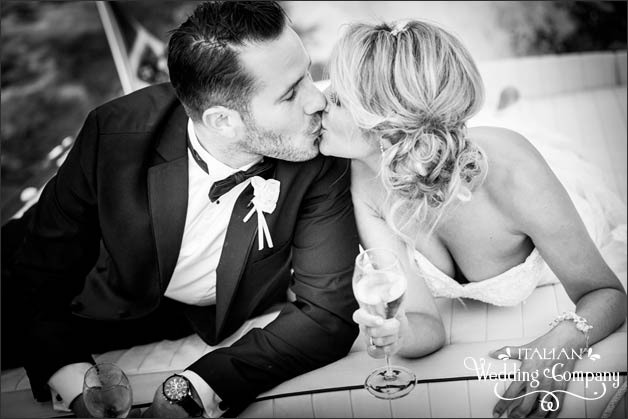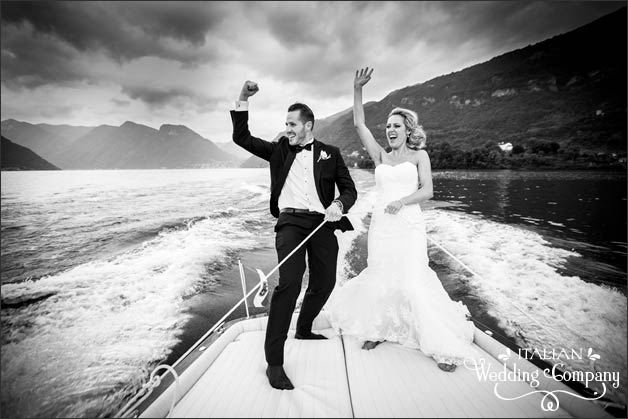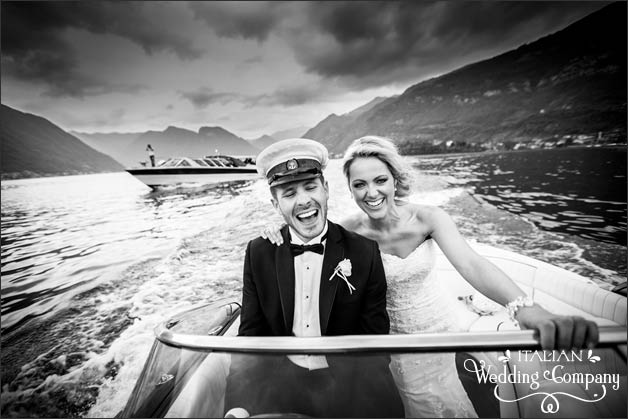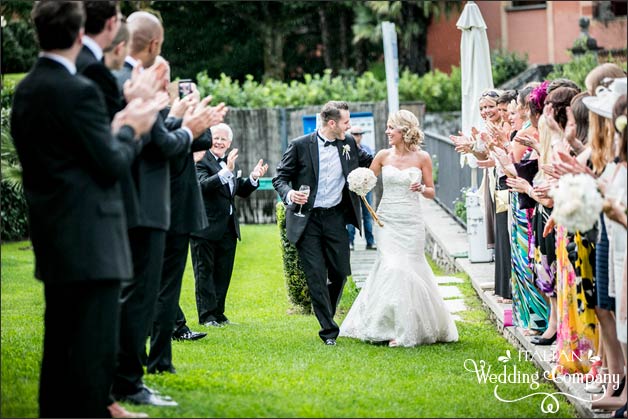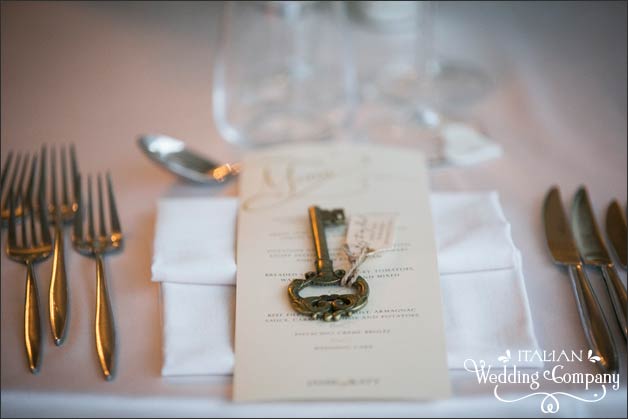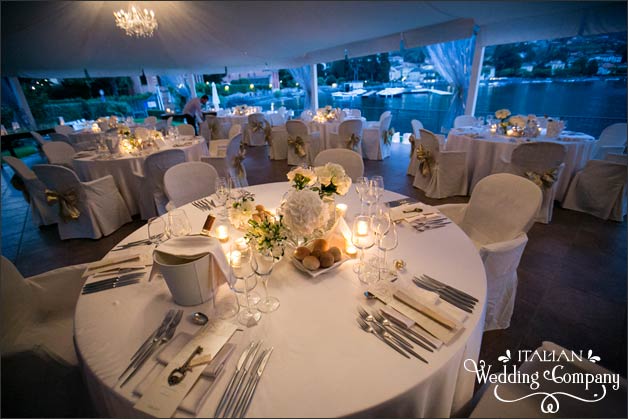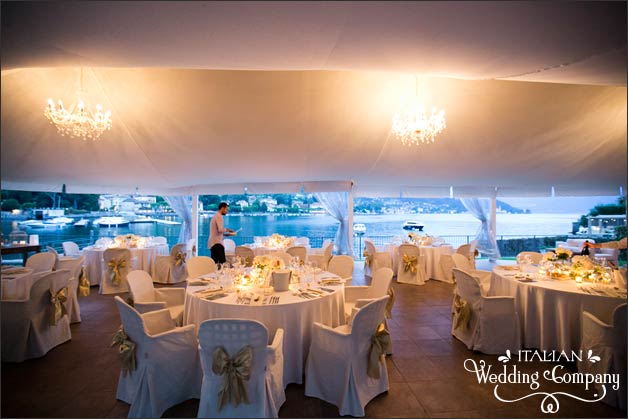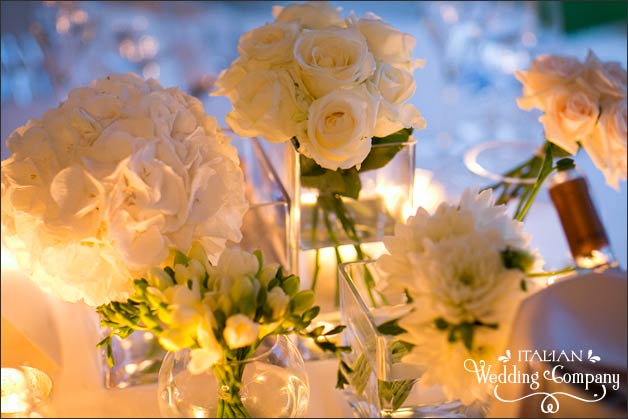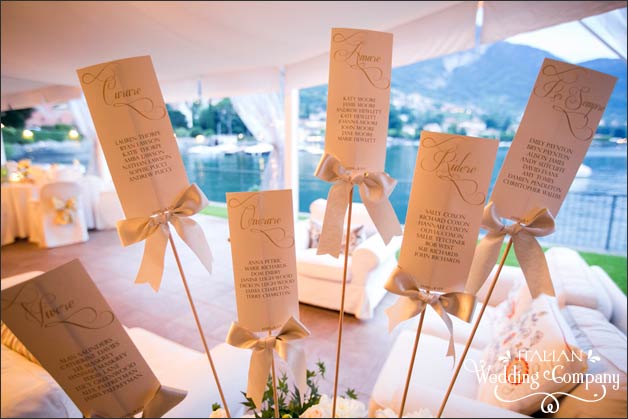 Let's party! What a great fun on Lake Como
After wedding dinner and all speeches, Katy and James cut the cake by the dance floor.
They couldn't wait to dance! They put the hands up in the air and dance to the rhythm of the music.
Dj was at their disposal, but the groom's music was the real protagonist of this crazy night.
Bride and groom had been the last to leave the venue to get back to their hotel. They were exhausted but very happy.
They loved everything we arranged for them: from the help given during preparation to the transfers for all guests,flowers we arranged for the ceremony at Villa del Balbianello and to the reception venue.
We loved this couple from the very beginning when, through emails we exchanged each other during the wedding planning. Katy and Jamie totally expressed their personality and their tastes with us as if they were friends. We love them!
That's way we remind this wedding as a love explosion!