his post of ours could start with the classical tale beginning:
once upon a time there were a boy and a girl…
It would be the most suitable way to describe this couple's story and their wonderful love story.
Therefore, as wedding planners we are more than proud to tell and show you all the best memories of this wedding, thanks to
Morlotti Studio photographers
.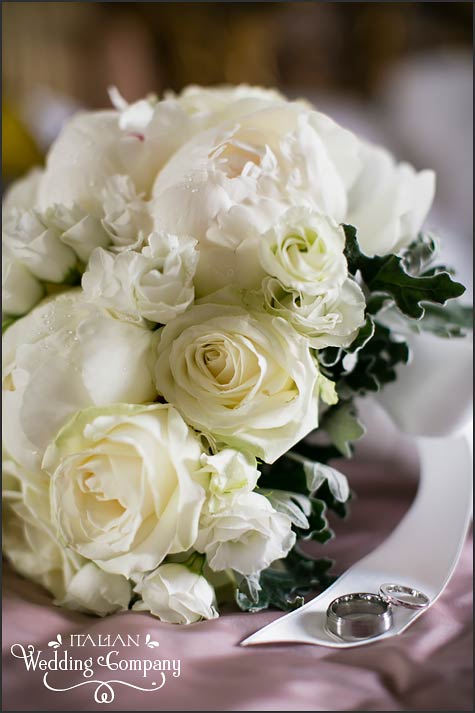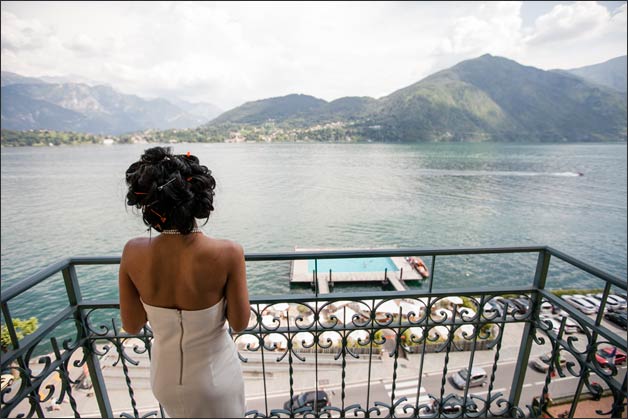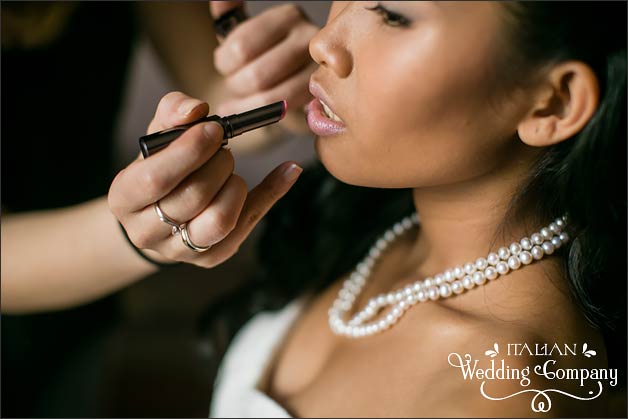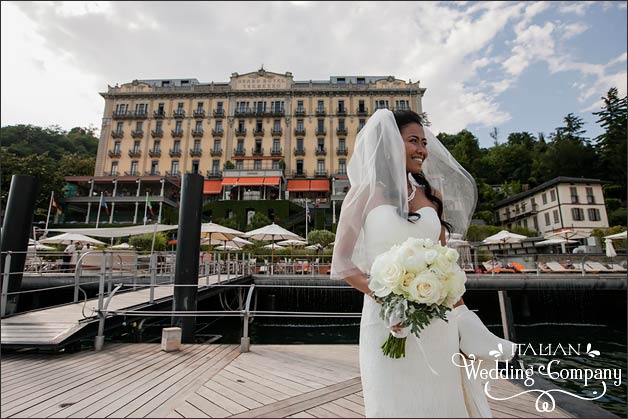 Riyani came from Indonesia, Cliff is Australian
and they both live in
Honk Kong
. A perfect match! Although all bureaucracy barriers due to these two different cultures, their will to spend life together won. They planned an
intimate civil wedding at Villa del Balbianello
and a wonderful
reception in a luxury Hotel on Como Lake's shores
with their closest families.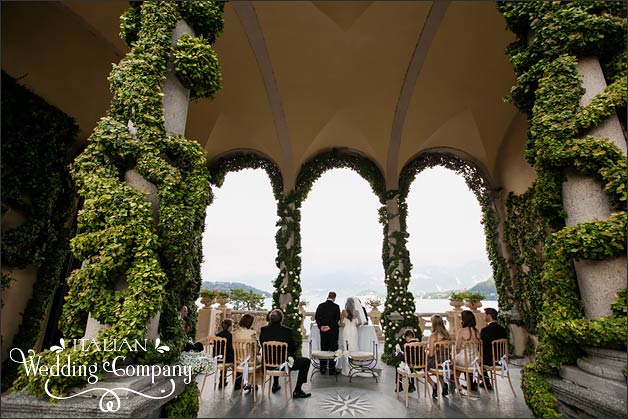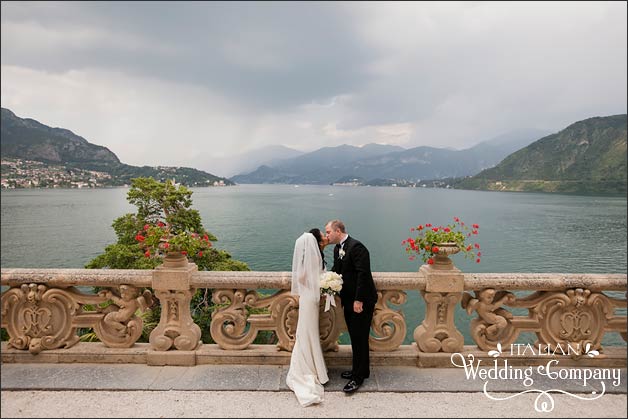 ON THE WAY TO THE CEREMONY
Bride and Groom got ready in two different rooms in a luxury grand hotel on Lake Como. This way they did not meet each other until the ceremony as tradition wants.
Riyani was beautiful! A very natural look and a half up hairstyle, stand out her real beauty. Her wedding dress reflected exactly the way she was: delicate and elegant.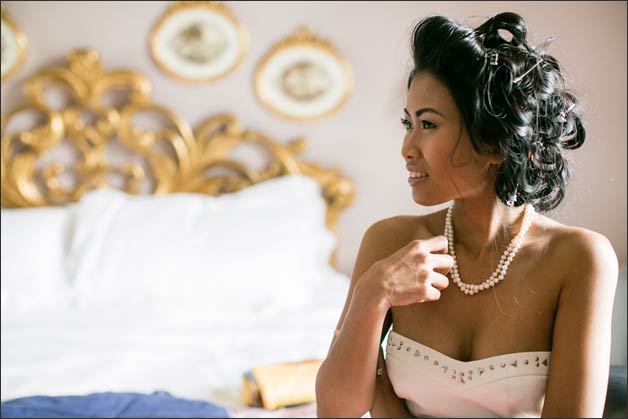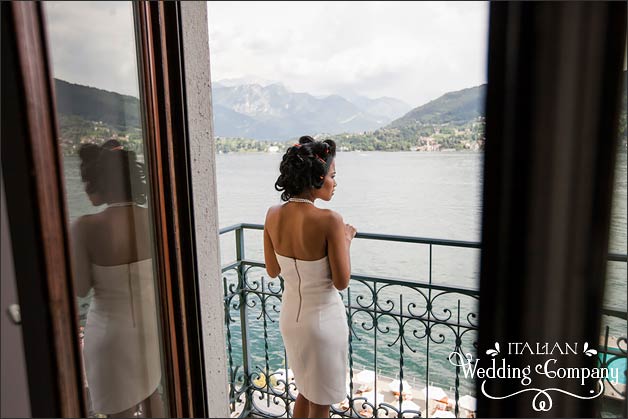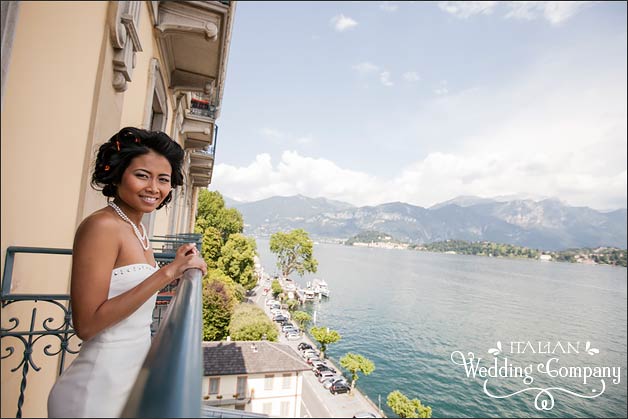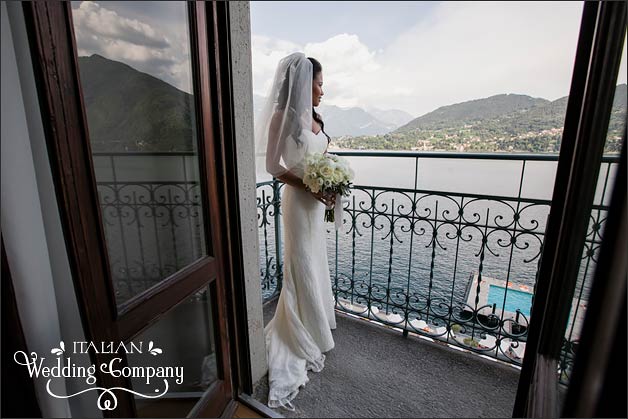 Cliff wore an elegant black tuxedo. He was the first to be ready, even before the other guests!?
Before leaving to the Villa, Cliff arranged a toast on the Hotel terrace, overlooking the lake. "This helps me to keep myself relaxed" – he said.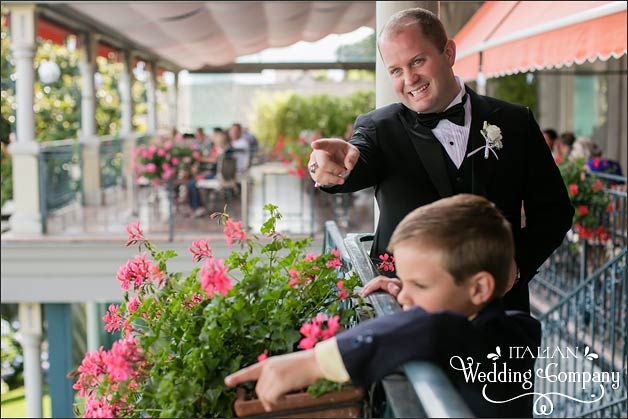 Guests and groom's boat left, on the way to Balbianello, few minutes before Riyani arrived. She probably spied Cliff leaving through her suite's window.
Riyani was perfectly on time. She reached her wooden boat, at the Grand Hotel's dock, with just few people who supported her during the preparation. Her lovely smile hid the impatience to meet her groom to be at the alter.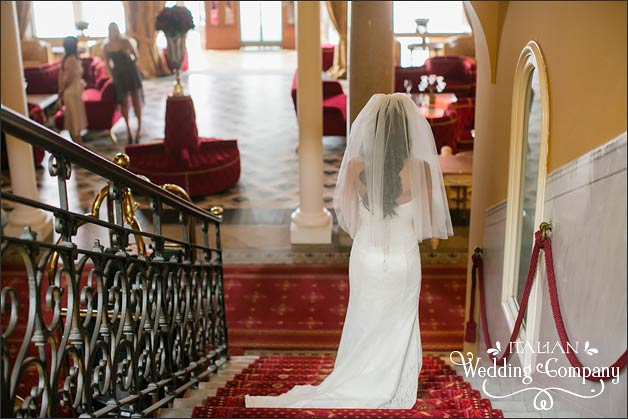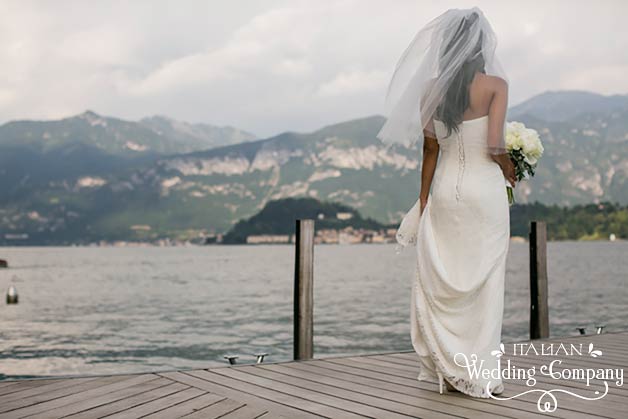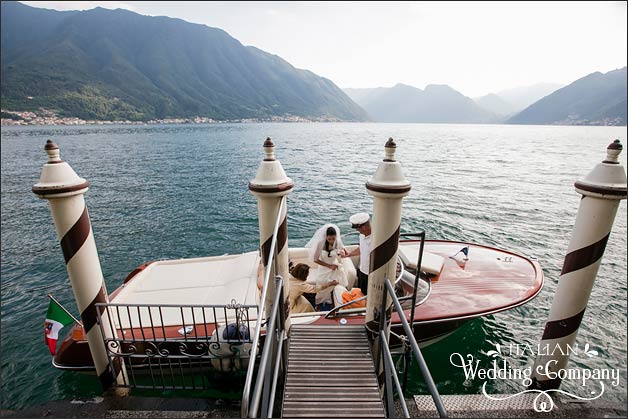 A JOYFUL AND LUCKY CEREMONY
Civil ceremony was celebrated at Villa del Balbianello, one of the most beautiful Villas on Lake Como.
Once Riyani reached Villa del Balbianello, Cliff's father walked her down the aisle on the tune of Bridal Chorus played by a gorgeous violinist. Groom to be was there, waiting to hold her hands.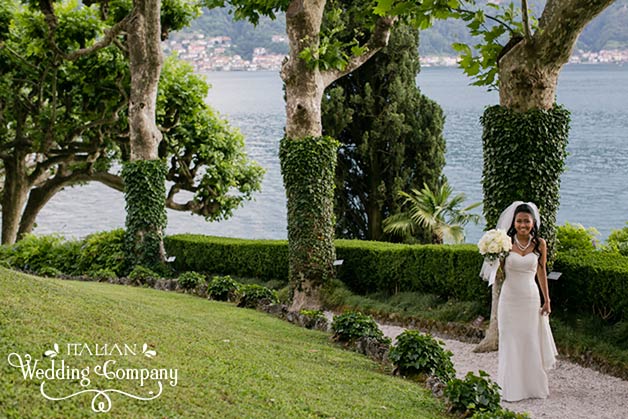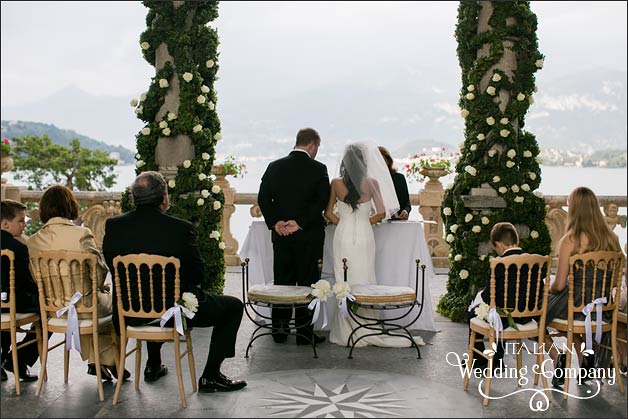 During the ceremony, they were both excited, especially Riyani, who whispered her vows to Cliff who couldn't wait to say the final "Yes, I do".
The weather was sunny until the ceremony. Then, a little shower wanted to be part of this wedding too! However it was just a summer lightning that created an amazing joy effect to the guests who appreciated it. They had a lot of fun.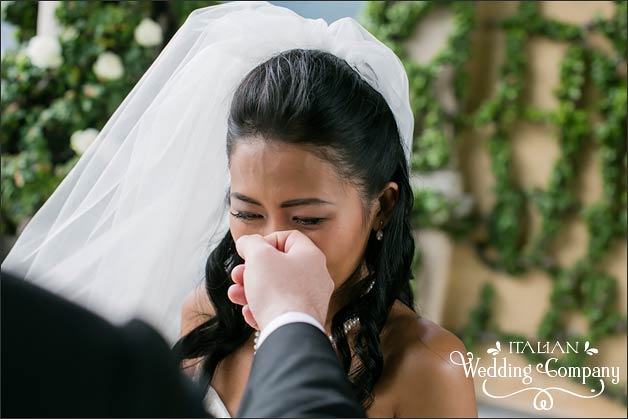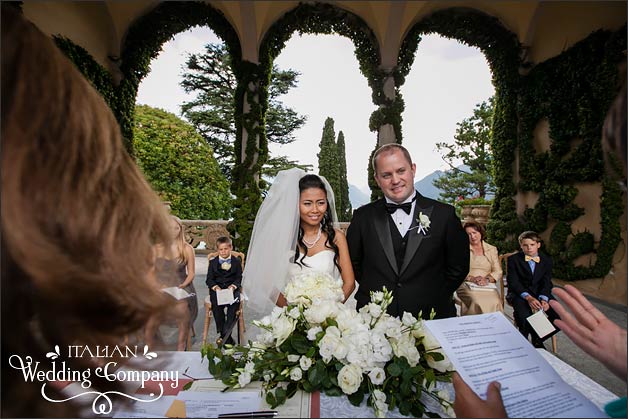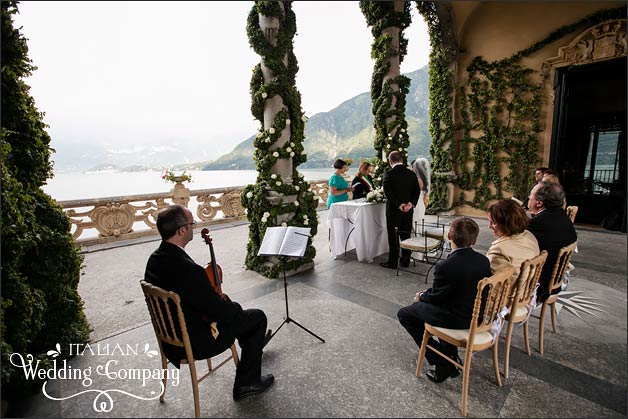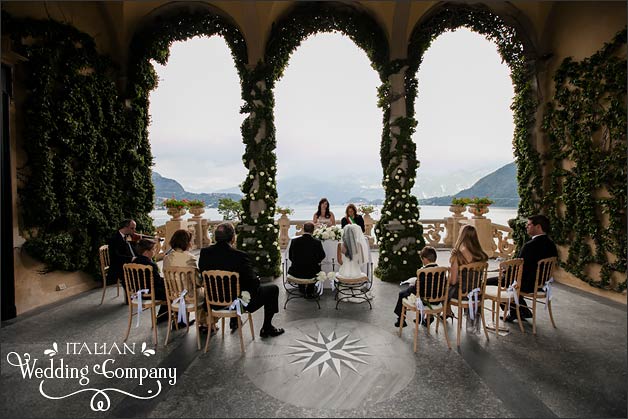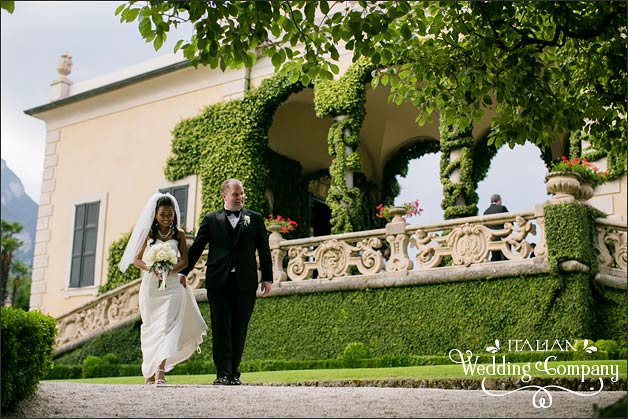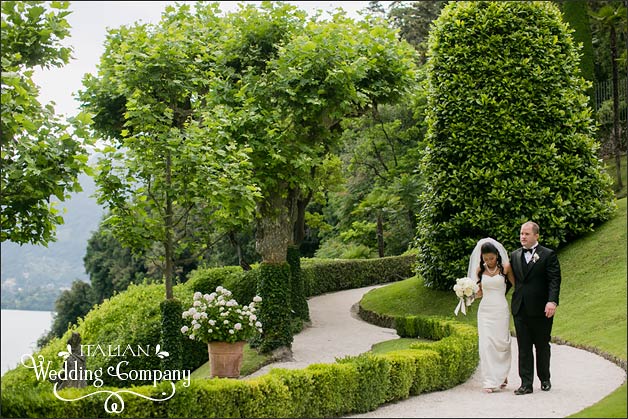 A ROMANTIC RECEPTION
After the ceremony everybody reached the boat that lead them to the Grand Hotel for the reception.
Once arrived, they had a pre-dinner aperitif on terrace with a breathtaking view over the lake.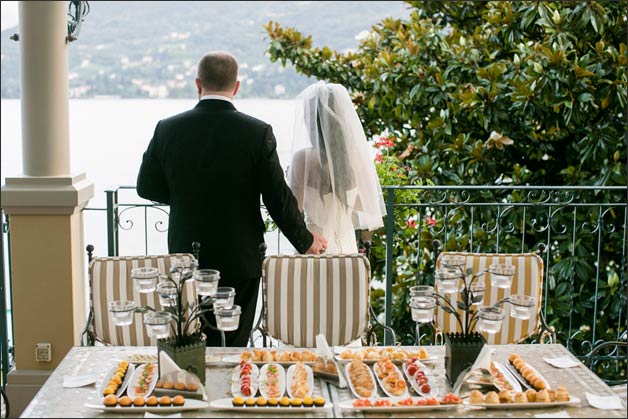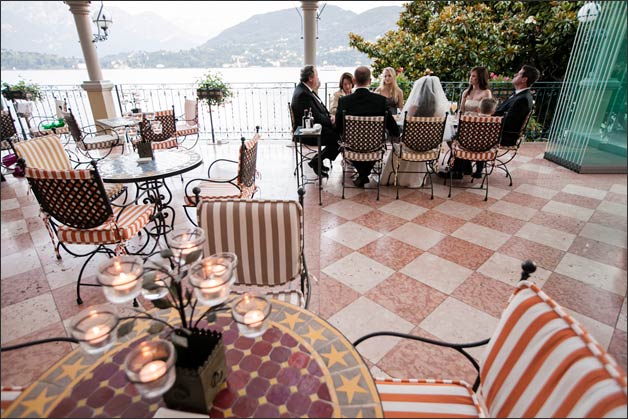 Wedding dinner time came very fast and they all moved to a fancy and intimate room decorated with ivory roses, candles and petals on the table. A very romantic and charming atmosphere.
Soon after the end of the dinner, Cliff and Riyani moved to the terrace for a romantic kiss under the moonlight.
The cutting of the cake was arranged indoor, together with the other guests who enjoyed this moment.
It was a one layer wedding cake, decorated with white roses on the top, that perfectly matched with the bridal bouquet and the dinner table decorations.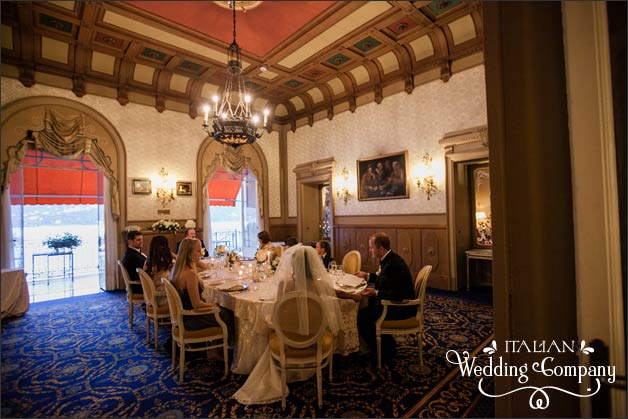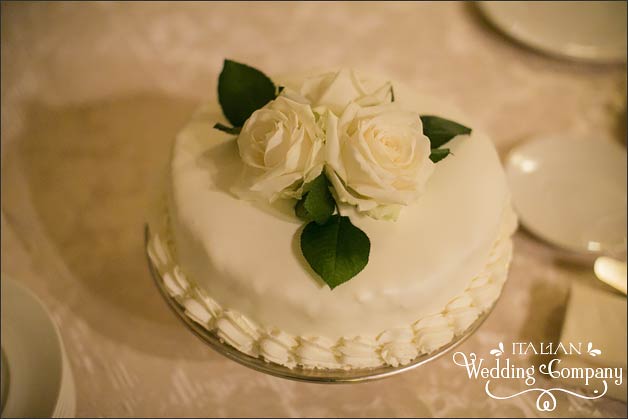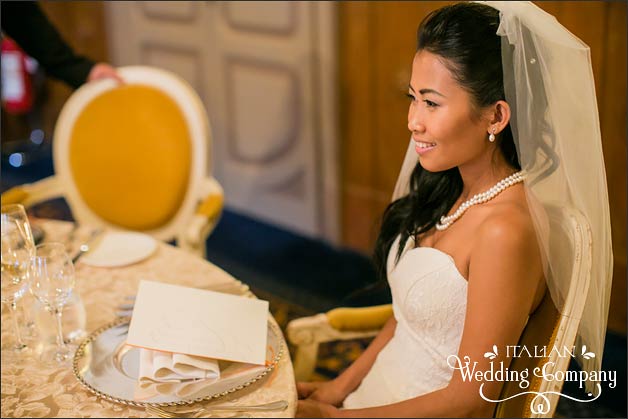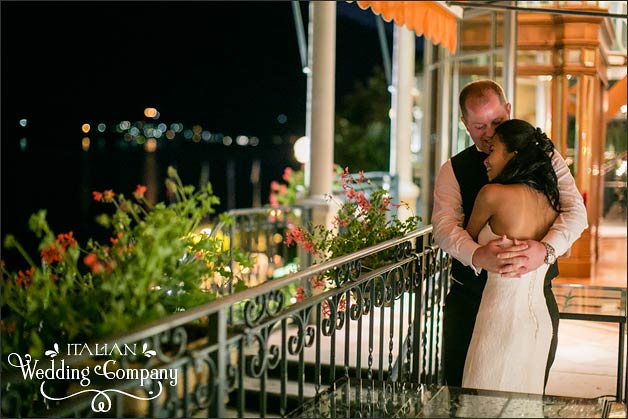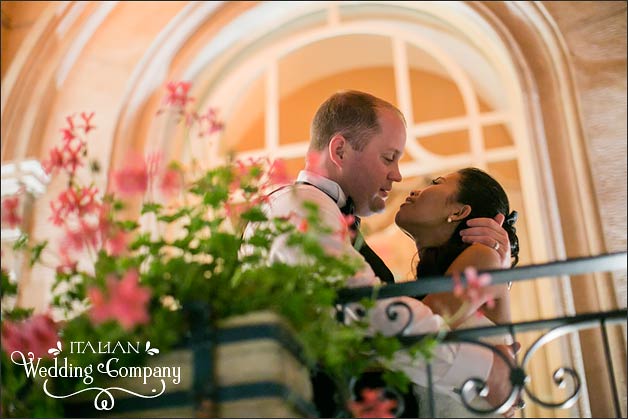 This wedding was amazing!
We loved this couple so much for the way they were: their positivity and the joy to be together for life gave us a sense of richness that let us fall in love of our job again.
Thanks a lot Cliff and Riyani, be your wedding planner it's been a super pleasure!
ALESSANDRA AND VERONICA – Lake Como wedding planners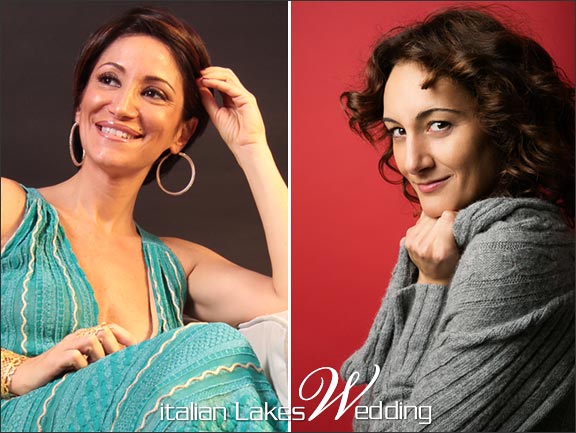 Alessandra and Veronica are the Italian Lakes Wedding's coordinators for lake Como area.
It will be a great pleasure for Alessandra and Veronica to help you plan your wonderful wedding on Lake Como: If your idea of wedding is refined, sophisticated and with a special attention to details, they are your perfect wedding planners! They make each client feel unique and treat each wedding as if it were their own.
With their help, glamour and bon ton will be the main features of your special day while Lake Como will be the enchanting setting. And if you need help in choosing your bridal gown, your honeymoon destination or the most chic wedding favors, just ask them and you'll be surprised by their fervid imagination!
For any information about your wedding at Villa del Balbianello on Lake Como:
CONTACT ALESSANDRA AND VERONICA