anze 18 Monate haben wir geplant, um 80 englische Hochzeitsgäste auf den Berg hinauf zu bekommen. Für die ganz besondere Hochzeitszeremonie von Laura und Russel.
Als die Braut mir schrieb, sie möchte in
Alagna heiraten
, musste ich erstmal gründlich überlegen, ob ich den Job annehmen konnte. Ich kannte den Ort nicht und wusste nur vom Sesia-Tal, wo ich schon zum Rafting war. Laut Landkarte liegt es genau hinter Champoluc am Monte Rosa, einem sehr schönen Skiresort, der mit Alagna verbunden ist. Deswegen laufen Laura und Russel dort schon seit 14 Jahren Ski. Überhaupt liegt diese Region gleich hinter dem
romantischen Ortasee
, dort fuhren wir quasi jedes Mal vorbei, wenn wir uns in Alagna zu den Abstimmungen trafen.
When the bride wrote to me that she wanted to
get married in Alagna
next to the
Monte Rosa
, for weeks I was unsure wether to accept this task or better not. I did not now anything about this small and hidden minitown at the end of the valley called Sesia (known for some
rafting schools
). So I looked it up at the map, then I saw that it is the back part of Champoluc, the ski area is combined and has quite a lot to offer. That's why Laura and Russel went skiing there for 14 years!
An guess what, is not not very far away from the
romantic Lake Orta
, we almost passed there each time we went to Valle Sesia.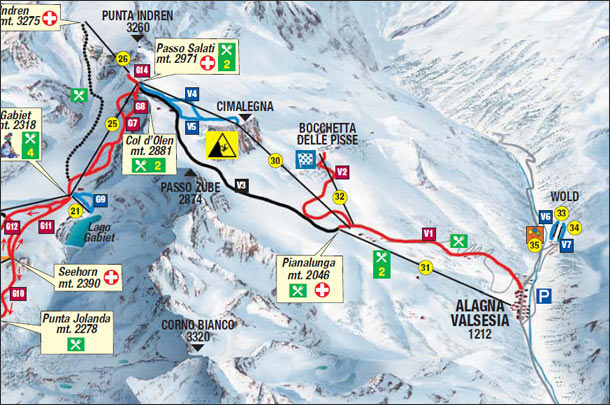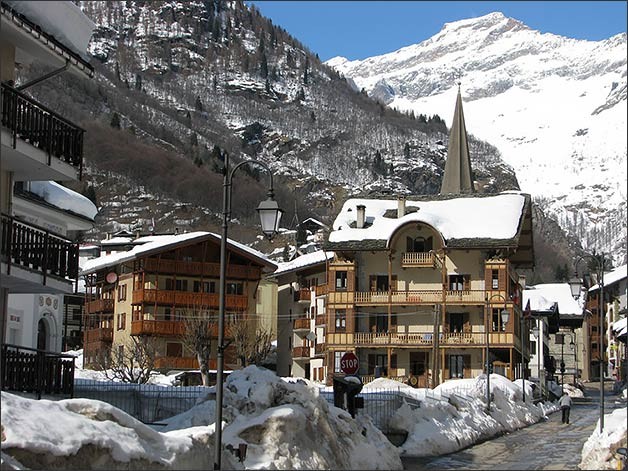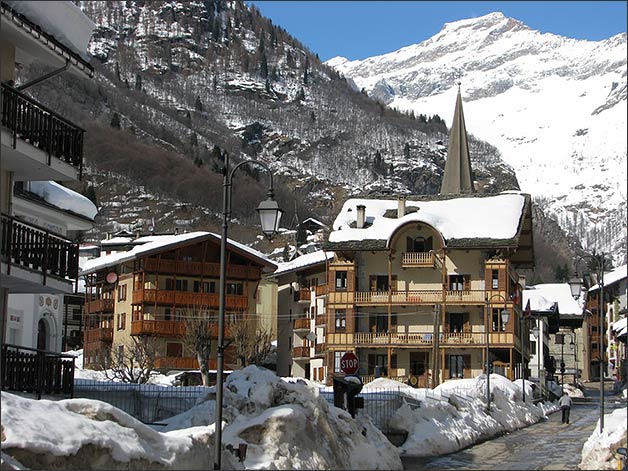 Es war einiges zu planen mit allen Details:
Für das Hochzeitsessen hatten sich die beiden das Hotel Monterosa ausgesucht, ein holzgetäfeltes Hotel, das nun von 2 Schweden geführt wird. Alles musste angemietet werden, von Tischen, Stühlen, Geschirr, Gläser und auch Besteck.
Den Wein hatte der Bräutigam selbst besorgt, denn er kannte in Gattinara einen ganz besonderen Rotwein. Recht berühmt ist dieser Wein, er wird aus der Nebbiolo-Traube hergestellt.
Es gibt keinen Friseur in Alagna, so mussten wir einen Salon in Scopello und die Kosmetikerin aus Varallo organisieren, 25km entfernt.
Blumen: natürlich gibt es in diesem kleinen Ort mit gerade 417 Einwohnern keinen Floristen, auch diese kamen aus Varallo.
Aber ja, eine gute Konditorei war im Ort, aber nein, Laura wollte keine Hochzeitstorte. Nur kleine Schokohäuschen, die jeder Gast auf seinem Teller fand.

Of course, to get every detail organized there was a lot to do:
For the wedding dinner the two liked the idea of having a rustic and simple meal at a local hotel, run by 2 swedish guys. Of course they never had a wedding there and did not have enough tables, chairs, plates, knifes, glasses. We needed to rent this out.
The wine was bought by the groom who knew a winefarm in Gattinara. Who ever would have guessed that the region is welknown for heavy and good red wines made from the Nebbiolo grape ?
No hairdresser was to be found at Alagna, so we needed to organize a salon from Scopello and MakeUp from Varallo, almost 25 kms away!
Flowers? Of course no flower shop in Alagna, it is so small with just 417 inhabitants! So again flowers needed to be organized from Varallo.
Oh yes, there is a very good pasticceria in Alagna, but noooo, the bride did not want to have a wedding cake!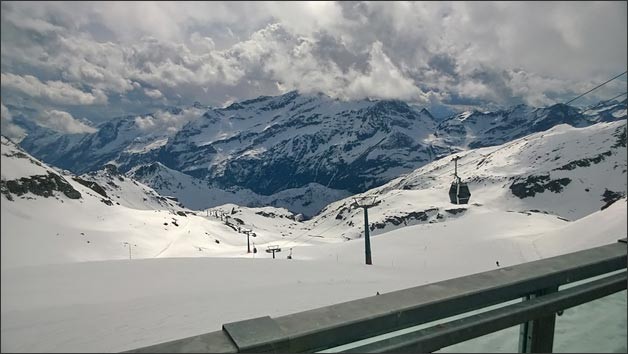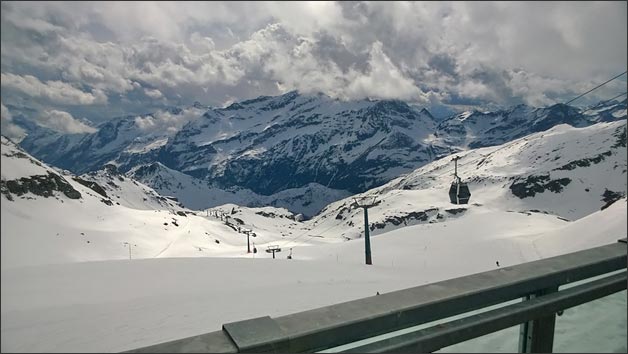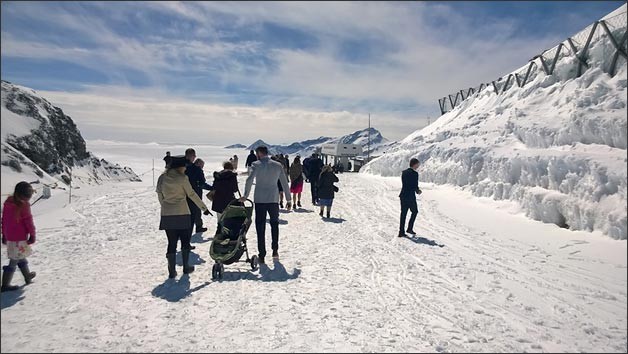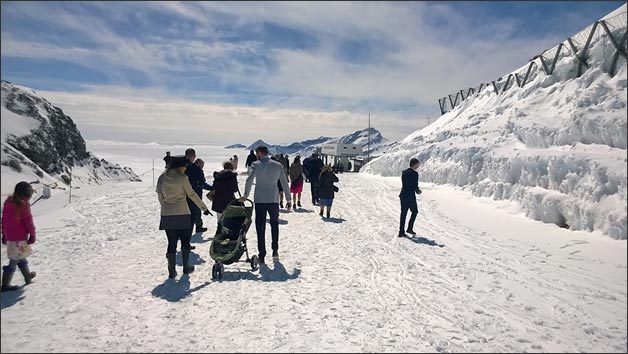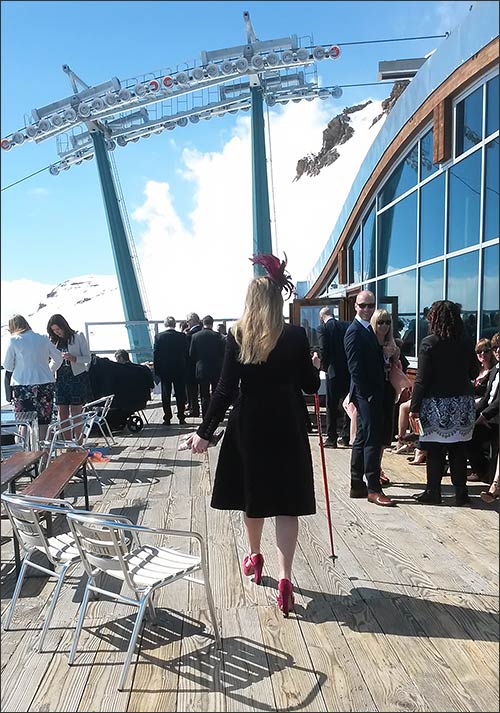 Die grösste Herausforderung war die Trauzeremonie auf dem Berg. Die rechtlich wirksame Unterschrift wurde vormittags im Standesamt erledigt und der Bürgermeister kam mit uns hinauf, um die Trauzeremonie quasi nochmals zu wiederholen.
Die zweitgrösste Aufgabe war, 80 englische Gäste auf 3.000m Höhe zu bekommen. Wir haben alles angedacht, Helikopter, Schneekatze, Schneemobil, Jeeps, Snowboots, Fussmarsch, Ski. Für Mitte April gibt es keine klaren Wetter- und Schneevoraussagen, es konnte auch alles nur matschig und unpassierbar sein. Schliesslich nutzen wir 2 Seilbahnen, um dann noch 300m durch den tiefen Schnee zu stapfen. Um so einen wirklich tollen Trau-Platz zu erreichen.
Wir hatten Albträume, wie die Engländer diesen Weg bewältigen würden und wir erwarteten den Grossteil der Damen in high heels und seidenstrümpfen – und so kamen sie auch !!

But the biggest task was to organize the wedding on top of the mountain. Of course the legal part needed to be done at the municipio/townhall, but we were lucky that the mayor was willing to come to the mountain for a repetition of the wedding ceremony.
The second biggest task was to get 80 english people onto the mountain. We checked all possibilities from walking with snow boots, skiing, snowcats, skibobs, Jeeps, Helicopters…. But for the period of mid april there could no clear weather forecast been given except 1-2 days prior to the wedding day. At the end we got everybody in the cabins, first a small one, then a big one and another 300m on foot to reach a spectacular wedding place.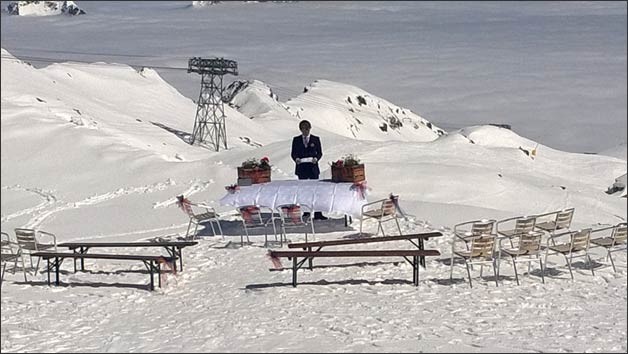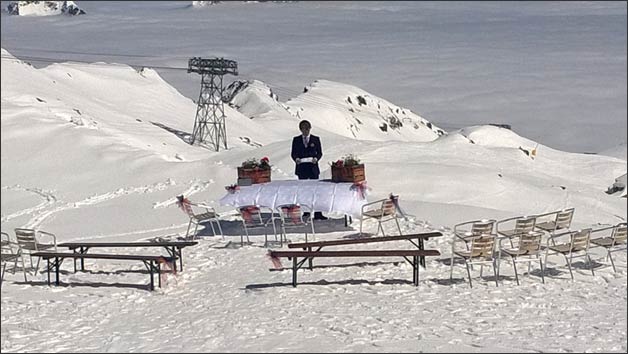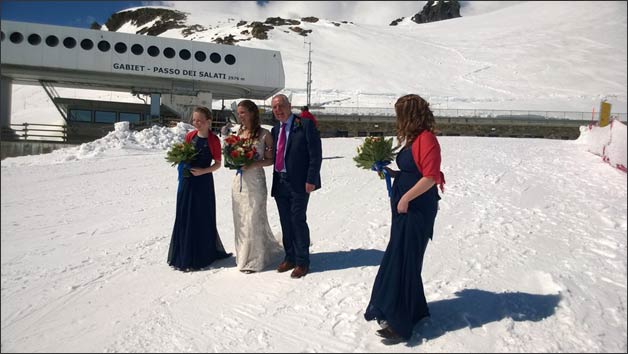 Das schönste Hochzeitsgeschenk war das Wetter. Im Tal unten wolkig und trübe und dann während der Seilbahnfahrt riss die Wolkendecke auf und wir hatten spitzenmässigen Sonnenschein bei azurblauem Himmel.
Wir hatten eine fantastische Zeremonie und im Anschluss einen grandiosen Umtrunk mit sehr viel Aperol Spritz und Fingerfood auf der Hütte Passo Salati in 3.000m Höhe. Und kaum zu glauben, wir bekamen die gut getunten Gäste auch alle wieder heil bergab, 2 Gäste fuhren sogar per Ski ins Tal zurück.

We had nightmares, but guess what, al the guests were happy to go and walk in the deep snow of 3.000m altitude. Some ladies even with 20cm high-heels !!
The biggest surprise was the weather. Down in the valley it was foggy and quite chilly. But when we did ride the second cable car, the clouds broke up and we had blue sky and a bright sun. The biggest gift for Laura and Russel that could have happened.
So finally we had a fantastic wedding ceremony and lots of Aperol Spritz and finger-food to toast to them served by Roberto from the hut Passo Salati.
And guess what, all 80 english and spritz-tuned guests were accompanied by us and arrived safely back in Alagna downtown. 1-2 friends even did ski downhill.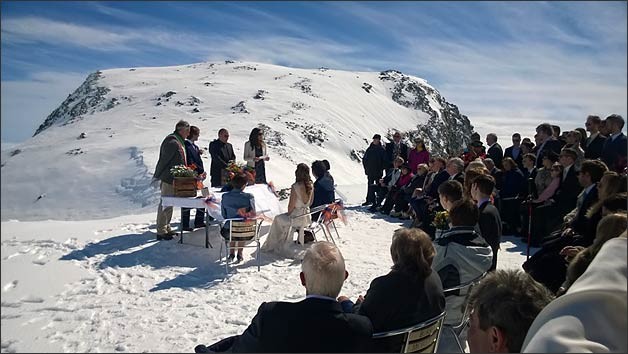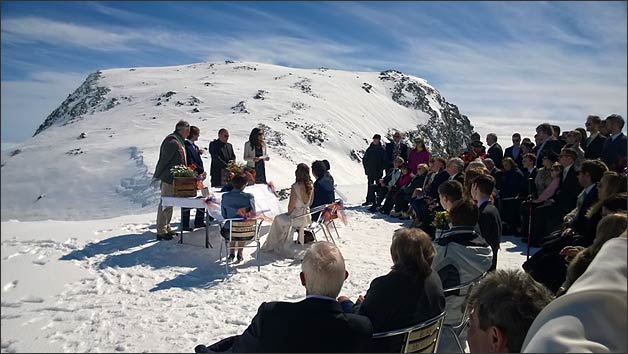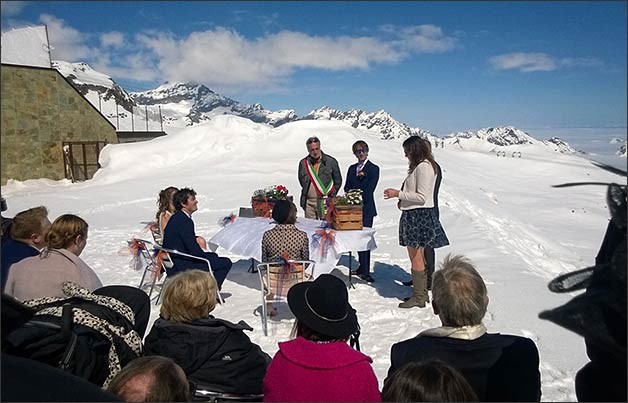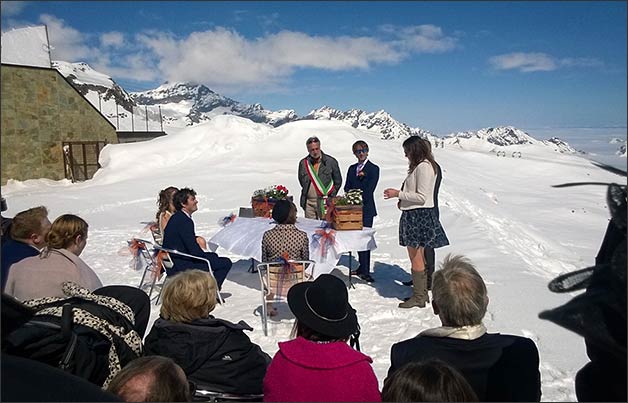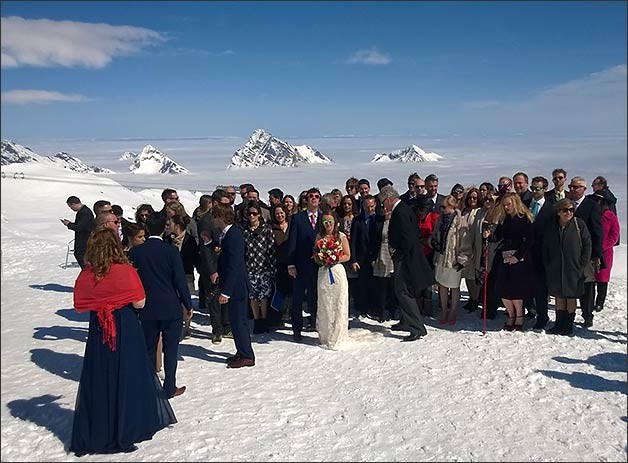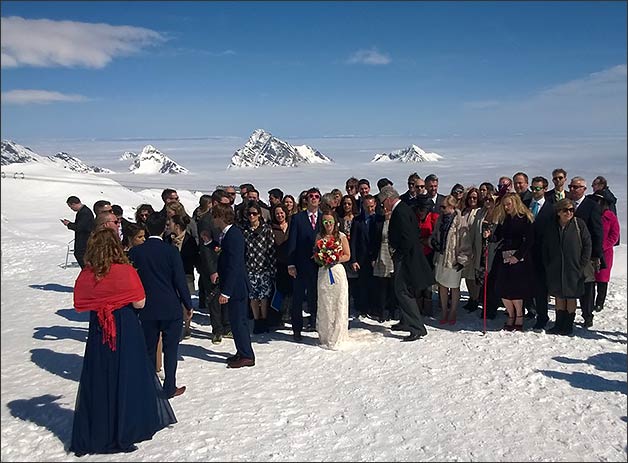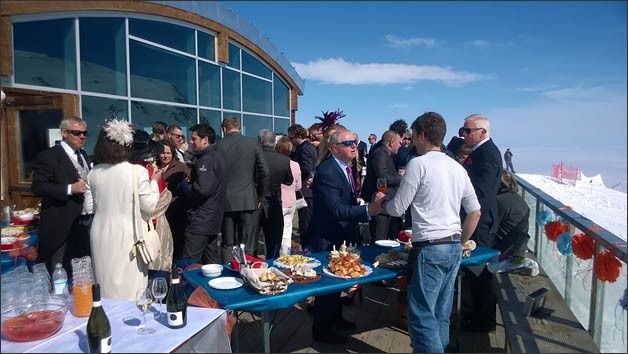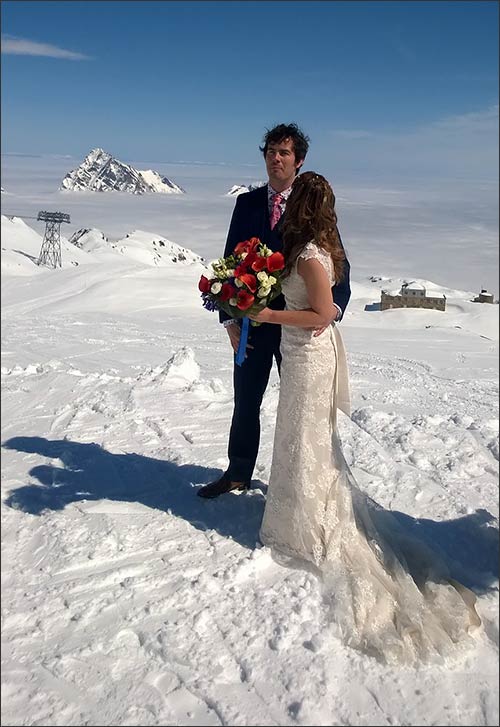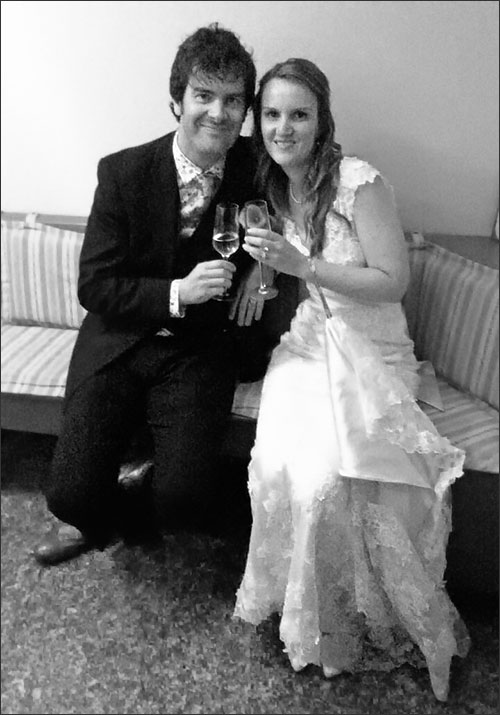 Dies war sicher eine der arbeitsintensivsten Hochzeitsplanungen, aber das Ergebnis war traumhaft. Und Frau und Herr Snow waren super happy – Ja, deren Nachname lautet tatsächlich Snow!
Eure Schneeplanerin Britta, Creative Wedding

I have to admit, this was one of my best and most exciting weddings. It kept us working for long months, but it was worth it seeing into the face of a happy
Mrs and Mr Snow
(not kidding, their surname is
Snow
!).
Your snow-wedding-planner Britta, Creative Wedding