It took Arlette and Guido (dutch/german couple) just 5 months to decide and plan their wedding day at Como lake.
We – Romana and Britta, their Creative Wedding planners from Italian Lakes Wedding team – have enjoyed a lot all the preparation steps and especially "the" day itself! This couple during the preparation period hadn't had the possibility to come to Italy, so that they both had to trust in our ideas and suggestions…. but at the end they were completely happy and ourselves completely satisfied of their happiness and our job.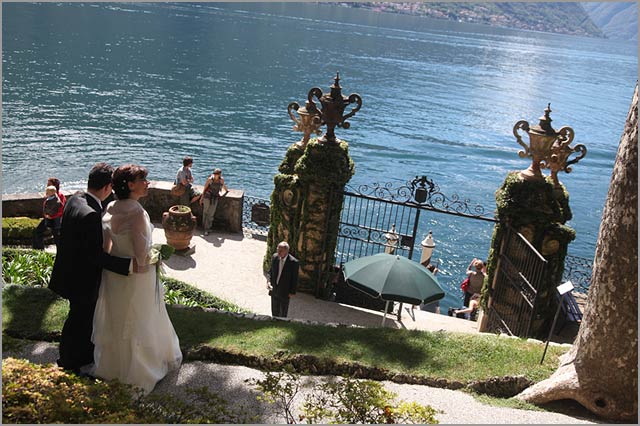 Arlette and Guido intended to have a more intimate wedding as possible to enjoy all the day long just with the very strict family and we believe we have realized it! Everything around their wedding has been focussed on this main aspect, so that at the end of that day we really felt it as a pure family feast.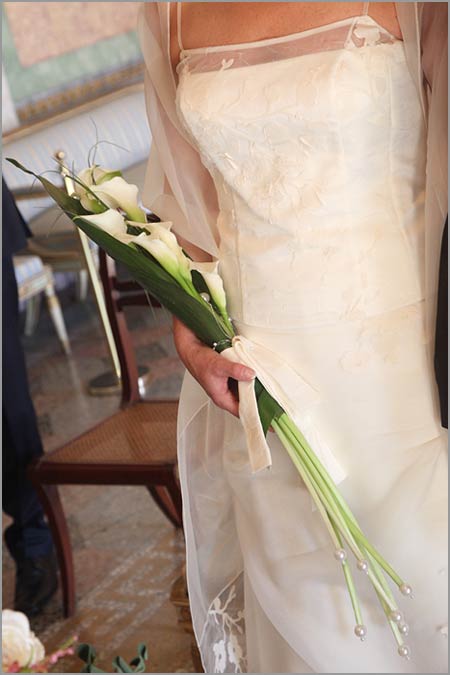 We suggested them the familiar but very nice accomodation that offers Cà del Lago: it is a small agritourism in Consiglio di Rumo, with a small but fine wellness area. Gianluigi and his wife Ornella are the perfect hosts and let all their guests feel in Cà del Lago the same warmth like home. As Arlette came down the stairs in her beautiful dress everyone was moved and Guido gave her a fantastic modern bouquet of long callas, that our florist Barbara Botta prepared with lots of love!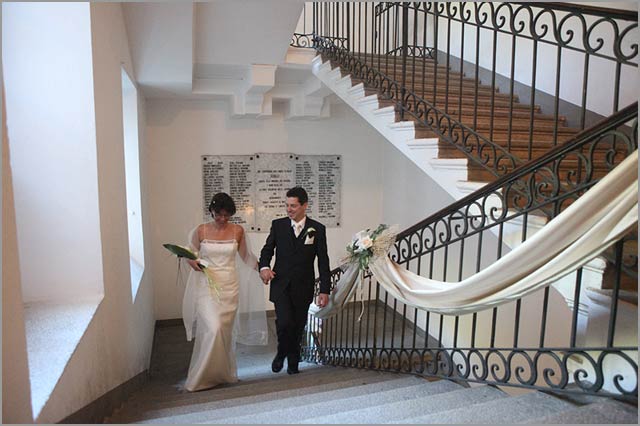 No doubt at all for the decision in Dongo's Sala D'Oro, where the civil ceremony took place. This is really one of the most beautiful and historical townhalls for weddings at Como Lake, with direct view to the lake. Arlette could not hold back the tears in her eyes during the whole ceremony. Fortunately we had a funny wedding celebrant, that made the bride and the groom also smile.
In a hidden street next to the city hall, we had our first reception. On the small terrace of the little gem "El Rualet" Maurizio served real italian fingerfood and could also entertain some of our guests directly in dutch, since he spent 20 years in Holland before coming back to Dongo two years ago.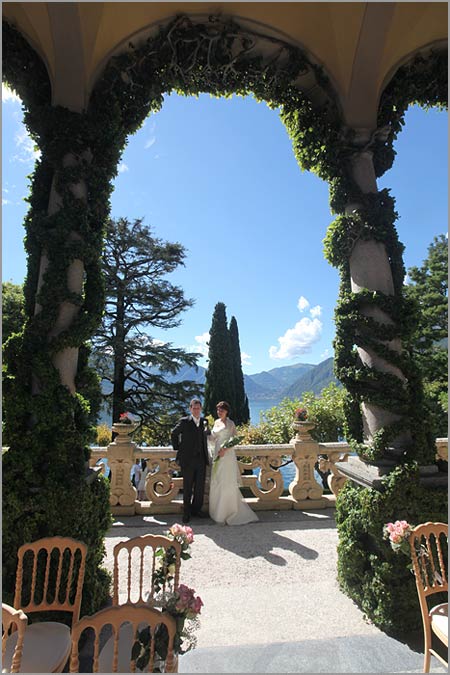 A wedding on the lake cannot miss a boat trip! Our lovely Giancarlo took us with a short trip to Villa Balbianello. The Villa is on the promontory of Lenno and right on the lake. The villa is simply unique, with magic gardens and a fantastic view on the lake both from the three arcades Loggia (where also civil and simbolic ceremonies can take place) and from the panoramic terraced garden.
The fotos Claudio Olivari took there are very special!! Everyone has got to see Villa del Balbianello once in his life!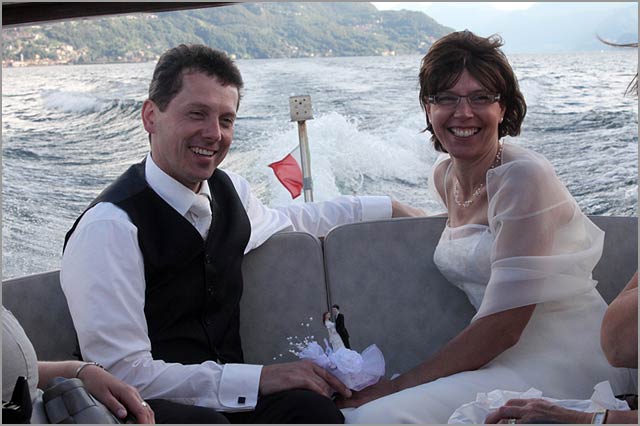 Just 2 minutes far from Villa Balbianello there's the Como lake's island: Isola Comacina. On the island's bar terrace with wonderful view to the lake our group sat down for a long time in the sun having a fantastic wedding cake with small sugar callas on it and coffee and cappuccino. September sun on that day was so beautiful that I believe Arlette, Guido and all their guests could have spent all the day on the terrace in the sun…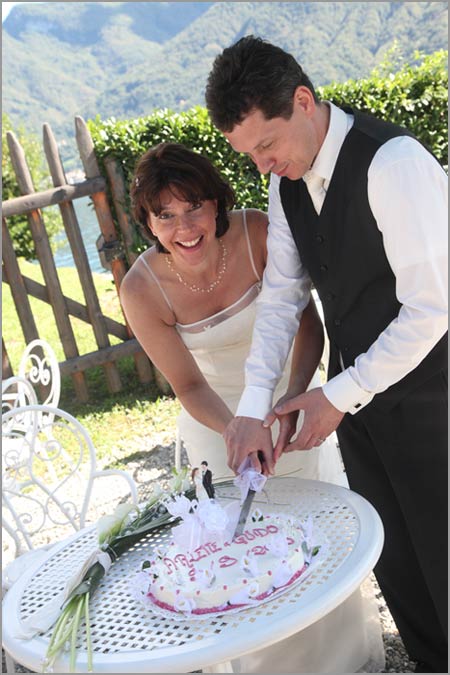 But we had to return to Cà del Lago for having our wedding dinner, that started with aperitivo at 7 pm on the veranda and continued then inside the restaurant. In Cà del Lago they prepare all the food by themselves, so that it really tastes wonderful. Our couple Arlette and Guido and their guests could enjoy it a loooooot….
For that perfect day we only have to say a big thank you to Barbara, Maurizio, Claudio, Annalisa, Giancarlo, Miria, Gianluigi and Ornella.
Romana, Creative Wedding
Italian Lakes Wedding Team is made up of several professional wedding planners and floral designers with a long experience on Italian Lakes locations.
The Team knows the territory in every single detail and will be able to follow you on every important choice you will take.
Our coordinators are based locally in the areas we serve so whether you decide for a wedding in Rome or Bracciano, a wedding in Como or Stresa, or a Wedding on lake Garda or Lake Orta, we will grant the same level of service.
Our Team will be able to provide you every kind of supplier, florist, photographers, musicians, designers celebrants, witnesses and help as far as your documents are concerned, and anything you may think of.
Italian Lakes Wedding Team will literally pamper you!

For any information about wedding on Lake Como please CONTACT US.