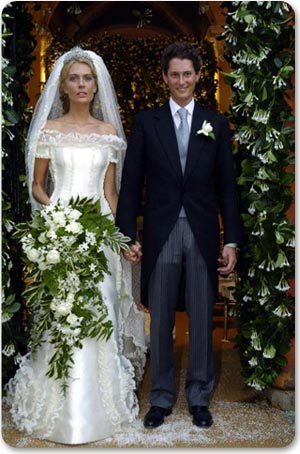 On September 4, 2004 Isola Madre on the Borromeans Islands has been the perfect scenario for the wedding of the decade: John Elkann, Fiat heir, married Donna Lavinia Borromeo of Princes of Angera at the Cappella Bianca on the Isola Madre.
John Elkann is the chiselled 28-year-old grandson of the late Gianni Agnelli. Following the death of his uncle Umberto, Elkann was promoted to the vice-chairmanship of Fiat, becoming the head of Italy's grandest family in the process.
Princess Lavinia Borromeo is the last descendant of the Borromeo family: this noble family was the owner of the islands for centuries. Borromeo family is one of the premier Italian families that became rich through trade and banking.
Lavinia Borromeo and John Elkann made up a beautiful couple: she was 26, he was 28. They had a beautiful wedding: the ceremony and wedding took place at the Cappella Bianca, at Isola Madre in Lake Maggiore, which is property of the bride's family. Father Biagio Pizzi and Don Giuseppe Volpati presided over the ceremony. The church was adorned with white and yellow flowers. From the seven hundred guests invited to the reception, only the relatives and close friends of the couple were able to enter the small church.
The bride wore a Valentino's gown and she complemented it with a splendid lace veil that is running in the Borromeo family for many years. Valentino was also in charge of the dresses worn by the bridesmaids, Beatrice and Matilde (sisters of the bride), as well as by Isabella Borromeo, who acted as witness.
The wedding reception took place at Borromeo family's most famous palace on Isola Bella. The reception, which featured a 5m long chocolate cake depicting dozens of chocolate Cinquecento and a guest list including Henry Kissinger, a representatives of the Grimaldi and Kennedy clans, the italian prime minister Silvio Berlusconi and Elle McPherson, along with lashings of Euro-aristocracy.
The wedding was among others attended by Prince Serge of Yugoslavia and his fiancée Eleonore Rajneri who are soon getting married themselves, as well as Serge's mother Princess Maria Pia of Savoy.