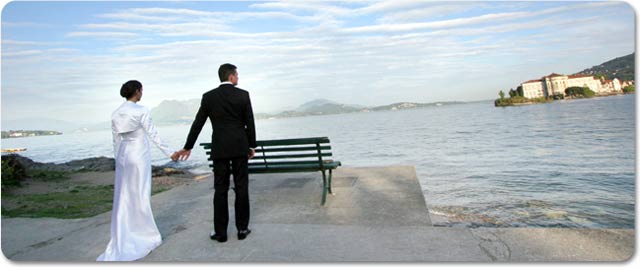 For our wedding in Stresa and Isola dei Pescatori – Lake Maggiore – we had special ideas of the art of photos. The photos should be taken very natural, many close-ups and moment-shoots from us but also from all our guests.
By good references we found Estella & Diego. Young, very nice and friendly and all the time professional they accompanied us the whole day – up from the early morning by dressing up until the wedding-dance at night. As they work as a Duo they take photos with two aspects. Both are working with a lot of passion, special feelings to catch the rights moments and a lot of gorgeous details. Their manner of work is very discreet, like chameleons. We and none of our guests had never the situation of being disturbed in close moments and it was fun having them around us.
The result of their work was breathtaking – and we are very, very happy and thankful to had them as our photographers. After 2 months we are looking the photos quiet often and keep these beautiful memories of our important day in our hearts – and images!
In Love Barbara & Daniel
View more pictures about Barbara and Daniel wedding in Lake Maggiore.