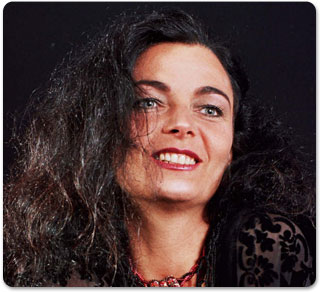 Last month prestigious soprano singer Karin Brides, has joined the Italian Lakes Music Team. Karin is gifted with a splendid voice and notable international experience in the musical area and furthermore she sings in numerous languages, English, German, French and Italian.
Recently i had the pleasure to meet Karin Brides for a chat about her activity as soprano singer at weddings. Karin is extremely gentle and cordial and deeply loves her work.
You immediately will notice this while reading this interview!
Hi Karin, welcome to Italian Lakes Wedding Blog. What is it about your wedding music business that you are most proud of?
Every wedding I worked at I left bride, groom and the guests deeply touched and thankful. Their reactions made me realize that the music and the singing contributed in a major way to keep the energy high, to create a peak time for them.
How do you work with clients to choose musical selections for weddings?
I figure out what kind of music taste they have and see if they have already songs or arias in mind.
When I found out about the style of wedding they choose, if more private, casual or grande and official, whether a religious or civil ceremony. Then I look for songs that fit their style and location and together we create the program.
I figure out the couple's expectations and then work out the details or/and make some other proposals to accomplish the sound-scenery.
Which areas do you cover?
In music I cover the areas from Classic/Opera over to Cabaret to Jazz/Blues.
In geographical means I cover the north Italian area including the Italian Lakes like Garda Lake (Malcesine, Torri del Benaco, Verona), Lake Como (Bellagio, Cernobbio, Varenna, Villa del Balbianello), Lake Maggiore (Stresa, Pallanza, Locarno) and Lake Orta.
Obviously, musical talent is one of the skills necessary for being successful in your field. What are some of the others?
The ability to empathise with the needs and visions of the client.
The humbleness to serve the client well and desire to leave them breathlessly happy with your service.
The capability to make the clients vision your own, move yourself within their realm and translate it into tangible sound.
Versatility and willingness to respond to several demands of style and the passion to interpret with equanimous intensity and emotional truth .
What do you like most about running your own business? What is the most fulfilling aspect?
Never thought about that. For me it is the best way to sing all the songs I love and to move freely in the wonderland of music without being put in one niche.
If money were no object, what would you recommend to a bride and groom as the "epitome" of music for a wedding ceremony?
Let THEIR song be played in the original version, sung by the original singer or if a more classic one, have it sung by their favorite singer, accompanied by the best orchestra between heaven and earth.
If they don't have THEIR song or THEIR music I would help them find it.
What is the greatest challenge that you have faced while growing your wedding music business?
To find the right strategy and efficient channels to make me known to a broader range of clients.
To manage contemporaneously the different parts of the business. To find enough time, means, energy and focus to develop and promote the business whilst working creatively, rehearsing, preparing repertoire and looking after clients. Sometimes I wish to be Shiva , the Indian Godess with many arms…
Currently, what is the one wedding tip you want to give to soon-to-wed couples?
Naturally, as a musician who knows about and works with the magic that music and specially a voice can create I would say: Never save money on music If your soul doesn't sing on your wedding day when else should it?
Your final thought and advice for my wedding blog readers?
Have the courage to find your own rites , your own style. If you feel eccentric then let your wedding be eccentric eg. celebrate on the top of the Eiffel Tower in Paris or have all your guests dressed like pirates……
If you feel you like it as your grandfathers and mothers celebrated theirs then do it as traditionally embedded as possible.
If you want it star stroken, there are more ways to celebrate it than going to Las Vegas.
For the romantic ones, the castles and fairy robes….
If you want it rustic then find a virgin meadow with an old barn and celebrate and dance until your feet burn.
With your wedding you set the tone of your future married life and therefore , be creative, have it as authentic and joyful as you can.