Die Bombonniere ist eine italienische Tradition, indem das Brautpaar seinen Gästen am Ende des Hochzeitstages ein Gastgeschenk überreicht und sich damit bei den Gästen für die fröhliche Teilnahme bedankt.
Für deutsche Brautpaare wandeln wir diese Bombonnieren sinnvoll um und nutzen sie als Platzkarte. So hat man zwei Fliegen mit einer Klappe geschlagen, die Gäste finden ihren Platz und ausserdem haben sie ein nettes Andenken an die Hochzeit.

The
bombonniere
is something very traditional in Italy. Bride and groom do use these gifts to say thank you to their guests that they helped to make the wedding day so special. For all my couples I switch these gifts into nametags on the dinner tables. So it has a double use and makes sense, guests do have an indication where they sit and as well may take the gift home to remember always this romantic wedding.
Sehr niedlich ist auch die Idee, bei kirchlichen Trauungen auf den Bänken personalisierte Taschentücher zu verteilen, so werden die Freudentränen sehr stilvoll aufgefangen.
Quite cute is the idea to use personalized handkerchiefs on the seats in church. So all the tears of joy may be catched in them. Bei Trauungen, die outdoor stattfinden, zum Beispiel den symbolischen Zeremonien ist eine nette Idee, personalisierte
Fächer
auf die Stühle zu legen. Zumindest die Damen fächeln sich gerne etwas erfrischende Brise zu.
For ceremonies that are planned outside, especially for the symbolic blessings we often use personalized fans. All ladies do appreciate to get some fresh breeze, while attending a romantic ceremony.
Noch besser, bei Trauungen in den heissen Sommermonaten kann man kühlende Wasserflaschen verteilen. Aber nicht irgendwelche, sondern auch diese mit einer selbst gestalteten Banderole.

Even better are bottles of water laid onto the chairs, but not the simple version. Nice to have them with the names of bride and groom printed on the labels.
Oder man legt den Gästen das Tagesprogramm aufs Zimmer, sodass diese die Uhrzeit der Kirche, Adresse, Abfahrt des Shuttles etc. noch mal genau vor Augen haben. Vielleicht zusammen mit einem kleinen Survival kit mit Traubenzucker, Reis zum Werfen, Taschentücher etc.
Alles sind kleine Ideen, die aber die Hochzeit sehr individuell werden lassen.

A useful tip is to put the wedding program in the rooms for all guests, so they have again time and address of church, ob transfers, shuttles and happenings. Maybe together with a cute little survival kit that may include rice to throw, handkerchiefs, aspirin, sweets and so on.
All those are little and easy ideas to make your wedding very special.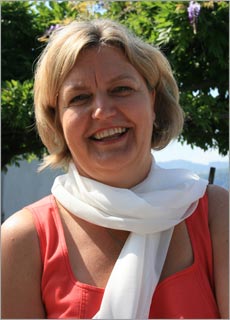 Britta Hartmann-De Marchi
is german and therefore the specialist for
German, Austrian and Swiss couples
coming to the lake Region for getting married.
She herself got married 10 years ago and choose an Italian husband. Enjoying to live here in Bella Italia and coming from 14-years-experience in international advertising and marketing, she liked to change her job into becoming organizer of weddings for german-(and english-) speaking people coming to Italy for their marriage.
Coming from Germany and knowing what to expect in Italy, she is the perfect organizer between bride and groom and the Italian service partners. Correctness, flexibility and a easy hand to plan all details around a wedding make her work very appreciated.
The most emotional part is, when I become almost the best friend of the bride during all the planning time you share with each other. So we both do enjoy the wedding day in its best form and this is important for my work.

Für alle Fragen, die eine Hochzeit an den norditalienischen Seen betreffen, füllen Sie bitte das untenstehende Formular aus, um das Team von Italian lakes Wedding zu kontaktieren: