Sabrina und Thomas aus Deutschland sind wie viele deutsche Brautpaare protestantisch. Aber fast alle Kirchen sind in Italien katholisch und so musste ich nach einer Lösung für deren evangelisch-lutherische Trauung suchen. In Ceresolo, einem kleinen und nicht sehr bekannten Ort auf der lombardischen Seite des Lago Maggiore.

Sabrina and Thomas are from Germany and often couples are protestant lutheran. But almost all churches in Italy are catholic, so I had to find a solution for their Lutheran wedding and I found it at Ceresolo, a tiny and not very touristic spot on the lombardian side of Lago Maggiore.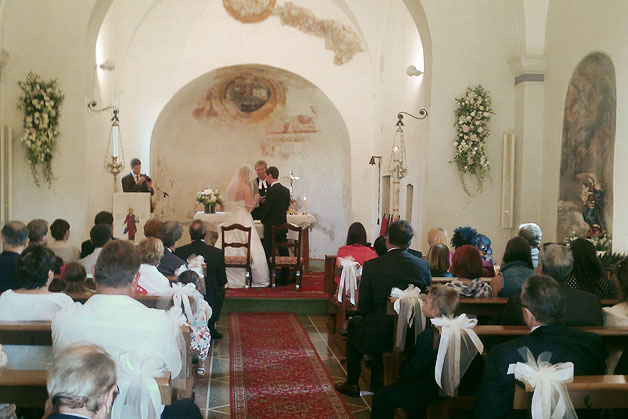 Die Trauung fand in dieser kleinen Kirche statt, einem wahren Schmuckstück. Auch innen schlicht und gerade deswegen sehr romantisch. Unterstützt von der besonderen Lage inmitten von schattenspendenden Bäumen und grünen Büschen. Perfekt für eine Hochzeit von 30 bis maximal 70 Gäste.

The wedding took place in this tiny but very romantic church. 900 metres outside of the village in the middle of green trees and bushes that give shade. Perfect for a wedding of 30 up to a maximum of 70 guests.
Die zahlreicheren Hochzeitslocation sind natürlich auf der Piemonte-Seite des Sees und so haben wir flugs eine Bootsfahrt organisiert von Pallanza nach Ceresolo und dann mit kleinem Spaziergang ist man vor der Kirche. Für altere Herrschaften und Laufunfähige ist es dennoch besser, einen kleinen Shuttle zu organisieren. Unser lieber Chauffeur Domingo ist auf und ab gefahren.

As all wedding locations are located on the Piedmont side of the lake, we organized 2 boats which brought all guests from Pallanza to Ceresola and then a small walk and you are there. For really old and handicapped persons it is better to organize a shuttle. This I did, because we had 2 grandmas attending the wedding.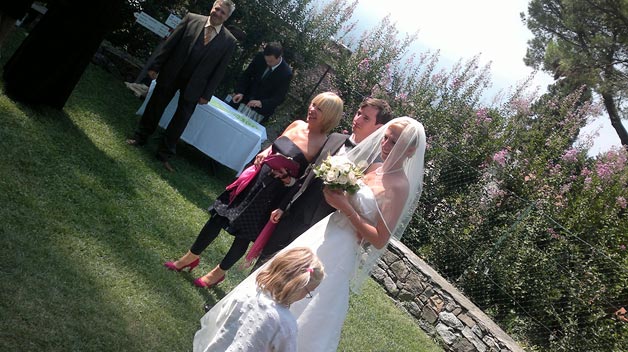 Der Rasen vor der Kirche lädt ein, um hier einen kleinen Umtrunk zu organisieren. Ganz easy, fast im Picknick-Stil. Die Gäste geniessen es, in dieser Idylle noch einen Moment zu verweilen, am besten mit einem Glas Prosecco in der Hand.

The lawn in front of the church is ideal to organize a small picnic-like toast. Everybody enjoys to stay there for a little while and sip a bit of champagne.
Das Hochzeitsfest selbst fand im GrandHotel Majestic in Pallanza-Verbania statt, wunderschön direkt am See gelegen. Herzlichen Dank an den wirklich umsichtigen Eventmanager dort der ständig an meiner Seite war und damit allen Wünschen des Brautpaares und seiner Gäste sofort nachkam. Ein köstlicher Aperitif im Garten des Hotels und dann das Dinner im Sala Rossini mit Blick auf den See. Ein traumhafter Anblick auch unsere wedding luminaries, die wir überall im Garten verteilt hatten.

The wedding reception itself was held in the GrandHotel Majestic, beautifully laid out in Pallanza-Verbania. Many thanks to the event-manager there as he was always on my side to serve our bride and groom until they felt really, really happy and comfortable. They enjoyed the aperitif in the garden and then the wedding dinner itself inside with a view onto the lake. Very scenic the wedding luminaries that we put out all over in the garden.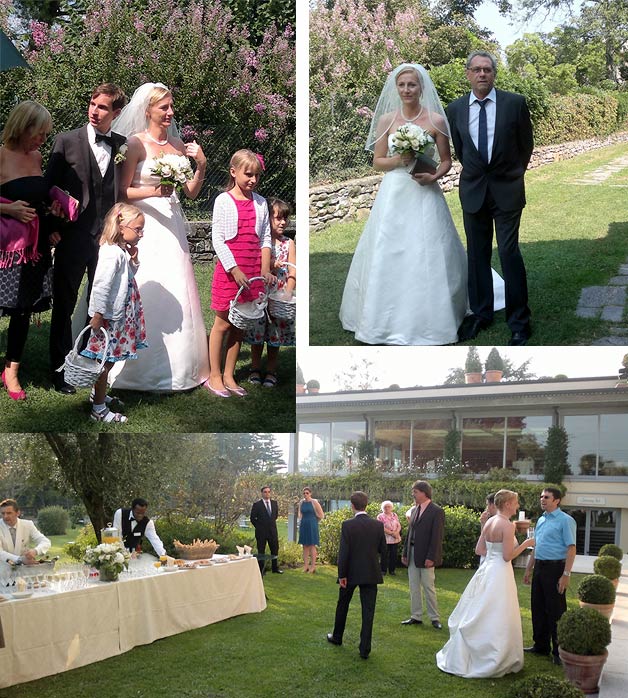 Britta Hartmann-De Marchi is german and therefore the specialist for German, Austrian and Swiss couples coming to the lake Region for getting married.

She herself got married 10 years ago and choose an Italian husband. Enjoying to live here in Bella Italia and coming from 14-years-experience in international advertising and marketing, she liked to change her job into becoming organizer of weddings for german-(and english-) speaking people coming to Italy for their marriage.

Coming from Germany and knowing what to expect in Italy, she is the perfect organizer between bride and groom and the Italian service partners. Correctness, flexibility and a easy hand to plan all details around a wedding make her work very appreciated.

The most emotional part is, when I become almost the best friend of the bride during all the planning time you share with each other. So we both do enjoy the wedding day in its best form and this is important for my work.
Für alle Fragen, die eine Hochzeit an den norditalienischen Seen betreffen, füllen Sie bitte das untenstehende Formular aus, um das Team von Italian lakes Wedding zu kontaktieren: