Do you remember Leanne and Darren's wedding at Grand Hotel Dino under a flower arch with Isola Bella and Lake Maggiore as background?
For some reasons the wedding we want to tell you about today is really similar.
Same landscapes, same choice of planning the event all in the same place and ceremony under a flower arch with lake as background.
They are similar but really different too especially in the choice of the Lake.
Leanne and Darren got married on Lake Maggiore while today we tell you about Lake Orta!
Two wonderful destinations for two fairy tale weddings!
Which is the other difference? Children!!
We never had many children at a wedding!
Let's go step by step.
Let me introduce our bride and groom: Anna and Joachim. She is Russian and he is Swedish. They both live and work in Germany. In few words a melting pot of people and traditions.
As floral designer I have been contacted more than one year before the event.
After some meetings we defined color scheme based on white and light blue.
Anna liked the arrangement we did for Eve-Marie and Roland's wedding. It was based on white, cream and light blue and event was planned at Miasino Castle. Same venue Anna and Joachim chose.
Symbolic ceremony on the terrace of the Castle overlooking Lake Orta
Symbolic ceremony has been arranged on the terrace of the Castle overlooking the lake and St. Julius Island.
We arranged a big arch with light blue hydrangeas. white roses and baby's breath.
Ceremony saw bride and groom under the arch with their celebrant…. a special view of the lake wonderful romantic moment!
As Anna wished, I created for her a teardrop bouquet. It was not big to match her petite body.
Rather than cream roses I used for the other arrangement she wanted total white roses with a touch of blue of Gentians. This is a flower I often suggest to my Bride of this period.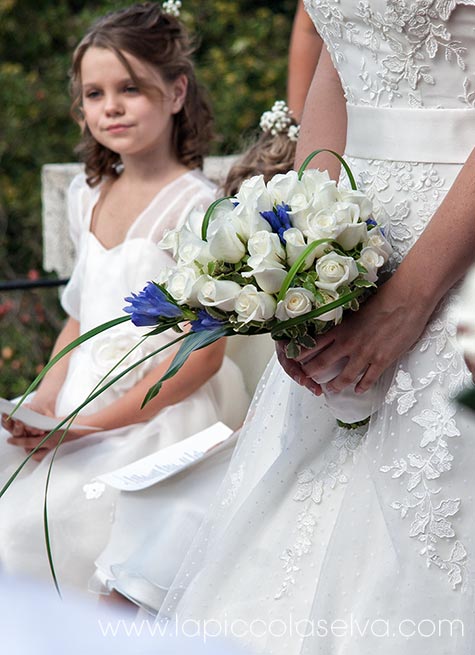 After the ceremony conducted in three languages – Russian, German and English – bride and groom welcomed their guests with a lovely aperitif served in the gardens of the castle. It was perfectly accompanied by a string quartet.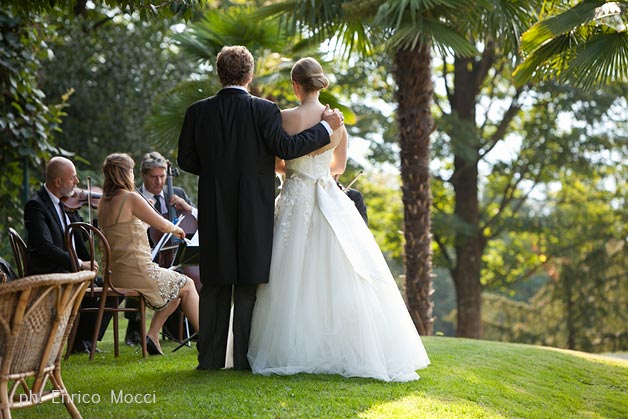 For the reception in the rooms of the venue Anna and Joachim wanted the same floral style that I used for Eve-Marie and Roland's wedding: rose petals and floating hydrangeas but with a little touch a big round shaped composition for the bride and groom's table.
But let's get back to children! They were a lot! Side of Anna and Joachim's 7 children, their friends were invited too. Plus relative's children!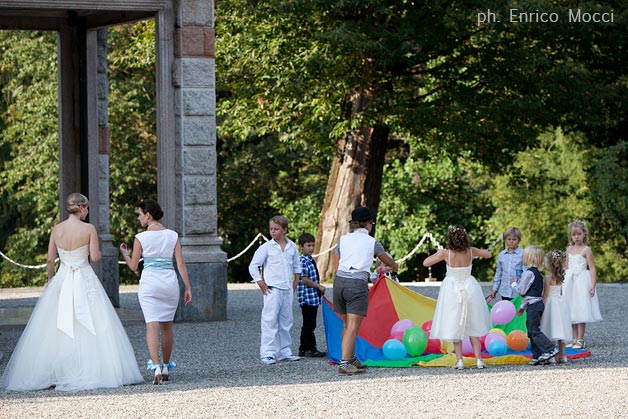 Sometimes children can be very lively during wedding and they can get bored easily. This was not the case!
They were wonderful and they all had a special task. This way bride and groom involved them in the wedding making them feel very important! There were flower girls, page boys, ring bearers and some kids who distributed petals to throw bride and groom after the ceremony.
Each one had his or her task and they all had a lot of fun!
And during the reception? Some relax at last! All played in the gardens!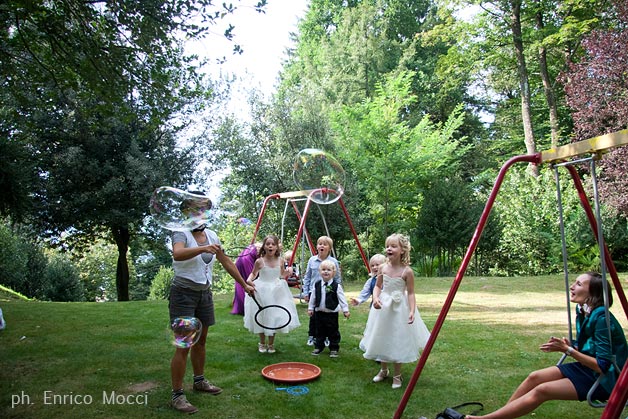 To make the day perfect Anna and Joachim wanted a show for adults and kids: fireworks on the lake!
Monika Andenmatten is La Piccola Selva's floral designer.
Based in lake Orta, has worked with brides for over 20 years to create floral arrangements for weddings in the Italian Lakes district.
His wedding arrangements are creative, elegant and sophisticated. Monika will be able to help you choose how best to incorporate floral design into your wedding celebrations. From the initial consultation to the wedding day, she will make your wedding flowers truly an expression of your dreams.
For any information about wedding on Lake Orta please contact us.
We take the occasion to thank all our brides and grooms and photographers that allow us to post on our pages their stories and their works.
All of the stories we post are fully planned or partly followed by members of by our Team (planners, photographers, video makers, floral designer, musicians…) but without couples and photographers permissions, work and material, they will be just wonderful events kept in a drawer.

Thank you all!