This time we back to you telling about a wonderful couple that will stay for long in our thoughts!
I virtually met Rocco and Barbara some months ago via email and we started planning their wedding on Lake Garda.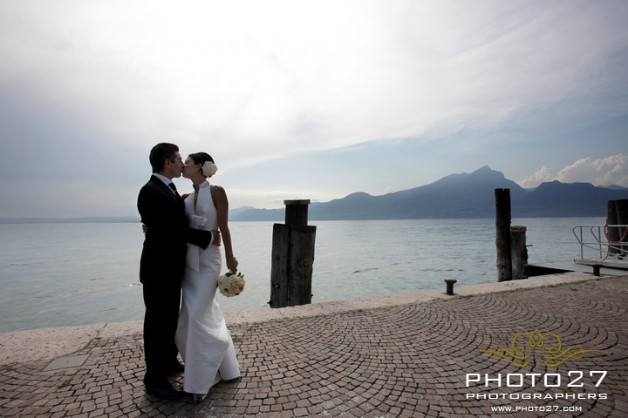 Rocco is Italian and Barbara is Austrian, but they both live in Singapore. They decided to have their wedding on Lake Garda to give to their relatives and friends a chance to get together. They are all living in faraway places and they do not meet often.
What better occasion than a romantic wedding on the lake?
They chose to get married in early July when Lake Garda offers wonderful scenerios. Colour of the sky merges with the deep blue of the lake and the lush nature of the slopes mirrors in the water.
A really impressive frame!
But let's start from the beginning of that fantastic day!
The romantic catholic ceremony at San Martino church
occo and Barbara decided for a romantic catholic ceremony in local church of San Martino, just in the very heart of the tiny village of Albisano, close to
Torri del Benaco
.
This little church, lying on the hillside, is incredibly beautiful and offers a stunning view of the lake!
Just few decorations helped to create a simple and elegant atmosphere that Barbara wanted.
Ivory ribbons decorated the pews and glass vases, candles and ivory roses adorned the two marble balustrades beside the altar. The same roses gathered in an ivory ribbon formed Barbara bouquet.
Ceremony was moving and very romantic accompanied by the sound of a sax, a particular detail that helped make the ceremony truly involving.
Bride and groom's emotion during the exchange of vows touched everyone, all friends and family members who came from far to be there with them!
Torri del Benaco Village: amazing spots on Lake Garda
fter the ceremony the lovely courtyard of the church overlooking the lake was waiting for all the guests to have a toast to Rocco and Barbara's union.
While relatives and friends relaxed enjoying Lake Garda landscape, they decided to take an intimate walk on the lake and have a moment just for themselves
Torri del Benaco and its ancient castle offers to the newlyweds stunning corners for their wedding photos and the chance to relax after so much emotion!
Great them of Photo27 photographers captured every detail: loving looks, knowing gestures… and the fantastic shoes of Barbara, a pair of wonderful Jimmy Choo decorated with a fun writing on the soles: I do!
Wedding reception on the hills
nd after this little time for their own,Rocco and Barbara joined family and friends for a fantastic celebration:
let's party!
Restaurant Rocco and Barbara chose for their wedding reception is located
on the hills facing the lake and offers a stunning view and wide open spaces
.
A wonderful aperitif was served on the terraces and sax player music created a perfect relaxed yet elegant atmosphere.
Wide spaces blend with the elegant dining room seamlessly guaranteeing a wonderful view. A magical frame for a wedding reception!
Rocco and Barbare were blessed with fantastic weather! Throughout the evening guests could enjoy the relaxing sofas and corners arranged on the lawn.
For Rocco and Barbara we wanted to create a special seating plan with sand and shells to remember their passion for beaches and kite surfing.
Each table had the name of a beach in the world suitable for this sport.
Isn't it a great idea?
Let the Dance Begin!
fter a delicious dinner, fun speeches byfriends and bride and groom's brothers we finally reached cutting of the wedding cake. Then the real party begun with a special surprise!?Rocco and Barbara made their entrance on the dance floor on the basis of their song:
I've had the time of my life
.
Just like in a movie Rocco and Barbara charmed everyone with a dance full of passion and emotion. All guests were simply speechless!
Everybody joined them dancing and having fun… we are sure that everyone had a great time!

From their song we understand the emotion that moved this special day:
Now I've had the time of my life 
No I never felt like this before
Yes I swear it's the truth
And I owe it all to you
Just amazing wedding on Lake Garda….
Angela and Katiuscia both work on Veneto region and Lake Garda. They will take you to discover traditions, savors and colors of Veneto region, not only on Lake Garda!

They can help and support you for a dream wedding on other wonderful locations such as Venice, Verona and Veneto gorgeous countryside where you could taste some of best wines of Italy.

For any information about wedding in Torri del Benaco please contact Angela and Katiuscia.