e reached the end of 2014 season! A wonderful successful season we all loved!
We leave all our thanks to the end of this post… we would like to tell you about our wonderful couples who chose October for their
romantic destination wedding in Italy
.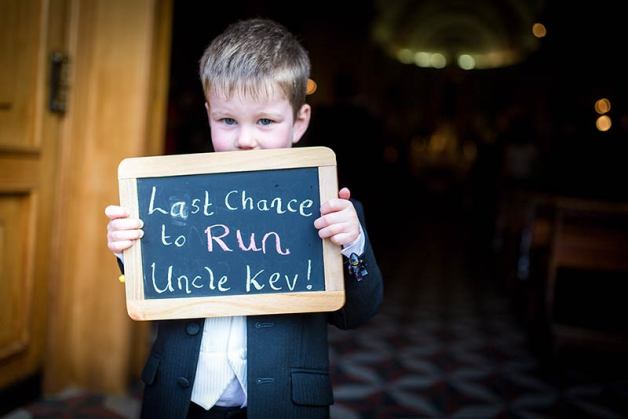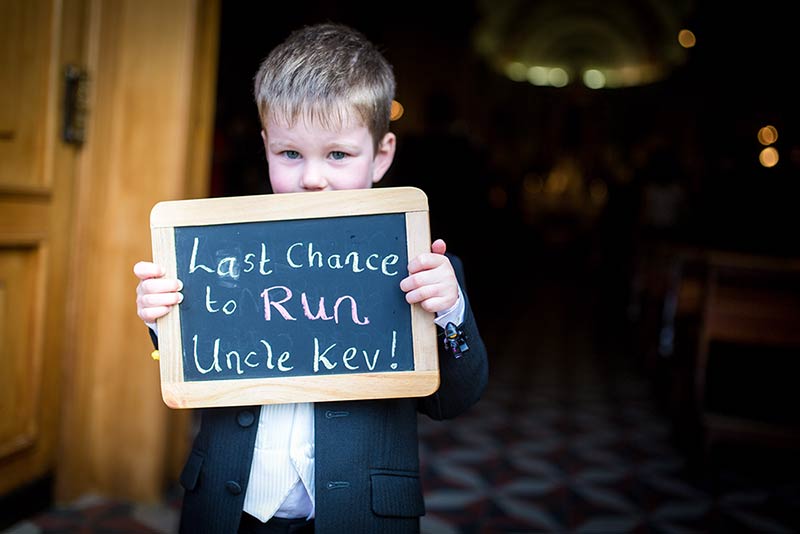 Kevin and Elaine's wedding in Torri del Benaco, Lake Garda
We open the month with Kevin and Elaine's wedding who got married on October 3rd on Lake Garda.
Angela and Katiuscia followed the event for us.
They are both Irish but living in Dubai. They opted for a Catholic ceremony in the church of Albsiano in Torri del Benaco. A wonderful location on top of a hill overlooking Lake Garda.
A moving ceremony accompanied by a string quartet.
For their reception they chose a charming Relais in the vines hills over Lake Garda.
Bride and groom reached it on a vintage MG A Roaster of 1959. We love it!
Elaine wanted a Autumn's themed wedding with fall colours: orange, deep red and an enchanting bouquet made of red calas.
Photos by Enrico Celotto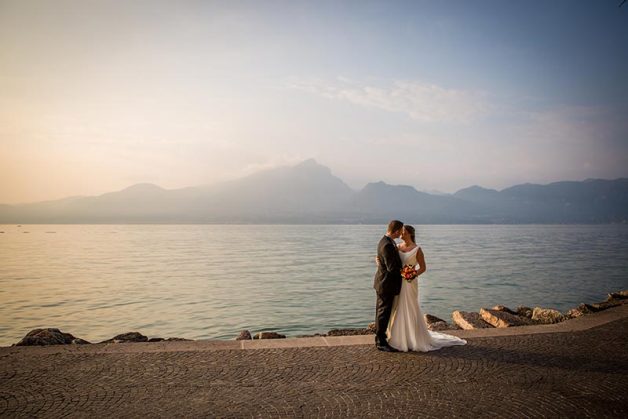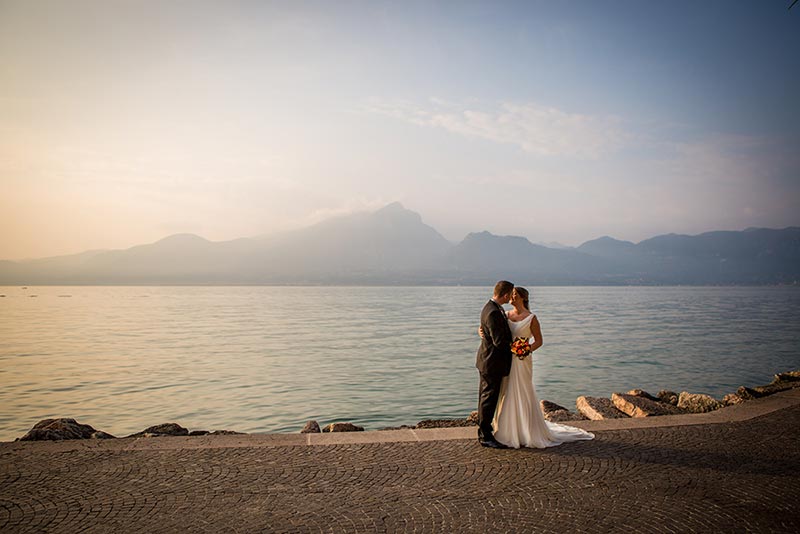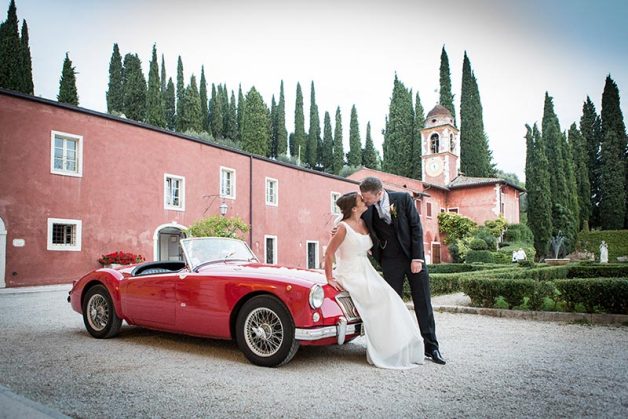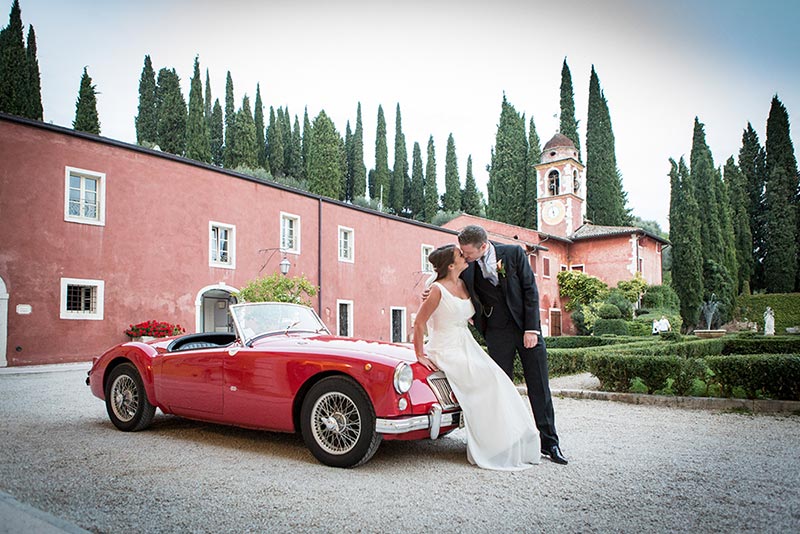 October 4th
was a busy day for our Team.
Almost all planners were involved in weddings over the country.
Francesco and Wenli's wedding on Lake Como
We start with Lake Como. Alessandra and her Team followed Francesco and Wenli's wedding. Francesco is Swiss and Weli is Chinese, a wonderful sweet couple.
For their symbolic blessing they chose amazing Villa del Balbianello.
This time bride surprised all… she arrived by boat with all her guests: about 50 people. So fun!
For their reception Francesco and Wenli chose a luxury resort close to Como.
Wenli wanted white and yellow decorations and so all arrangements at the resort were made of lemons, yellow orchids. gerberas, roses, some white daises and a touch of gypsophila.
A wonderful elegant reception with a happy party with dances up to late at night at the hotel.
Photos by Italian Wedding Company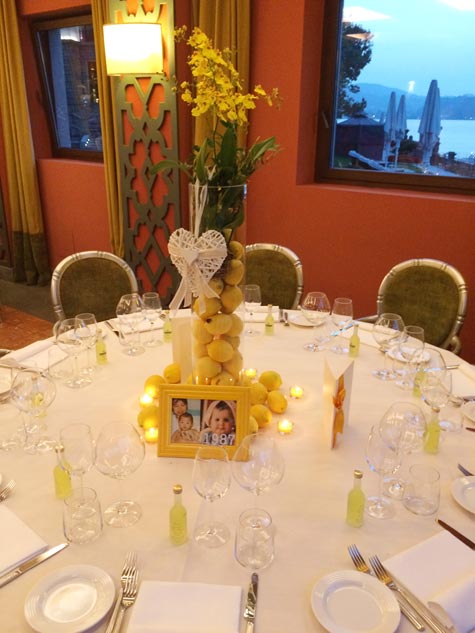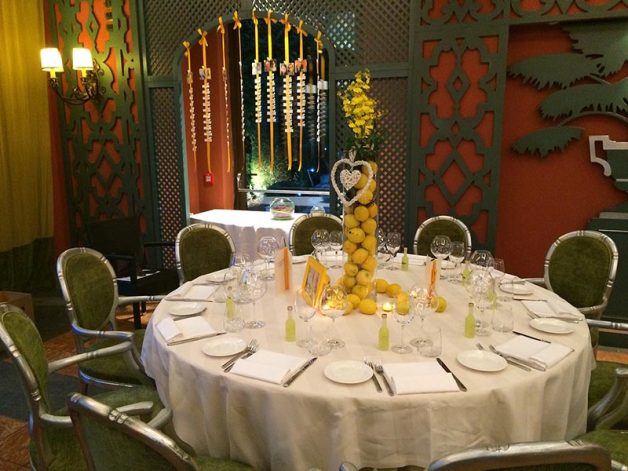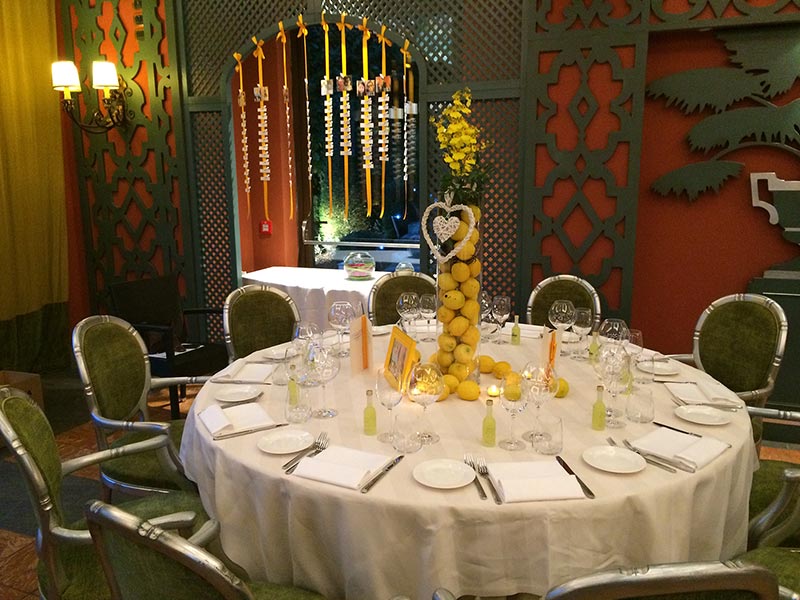 Eva and Ivan's wedding's wedding in Sirmione, Lake Garda
On the same day, we get back to Lake Garda for another wedding Angela and Katiuscia followed for us: Eva and Ivan's wedding. She is Czech an he is Dutch.
They opted for a civil ceremony at the town hall of Sirmione in the main square of the village.
Right after the ceremony bride and groom wanted to reach the local church to light a candle as a symbolic sign to their families.
After a lovely boat tour on Lake Garda they reached a fine restaurant in Sirmione overlooking Lake Garda, just ideal for an intimate wedding like theirs.
A very sweet and intimate wedding!
Photos by Giovanni Vanoglio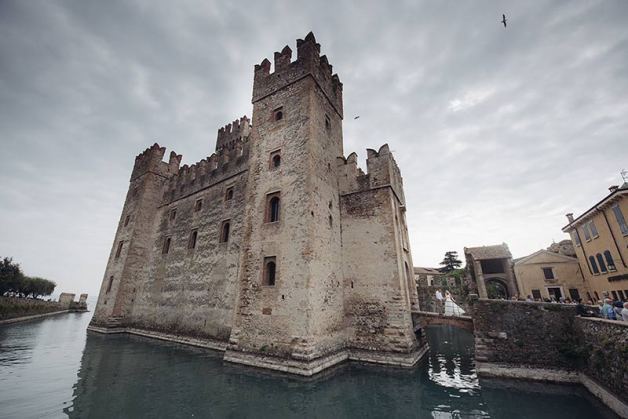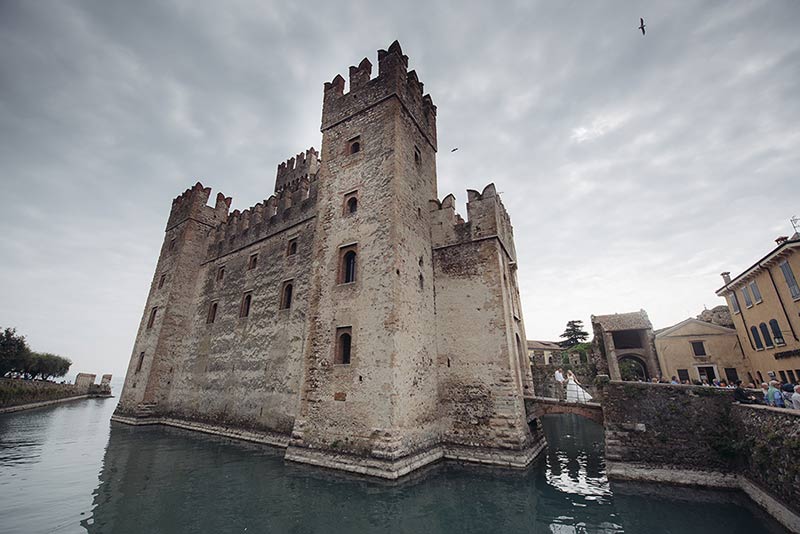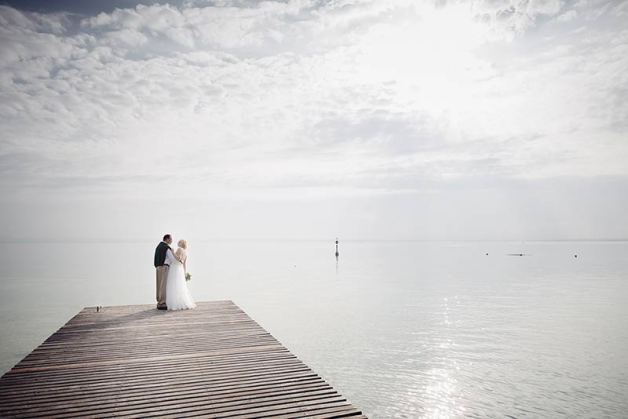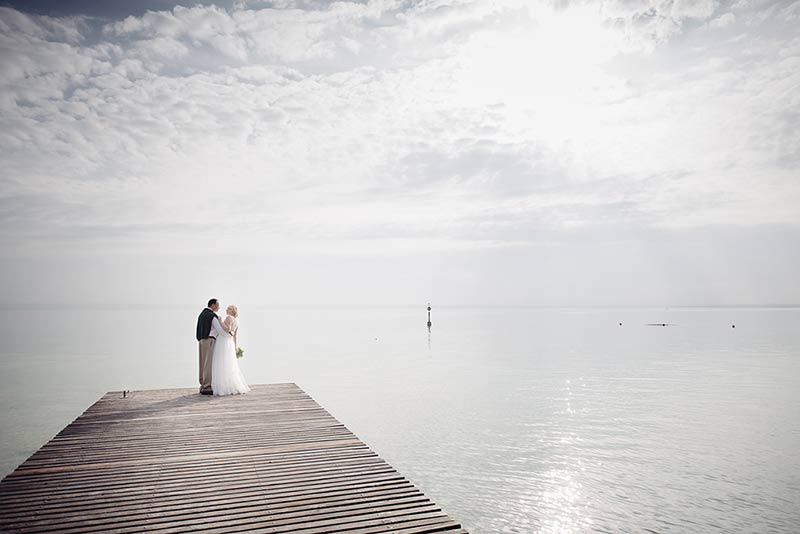 Gaelle and Ryan's wedding on Lake Orta
Again on 4th October Valentina followed Gaelle and Ryan's wedding on Lake Orta.
A wonderful romantic and elegant wedding on the Lake. Gaelle come from Florida US and Ryan is British.
Gaelle studied in Italy so she perfectly speaks Italian and know the area very well.
They chose a romantic Catholic ceremony at Church of Assunta in Orta village.
A boat tour to follow and a wonderful reception on the terrace of Hotel San Rocco.
Aperitif was served in Villa Gippini part of San Rocco Hotel and seated meal on San Rocco main terrace.
Gaelle wanted a vintage elegant theme in the shade of reds and gold. Deep red roses, gold candelabras and with white touches of calas.
We will come back very soon talking in details about this wonderful wedding.
Photos by Alan Phillip Photography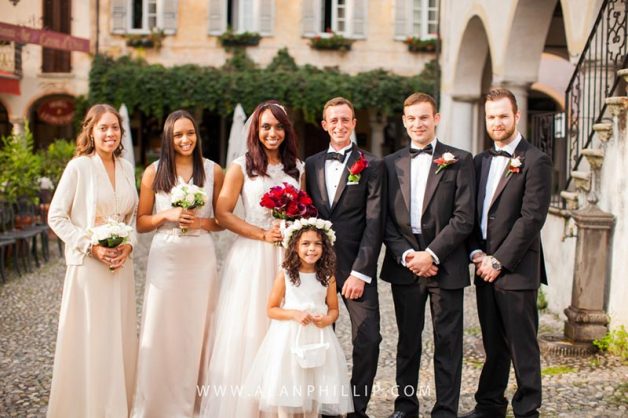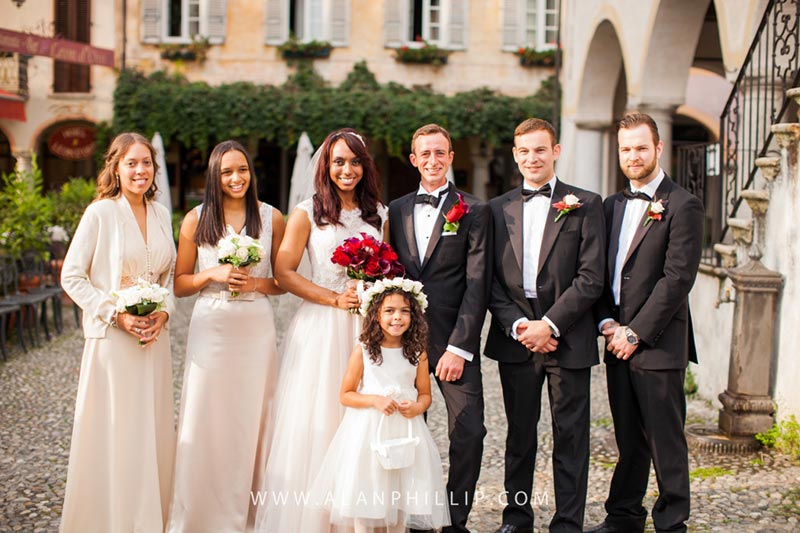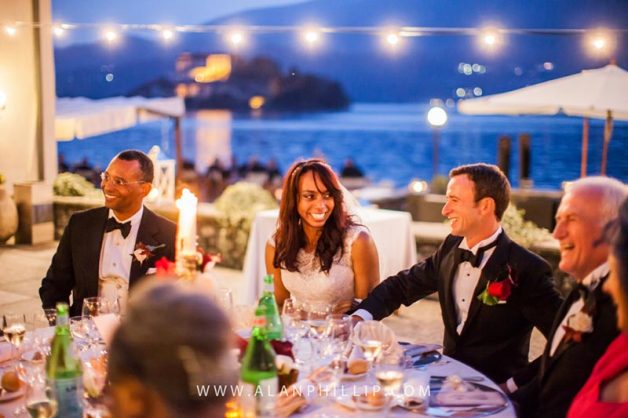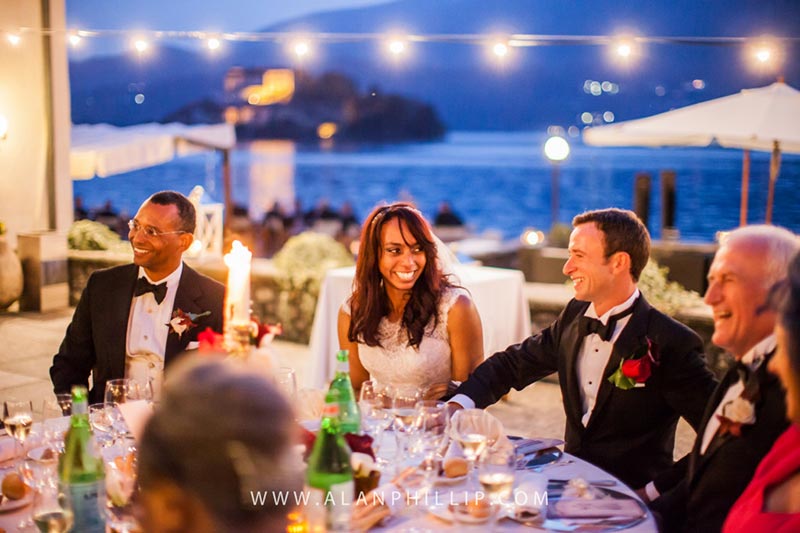 Caroline and Ben's wedding in Polignano a Mare, Apulia
Our planners for Apulia Michela and Michela had a wedding on October 4th too.
They followed for us Caroline and Ben's wedding, a wonderful English couple who chose Apulia for their great day.
A wonderful symbolic blessing in Palazzo Ventura – an historical palace in the heart of Polignano a Mare ancient village.
The rite was unusual and very emotional. Caroline and Ben wanted to stand with all their family and friends close by to create a very cosy and intimate atmosphere for their ceremony.
Natural white was the there white cilium, laces and gypsophila in traditional jars.
The aperitif after the ceremony was served in the upper floor of the palace.
For their dinner Caroline and Ben reached a stunning amazing venue, one of the best Italian venue for sure: Grotta Palazzese.
it is located just walking distance from the Palace where they had their blessing.
Grotta Palazzese is one of the most romantic and breathtaking venue in Apulia. It is a restaurant located in a cave overhanging Adriatic Sea.
All natural elements to decorate a stunning natural venue: wood, aromatic herbs, hessian twine and Limoncello bottles as favours for guests.
A stunning dark cake with white little flowers on it and dances to close a wonderful day with stunning view on Adriatic sea.
Photos by: Italian Wedding Company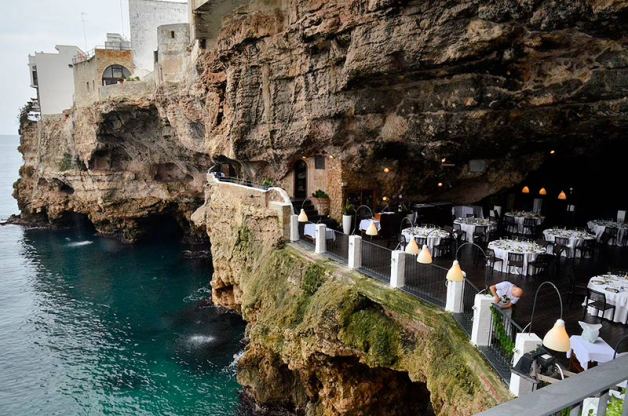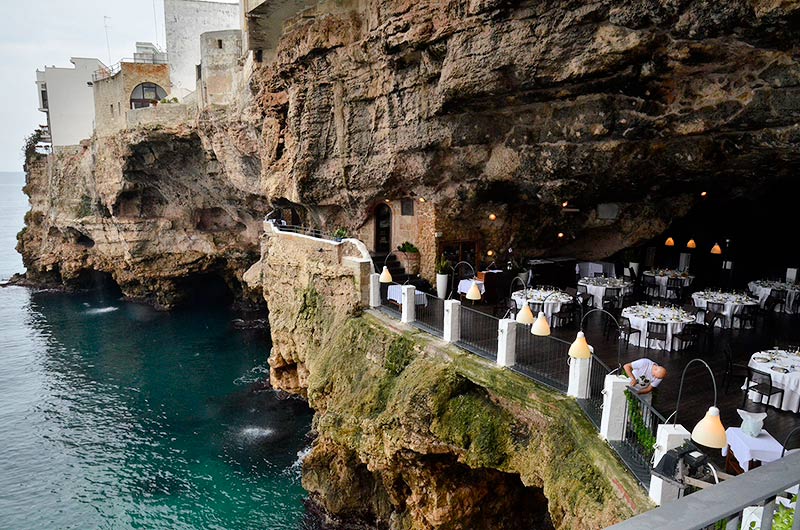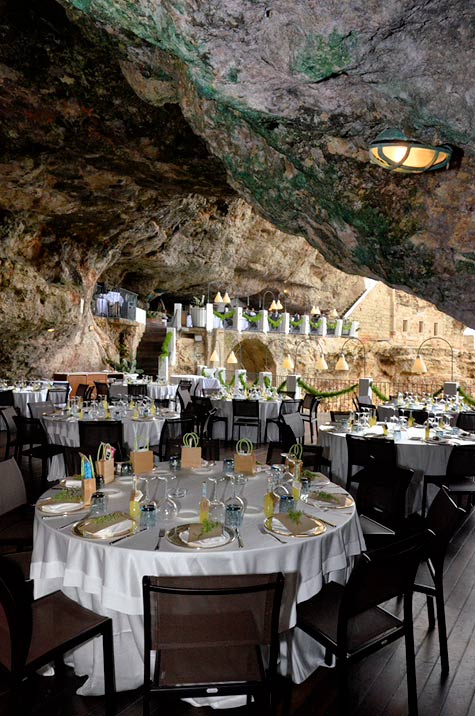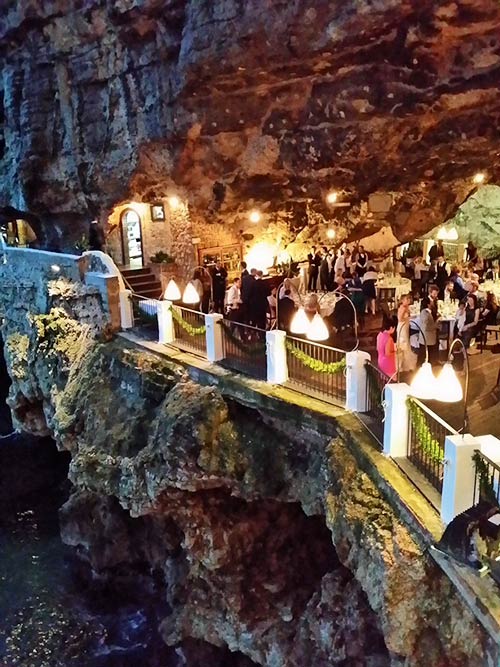 This wedding is also featured on Italian Seaside Wedding site.

Katja and Dimitri's wedding on Lake Orta
On October 13th Valentina followed another event on Lake Orta.
A very intimate wedding for Katja and Dimitri two wonderful joyful Russian guys.
They came from Holland where they live with only two friends to celebrate their union in Orta town hall.
Ceremony was held inside the charming room of the town hall and it was a moving but very happy one.
Dimitri and Katja's look was very relaxed respecting their personalities. She wore a sunflowers crown instead of a wedding bouquet and they had a mouse puppet with them as mascotte.
After a lovely boat tour on Lake Orta and some photos they reached Ustaria Ca dal Rat Restaurant to celebrate their special day with a wonderful meal.
Photos by Independent Pictures Photography.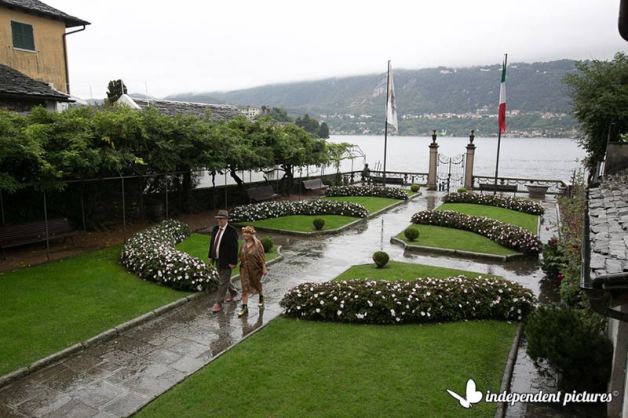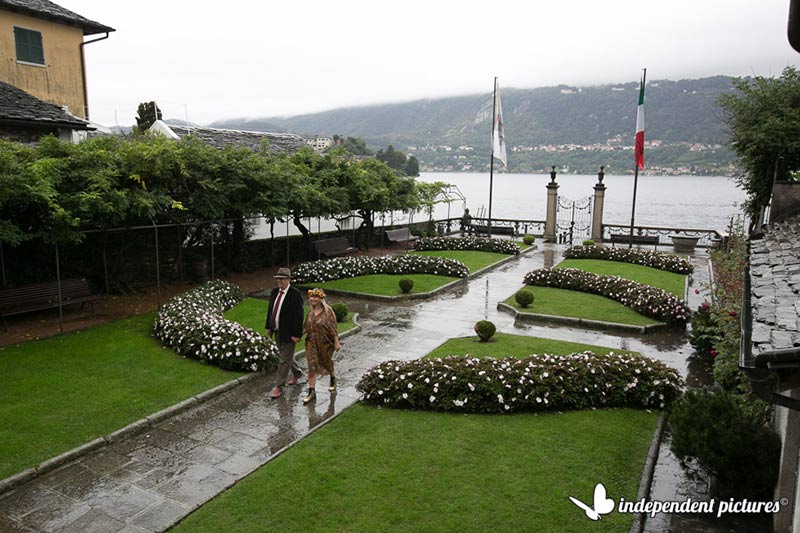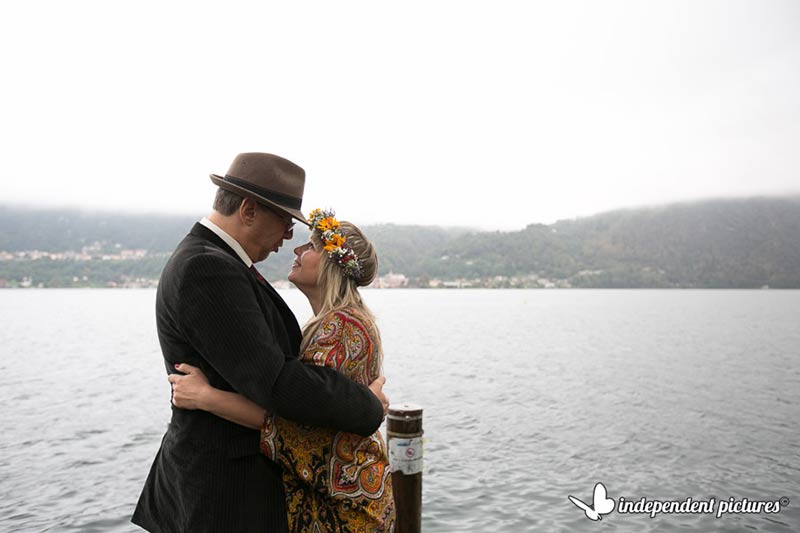 Jaima and Paul's wedding on Lake Orta
On 18th October La Piccola Selva Floral Designer followed a wonderful event for our Team: Jaima and Paul's wedding. They decided for Tuscany at the beginning but after some researches they fell in love with Lake Orta!
She comes from Florida US with Italian heritage and he is French. For their big they they opted for an original choice: a welcome cocktail on the terrace of Palazzo Gemelli just in front of ancient buildings on Salita Motta, just side of Church of Assunta.
It is just at Church of Assunta where Jaima and Paul had their Catholic ceremony.
Back to Palazzo Gemelli, this time inside for an aperitif on its wonderful gardens overlooking Lake Orta and St. Julius Island. Seated meal was planned in the internal court of the Palace. A romantic candlelit dinner among orchids cascade, gold candelabras and a charming atmosphere… even better than… Tuscany!
Photos by La Piccola Selva Floral Designer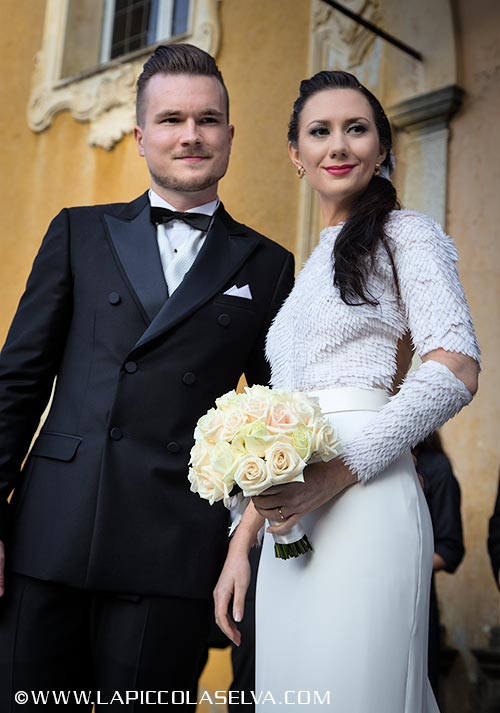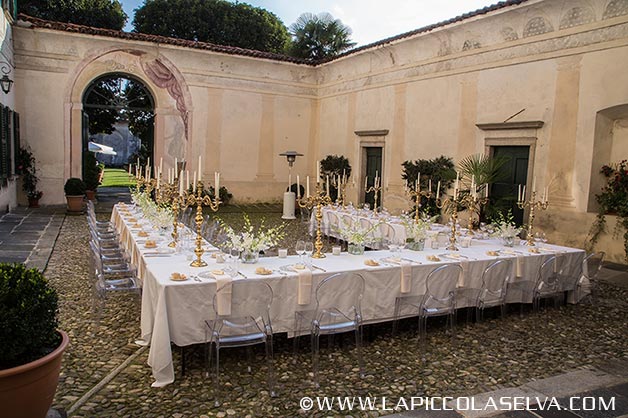 Kim and Jovan's wedding at Castle Odescalchi in Santa Marinella, Rome
On October 25th we move to Rome area where Stefania followed a wonderful event: Kim and Jovan's wedding.
They are both Philippines living in London. They chose amazing Castle Odescalchi in Santa Marinella on Thyrrenian sea for their big wedding: 160 guests came from all over the world to celebrate with them!
They wanted a Catholic ceremony and Stefania planned it in Church of St Giuseppe in Santa Marinella the biggest church they have there to fit all guests!
As per Philippine tradition all guests waited inside the church with main doors closed. They were open just when Kim arrived. She was stunning!
After the ceremony they enjoyed warm weather of Rome with a lovely aperitif on the terrace of the castle overlooking the sea.
Dinner to follow under the marquee and lots of dances and fun for everybody up to late at night.
Kim wanted red, white and grey colours for her wedding with crystal details. Very elegant!
Photos by Alessandro Zingone Photography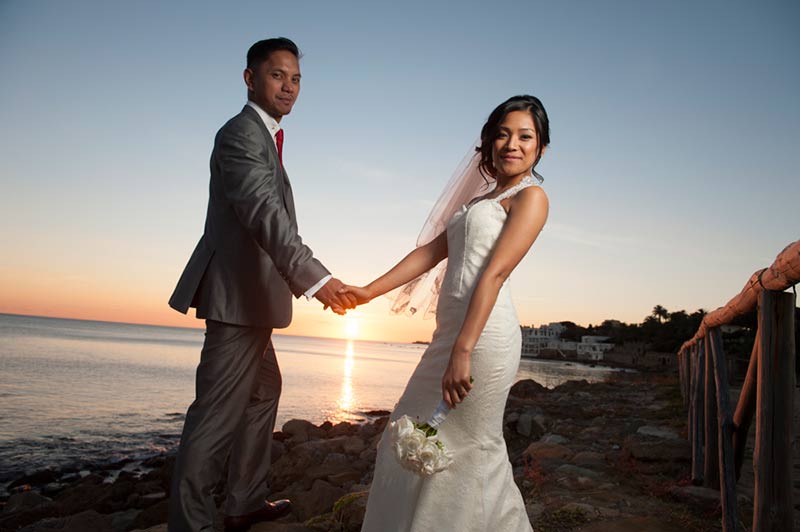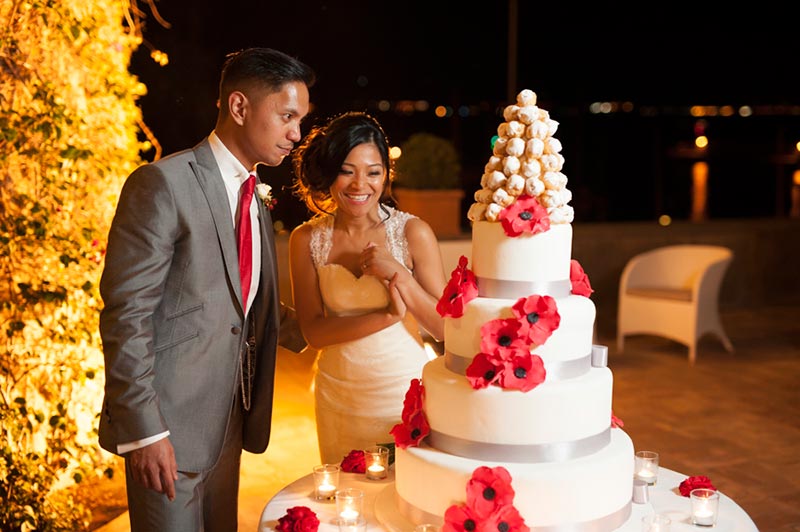 This wedding is also featured on Italian Rome Wedding and Italian Seaside Wedding web sites.
Kerry and Stuart's wedding on Garda Island
On 29th October Katiuscia and Angela followed Kerry and Stuart's wedding a lovely English couple.
It was a very intimate wedding for only 6 guests.
In the morning they planned the civil ceremony in the town hall of Gardone Riviera. The room of the town hall for civil ceremony is wonderful with its frescoes on its ceilings.
In the afternoon they planned a symbolic blessing on Isola del Garda with aperitif to follow and a boat trip over the lake.
They reached Salo' with a stop in a historical pastry shop in the very heart of the village to taste delicious desserts. After that back to the boat to reach a small intimate restaurant on the shores.
Photos by Alessandro Roncaglione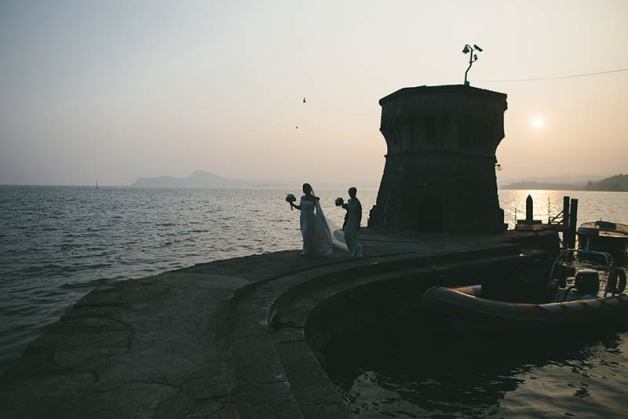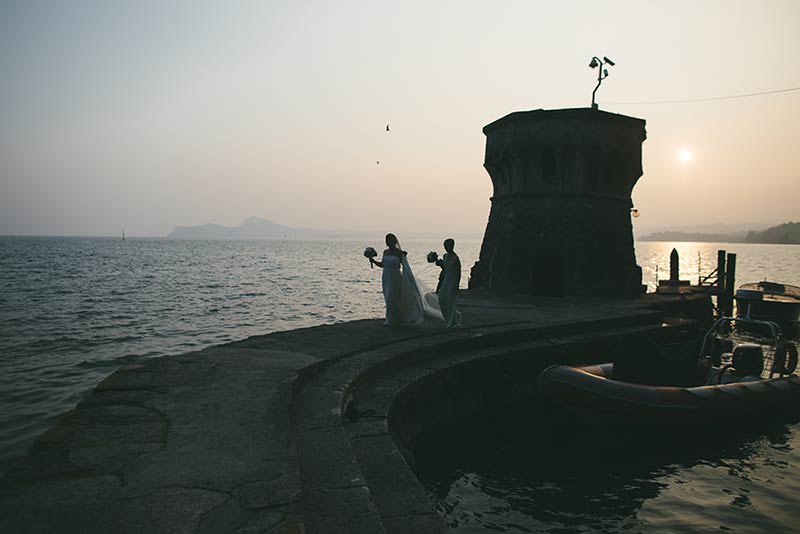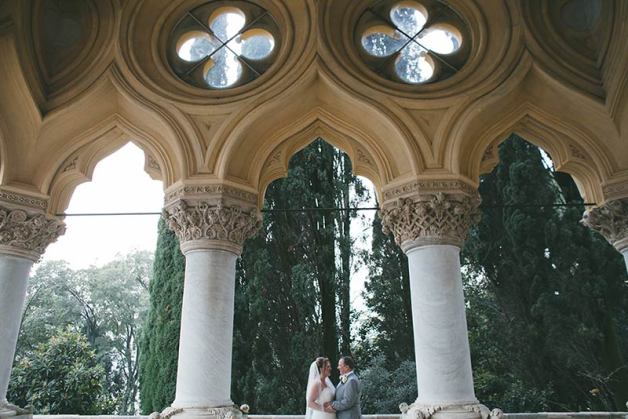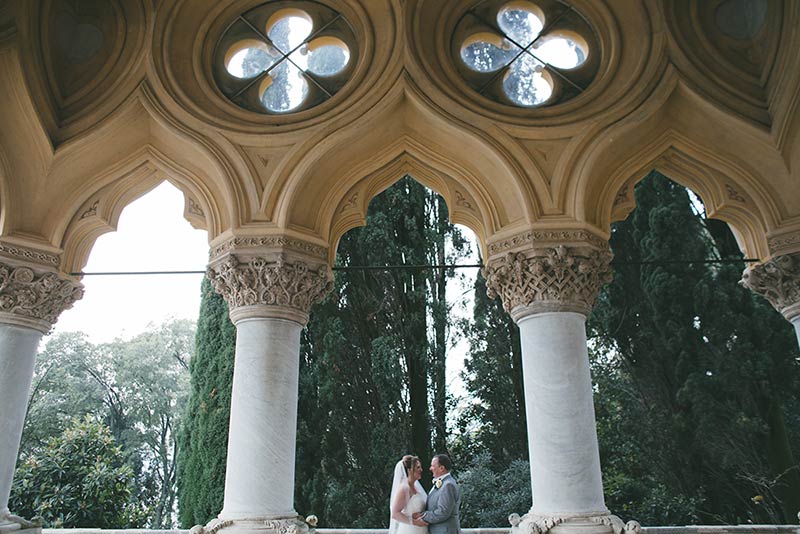 Aimee and Rob's wedding at Castle Odescalchi in Santa Marinella, Rome
We close the season with a wedding our planner Stefania follow on Roman seaside on November 8th. Ok, we know this is not October but we could not avoid to mention such a special day.
Aimee and Rob tied the knot with a civil ceremony in the terrace of Odescalchi Castle in Santa Marinella.
The theme of the wedding was Gothic!
This is surely our first Gothic wedding planned in our team and we hope that could be some others. It was fun for Stefania planning such an unusual event.
Aimee wanted dark flowers for her special event: dark purple cala lilies, black baccara roses.
Her bouquet was made of black calls and roses too.
She wore a vintage cream wedding dress and vintage jewels too.
Reception to follow was planned inside the castle. A long Royal table with same flowers and gold accents made of gold candelabras and gold vases.
Photos by Rossini Photography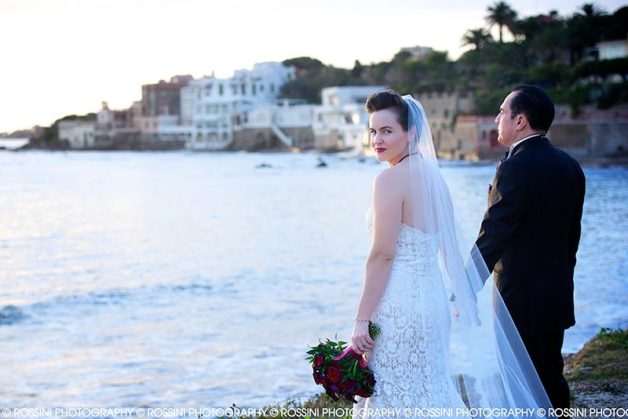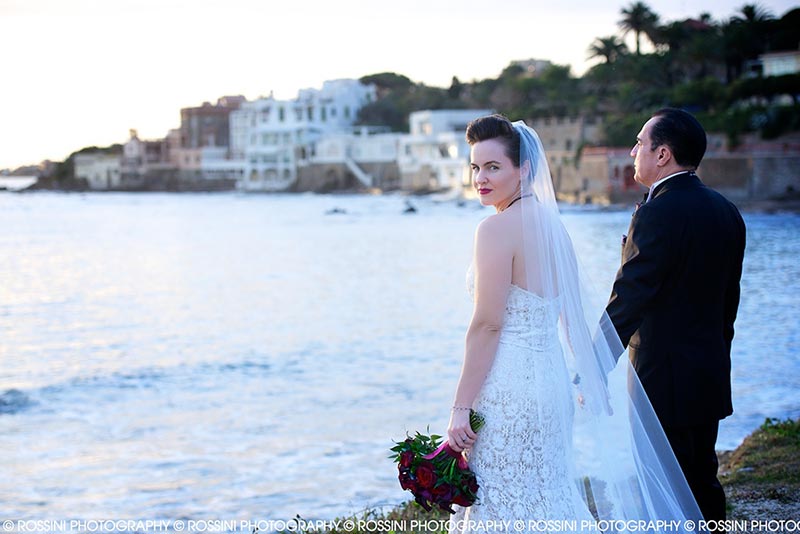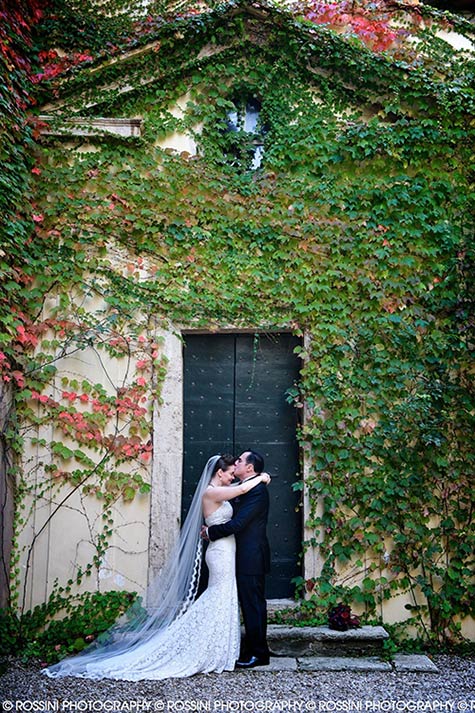 The real fun part was the dj who entertained the evening. Aimee and Rob wanted with them famous Dj Angelo Di Liberto. He plays rock and roll, American Graffiti on 40s and 50s, Boogie Woogie etc.
He is a real star! He has a real 40s-50s look and he travels on real black and white Chevrolet Bel-Air of 1953. If you are looking for a fun unusual dj entertainer this is the right choice!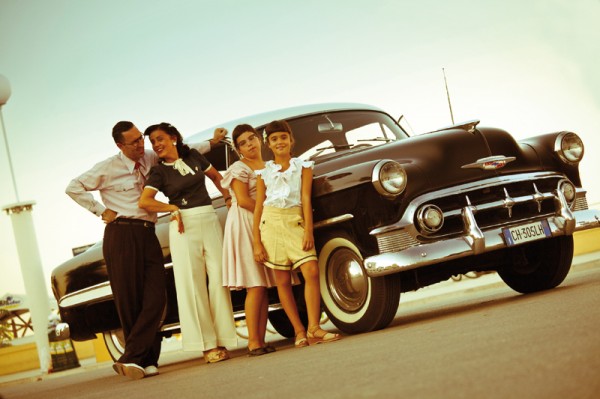 This wedding is also featured on Italian Rome Wedding and Italian Seaside Wedding web sites.
With this special event we close a wonderful exciting season!
We are proud of that and we hope you loved it too.

We really wish to thank from the bottom of our hearts our bride and groom who chose us as planner and coordinators for their Italian weddings, all venues and professionals who worked with us and a special mention to photographers who provided and provide wonderful shots of the wedding we plan.
A thank you to our planners: Alessandra, Angela, Michela and Michela, Katiuscia, Stefania, Valentina and Veronica. A special thanks also to our great webmaster who makes possible all that happens on this blog.

Stay tuned during the winter we will come back to you tell you about Winter Wedding we will plan in Just Married section but you will read as usual our stories and our posts on weddings we plan, venues we suggest and all advices and ideas we want to share with our readers and our brides and grooms.
For longer just married post… see you in April 2015!
We are looking forward, don't you?