s
wedding planners on Lake Garda
we can say that one of the most appealing feature of this wonderful
Italian wedding destination
is the wide range of possibilities you can find here.
Many of our couples usually choose wonderful villas, small traditional restaurants, or stunning gardens on Lake Garda shores.
Some others appreciate relaxing atmosphere you can breath on hills that surrounds Lake Garda.
Elisa and Thomas
are one of these couples. They came from
Germany
with their family and friends to celebrate their special day on Lake Garda.
They wanted
a small church overlooking the lake
and
an ancient farmhouse
–
casale
as we say in Italian – for their merry reception. And we've found for them the right solution!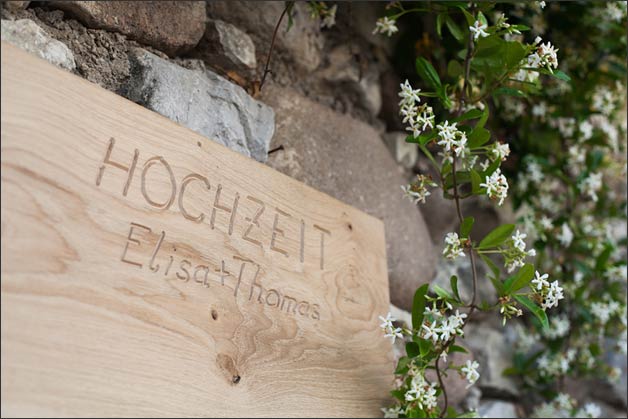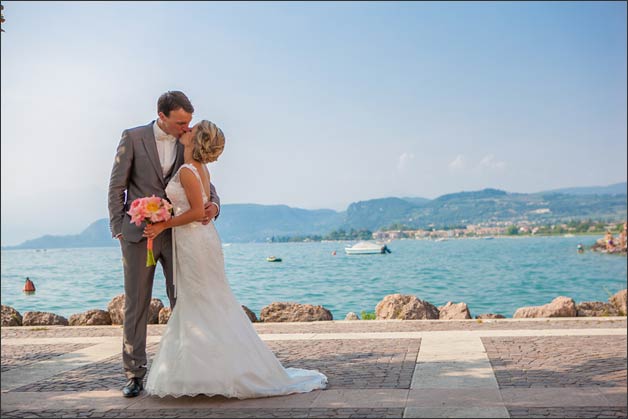 A Relaxing getting ready!
Relaxing days before the wedding with family and friends could be a great idea to set the mood.
An ancient stone house built back in 1700 in a small village few minutes drive from Lake Garda was the perfect solution we suggested Elisa and Thomas.
Hotel is an ancient farmhouse elegantly renewed respecting ancient style.
Rooms overlook hills, ancient village and open wide view. Bride, groom and their guests loved this special corner of paradise.
Motto here is: Relax!
What's better than a Yoga session by the swimming pool for bride and her ladies? And then? A rich Italian breakfast to follow, of course!
With a relaxing mood getting ready could start.
Wooden and stone floors, Verona red marble, traditional wooden furniture… Country venue details added a special touch and create a special happy atmosphere to the moment.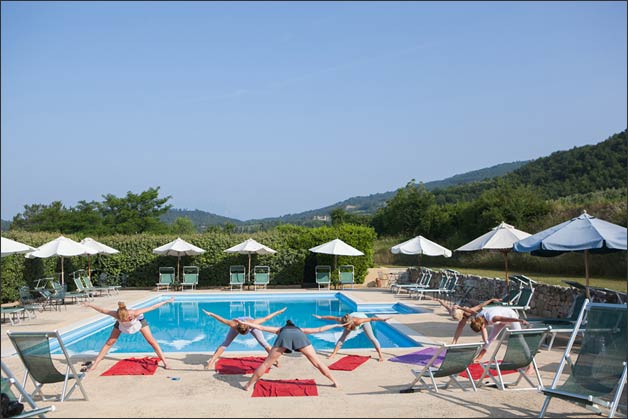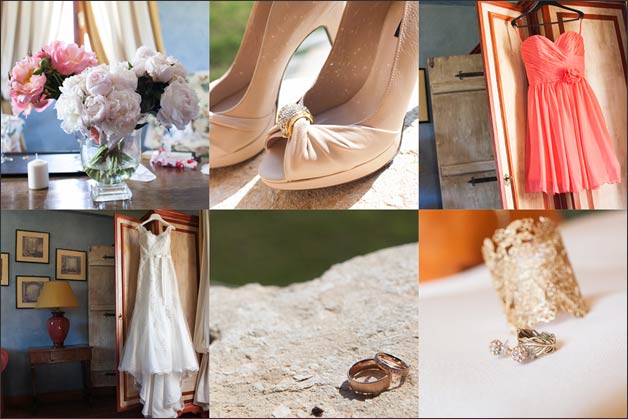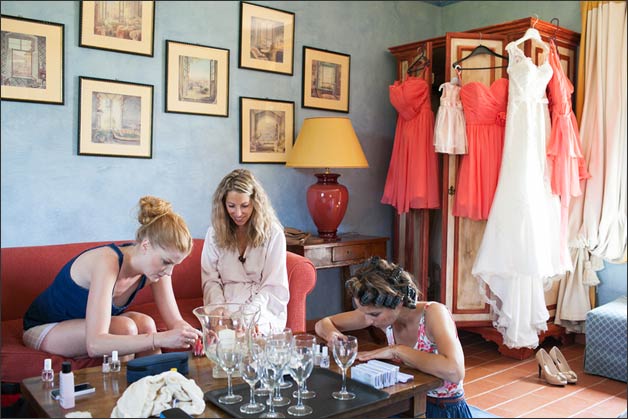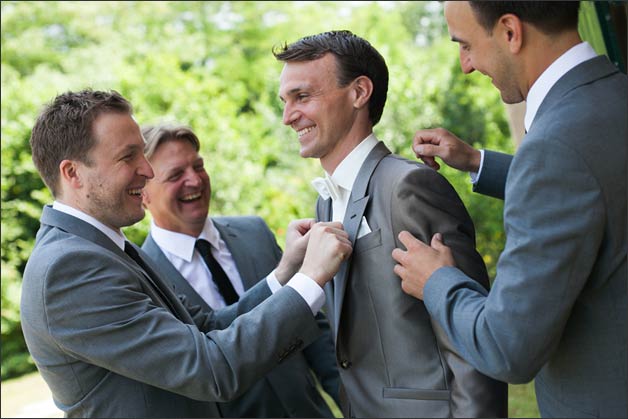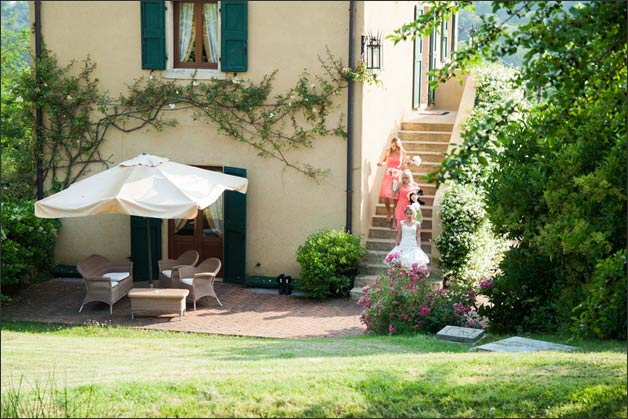 Ceremony on Lake Garda
Elisa wanted a coral themed wedding. Bridesmaids, floral decorations with peonies matched it.
A happy and fun color just like Elisa and Thomas.
And to keep a country theme… Such an original idea!
At the end of the ceremony hundreds of balloons greet the couple before the aperitif by Lake Garda shores.
Balloons are a very original and good idea to create a special happy atmosphere that everybody will love! They are safer than flying lanterns and surely more colourful!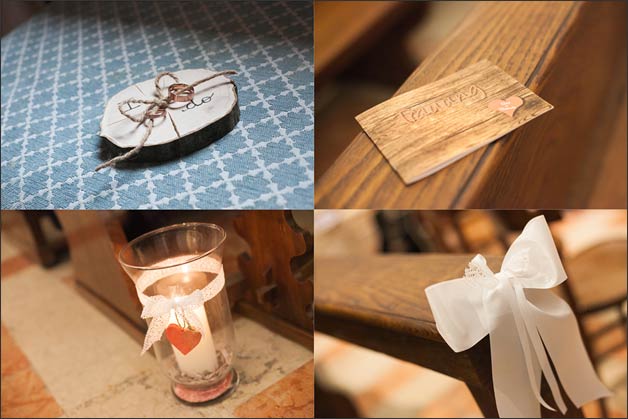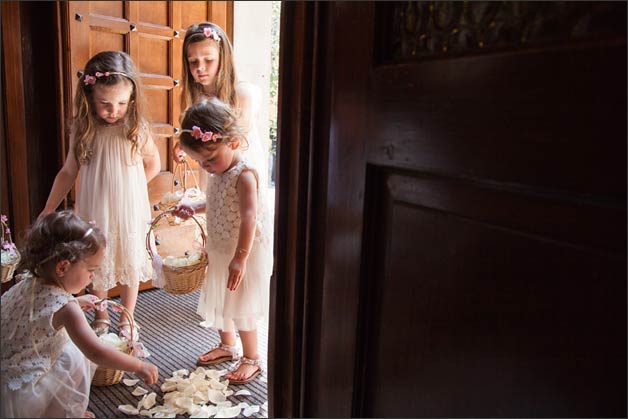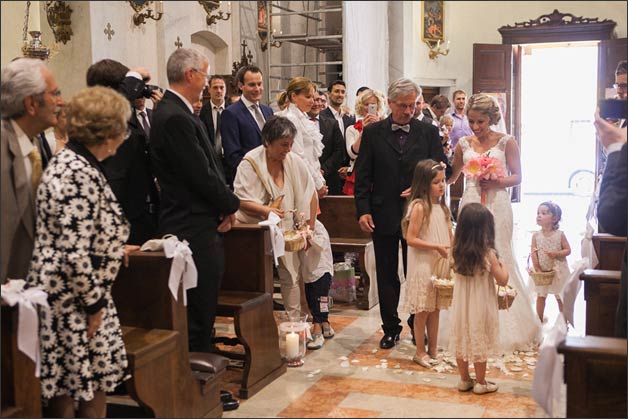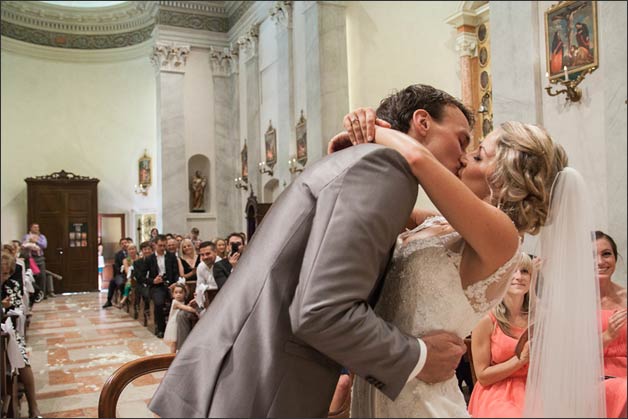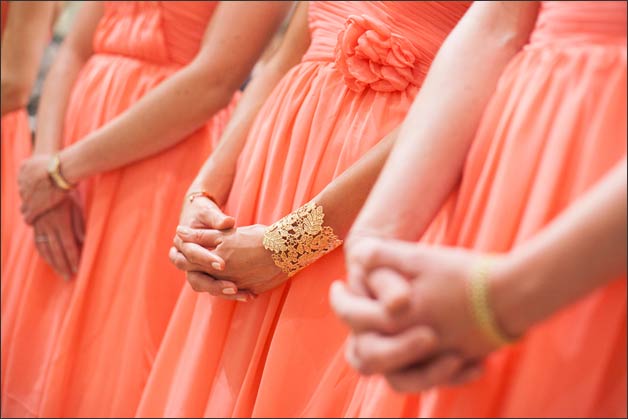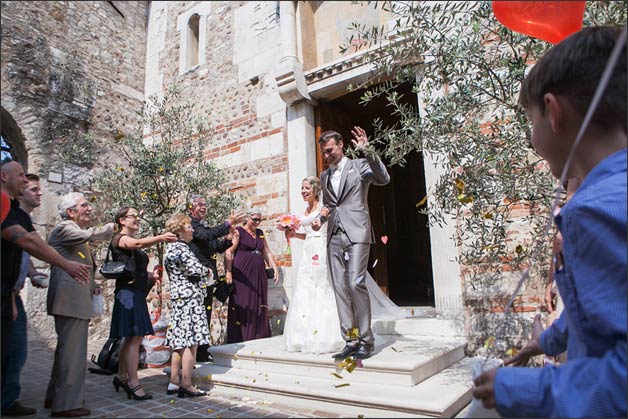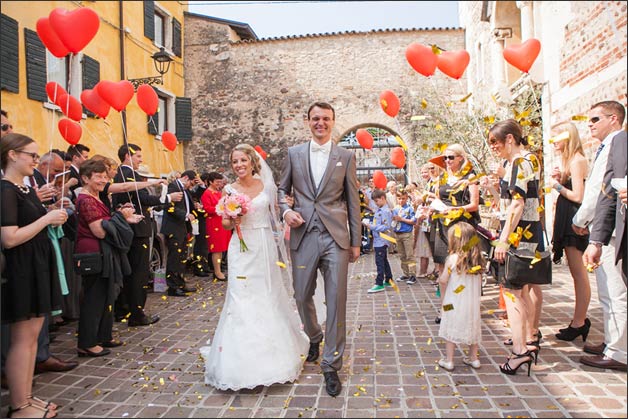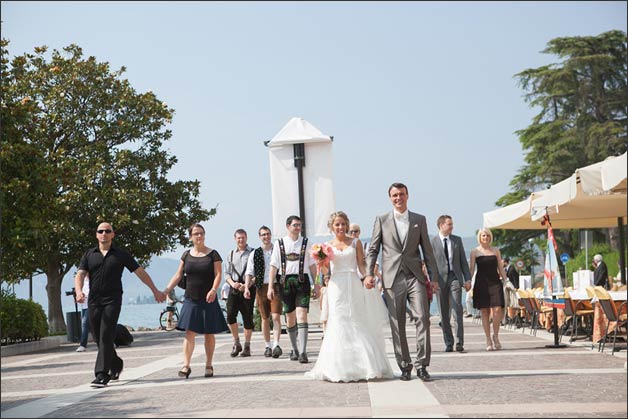 Back to country to let the party started!
Elisa and Thomas got back to their ancient casale where all guests were waiting for them.
They made their wedding entrance through Casale ancient stone wall. Very romantic!
A little courtyard was the perfect frame for a rich and traditional Italian aperitif. Little sofa on the grass and tables for the outdoor reception, created a relaxing and country atmosphere that everybody loved.
Bride groom and their guests tasted wonderful traditional and regional cuisine accompanied by best wines of the area.
On the tables little wood boxes with meadow flowers, coral peonies matching Elisa's color scheme.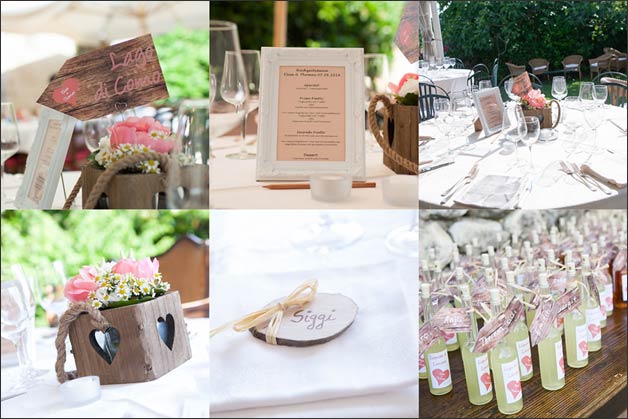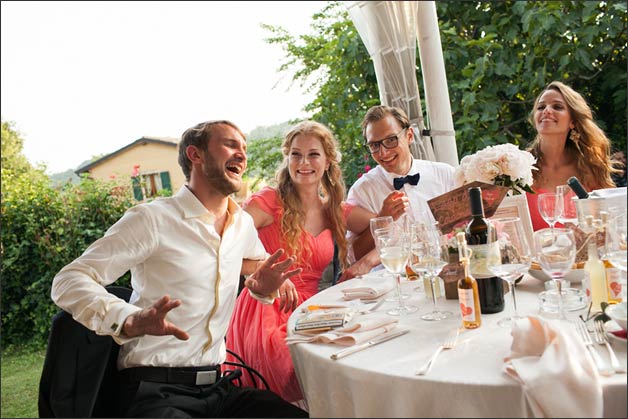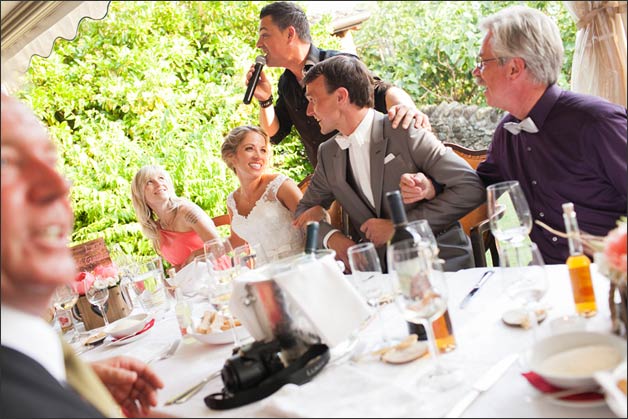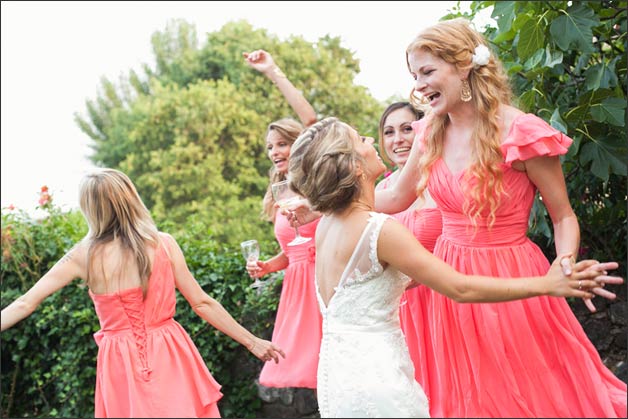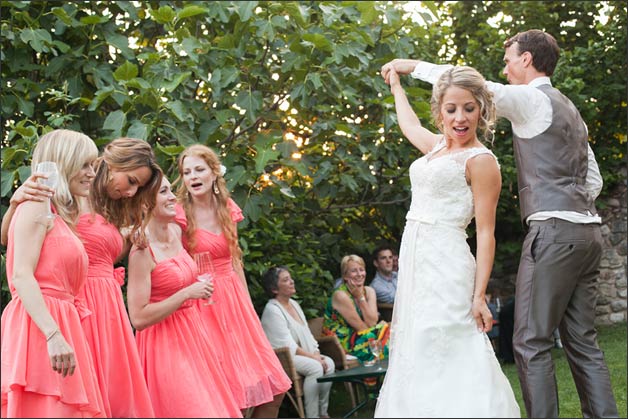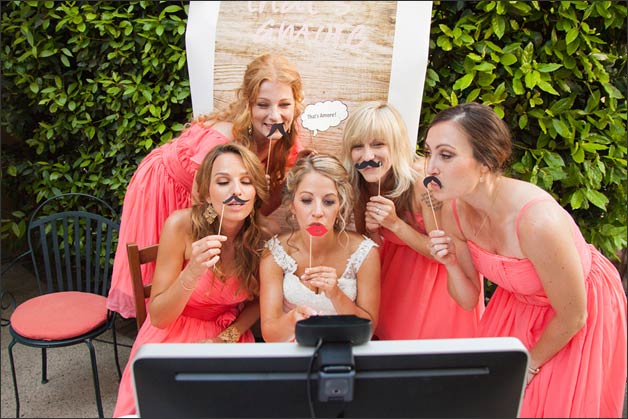 When party does not end with the wedding cake cut…
During the meal everybody, including kids, could move everywhere in the wide country area of this wonderful wedding venue on the hills over Lake Garda.
At the end of the dinner guests walked along a path made of lanterns to reach swimming pool area.
Here we arranged bar and special set for wedding cake cut.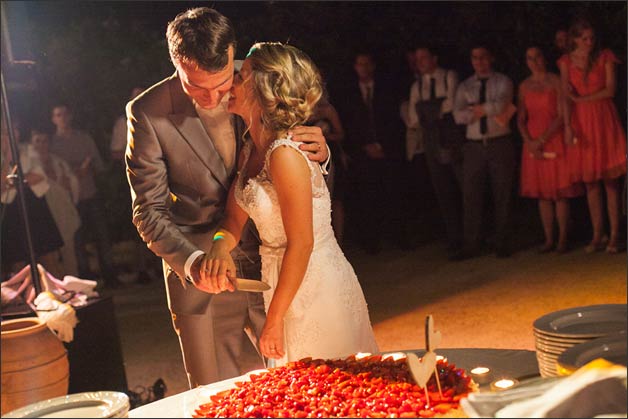 Dances and music up to late with no worries. A fun party for everyone!
A relaxing day in Lake Garda countryside was the perfect way to spend the day after the wedding.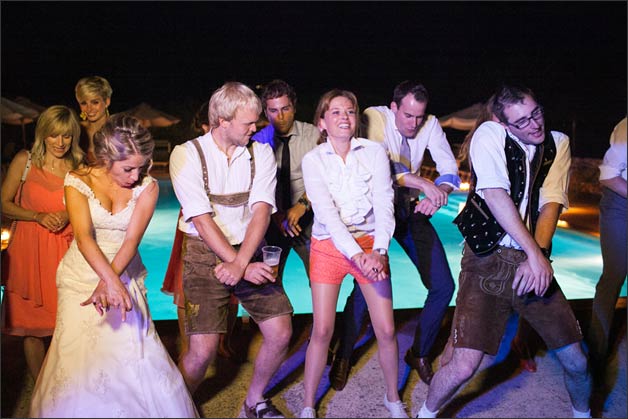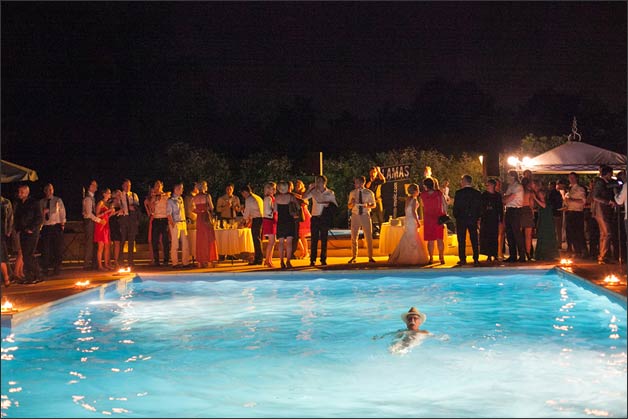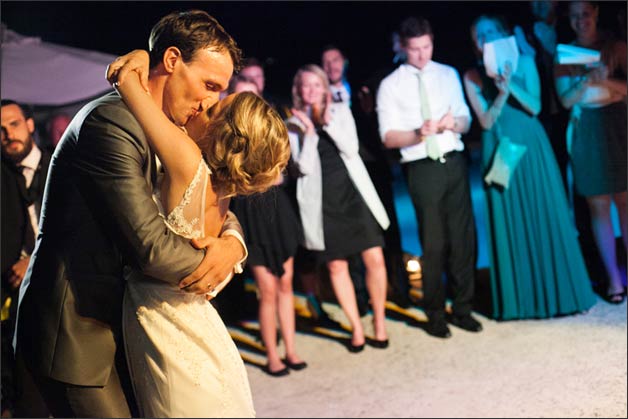 Don't you think this is a perfect way to celebrate a relaxing country day on Lake Garda?
If you just want to do the same just do not hesitate to contact us!
A very special thanks to Sara Peronio by Morlotti Studio Udine