ast June we had the opportunity to plan
an amazing multicultural destination wedding
:
Beatriz and Matthias' one
. Beatriz is Brazilian and her groom came from Belgium. They got in touch with us to celebrate their love on the shores of Como Lake with both families and friends.
Friends came from France, Brazil, Belgium and USA.
This gorgeous blend of cultures gave life to one of the most spectacular wedding party of the season. Just think… all guest arranged a surprising flash mob for the newlyweds!
But let's see all step by step.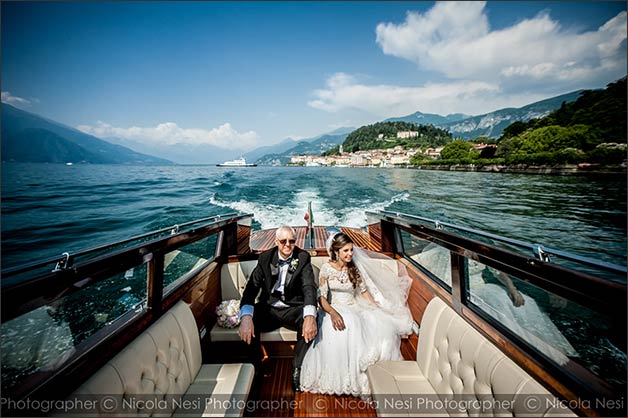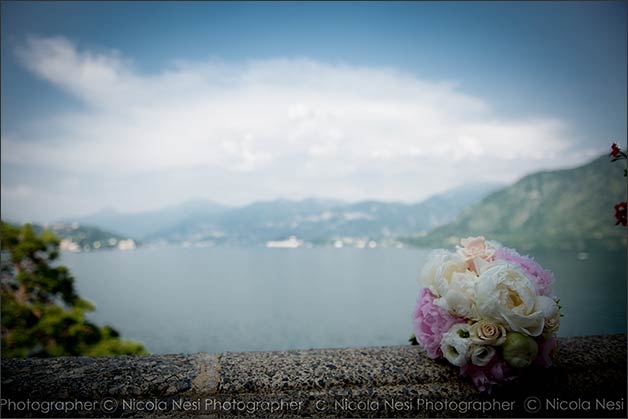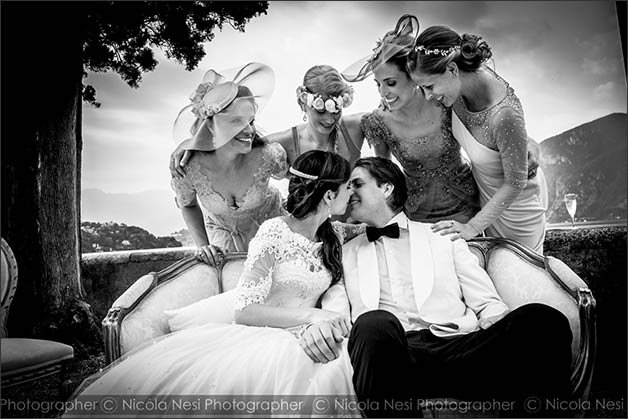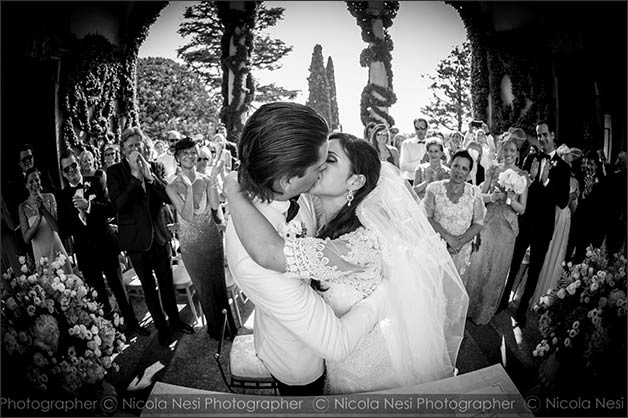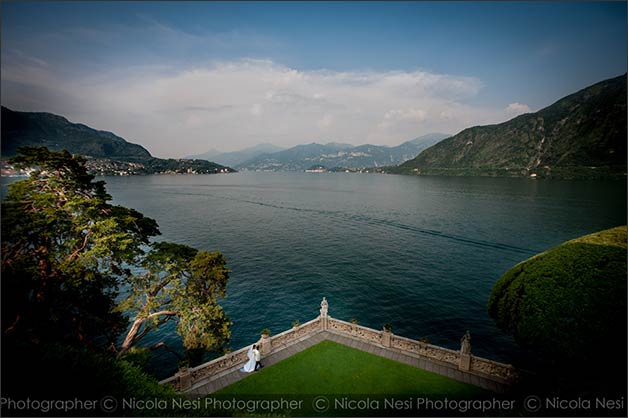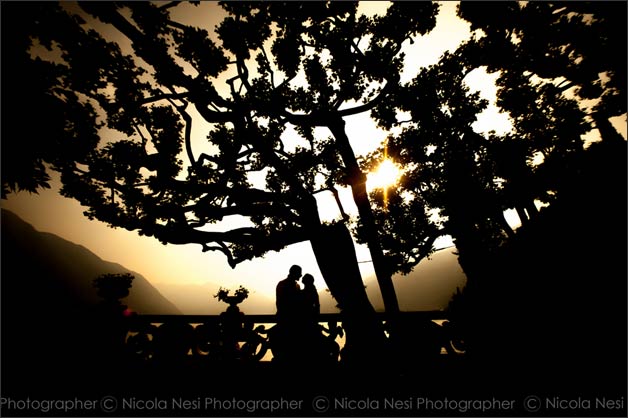 GETTING READY FOR THE WEDDING OVERLOOKING LAKE COMO
For their staying in Italy our couple chose a lake-view Hotel in Bellagio; one of the most picturesque and romantic village on Lake Como.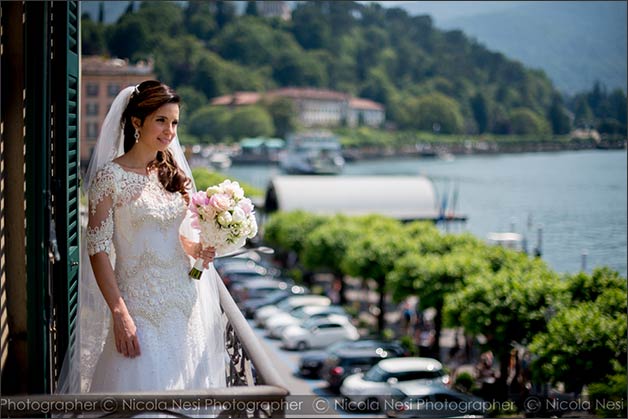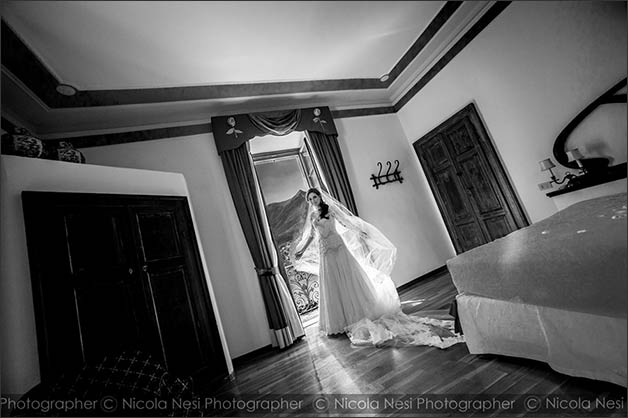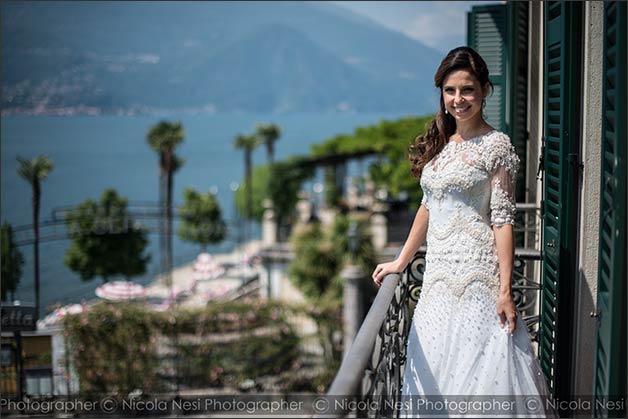 According to the tradition bride and groom got ready in separated rooms and they did not meet until the arrival of the bride to the altar. Beatriz to be was assisted by a professional hair-stylist and make-up artist who took care of her look. Her half up wedding hairstyle worked perfectly with her long lace wedding veil. Beatriz' wedding dress was decorated with pearls and her bouquet was a composition of white roses and white and pink peonies, her favourite flowers.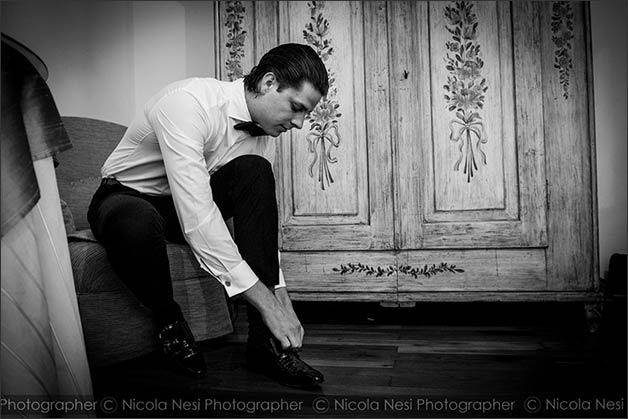 Matthias wore a very elegant outfit with a white jacket and black bow tie. It was perfect to stand out his blond hair and blue eyes.
Once ready, Matthias and guests took a boat to reach Villa del Balbianello, where they would have been waiting for Beatriz and her father coming on a fabulous wooden boat.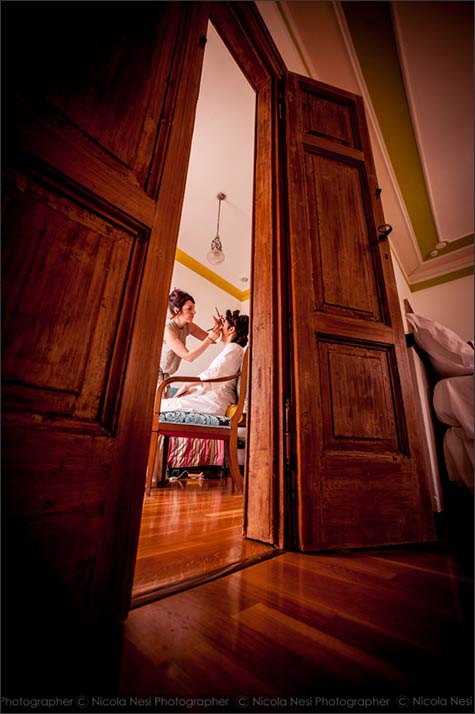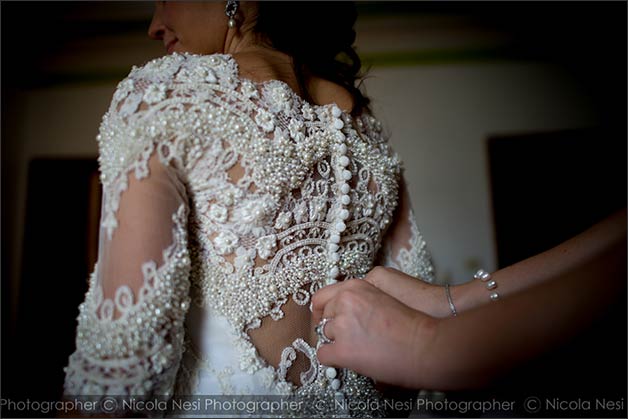 A MOVING CEREMONY AT VILLA DEL BALBIANELLO
It was a beautiful sunny day on Como Lake and the water was calm and shining. At Villa del Balbianello, about sixty guests happily waited the bride in all their coloured dress and hats, a harp player accompaigned the moment and a refreshing aperitif was served.
After a lovely welcome drink guests took their seats in beautiful loggia in Villa del Balbianello richly decorated with white and pink peonies. When Beatriz reached the loggia with her father accompanied by a string quartet, couple's love dream came true for the joy of their family.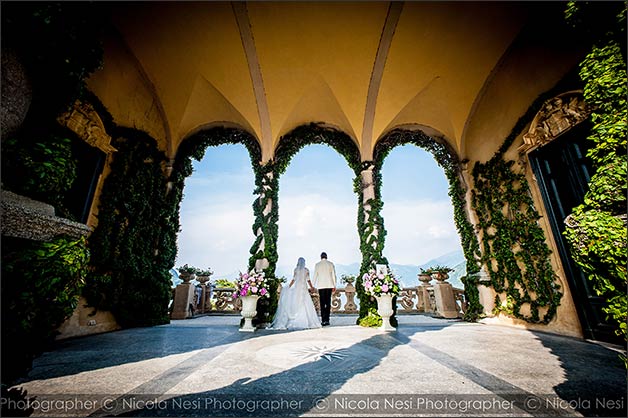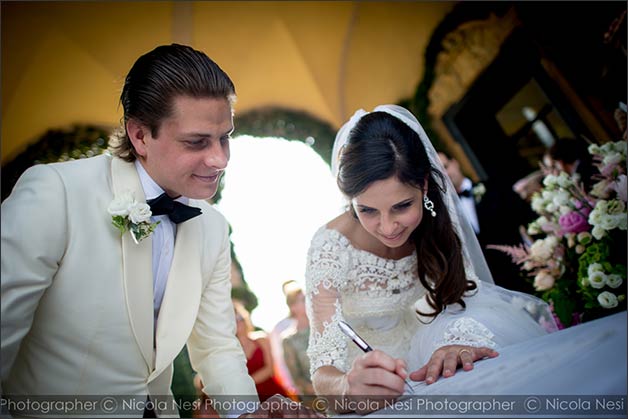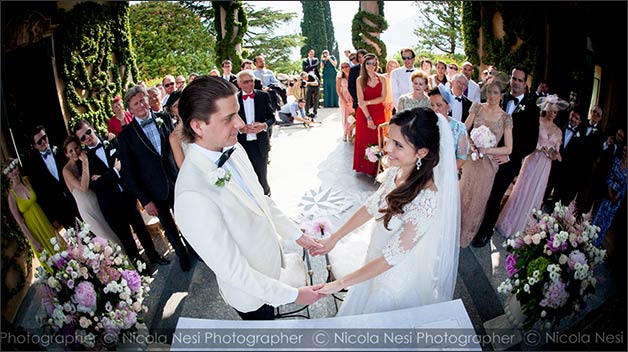 With perfect weather and temperature, newlyweds had a romantic walk in the gardens of Villa del Balbianello. They posed for their photo shooting in front of a stunning sunset. These spectacular pictures are all taken by an exceptional photographer, Nicola Nesi. They will always remind them the dreamy atmosphere of their wedding day!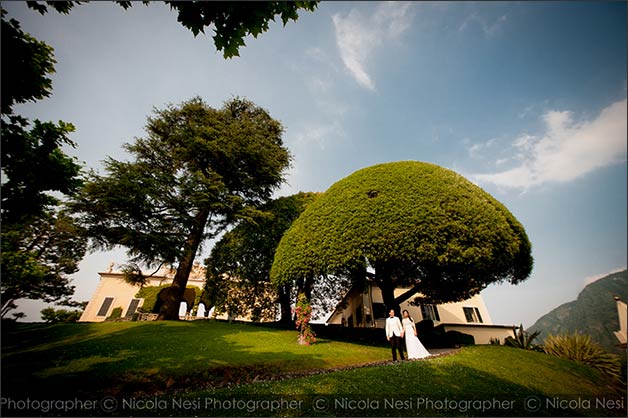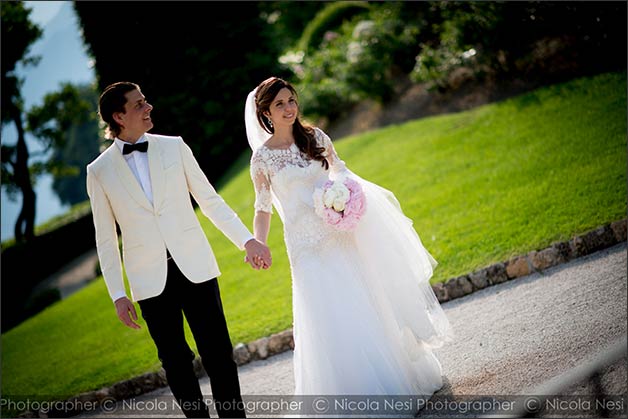 TIME TO PARTY: FUN AND MUSIC IN BELLAGIO
Guests were leave Villa del Balbianello first by boat. They left leave the newlyweds alone for a while before reaching the reception venue, a private Villa in Bellagio overlooking Lake Como.
We arranged for them an intimate boat trip, the first as husband and wife! Once reached Reception Villa, newlyweds found all their friends and relatives ready to party in Bellagio.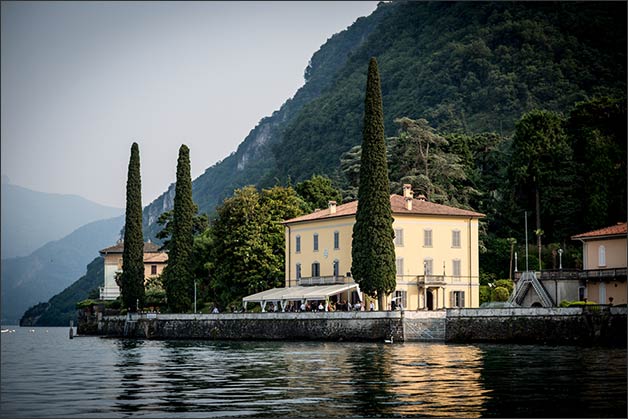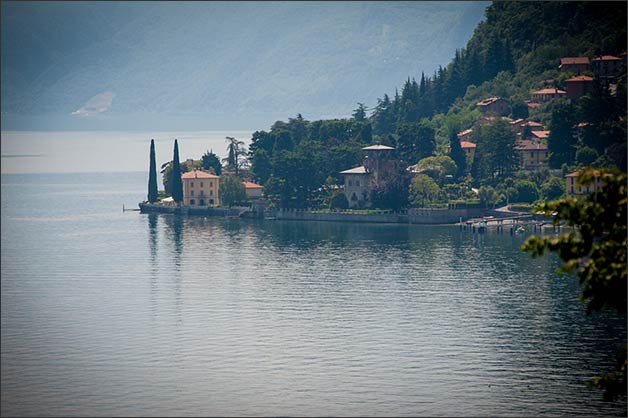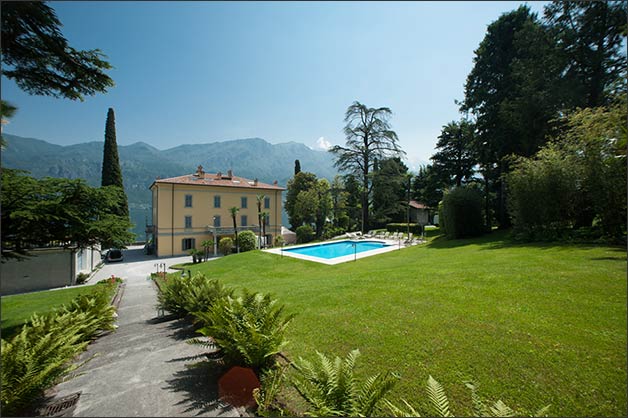 The reception started with a rich aperitif on the outdoor veranda on Lake Como shores, where all the guests could listen to lovely music of saxophone.
It was a perfect moment for Nicola Nesi photographer with beautiful sunset light and landscape to capture a lot of memories.
After the aperitif, the whole group moved indoor for dinner. The Villa was carefully decorated with Florentine- style flower cups and flowers centrepieces for an elegant and exclusive look. Everything was enriched with candles creating a romantic and shabby chic atmosphere in the reception hall.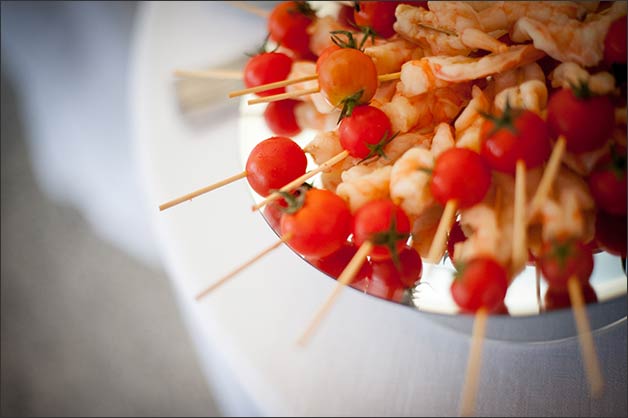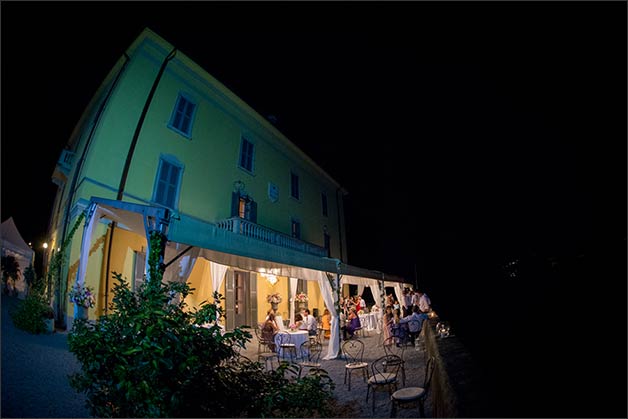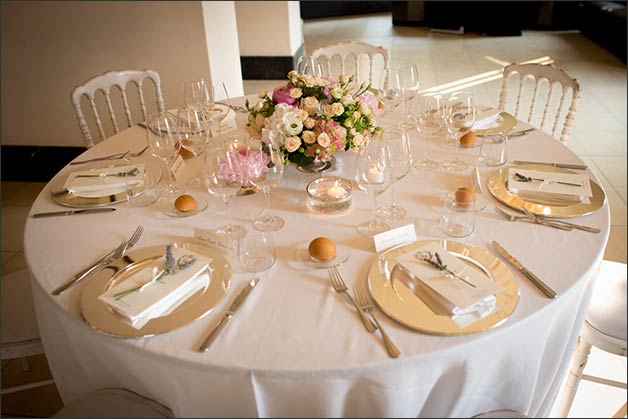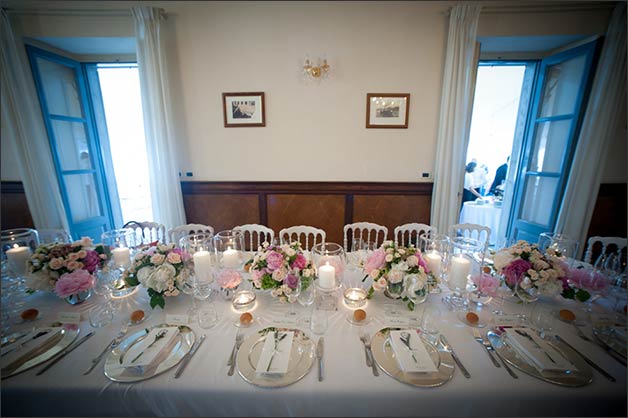 We planned wedding cake cut under a white gazebo illuminated by lanterns and candles. It was the worthy ending of a refined dinner. Speeches were done in different languages: Brazilian, Belgian, French and English. We loved them!
And then…. it is time for fun!
Beatriz and Matthias decided to conclude this wonderful day by dancing until late night with the sound of a great Dj's music, but not before throwing the bridal bouquet!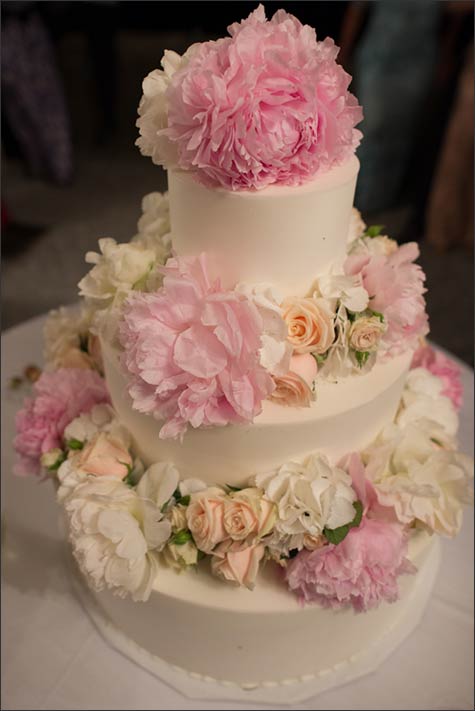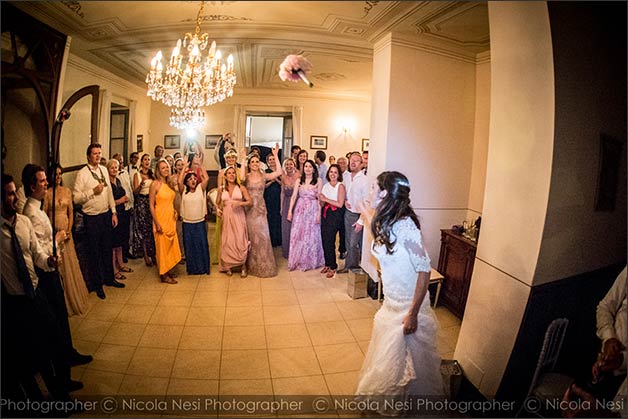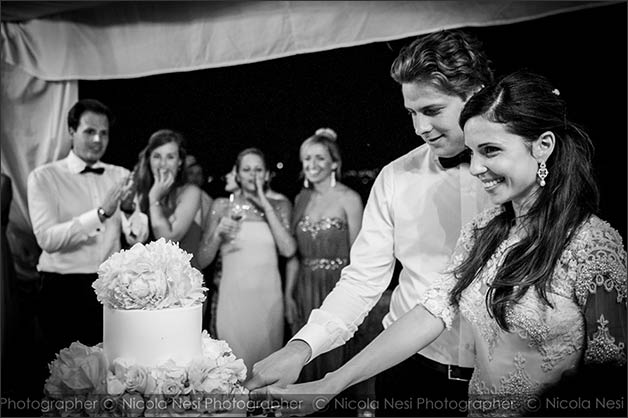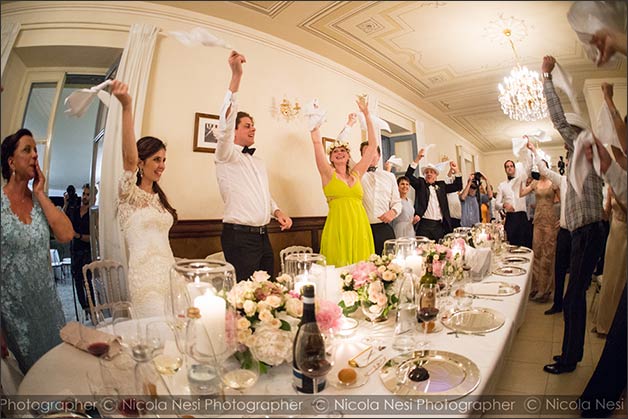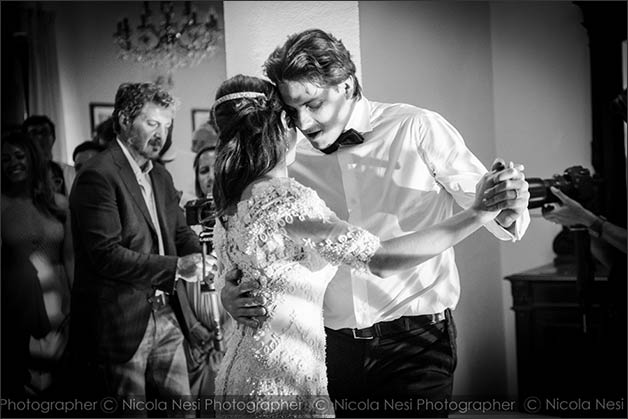 As wedding planners we loved to plan a special day like this for a young and happy couple. We wish them all the best for their life together and, why not? Let's hope to plan the wedding of the lucky girl who grabbed Beatriz's bouquet!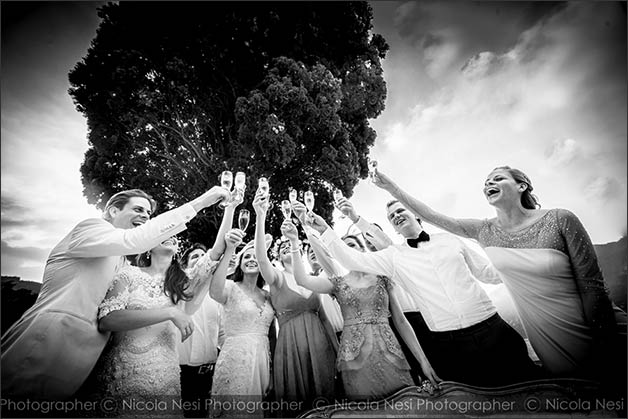 ALESSANDRA AND VERONICA – Lake Como wedding planners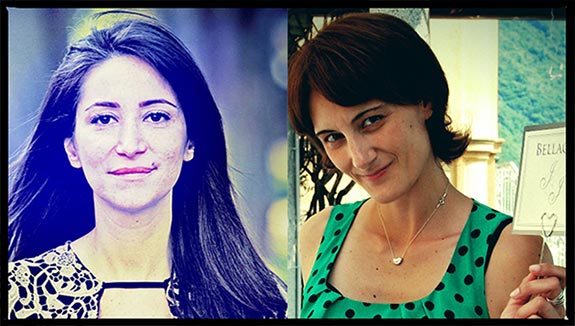 Alessandra and Veronica are the Italian Lakes Wedding's coordinators for lake Como area.
It will be a great pleasure for Alessandra and Veronica to help you plan your wonderful wedding on Lake Como: If your idea of wedding is refined, sophisticated and with a special attention to details, they are your perfect wedding planners! They make each client feel unique and treat each wedding as if it were their own.
With their help, glamour and bon ton will be the main features of your special day while Lake Como will be the enchanting setting. And if you need help in choosing your bridal gown, your honeymoon destination or the most chic wedding favors, just ask them and you'll be surprised by their fervid imagination!
For any information about wedding on Lake Como:
CONTACT ALESSANDRA AND VERONICA