Verena and Phillip talked to me over a year before their wedding in July 2011, they have a holiday home at the Lake and now wanted to get all the beautiful scenery of Lake Como into their big day. 100 guests were invited and all of the came.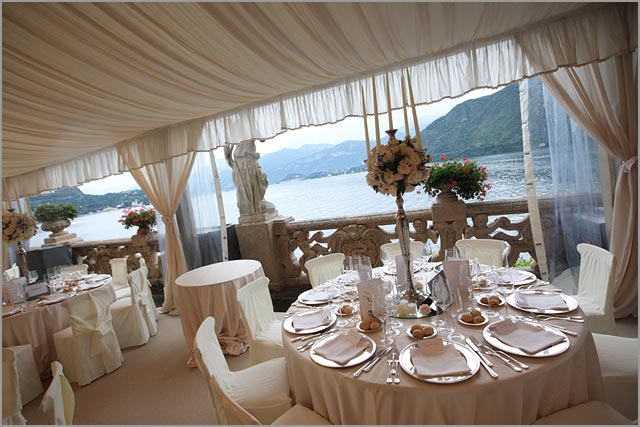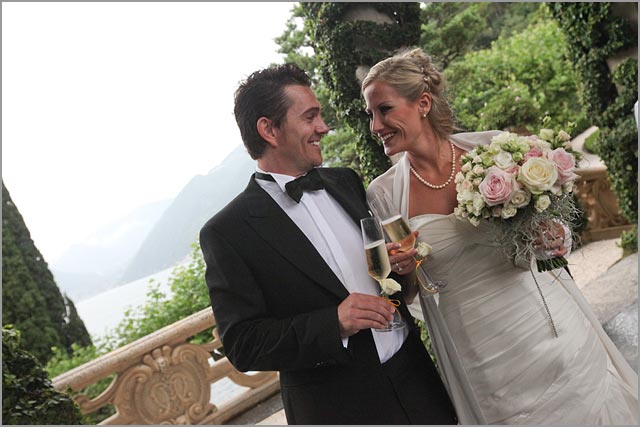 There was no other choice as the famous Villa Balbianello for the elegant and festive wedding dinner in the evening. A white gazebo, one of the best caterer Food Couture, well known musicians from Germany and the United States were organized, a piano was transported to the peninsula, as well as millions of flowers and decoration for the tables, the bar, the wedding cake and so on.
The atmosphere was elegant and festive, but not too formal. The brides dress was a haute couture fashion piece from a designer in Germany. So the flowers had to adopt that festive but not too overdressed style, therefore we choose white flowers in various shades, sometimes with a touch of a light pink or better to say ros�.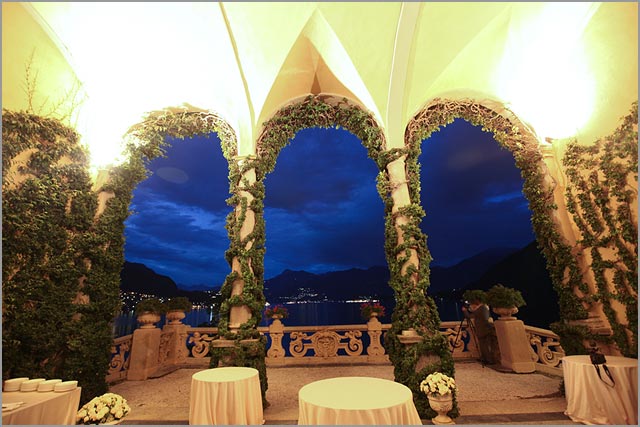 The gazebo had lots of spaces, even when filed with 12 tables each places 8-9 guests. So we used cristall glass chandeliers hanging from the tuffed ceiling and very high standing candelabras filled with flowers on the top. Mixed with small tea lights on the bottom. Even the church was not overloaded with flowers, just some highlights in very light colours creating elements that did not interfere with the general inside of the church in Cadenabbia.
The wedding day was planned exactly down to minutes and we worked with a team of 4 planners and hostesses to guarantee that all worked out as stated in the day programme. What a wonderful day and how tired we were when we got into bed at around 4 am in the morning, tired but very satisfied.
Britta Hartmann-De Marchi is german and therefore the specialist for German, Austrian and Swiss couples coming to the lake Region for getting married.

She herself got married 10 years ago and choose an Italian husband. Enjoying to live here in Bella Italia and coming from 14-years-experience in international advertising and marketing, she liked to change her job into becoming organizer of weddings for german-(and english-) speaking people coming to Italy for their marriage.

Coming from Germany and knowing what to expect in Italy, she is the perfect organizer between bride and groom and the Italian service partners. Correctness, flexibility and a easy hand to plan all details around a wedding make her work very appreciated.

The most emotional part is, when I become almost the best friend of the bride during all the planning time you share with each other. So we both do enjoy the wedding day in its best form and this is important for my work.