Verena und Phillip sprachen über ein Jahr im Voraus mit mir über ihre gewünschte Hochzeit im Juli 2011. Sie haben eine Ferienwohnung am See und so sollte die wundervolle Landschaft des Comersees auch den Hintergrund ihres grossen Tages bilden. 100 Gäste waren geladen und alle kamen.
Es gab keine bessere Wahl als die traumhafte Villa Balbianello, um dort ein schönes Festdinner zu veranstalten. Es wurde alles dafür organisiert, ein weisses Gazebo, eine der besten Caterer Food Couture, bekannte Musiker aus Deutschland und Amerika, sogar ein Flügel wurde auf die Halbinsel transportiert. Dazu ein Meer von Blumen und Dekoration für die Tische, die Bar, die 3-stöckige Hochzeitstorte und so weiter.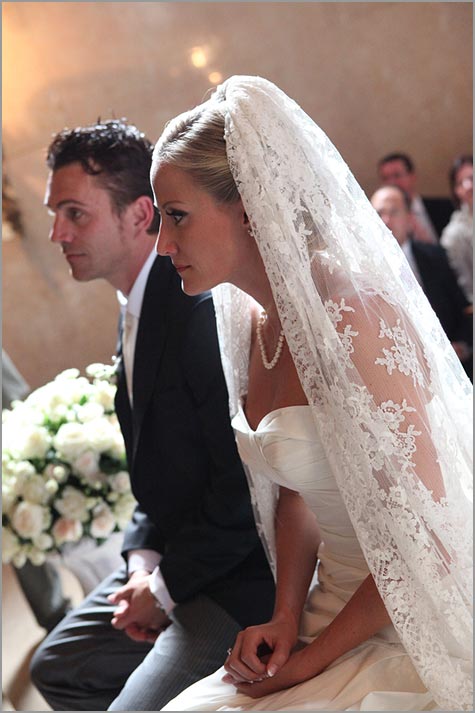 Die zu schaffende Atmosphäre sollte elegant und festlich sein, aber nicht zu steif. Das Hochzeitskleid der Braut kam von einem kleinen aber feinen Designer aus Deutschland. Daher wählten wir einen Mix aus weissen Blumen in verschiedenen Schattierungen und unterschiedlichen Blütenkopf-Grössen, manchmal mit einem Hauch von zartem Rosa vermischt.
Der Gazebo war grossräumig und so wurde die getuffte Decke mit Kristall-Lüstern verziert und auf den 12 Tischen mit sehr hochstämmigen Kandelabern gearbeitet, die im oberen Bereich mit Blumen aufgefüllt wurden. Darunter nochmals kleine Kerzen in Gläsern und Rosenblätter zur Auflockerung.
Auch Kirche in Cadenabbia wurde nicht mit Blumen überladen, nur einige helle Highlights gekonnt in Szene gesetzt, um nicht mit dem schon etwas barocken Interieur zu konkurrieren.
Der Hochzeitstag war genau durchgeplant und wir haben mit 4 Planern und Hostessen den Tag verfolgt, damit alles so wie gewünscht klappte. Was für ein wundervoller Tag; wir fielen dann müde aber doch sehr zufrieden gegen 4h ins Bett.
Britta Hartmann-De Marchi is german and therefore the specialist for German, Austrian and Swiss couples coming to the lake Region for getting married.

She herself got married 10 years ago and choose an Italian husband. Enjoying to live here in Bella Italia and coming from 14-years-experience in international advertising and marketing, she liked to change her job into becoming organizer of weddings for german-(and english-) speaking people coming to Italy for their marriage.

Coming from Germany and knowing what to expect in Italy, she is the perfect organizer between bride and groom and the Italian service partners. Correctness, flexibility and a easy hand to plan all details around a wedding make her work very appreciated.

The most emotional part is, when I become almost the best friend of the bride during all the planning time you share with each other. So we both do enjoy the wedding day in its best form and this is important for my work.