Dear readers,
I would like to introduce my self. I'm Giorgia Caramanti, Italian Lakes Wedding coordinator for Mantua Lakes and Lake Iseo. It will be a great pleasure for me to introduce you my city and its beautiful lakes.
Mantua (or Mantova) is located in the Northern Italian region of Lombardy between Venice and Milan, very close to Lake Garda and Verona.
If you enter Mantua crossing the bridge from the north-east you can see the city surrounded by its three lakes standing like a golden mirage. The city lies on the shores of Lago Superiore, Lago di Mezzo and Lago Inferiore. Unlike the other cities on the lakes in the North of Italy, it is on the open plain, and its trio of lakes is actually a glorified widening of the river Mincio that makes Mantua resemble a small inland Venice.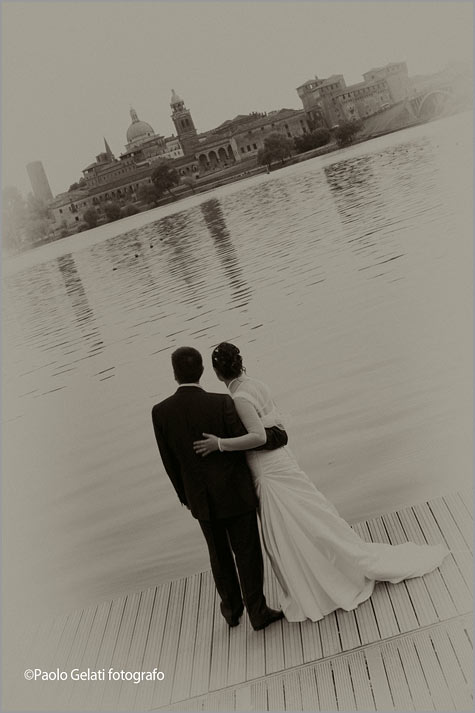 In 2008 Mantua together with the near Sabbioneta (30 minutes by car) became UNESCO World Heritage Sites based on their Renaissance planning and architecture. Mantua is a little lost paradise with red-tiled roofs, brick walls, high palazzos, towers and its castle. This is a unique and romantic setting for a very special wedding. Bride and groom may think to be going back into the past of our wonderful Italy and their guests will love this fascinating atmosphere.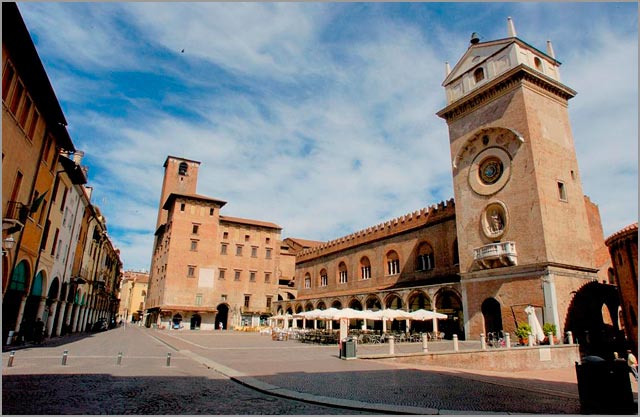 From Mantua Lakes, you can take some scenic boat excursions, including trips to Venice. Moreover, the city near Verona (30 minutes by car) and Garda Lake ( Peschiera – 40 minutes by car) and thanks to its position, it is an ideal starting point to visit Parma, Bologna, Venezia, Milan and Florence. 
Civil Weddings are held in the Wedding Halls (Sala degli Stemmi e Sala Consiliare) and in the beautiful Palazzo Te, a suburban impressive stately home, one of the loveliest and most famous of the 16th century, constructed for Duke Federico II Gonzaga by Giulio Romano, Pupil of Raphael, the greatest artist of the late Renaissance movement.
We can also recommend other places in or near Mantua, where civil, catholic or symbolic ceremonies can be held such as villas, palazzos, convents, parks, agriturismi, theatres. We will recommend the best venue to suit your wedding dream, we will help you step by step in your destination wedding planning. Our aim is to carefully sew together a tailor-made event that, reflects bride and groom's individual tastes and characteristics. With this vision, we are able to satisfy those who are looking for something elegant and refined or those who prefer something original and surprising.
We care for the wedding reception with high level food. Mantua has speciality food products and a superb cuisine with ancient roots, a great heritage handed down from the Renaissance court of the Gonzaga family, and subsequently refined and enriched over time to the point that today our specialties feature on the menus of the best Italian restaurants.
The most famous dishes are Tortelli di Zucca (pasta with pumpkin filling) and Risotto alla Pilota (rice with sausages sauce). Last but not least wine is excellent in the nearby. The Colline Moreniche, like Valpolicella and Lake Garda areas are fine wine regions renowned for their culinary traditions and superb extra virgin olive oil. We organize wine tastings which allow you to sample the best wines combining them with typical local cuisine in the best cellar of the area.
Keep on following our blog because soon we'll tell you about some gorgeous weddings on the lakes of Mantova and its countryside, including a charming eco-wedding along a river in the Parco del Mincio.
Stay tuned!