The Candy Table in Italy
The confettata is a typical Italian tradition during weddings. Bride and groom usually offer a confettata to their guests, that is a buffet full of confetti… but what are Italian confetti?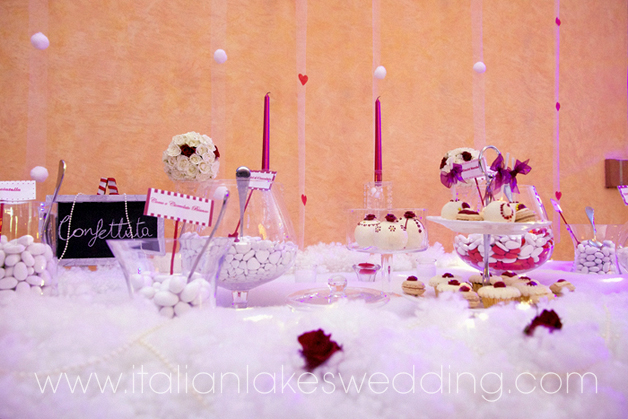 In Italy Confetti refers to whole almonds in a sugared shell. Confetti is the traditional gift given at family celebrations, such as baby showers, weddings, graduation, anniversary and other festivities.
There is a colour code: White for the Wedding, the First Holy Communion and Confirmation. Pink or blue for the Baptism. Green is for Engagement. Red for Graduation. Silver for 25th wedding anniversaries. Gold for 50th year of marriage. 
Today, in addition to the classic sugared almond there is a wide choice of gourmet confetti, filled with high-quality Italian chocolate or other flavored cream. The different flavors are punt in different vases or containers on a buffet table.
The Italian Confettata
Thanks to influences from overseas, the Italian Confettata has been recently redisegned adding  new elements.
The latest trend in a private event like a birthday party, wedding, baby shower or anniversary is a scenographic sweet space decorated with cupcakes, macarons, biscuits, candies, marshmallows and  of course Italian confetti in vases, mugs, little plates and cake stands.
Guests can serve themselves a with a special spoon, tasting the various sweets. They can put them in a small bag or in a paper cone to taste them right away or at home.
The candy table backdrop , if well prepared, is quite amazing  to surprise the party guests.