One of the most beautiful weddings I worked on was Victoria and Daniel's one last year. Victoria herself talked about it in a post she wrote for Italian Lakes Wedding site.
It is with pleasure that I come back talking about Victoria and Daniel's wedding just in occasion of their first anniversary. I still recall the real satisfaction I felt for that event as floral designer.
On my website www.lapiccolaselva.it you could also see Victoria and Daniel's photo gallery realized by Felix Segovia coming from Madrid.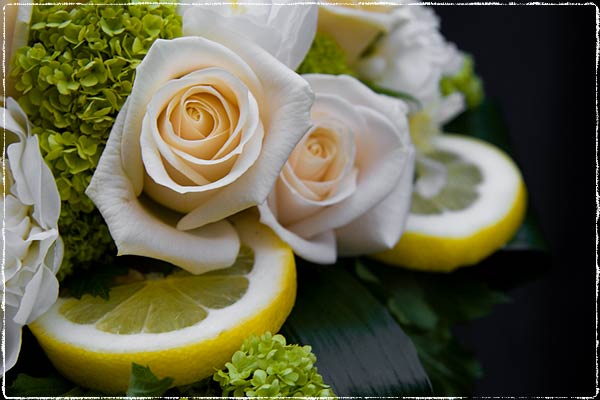 Victoria is an kind English girl, very nice and simple. She is literally in love with Italy and its lakes. This was the reason because she choose to organize her wedding in our lovely country. It took almost a year, traveling across all lakes to take the final decision for her destination wedding. At the end she picked up Lake Maggiore.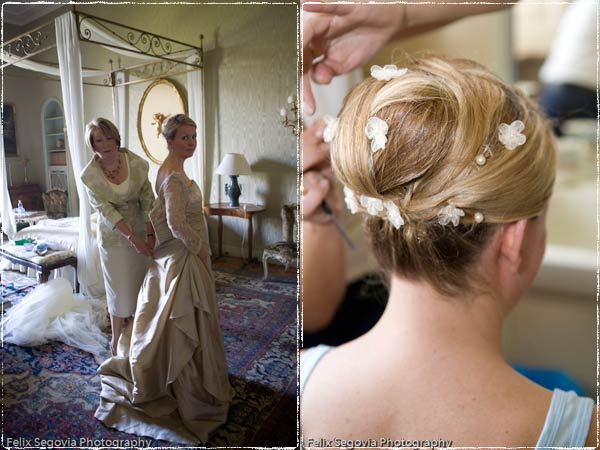 Religious ceremony was held in San Martino church in Lesa, a tiny village on Piemonte side of Lake Maggiore, between Stresa and Arona. San Martino church is beautiful cosy and intimate and it is just few steps from the lake.
.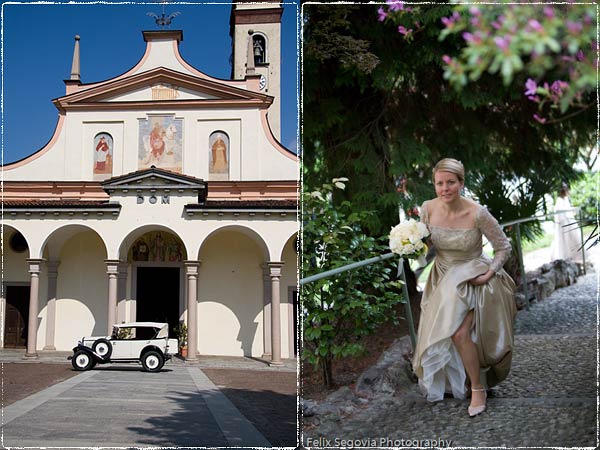 Villa Muggia was elected as reception venue. It was simply stunning! Villa's park was embellished with all spring blooming that bridegroom and their guests really loved. Villa Muggia 's park is full of azaleas and camelias. These are all lake plants that are exceptionally beautiful in Spring.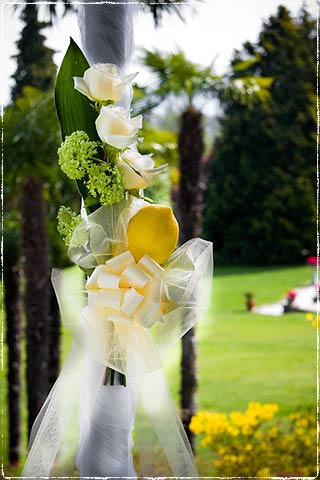 As floral designer I would like to tell you the most importan part as far as my job is concerned of Victoria and Daniel's wedding: floral arrangements!
From the very first meeting Victoria was really decided on her wedding theme. She wanted a solar theme that really could recall Italy.
So we choose together LEMONS as main theme of the wedding. I think Lemons could be the right element for all that Victoria was looking for!
Since the color theme was really strong, I decided to smooth it a little in order to match wedding feeling of such a wonderful day.
I suggested Victoria some pastel colors she agreed with me.I picked up Vendela roses and peonies. I love peonies they make me think about vintage style, romanticism, Belle Époque, fascinating ages and elegance.
This flower is really delicate and it has a limited blooming period: April/May until mid June. Of course nowadays we can have flowers like this in every single period of the year, but consider that ordering them out of season could be very expensive and most of all the flower itself will last for very few time. Peonies cannot stay for long time under summer sun and in just 2 hours they will be totally burned.
At the end Victoria had her Lemon theme wedding with cream peonies and Duchesse de Nemours roses that have a light yellow shade on. This was all integrated with light green of Viburnum that was the real trait-d-union among all the elements.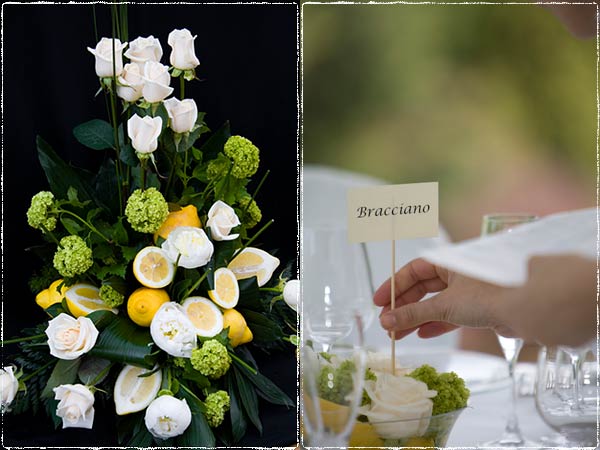 As for the big church compositions and aperitif tables arrangements I used entire lemons or cut ones to play with different shades of their color, from darker shades to lighter ones inside the fruits.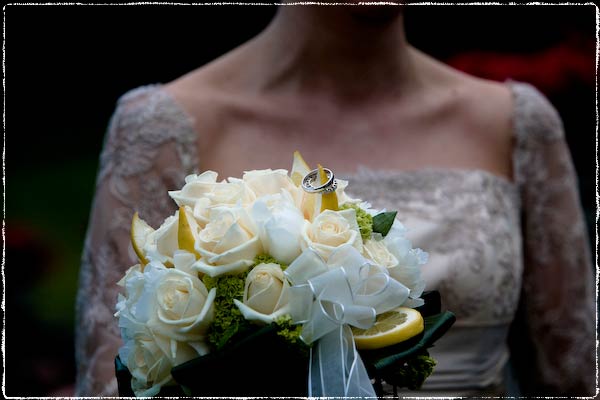 Bouquet decoration was the most difficult part. I cut lemons in different dimensions and inserted them on several tiers and positions. They had to be seen in the entire floral arrangement. I paid a lot of attention creating it, considering that it had to be made just few moments before the ceremony in order to keep fresh every single element of it. Lemons needed to be fresh and colored until the end of the ceremony and the event!
Last but not least centerpieces! Considering Victoria wanted her reception outside under the wonderful marquee in Villa Muggia garden, I opted for two simple and informal decorations that could match the atmosphere. I choose some short glass vases with water in and floating candles and lemons to match church decorations and most of all bridal bouquet. A minimal style centerpiece that had a lovely effect. This kept the budget lower with respect of another kind of arrangement. This is something we need to consider too!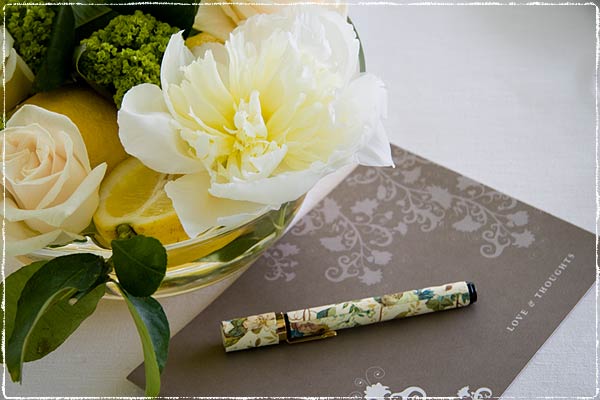 When I think about Victoria and Daniel's wedding, after almost a year, I really believe that was my milestones as floral designer. A real challenge that made me proud of my job! This is the reason I wanted to share it today with you.
Our best wishes for their first anniversary to Victoria and Daniele!
Monika Andenmatten is La Piccola Selva's floral designer. Based in lake Orta, has worked with brides for over 20 years to create floral arrangements for weddings in the Italian Lakes district.
For more information about weddings on Lake Maggiore please contact us.