As we promised, Alessandro Ambrosetti photographer put on disposal full Sandra and Mirko's wedding PHOTO GALLERY, the wedding where I worked as floral designer. In today's post I'm pleased to show you some of the photos I just love.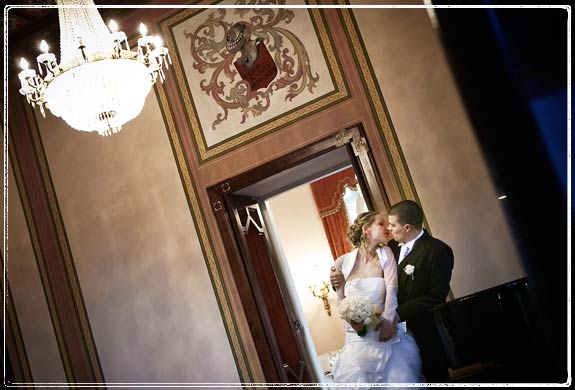 I start with this wonderful shot taken inside Castello di Miasino, the venue bride and groom choose for their reception. A perfect combination of elements: bright chandelier and the big coat of arms on the wall behind loving bride and groom. This is for sure a first prize photograph! Very good Alessandro Ambrosetti!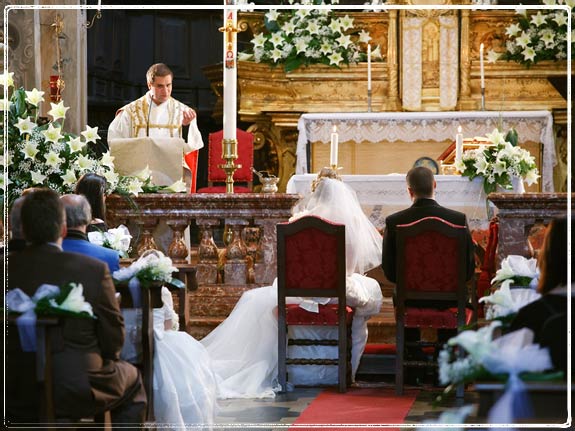 Sandra and Mirko are a young italian-german couple who choose Lake Orta as their wedding destination. Religious ceremony was held in Orta San Giulio village inside the lovely church of Maria Assunta. Bride opted for a classical floral arrangement choosing just a main flower: big Lilyum Longiflorum with simple Aspidistra leaves and Gypsophila.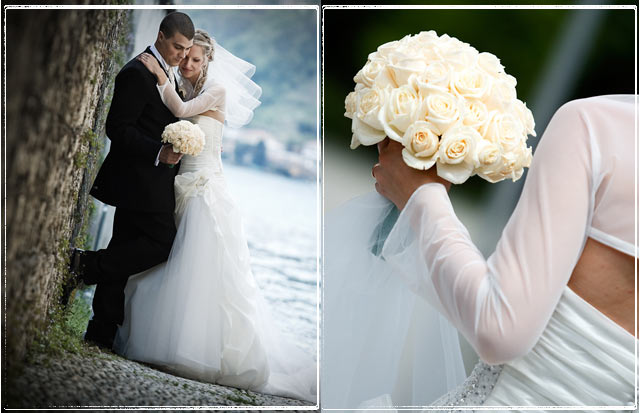 Following bride's wishes, I created for Sandra's bouquet: a round and compact shape using Avalanche roses without any other greenery except for Gypsophila on the basis. Just a trendy style, what brides are looking for, now. Thanks to beautiful day, after the ceremony Sandra and Mirko took a walk in tiny Orta village roads and lakeshore, the perfect frame for magic wedding pictures.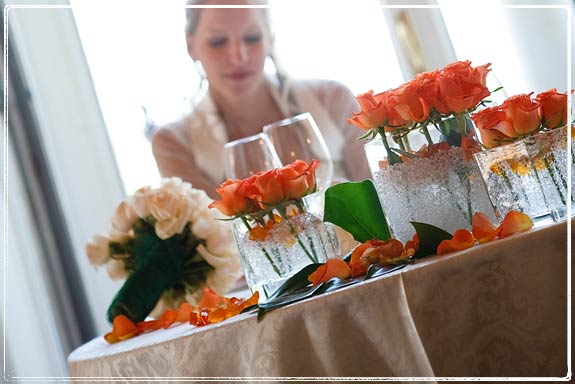 Orange was the main color for the reception to Castello di Miasino. A solar and happy color, one of the most requested for summer 2009. I created glass cubes centerpieces with floating roses and gel crystals, adding some spread orange rose petals on the tables.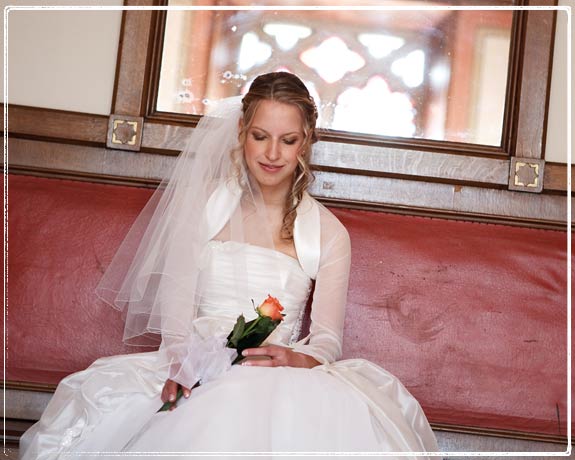 These are just some of the most beautiful photographs that Alessandro Ambrosetti put on disposal. I warmly suggest to visit full Sandra and Mirko's PHOTO GALLERY where skilled photographer tells the whole story just spontaneously! it is a real must!
Monika Andenmatten is La Piccola Selva's floral designer.
Based in lake Orta, has worked with brides for over 20 years to create floral arrangements for weddings in the Italian Lakes district.

For more information about wedding flower arrangements on Lake Orta and Lake Maggiore please contact us.