Big hydrangeas flowers were the main characters of Dana and Nicola's wedding on Lake Orta.
We have already given a preview of this event on our Just Married section.
Waiting for Enrico Mocci's entire photo gallery I would like to spend few words on Nicola and Dana's wedding floral arrangement.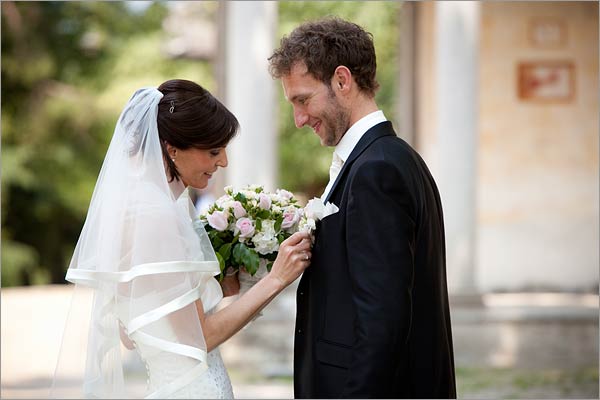 Nicola and Dana's color scheme varied from pastel pink to cream with the frame of big hydrangeas flowers.
Hydrangeas are simple but elegant flowers. They are very local on lakes. You can find many here thanks to climate and soil.
Hydrangeas are ideal on a summer wedding. They can match every situation: open air, garden receptions or romanic or baroque churches you can find on lakes region.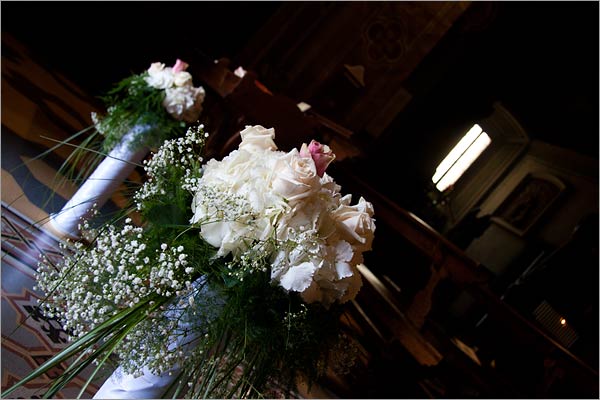 The religious ceremony was held in Sacro Monte church on top of Orta hill overlooking the lake.
For this occasion I created a white hydrangeas based arrangement with some cream and pastel cream roses adding some greenery too.
Have a look to the floral columns I created to embellish the main aisle heading to the altar.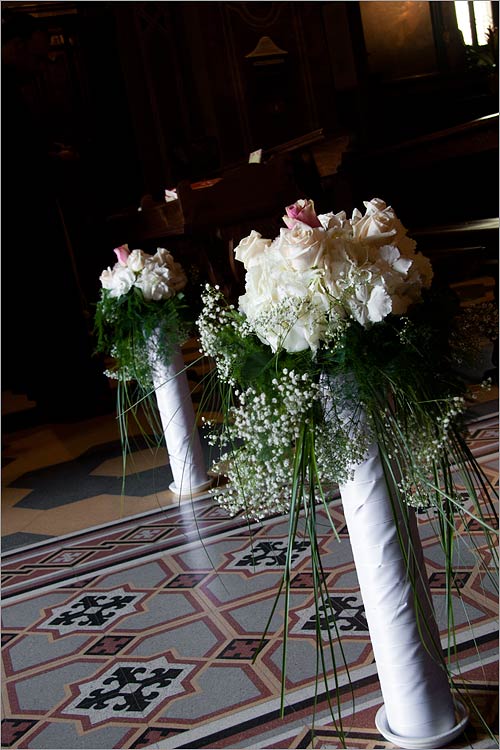 Dana chose a round shape for her bridal bouquet.
It was made of pastel pink roses on a base of white hydrangeas and falling Ficus Benjamin leaves.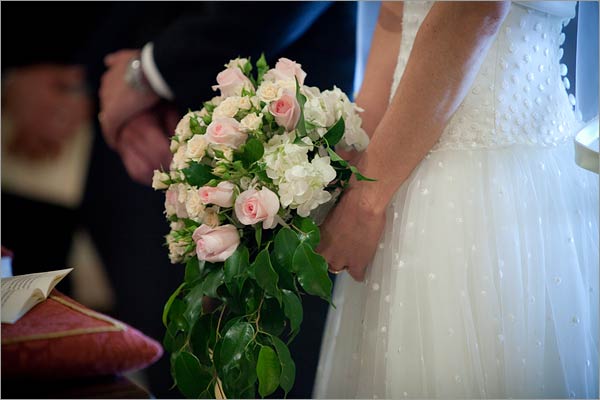 She wanted the perfect bouquet for her wedding dress.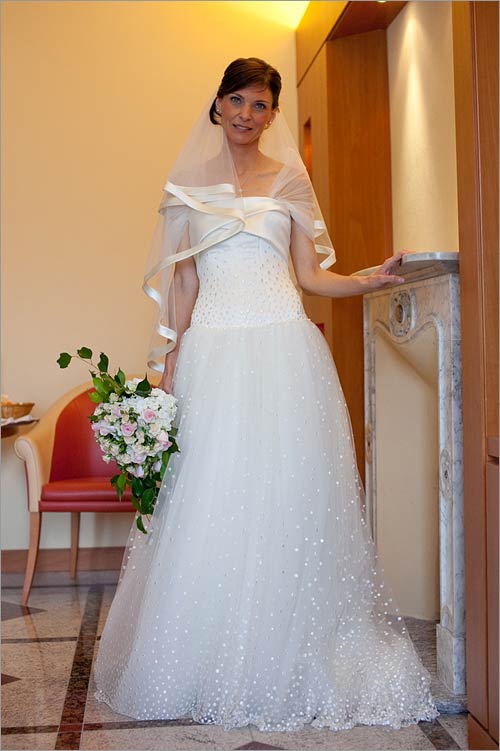 Wedding reception was held to St. Julius Restaurant on St. Julius Island.
Table arrangement was very pretty. I used three different shapes of glass vases to create a elegant and pleasant effect.
For the top table I opted for a a little variation.
I placed a base of glass with water and crystal inside. I added then two little bunches of flowers facing one another as a symbol of the unity of newlyweds.
As floral designer I loved work and build with Dane and Nicola floral arrangement for their wedding. Day after day, decision after decision we reach a great result that you can see in this post.
We will come back speaking about this lovely couple to enjoy their wedding photo gallery.
Do not miss it!
Monika Andenmatten is La Piccola Selva's floral designer.
Based in lake Orta, has worked with brides for over 20 years to create floral arrangements for weddings in the Italian Lakes district.
His wedding arrangements are creative, elegant and sophisticated. Monika will be able to help you choose how best to incorporate floral design into your wedding celebrations. From the initial consultation to the wedding day, she will make your wedding flowers truly an expression of your dreams.
For any information about wedding on Lake Orta please contact us.