planned several weddings at Villa del Balbianello but for sure this one was the most unique: a
Star Wars themed wedding on Lake Como
! I planned it for a fantastic couple from
Norway
:
Hilde and Jean Erik
.
I'm going to tell you all! details!
Hilde and Jean Erik are sure great Star Wars movie fans, and all their guests were too. Now, if you do love Star Wars saga too, you can imagine how a wedding at Villa Balbianello could be exciting for them!

The combination of Villa del Balbianello and Star Wars passion couldn't be more dreamful and extravagant. I was really excited to plan star wars wedding on Lake Como!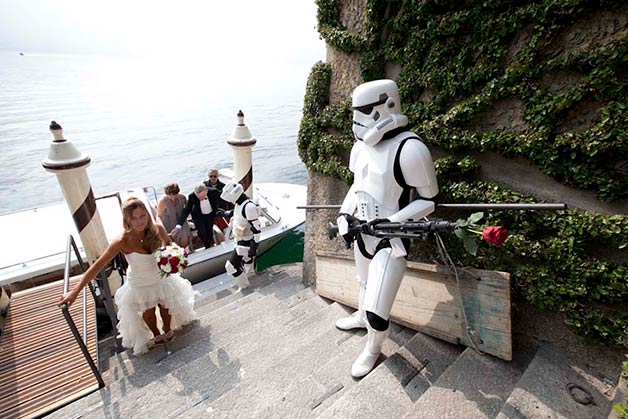 Anakin Skywalker and Amidala Star Wars Wedding on Lake Como
For sure all Star Wars fans remember that Villa del Balbianello was one of the sets of famous Star Wars Episode II – Attack of the Clones.
 You surely know that Villa Balbianello was named Lake Retreat in the movie and is the venue Padme and Anikin Skywalker hide while Obi One Kenobi tracked down those responsible for attempting to Amidala's life. 
But most of all for our story, it is where Anakin Skywalker and Amidala's secret wedding took place.
Hilde and Jean Erik wanted to plan their wedding ceremony right on the same famous terrace… a breathtaking vie for memorable day!
All guests were so excited and they still couldn't believe that this Star Wars themed wedding on Lake Como was really happening.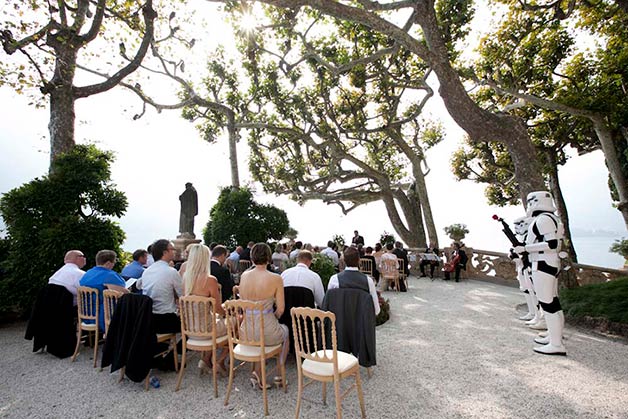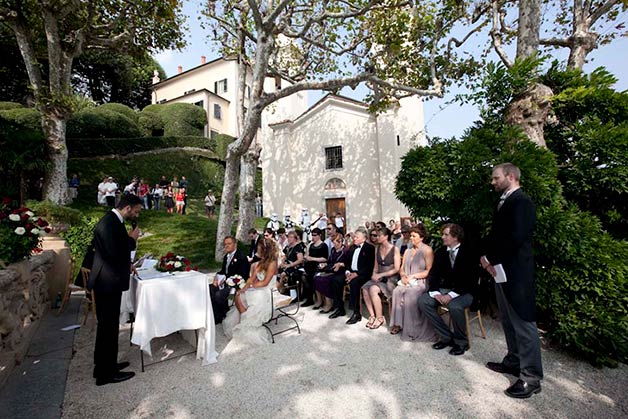 A Wedding surprise on Lake Como
This part of the story is for sure one of my favorite! Hilde and Jean Erik selected a very special bridal party. They did not chose the usual bridesmaids and groomsmen. They opted for three Star Wars movie characters! Yes, they did it! Have a look in these amazing pictures taken by Morlotti Studio. Aren't they fun?
Side of the bride and groom they been the main characters of this amazing Star Wars wedding on Lake Como. They really gave a special touch to the event.

All the guests couldn't wait for taking a selfie with them! Their presence created a lot of echo at Villa del Balbianello and people in the villages close by. There are some people that are still talking about that now!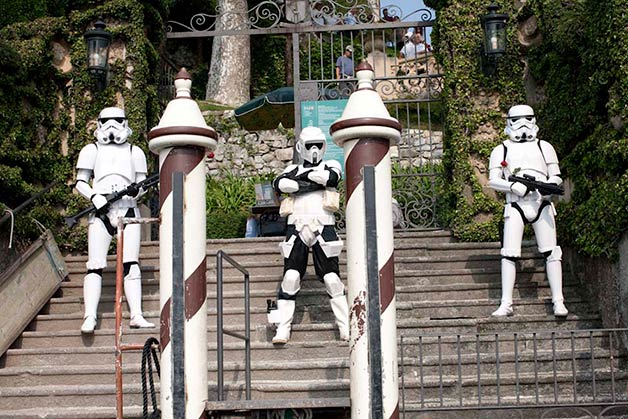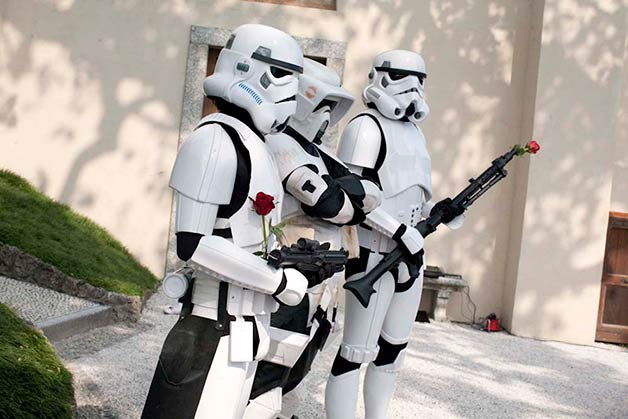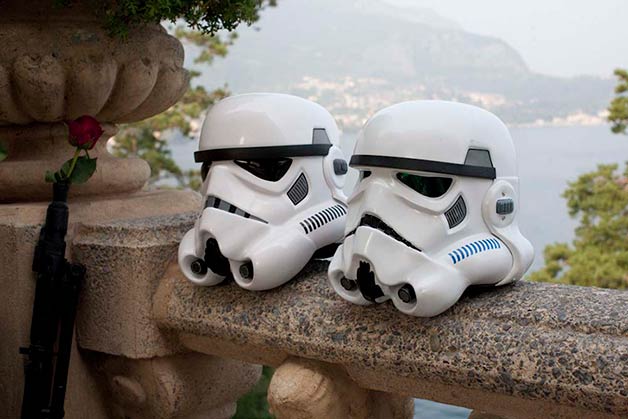 I know you are curious about the main role of this extravagant bridal party! Their main role was escorting Hilde, from the boat to the aisle. Jean Erik was so happy to see his wife to be walking down the aisle with them.
Star Wars themed wedding – Colorful red ceremony on Lake Como
Bride and groom opted for Red and Romance.
Hilde and Jean Erik ceremony setting at Villa Balbianelllo replicated exactly the famous movie scene: red passionate flowers and romantic lake view backdrop. 
This is more than a star wars wedding on Lake Como, It was the Star Wars wedding dream come true!
Bride and groom exchanged their mutual vows and rings accompanied by classic music notes played by a String trio. They were very talented.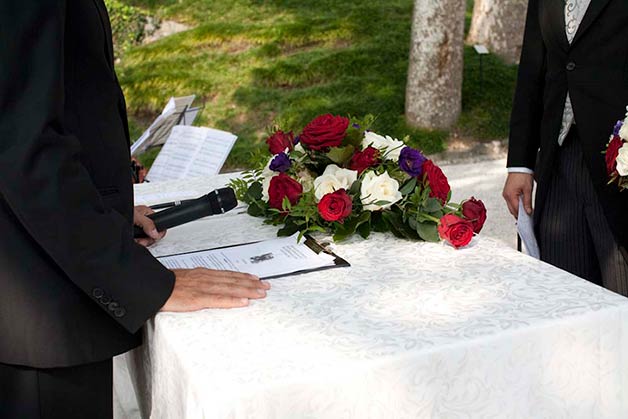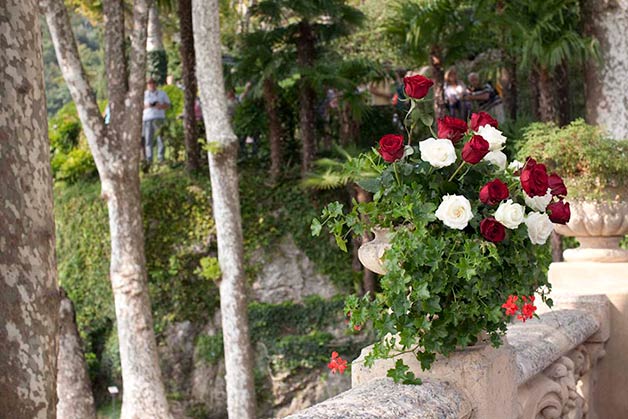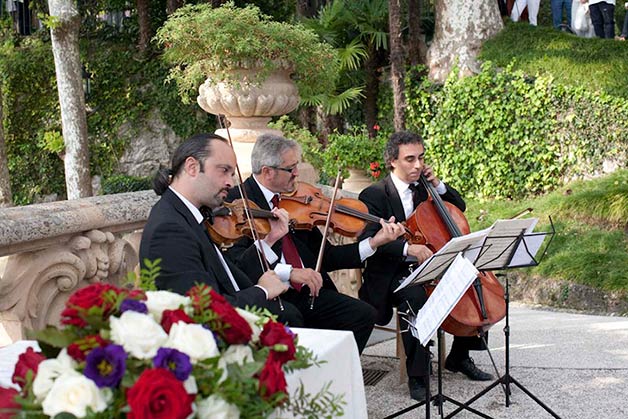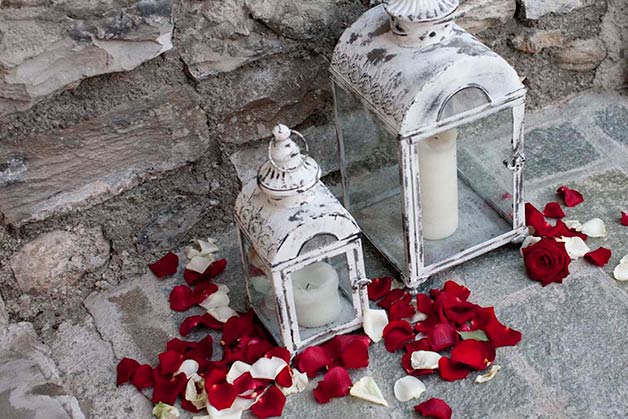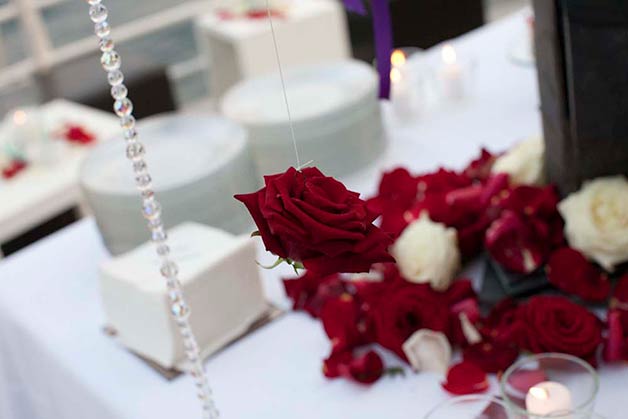 Loggia Durini at Villa del Balbianello
Villa Balbianello fame goes far beyond Star Wars movie and today it is famous for its Loggia Durini setting.
I am pretty sure that 99% of couples looking for a destination wedding are in love with Balbianello and Loggia Durini.
After the wedding ceremony the all the group moved to this famous Loggia for a toast and wedding photos at sunset.
Loggia was a great surprise for all guests, They were literally in love with Villa del Balbianello and Lake Como landscapes.
Time flew incredibly fast. Soon it was time time to jump on the boats and reach reception dinner venue!
The wedding party was very festive, they all danced the night away!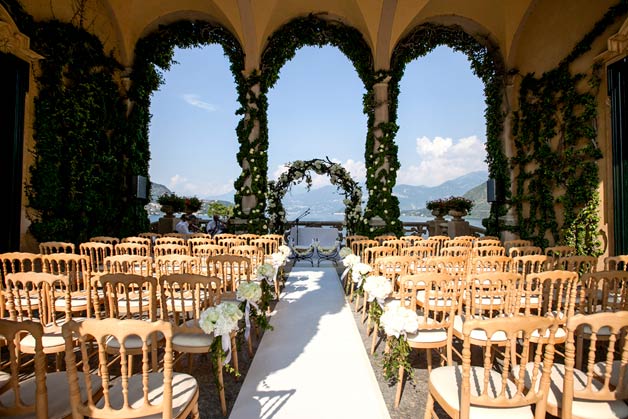 Wedding cake: Italian flavour and American style
One of the best part of this wonderful Star Wars wedding on Lake Como was the giant wedding cake.
Bride and groom wanted all colors we used for the wedding ceremony. Moreover we placed the cake directly by the lake.
Cake cut moment was very romantic! All candles light and the view of all the villages of Lake Como  made that moment really special and unforgettable.
I have to tell you a secret too: the cake was sooooo good!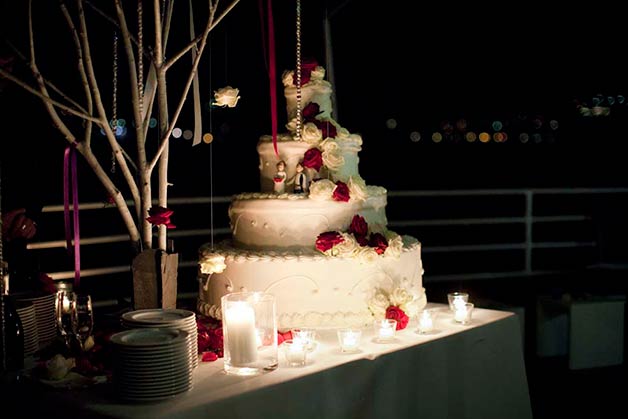 Your dreams? Are our dreams
As Wedding planner, planning a Star Wars themed wedding on Lake Como was extremely challenging and fun.
But I'm sure that bride and groom and their guests had a wonderful time!
I'm really looking forward to plan other Star Wars Themed wedding son Lake Como. I can't wait to helping couples to make their dream come true.
Their dreams are also our dreams.